Koenig Koshish (CSR) (Suspended since March 2020 due to Corona virus)
After serving the community for a glorious 13 years (since 2007), Koenig has suspended the community teaching projects in the intent of safety. We will be back to support the community as soon as it is feasible.
Koenig Koshish (A CSR initiative by Koenig Solutions)
Koenig Koshish - An Endeavor to Spread Happiness through Education
Live Status(School Project)
Class
Subject Name
Student Enrolled
5

th

English(Poem), English , Maths , Science
209
6

th

English , English(Poem) , Science , Maths
236
7

th

Science , English(Poem) , Maths , English
275
8

th

English , English(Poem), Science , Maths
286
9

th

Science , English( Moments), Maths , English(Beehive), English Poem (Beehive)
272
10

th

English Poem (First Flight), English (Foot Print), Science , English, Maths, English (First Flight), Mathematics
212
11

th

Economics, English, Accountancy, Business Studies
42
12

th

English, Business Studies, Accountancy, Economics
41
Total
1573
Koenig Koshish so far..

Year 2019

Year 2018

Year 2016

Year 2015

Year 2014

Year 2013

Year 2010

Year 2007
What's New in 2019?
Smart classroom extended to 6 centers. Covered all 7th to 10th classes.
Made Koenig Koshish facebook page.
Started taking videos feedback of the students, parents & visitors.
Training on making Apps and Robotic Programming to the students – Sunday Special.
Free Curriculum Books Distributed to 278 underprivileged students.
Celebrated International Yoga Day on 21st June with 200+ Koenig Koshish kids.
Organised Public Speaking Contest.
Public Speaking Contest
Public Speaking Contest was organized by Koenig Koshish on 28th June 2019. 22 Finalists of Koenig Koshish Centers from Shalamar, Haiderpur and Shakurpur Villages participated in Public Speaking Contest held on 28th June 2019. Ms. Pooja Aggarwal. Mr. Vardaan Aggarwal , Mr. Chander Malik (Founder & CEO | Programming Club), Ms. Rashmi Tyagi (CEO | STEAMEDU) & Mr. Dhram Raj Panwar (CTO | Programming Club) & Some Koenig Trainers were invited as Judges for this event. The esteemed Judges applauded their communicative skills and confidence. It was a good effort from Koenig Koshish Teachers who trained them to speak fearlessly on various social issues.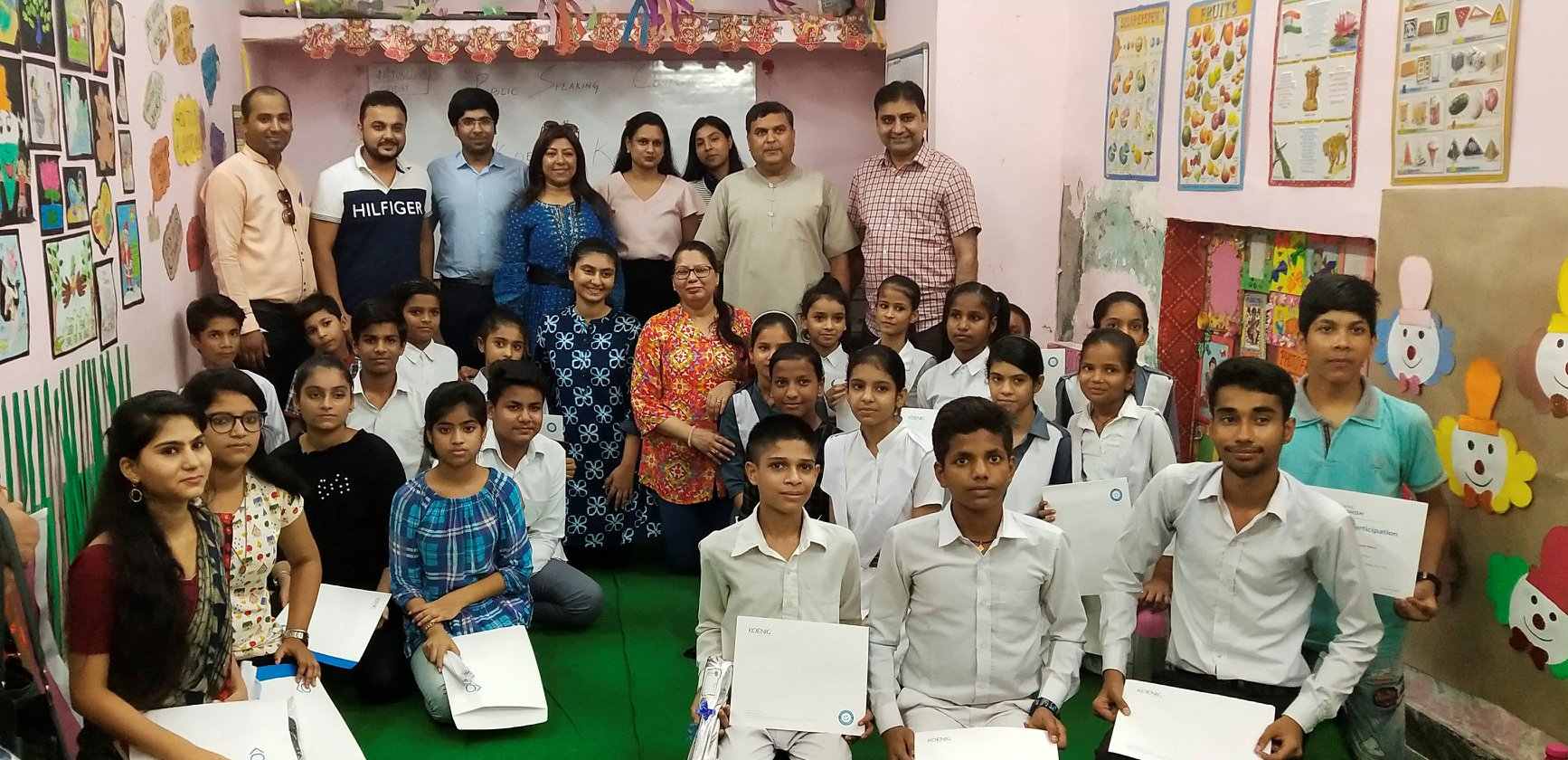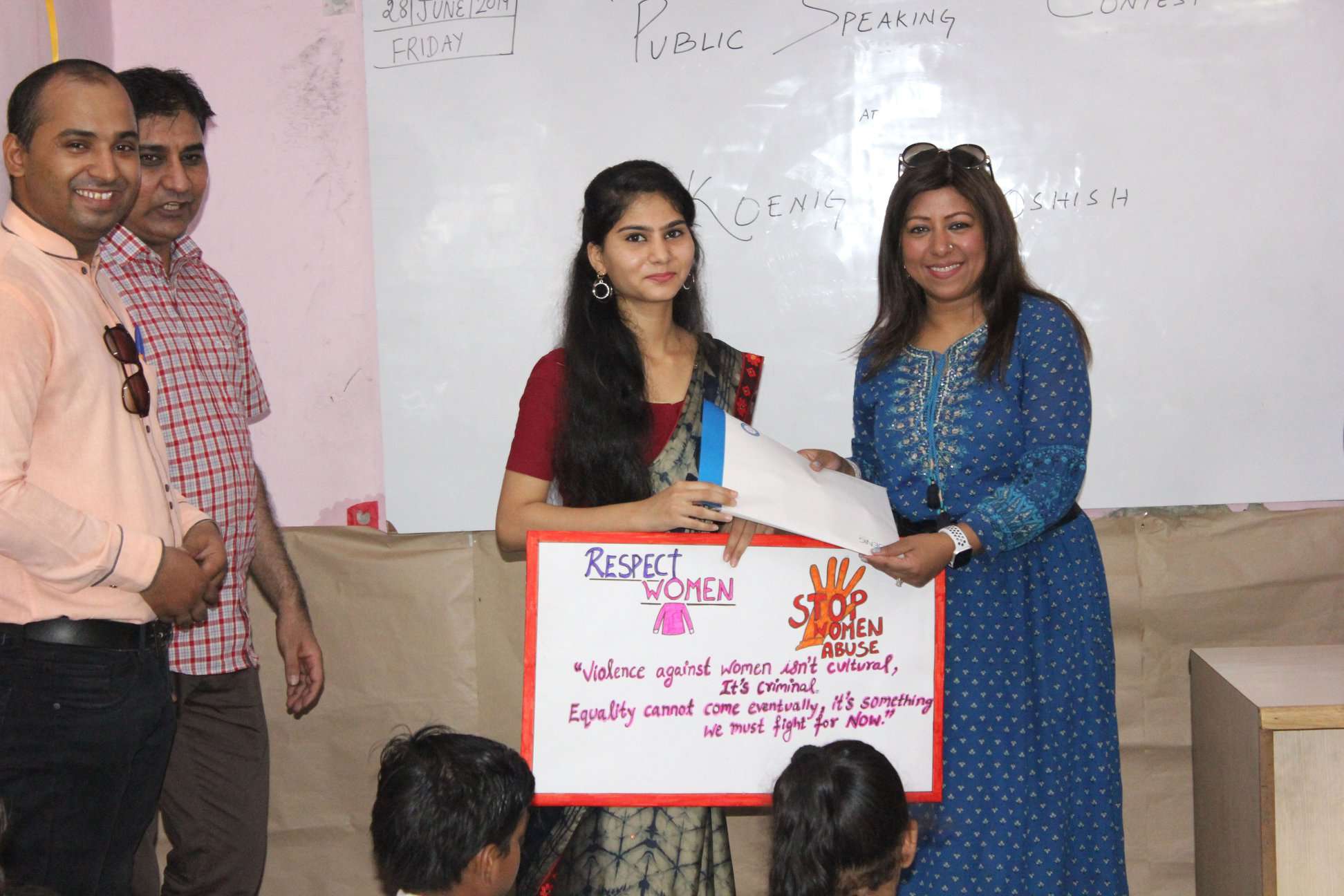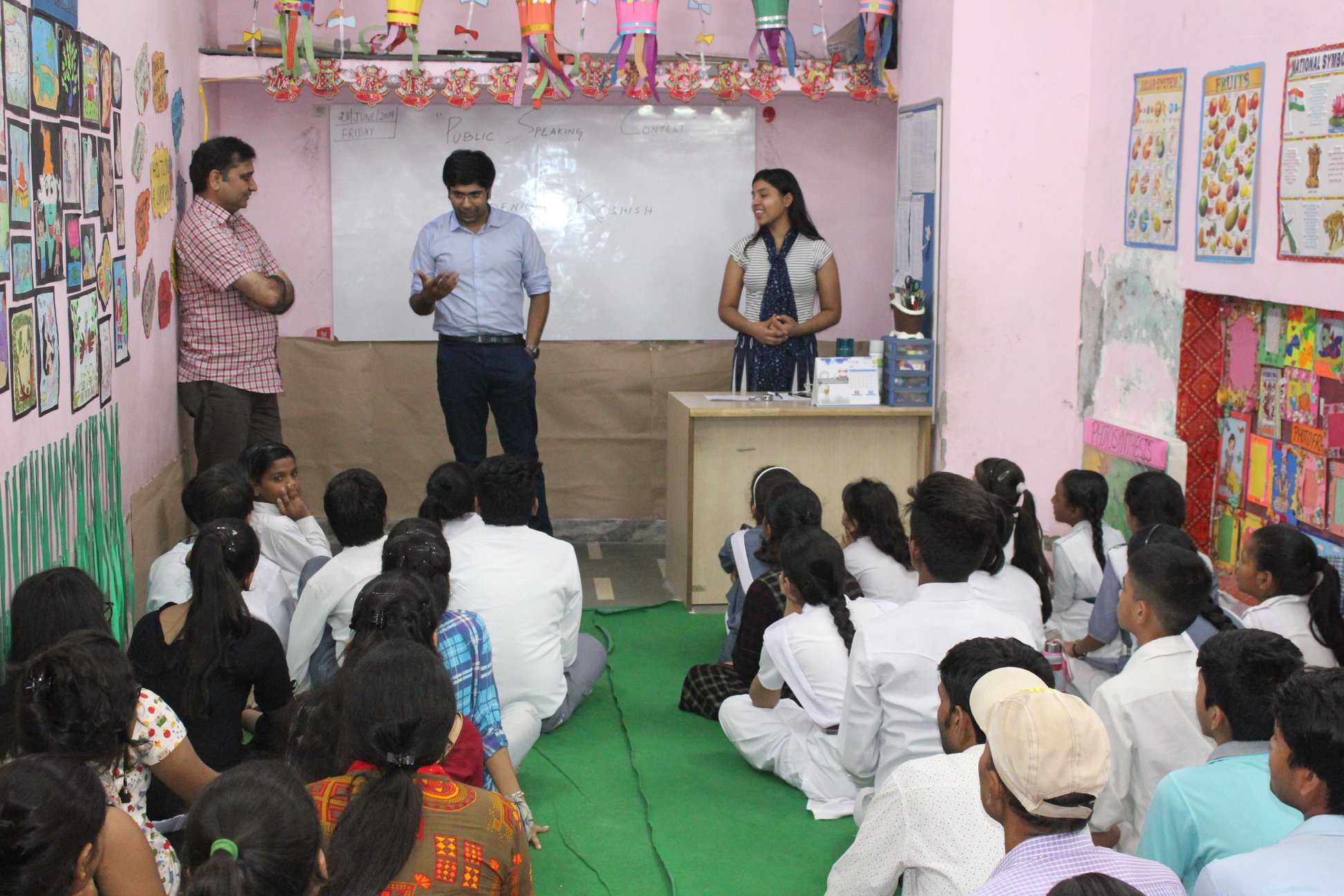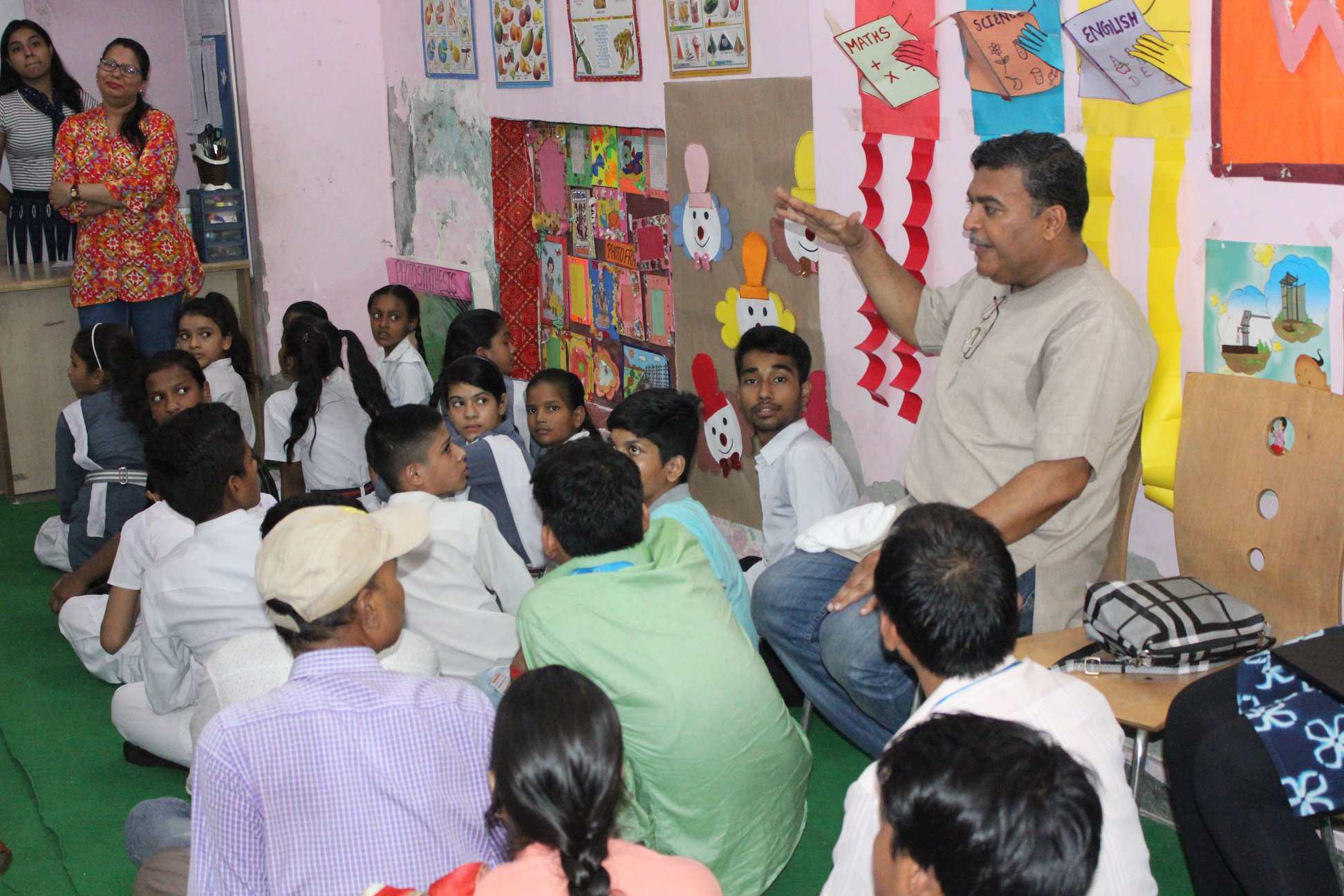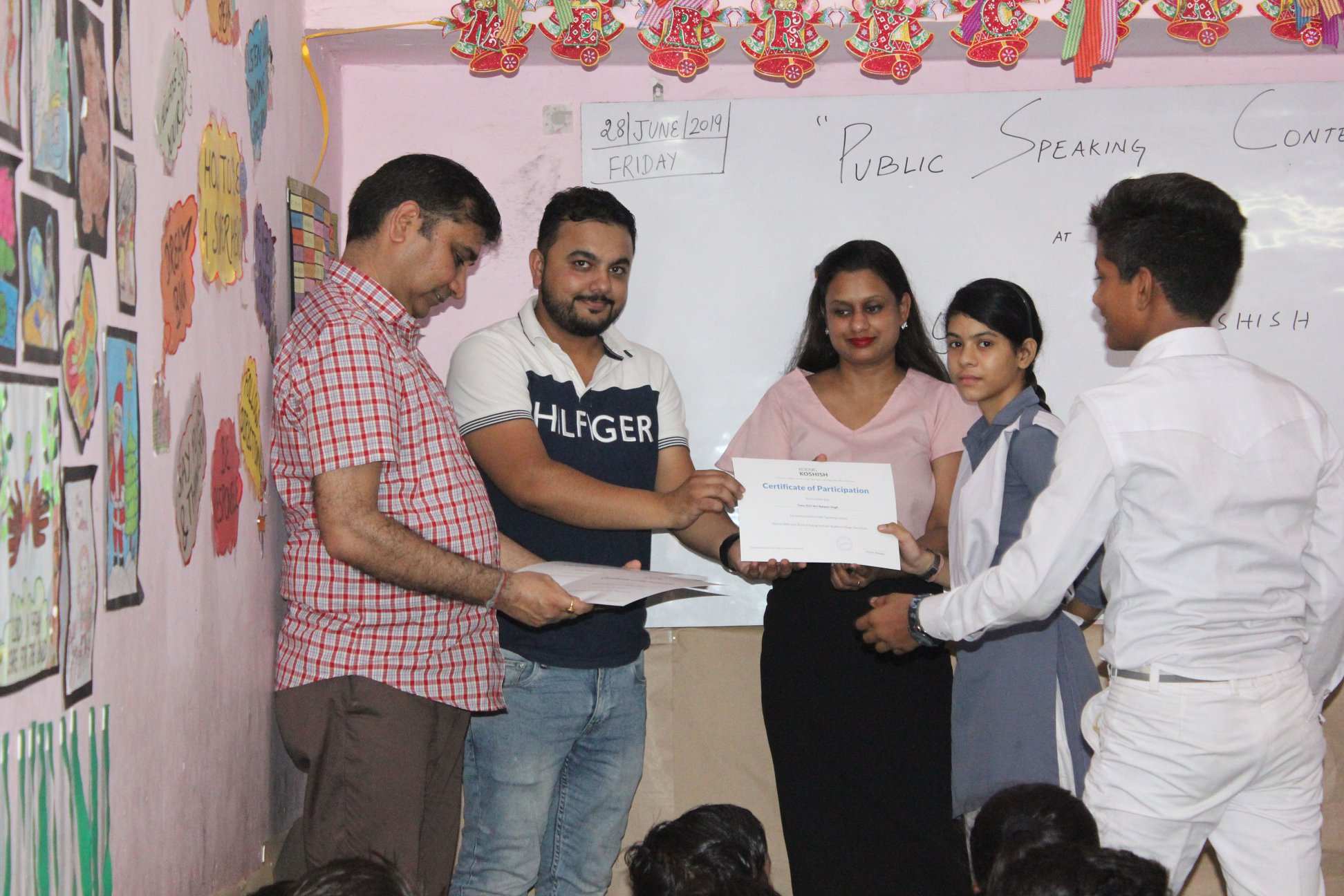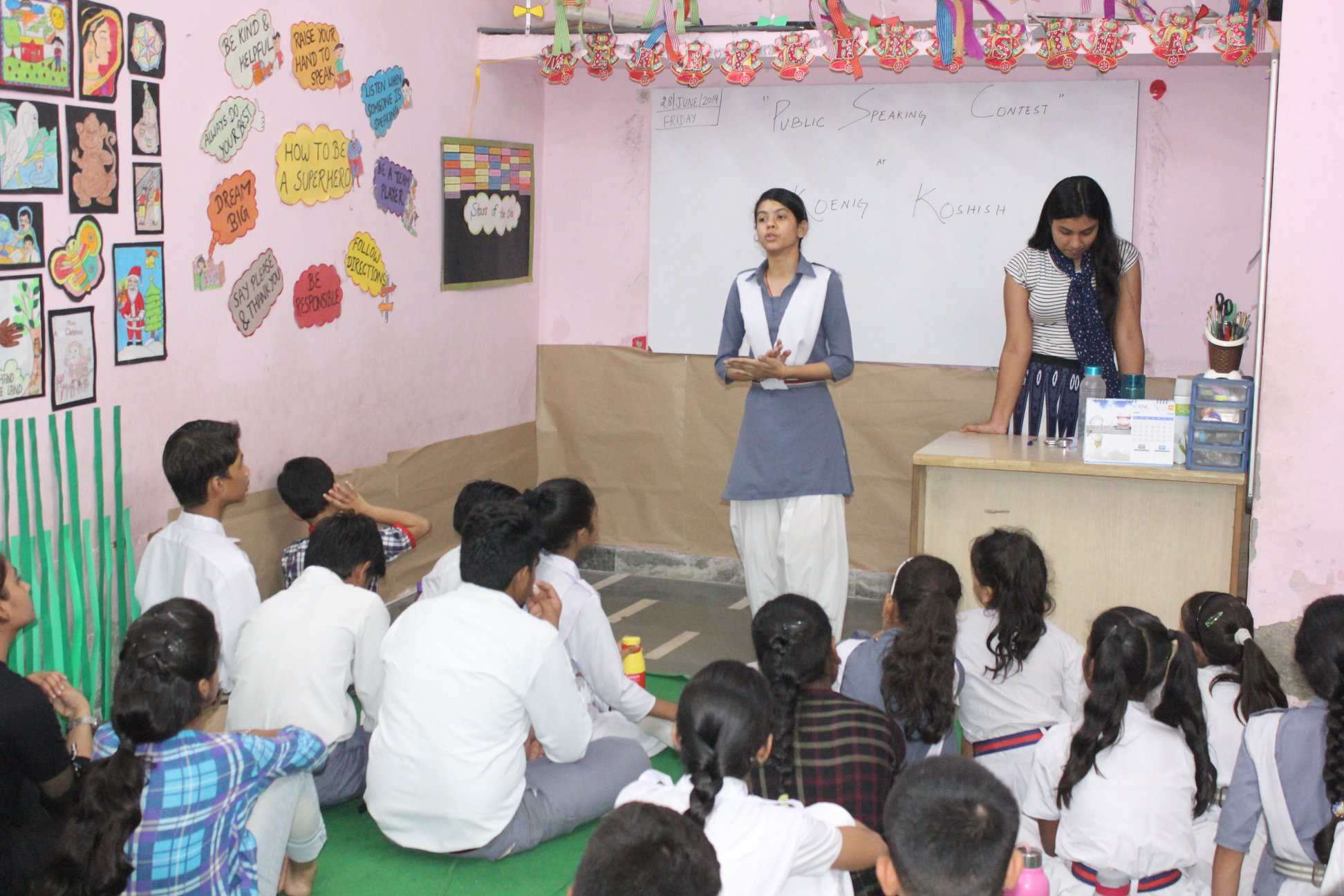 What's New in 2018?
Introduced Smart Classes with Video, Mentoring and Topic based Test on a daily basis
Training on making Apps and Robotic Programming to the students
Yoga and Art-n-craft training as part of extra-curricular activities
Free Curriculum Books Distributed to 350 underprivileged students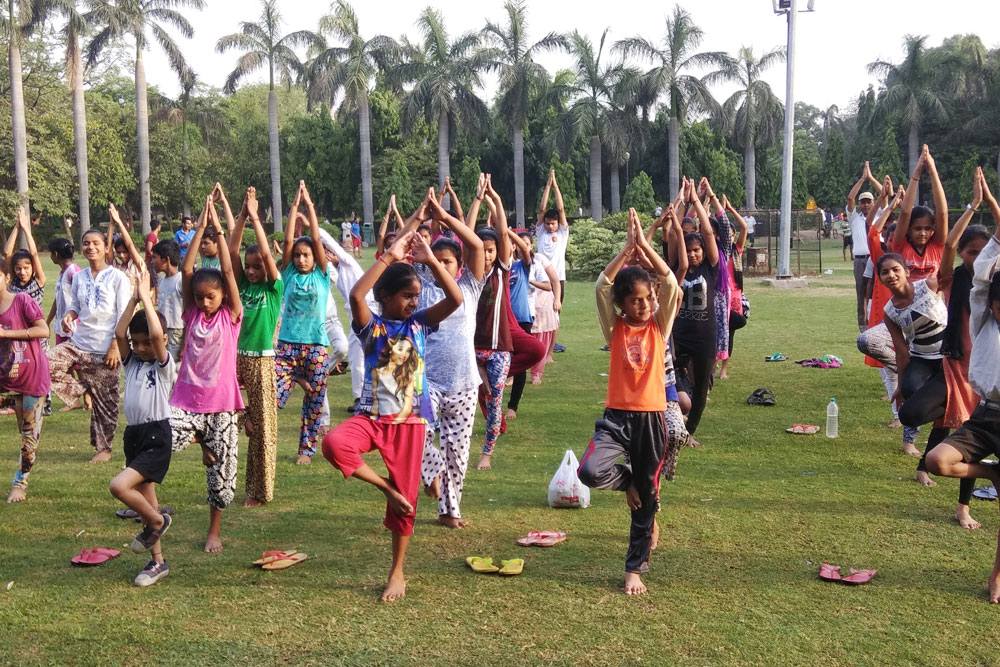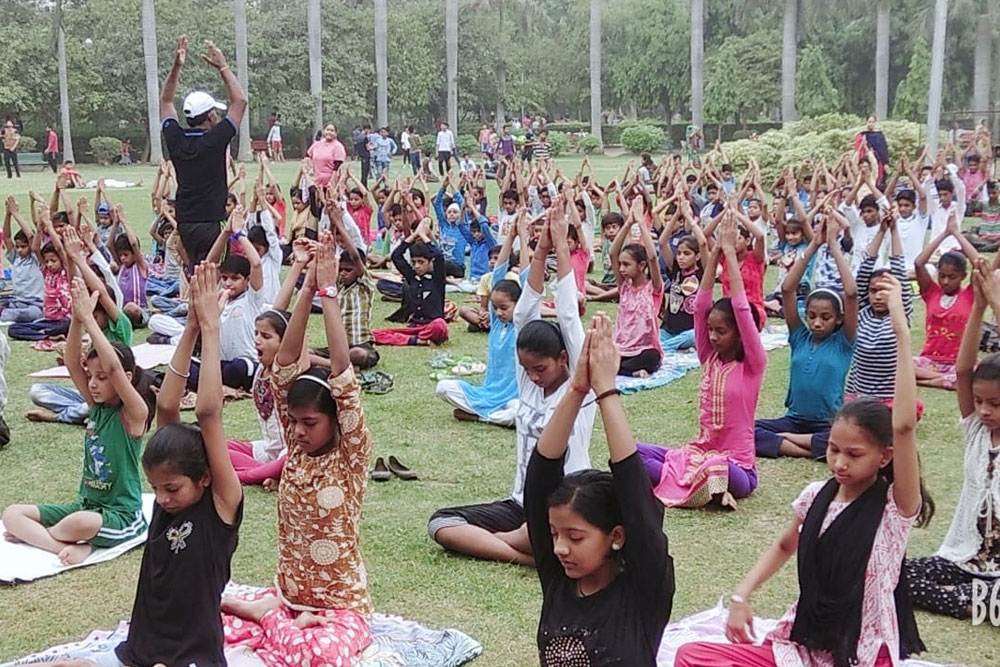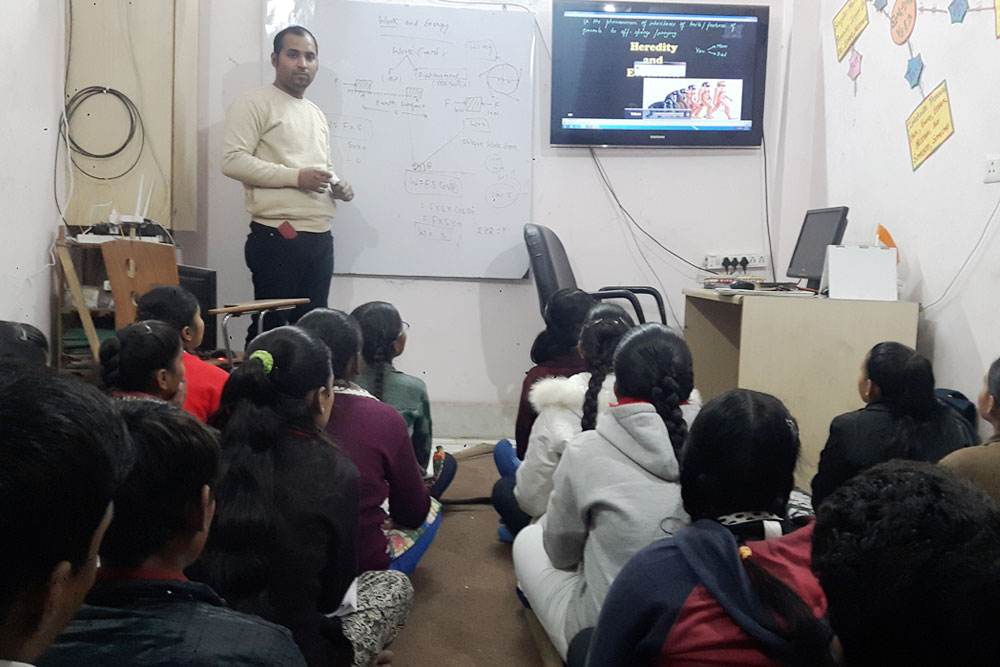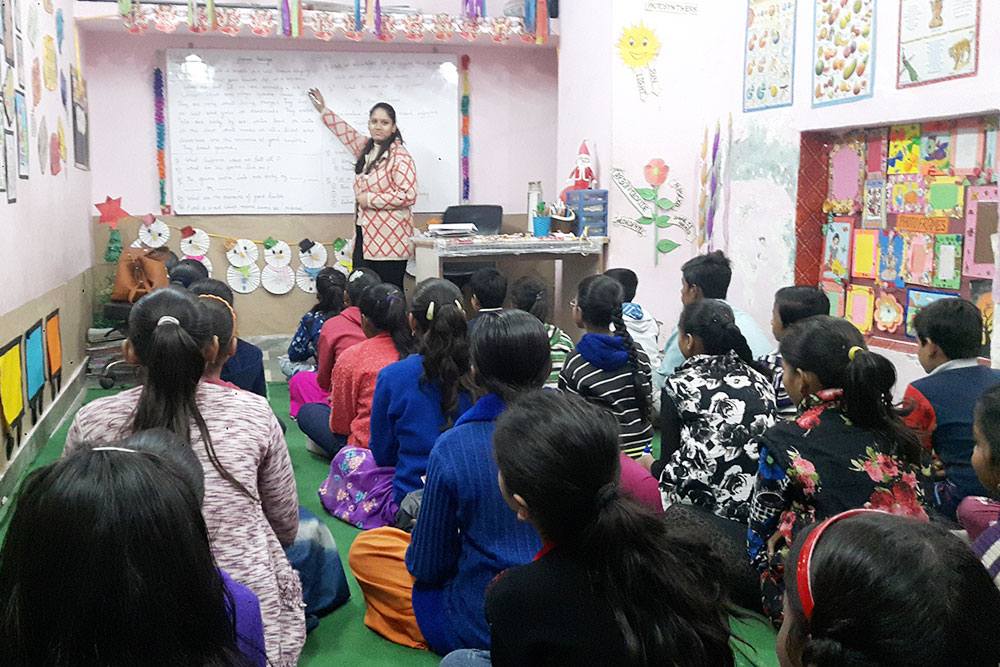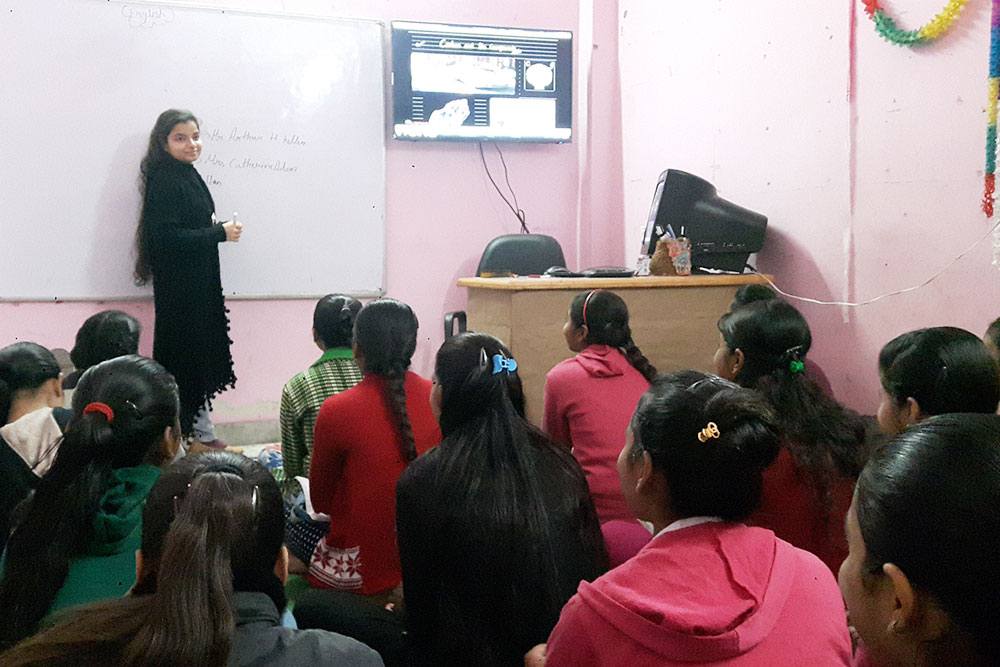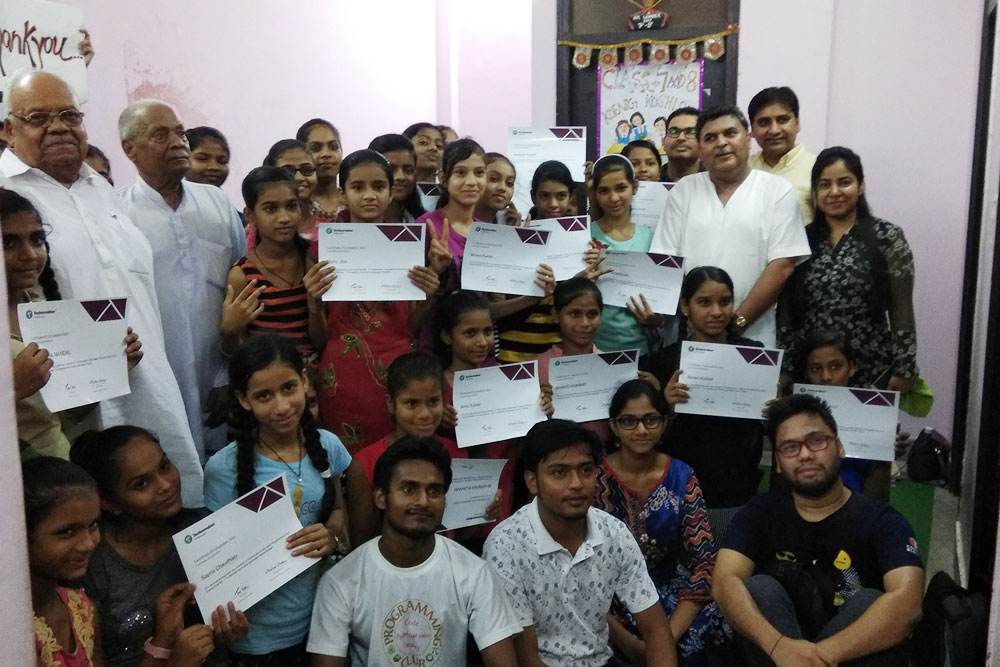 Koenig Koshish is the Corporate Social Responsibility project of Koenig Solutions Ltd, which aims to Make this World a better place through Education.
This initiative is a sincere effort of Koenig Solutions to pay back to the society by making an attempt to eradicate the root of all evil - Lack of Education.
Koenig was also honored with Microsoft Citizenship Partner of the Year Award for its philanthropic efforts.
Watch Video
Our Award Winning Initiatives
School Tuition Project
Koenig Solutions organizes free of cost tuition classes for the underprivileged school children who need the extra support and guidance. There are a total of 14 such school projects run by Koenig that support the education of nearly 1600 school students. Successfully running this project for nearly a decade, showed us that students are very keen on gaining knowledge. They attend classes battling all odds - scorching heat, distance barriers and passive support from parents as well. In the light of such enthusiasm from these deprived children, Koenig Koshish feels more motivated and inspired to contribute more. View Video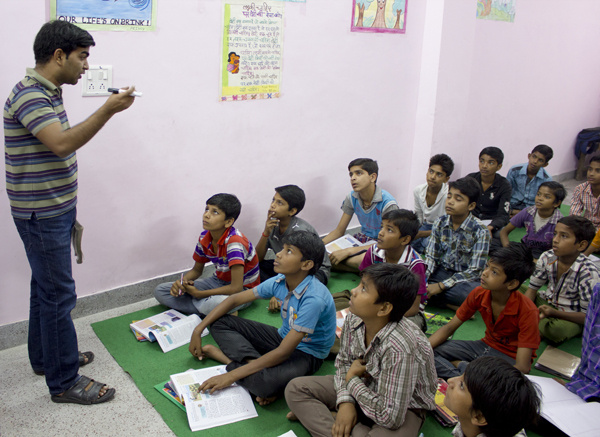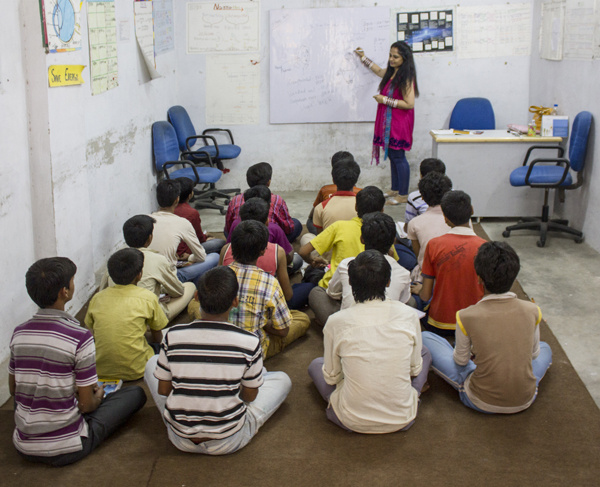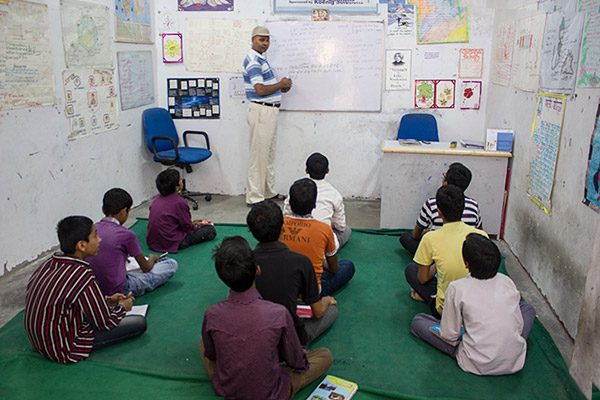 Vocational Computer Training
By providing free vocational IT training to the unemployed youths, Koenig is empowering them and showing them the right path to success and financial independence. Thus, helping them raise their standards of living. MS Office and Photoshop Training is provided to young boys and girls, who are looking for a means to earn a respectable living.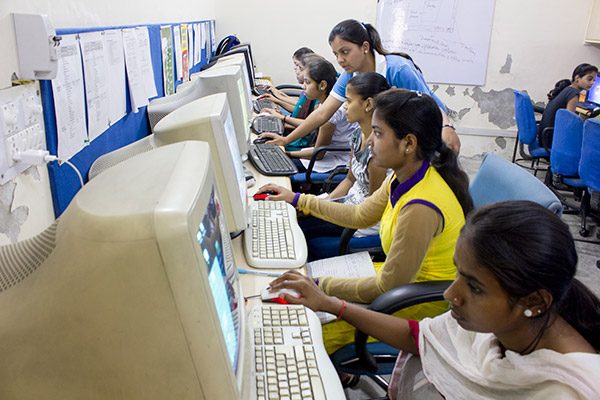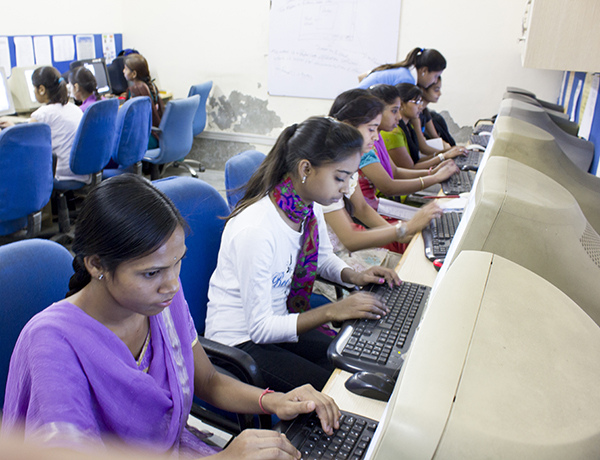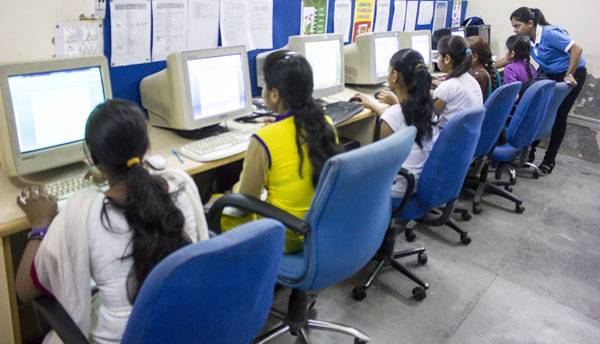 Book Distribution
Koenig periodically organizes Book Distribution events for these children who cannot afford to buy school books. More than 400 school books are distributed every year to these kids.
2019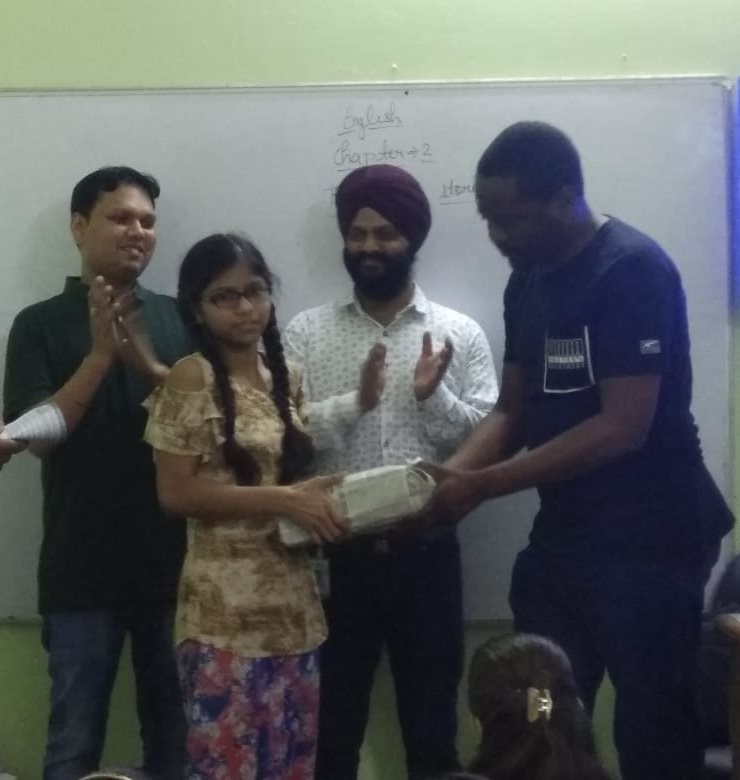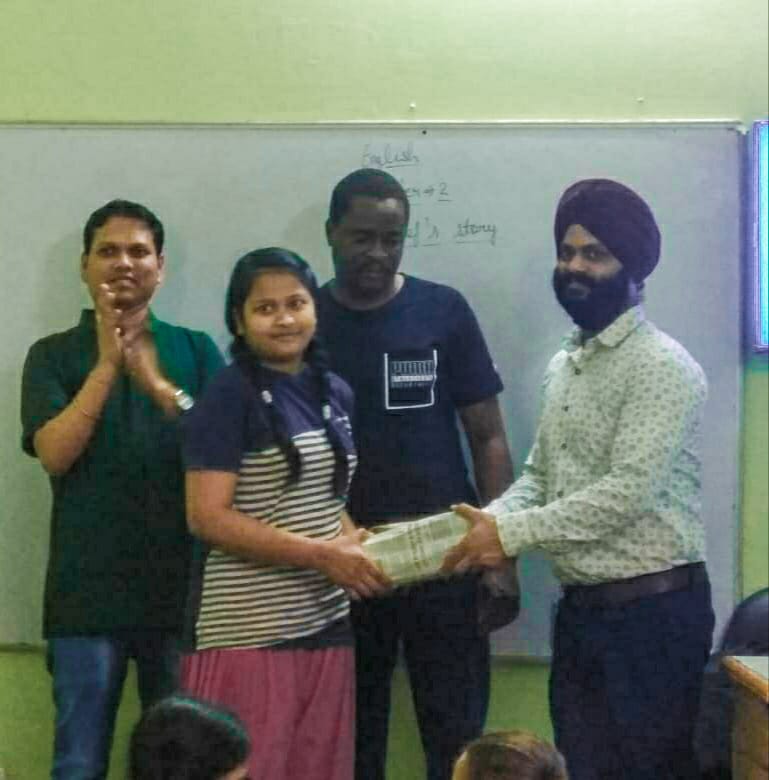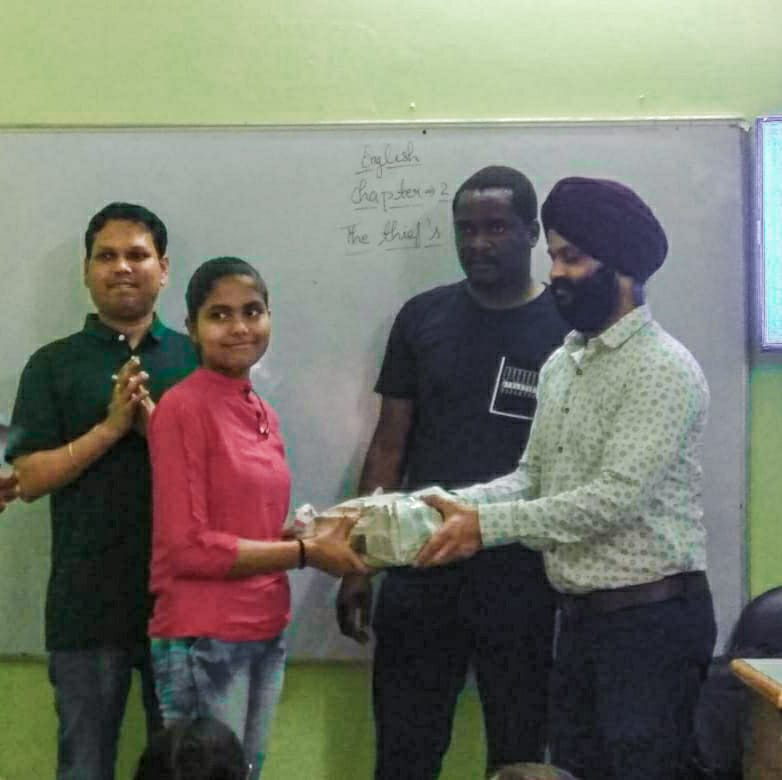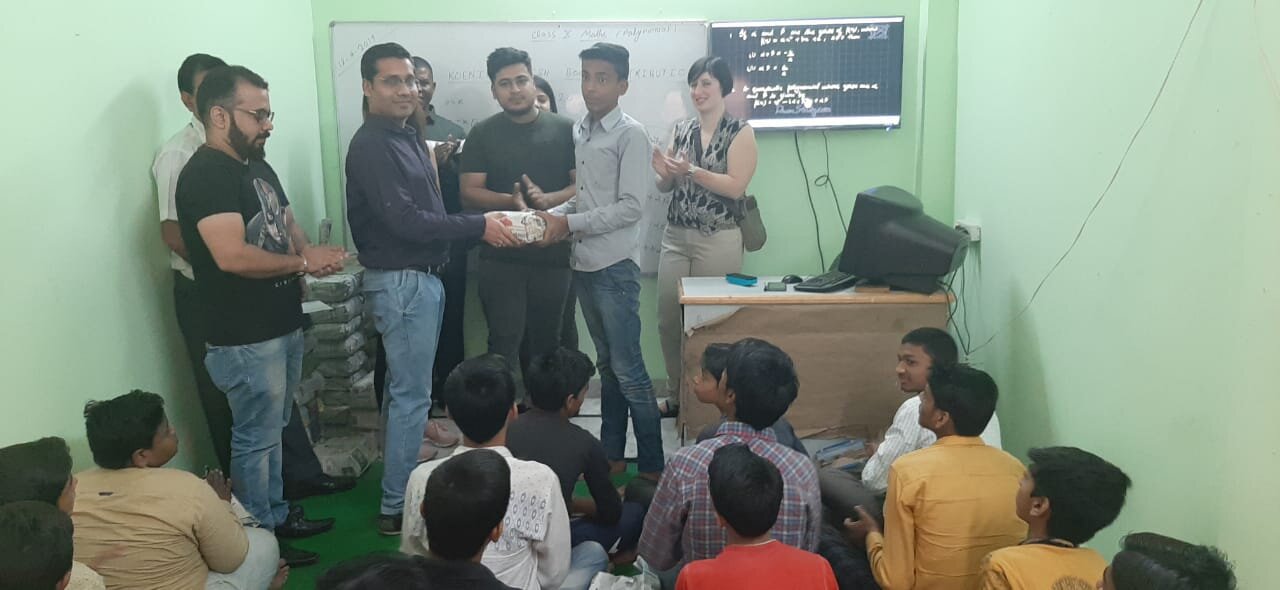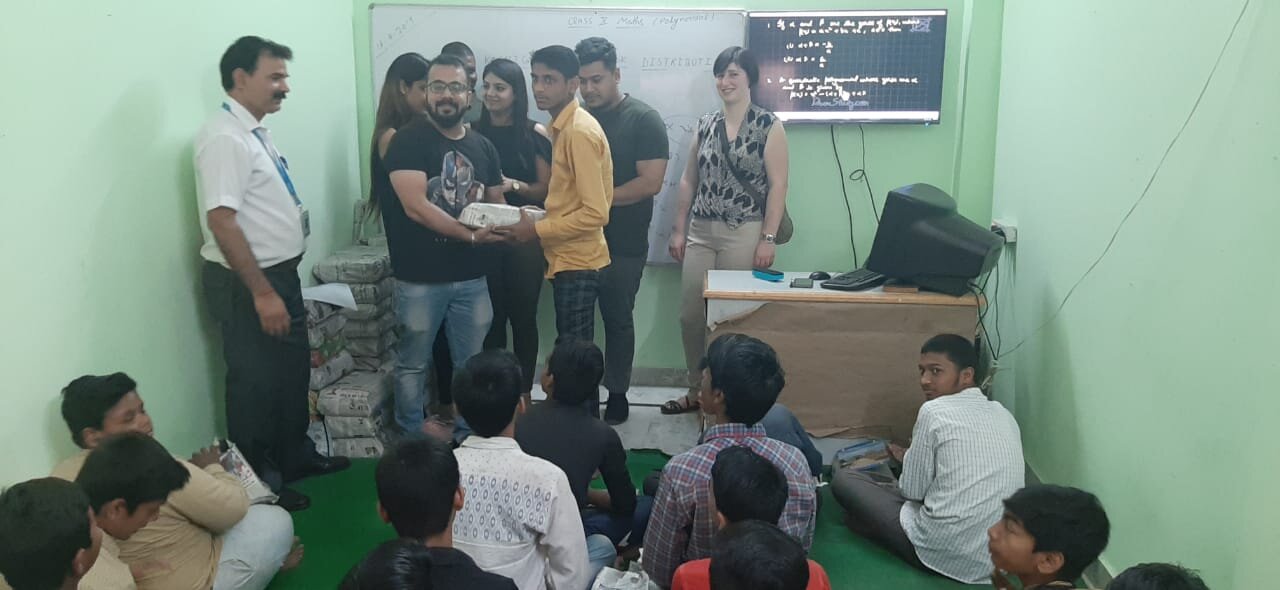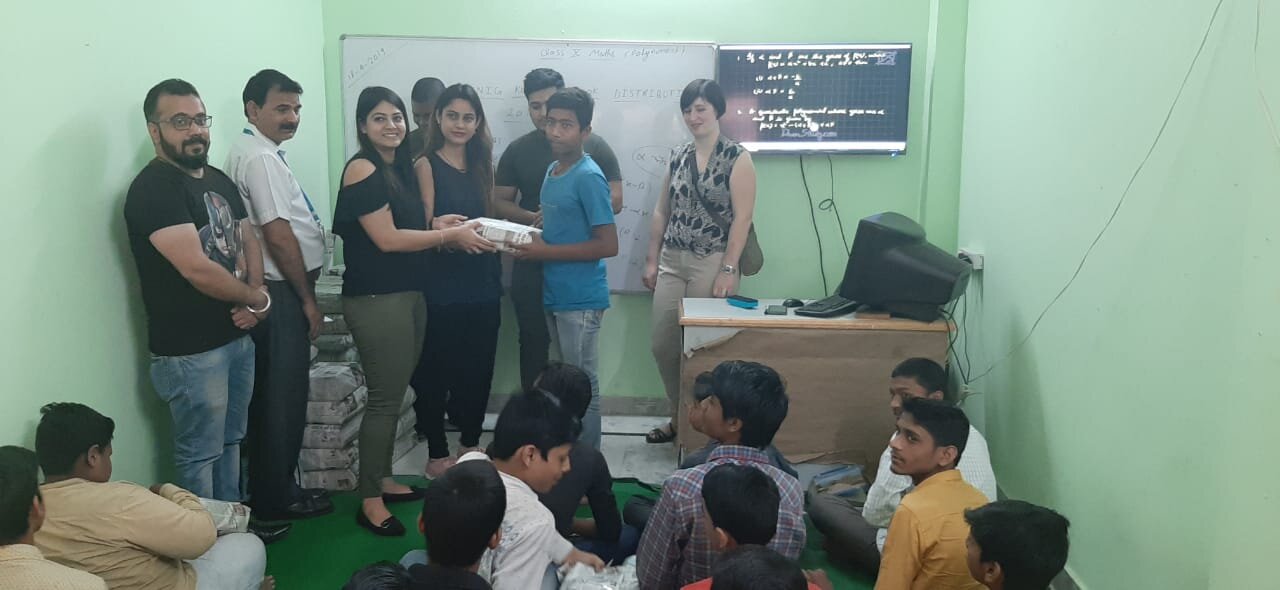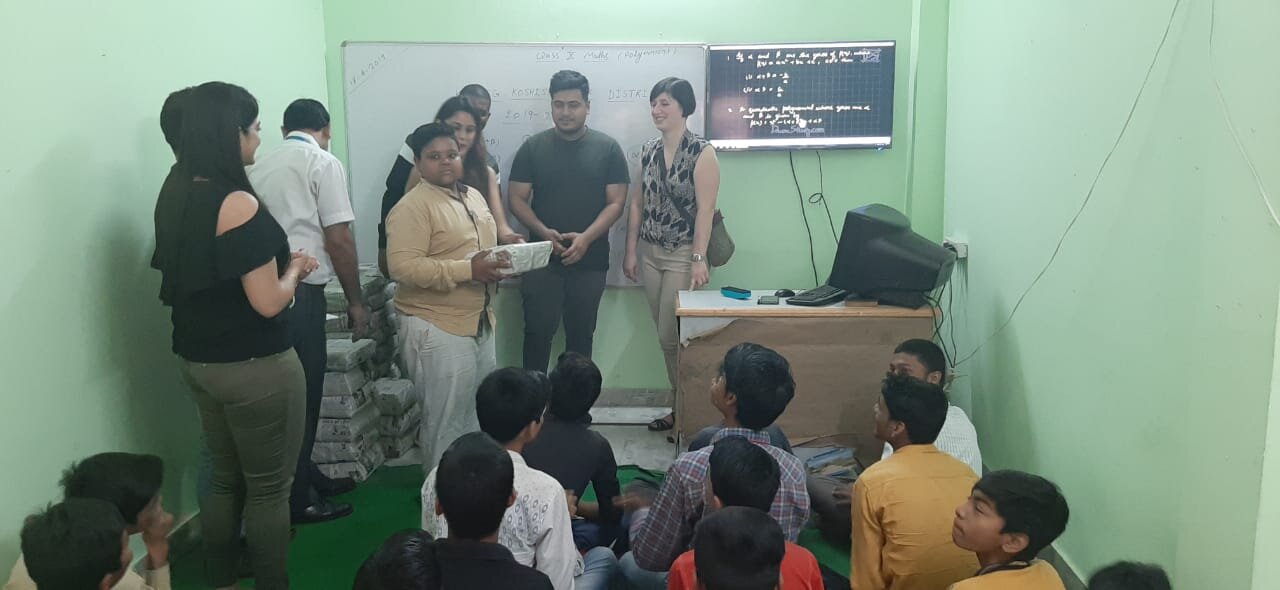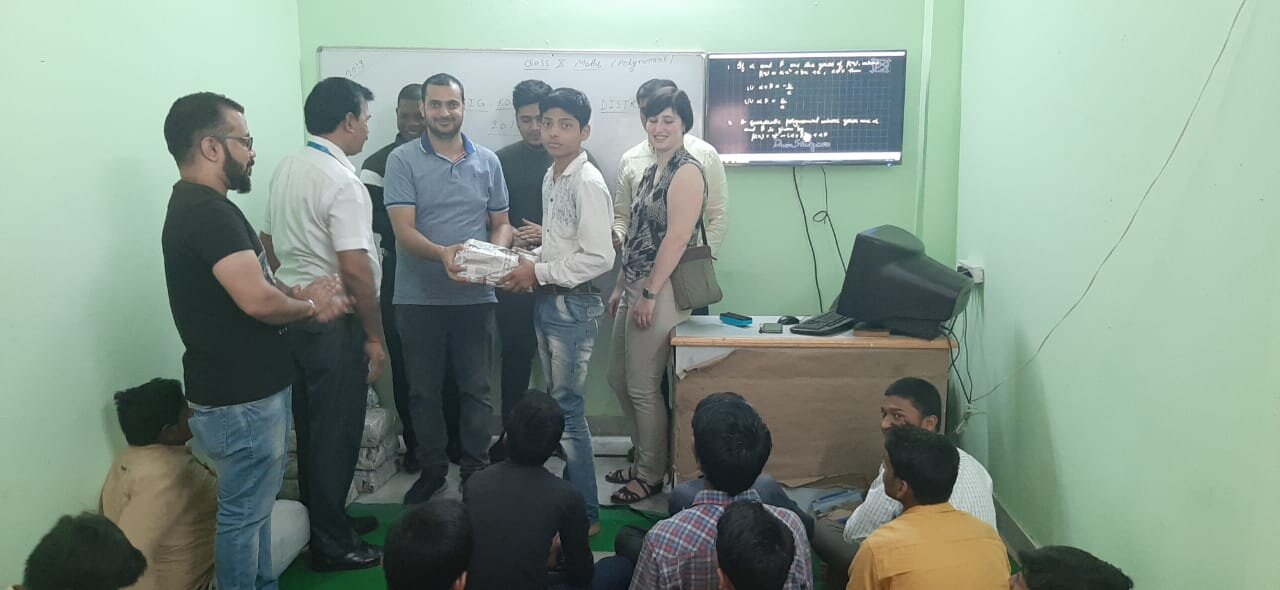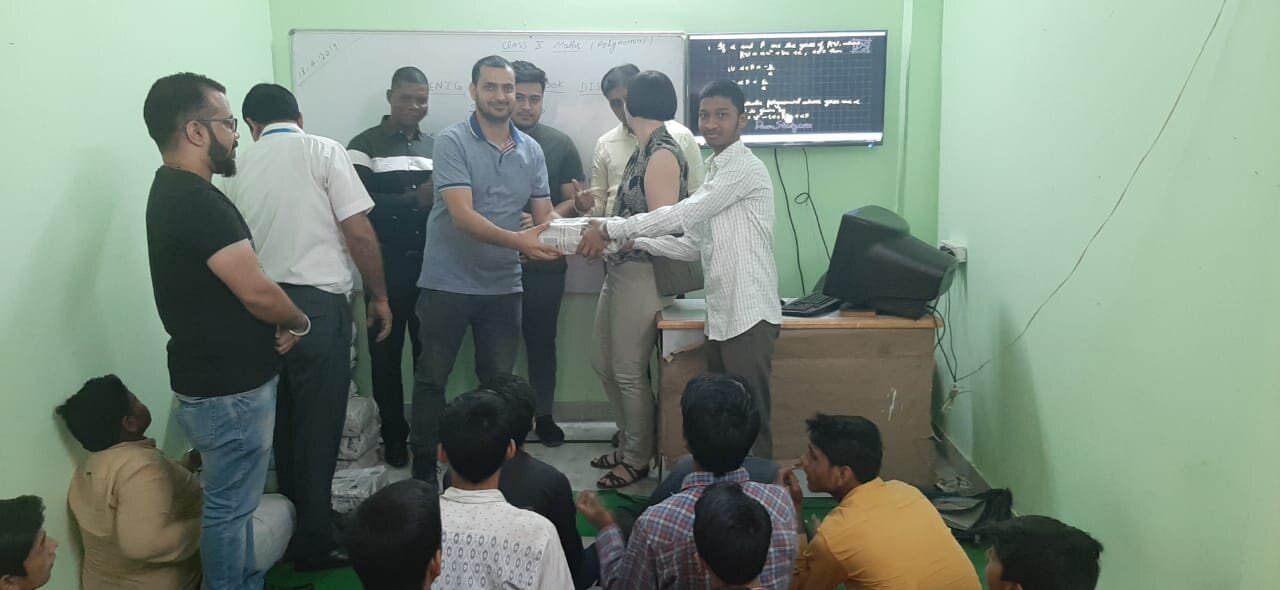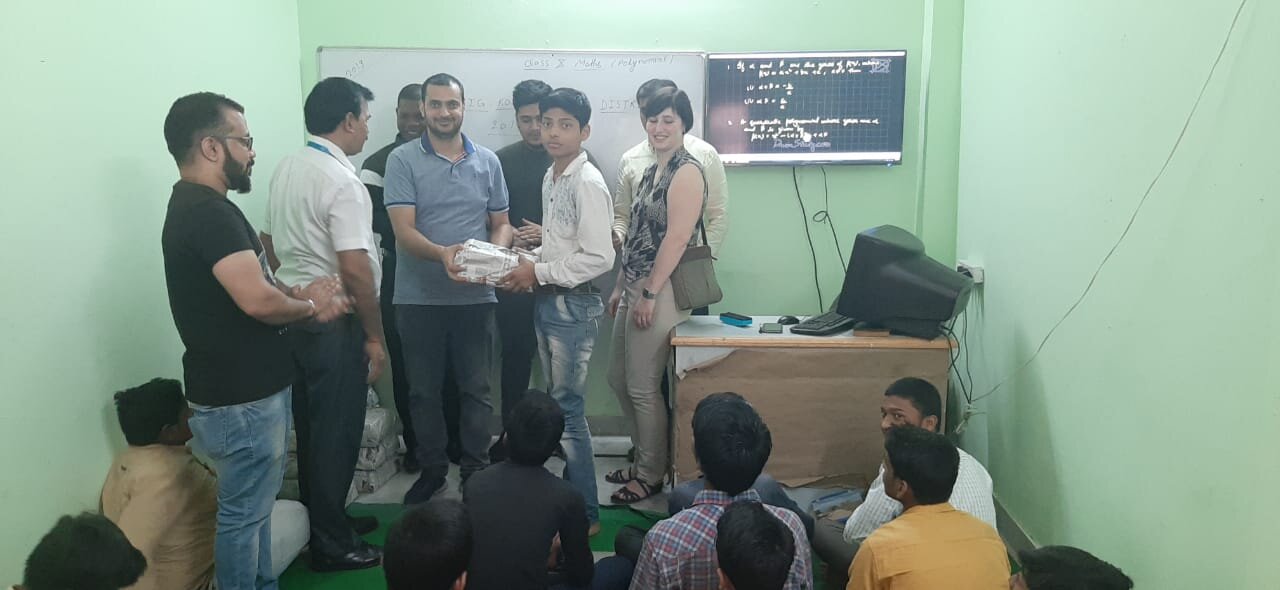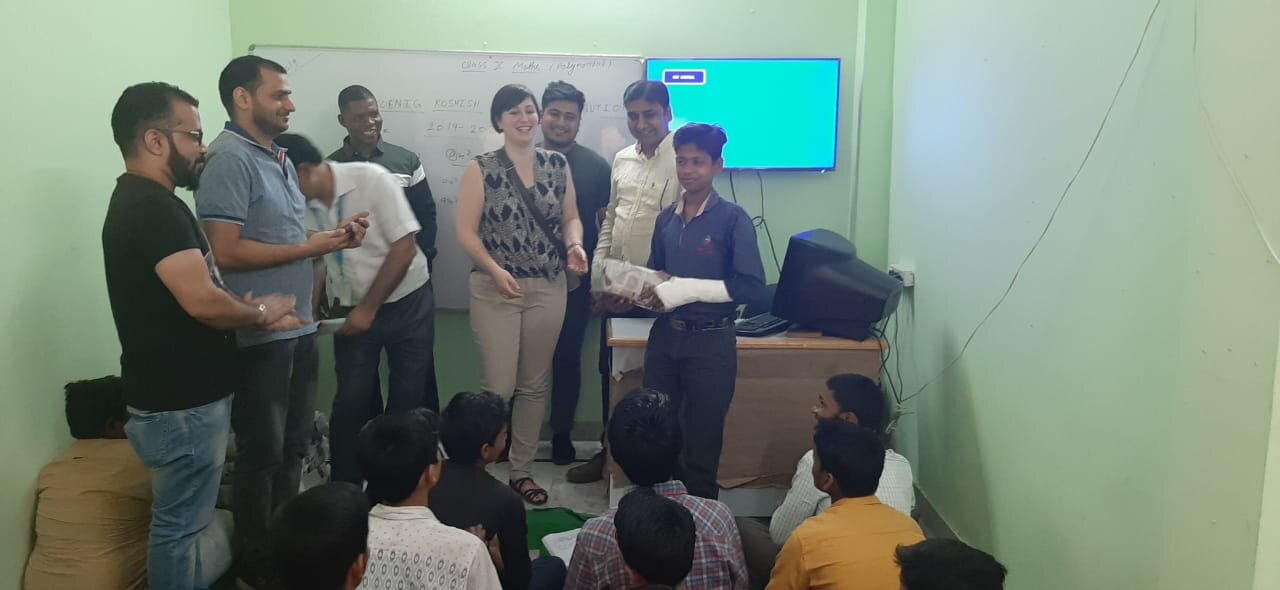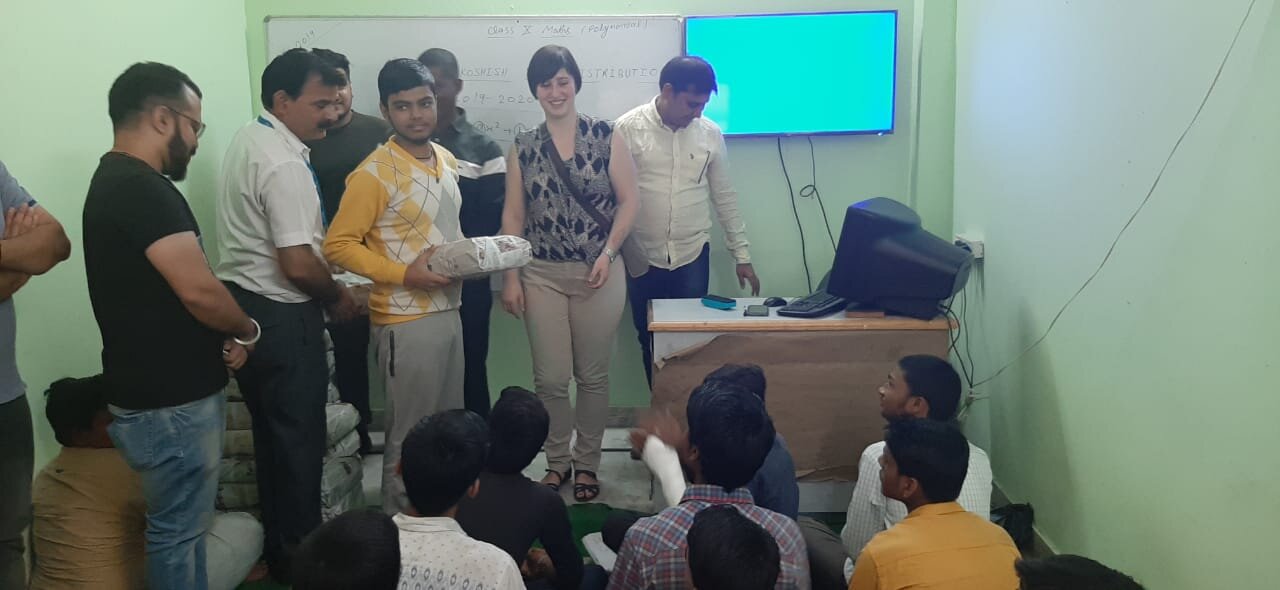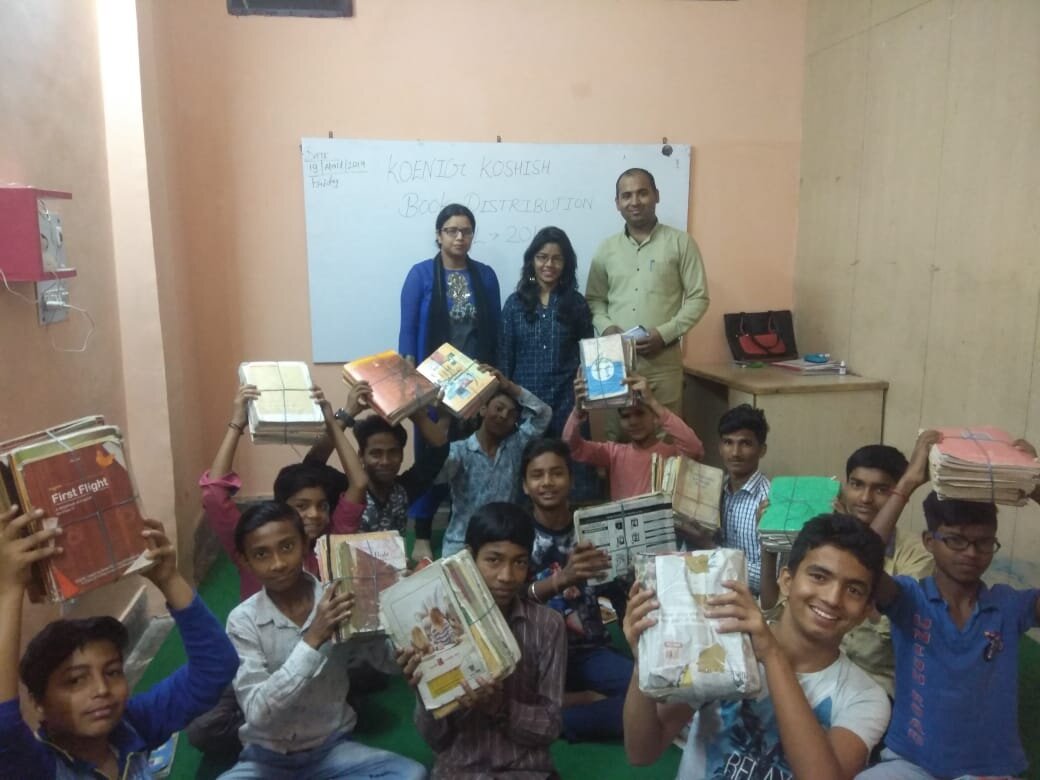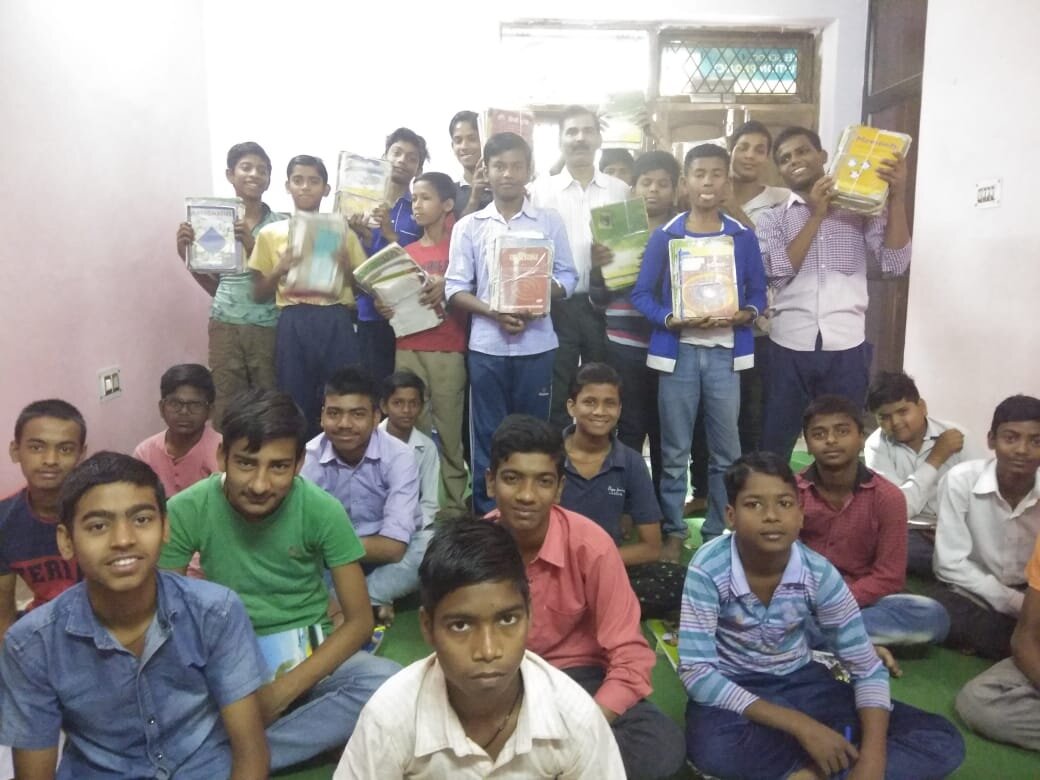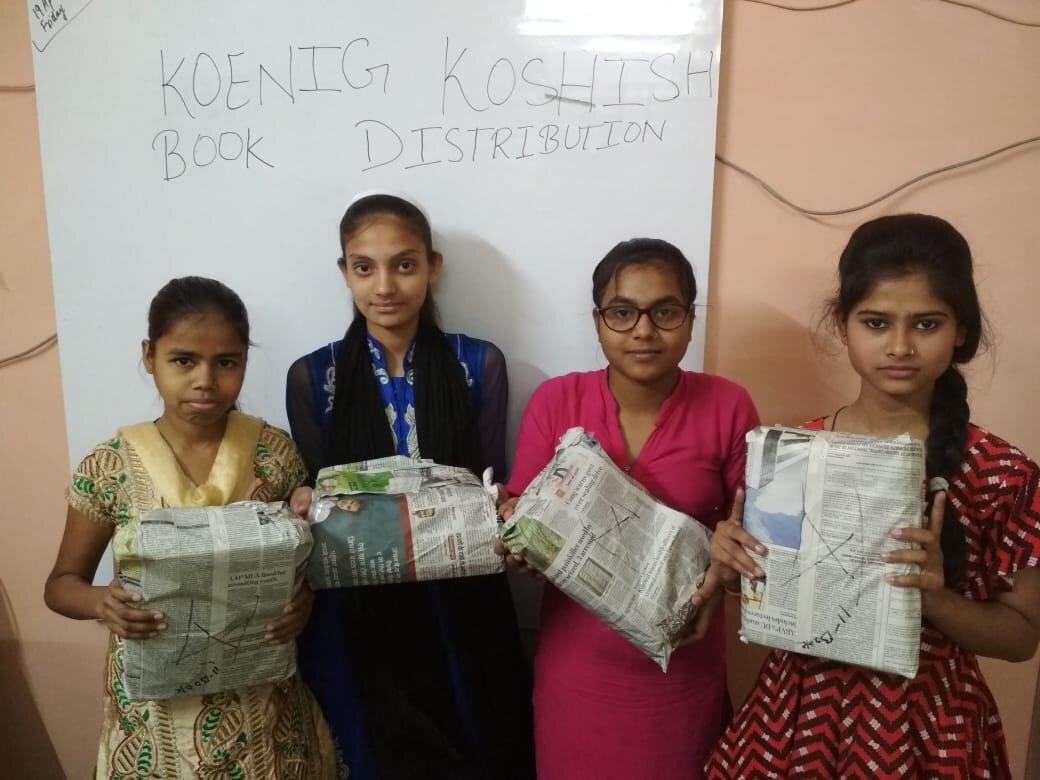 2018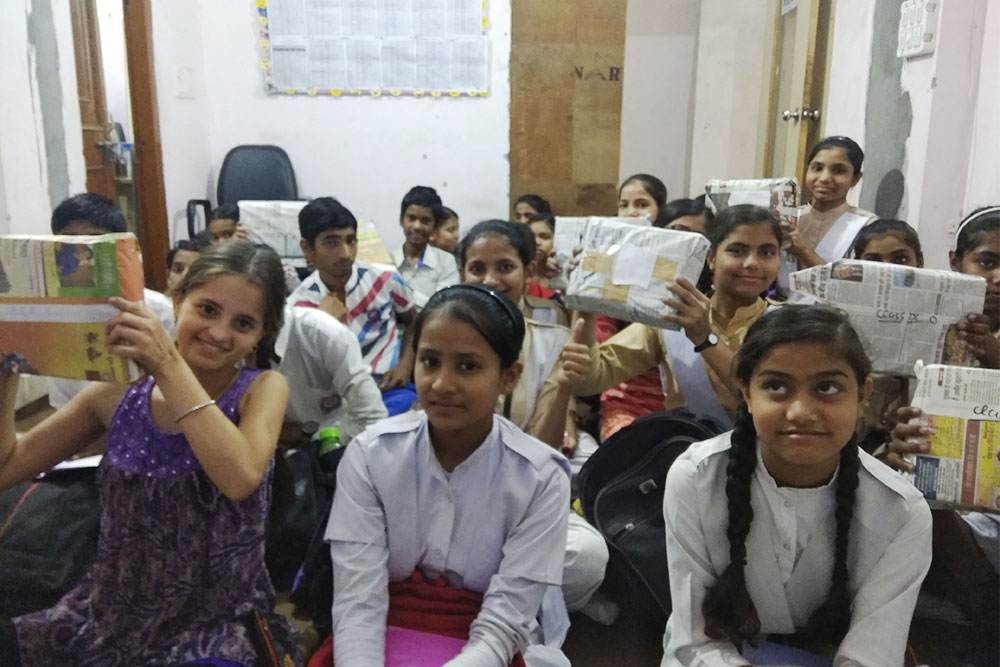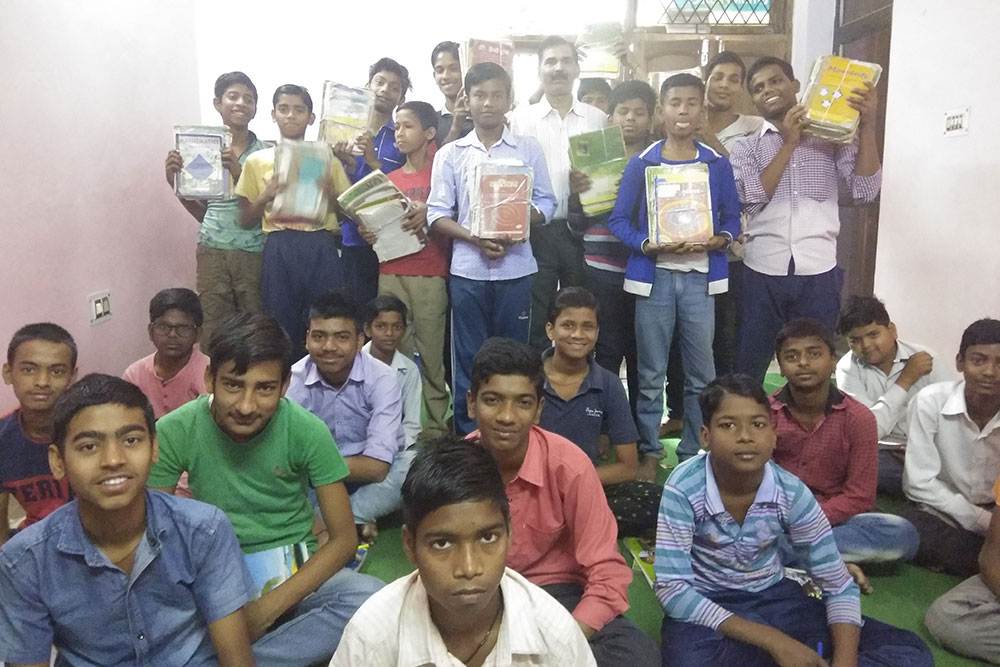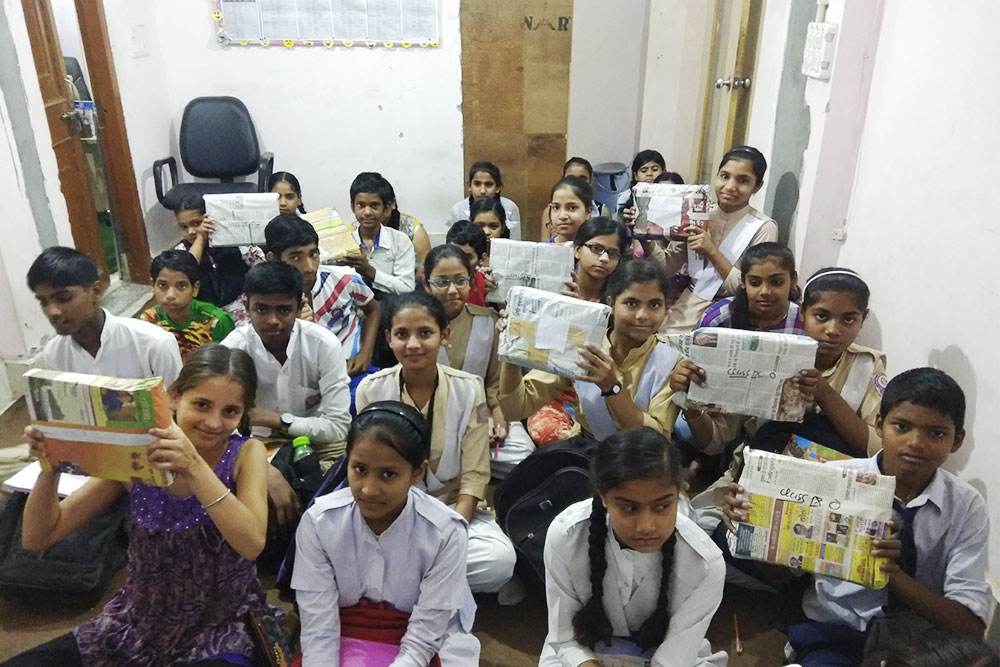 2017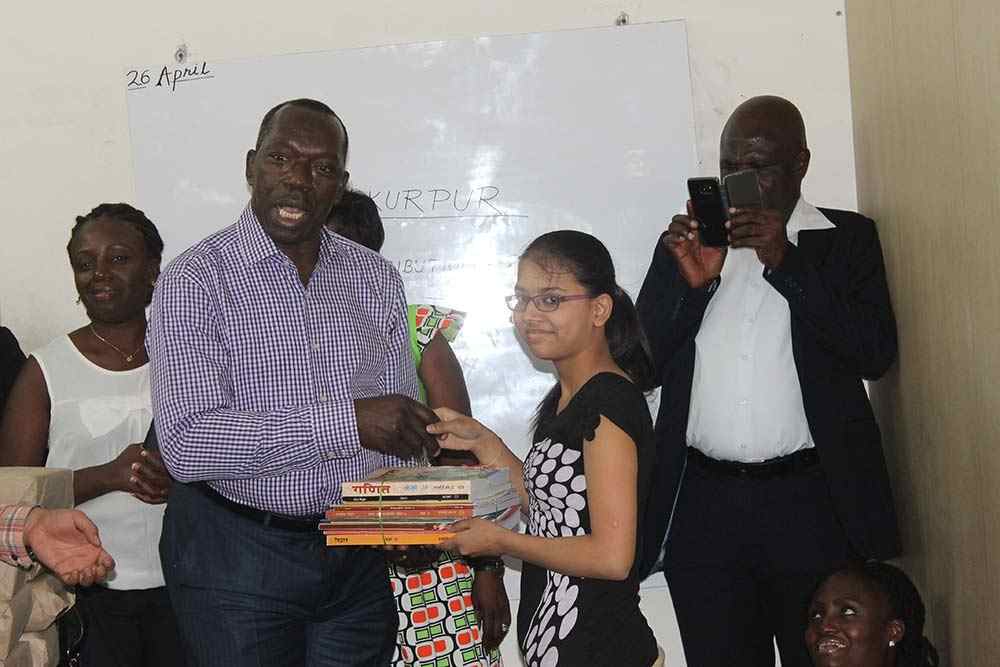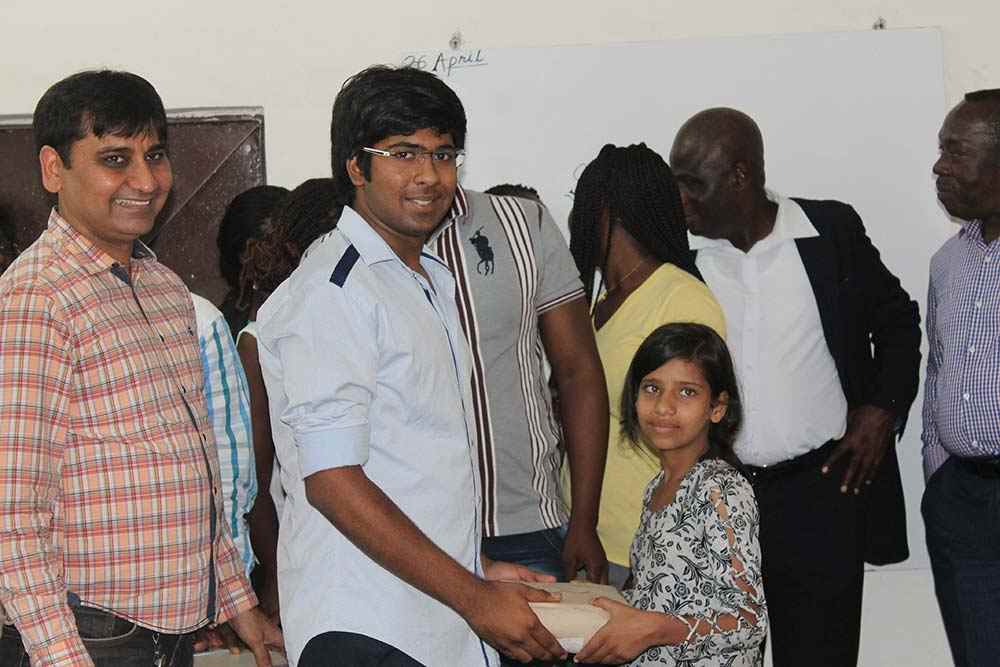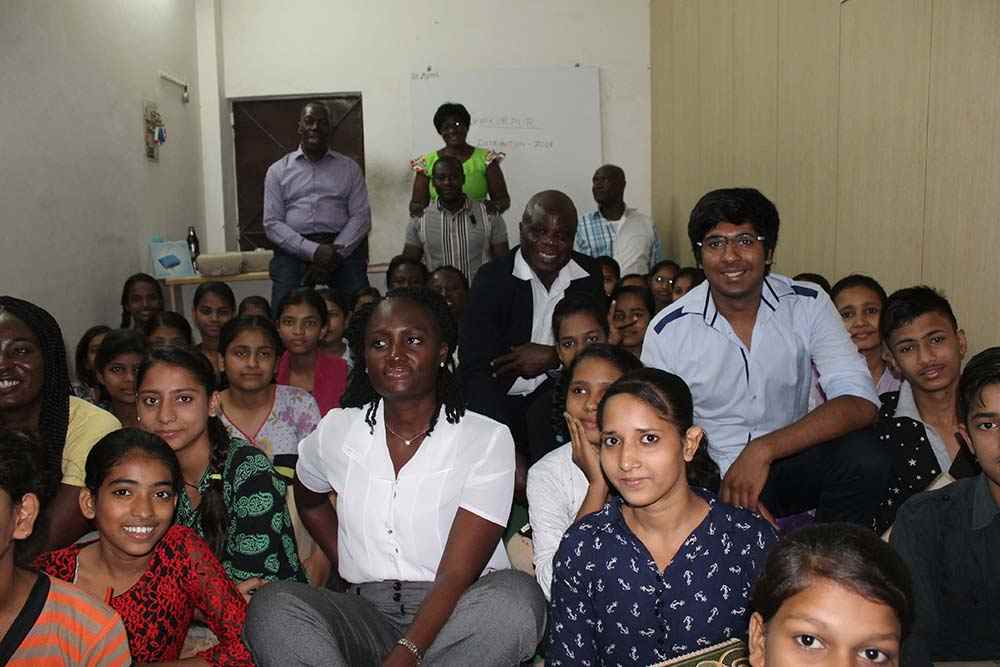 2016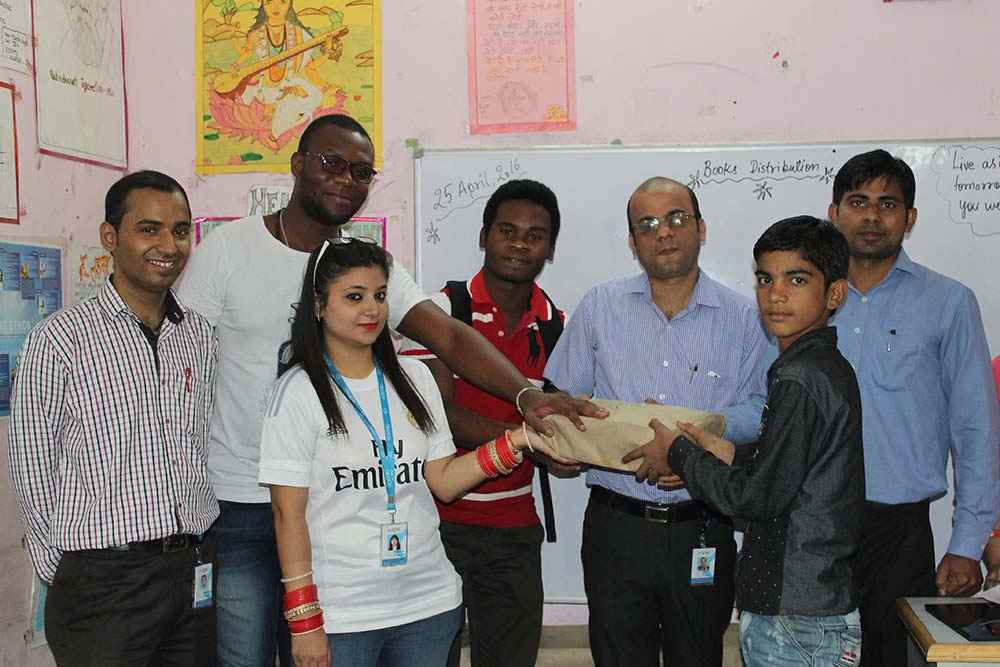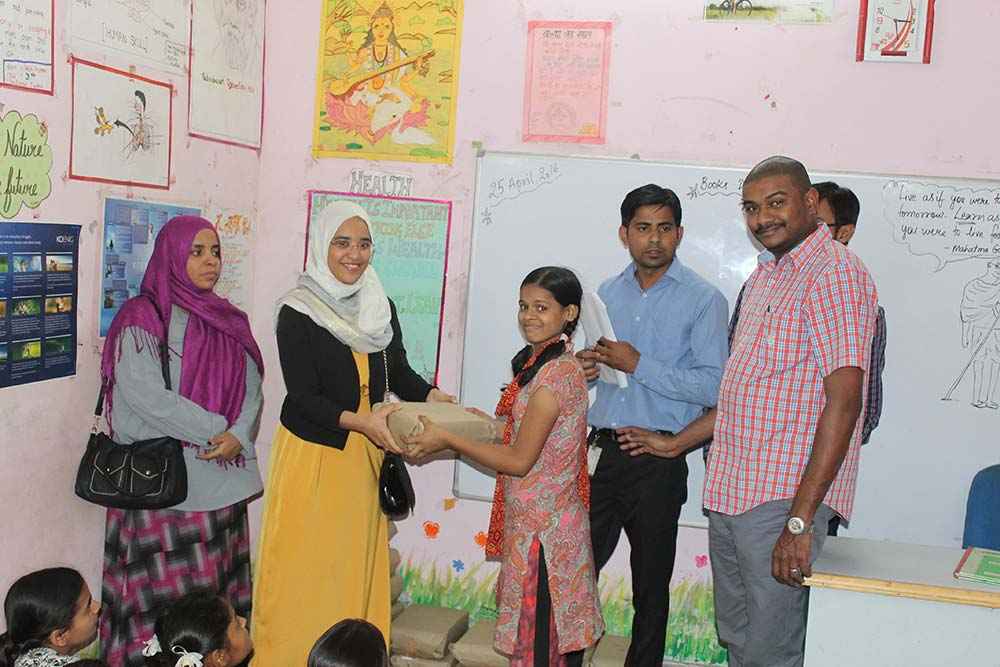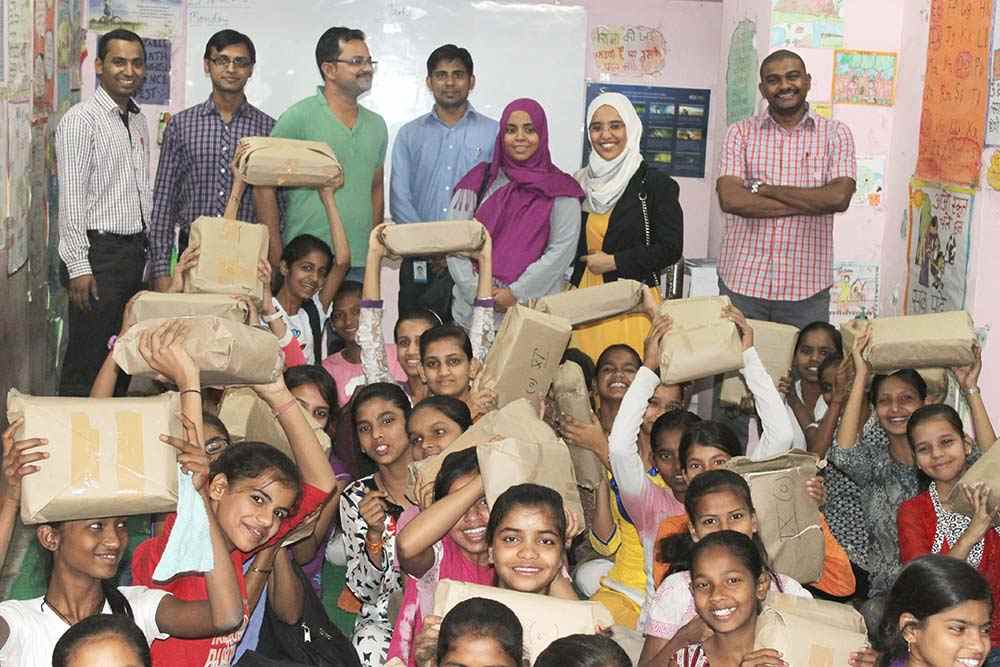 2015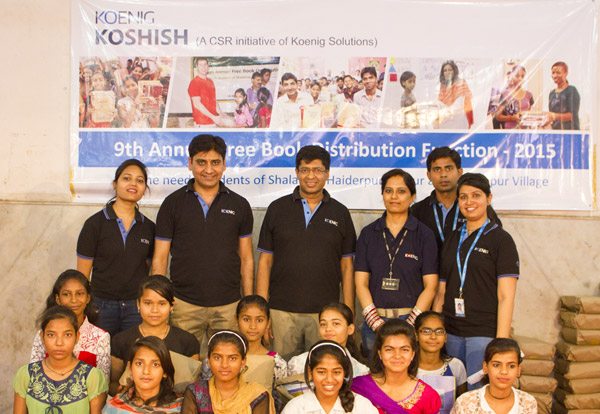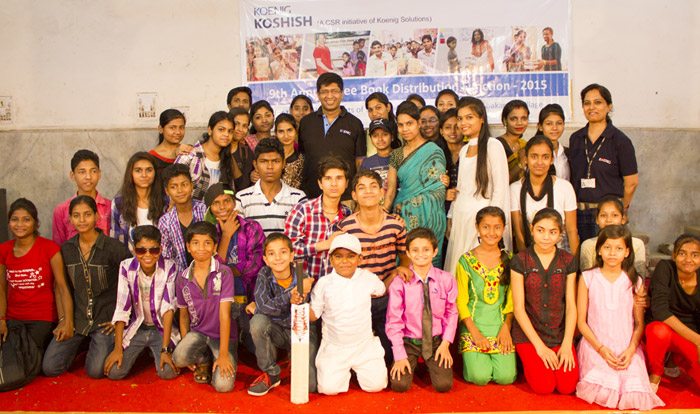 2014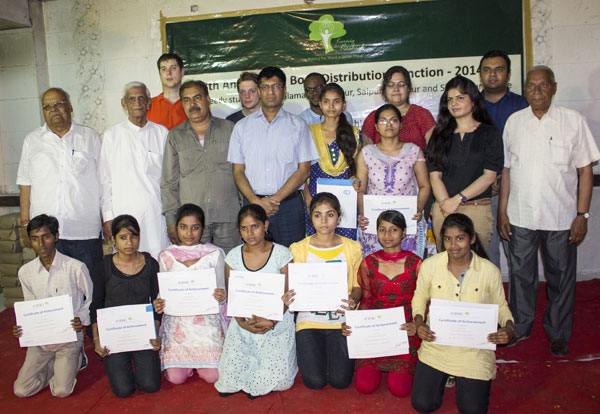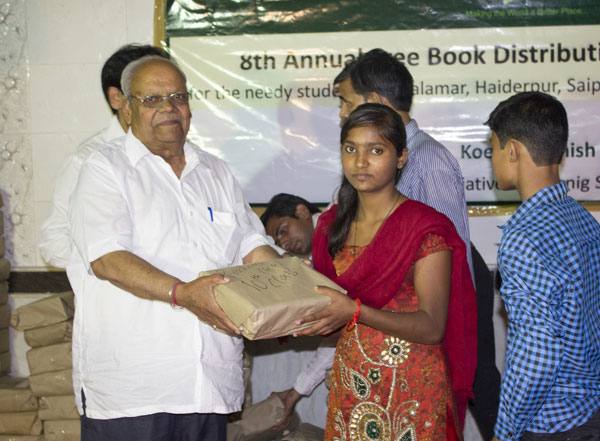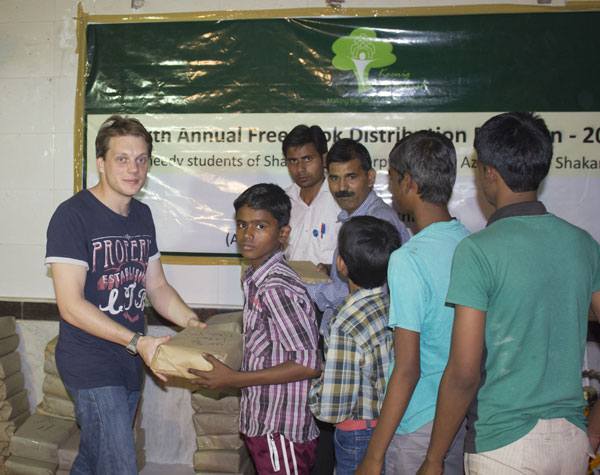 2013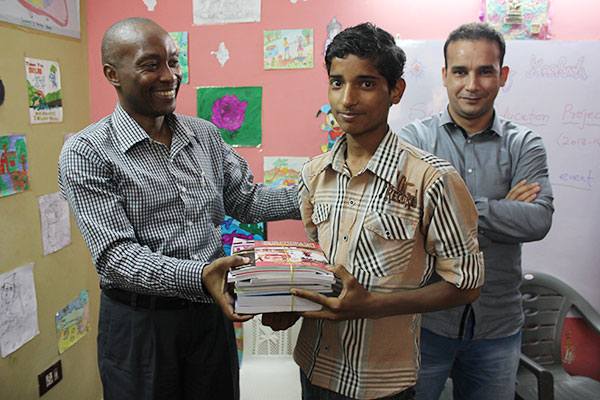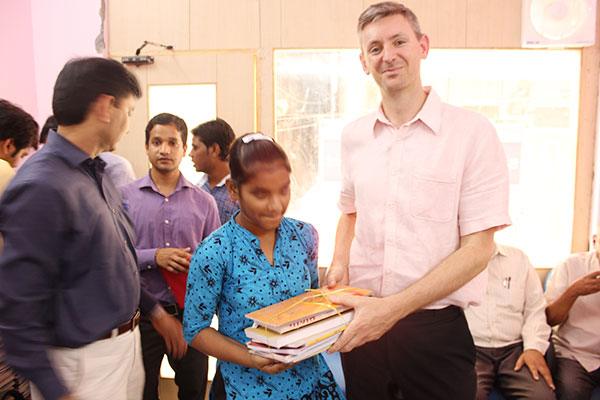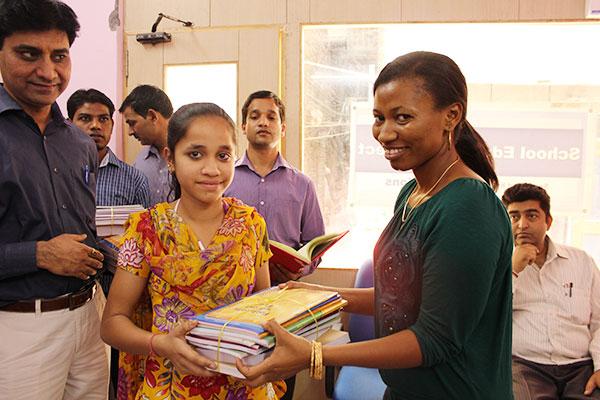 2012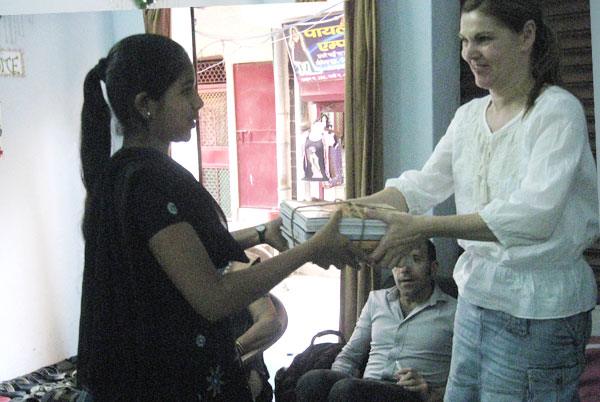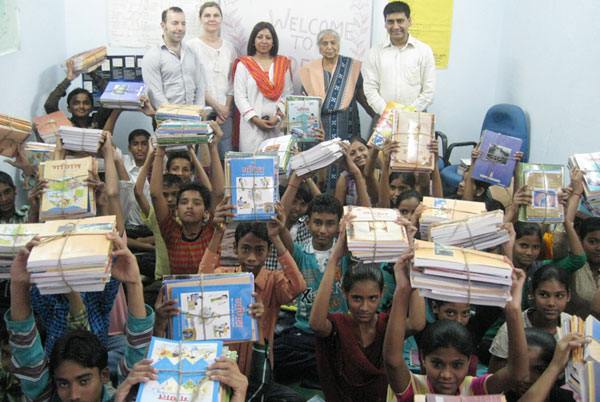 Competitive Exam Preparation
A need - analysis session uncovered another area where help was required. We realized that coaching for government jobs will provide village youth with much required job security and stability. Our educational program for the underprivileged youth also includes competitive coaching classes for undergraduate students.
English Communication
We organize special English Communication Sessions by language experts to ensure that students brush up their basics and learn to communicate effectively in English. Koenig experts help enhance the language and communication skills thereby improving their employability as well.
Interview Skills
While theoretical knowledge is necessary, soft skills can't be ignored either. Koenig HR personnel and technical experts hold sessions for these students from time to time to polish their interview cracking skills.
Career Counselling Sessions
For underprivileged school students studying in class IX, X, XI, and XII, Koenig provides professional advisory and counseling sessions to assist them in finding the right career option for them by tapping their strengths and talents, and overcoming their weaknesses.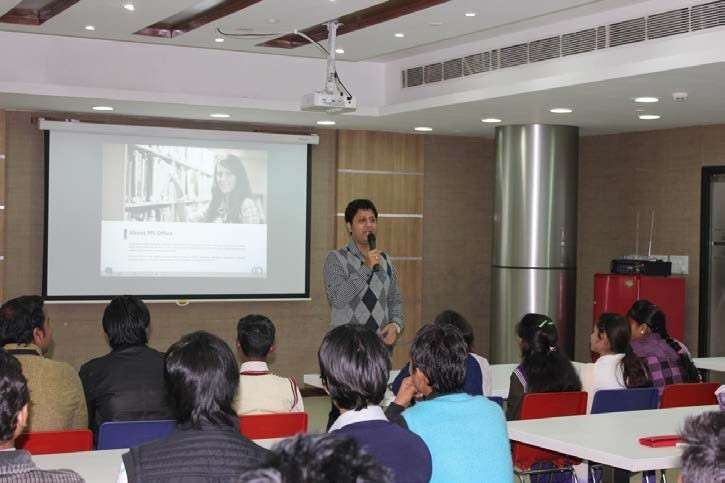 Workshops & Guidance Sessions
Our personalized guidance, counseling ensures that students succeed in their chosen path, both in education and beyond.
Purity Workshop: To enlighten the young souls on the ethics of life so that they become responsible citizens of the society.
Motivational Seminars: To give them a little push in the right direction, we organize various motivational sessions for the CSR students.
Sanitary Education & Hygienic living: "Teach love, generosity, good manners and some of that will drift from the classrooms to their homes and who knows, these children might educate their parents".
Talent Hunt
In our society, millions of children have uncountable hidden talents that remain unexposed. Koenig regularly hosts various events and talent hunt drives to find the hidden gems amongst the less privileged people, and polish them for a better future. Children get the opportunity to showcase their talent in various categories - Drawing, Essay Writing, Quiz and Slogan Competition, Social Plays, Singing and Dancing etc.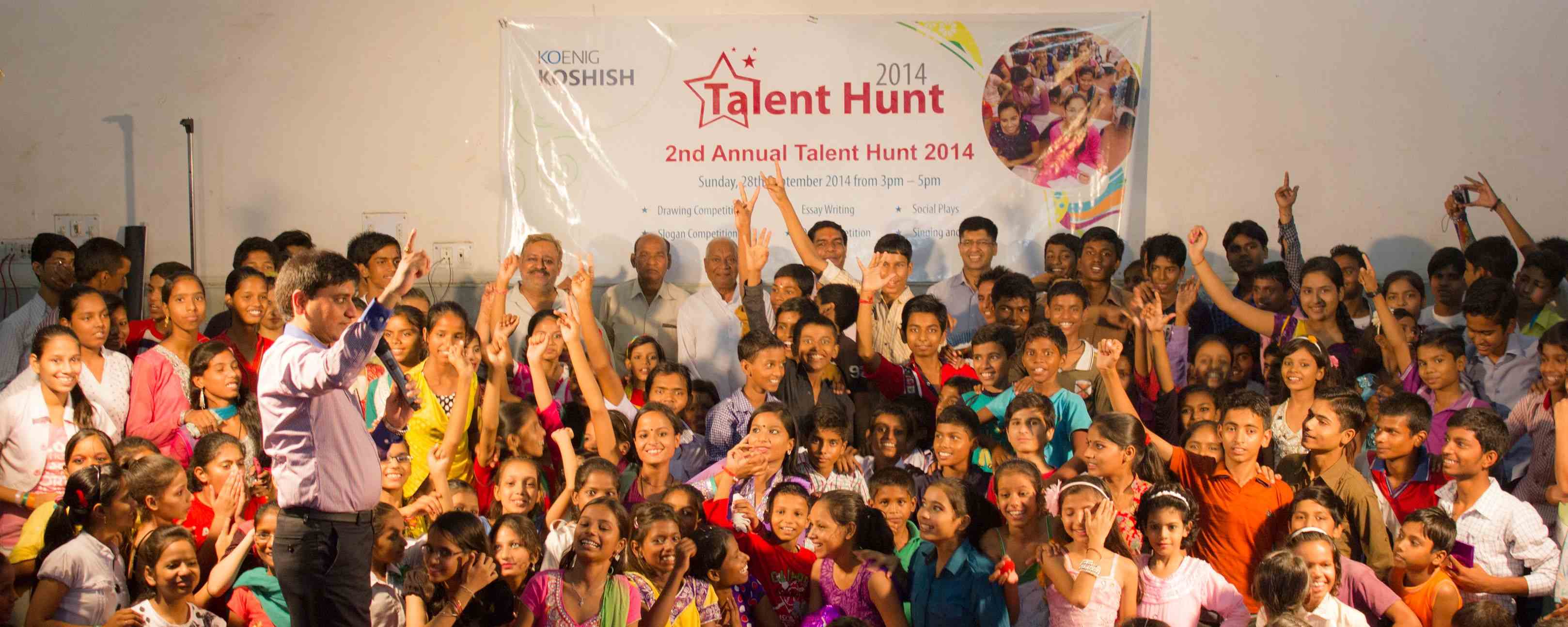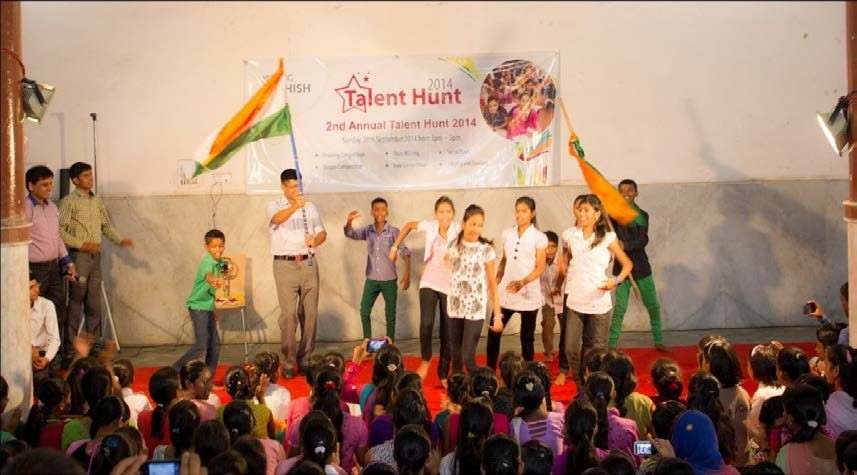 Koenig Koshish Vision 2020:
To educate 100,000 underprivileged students of Delhi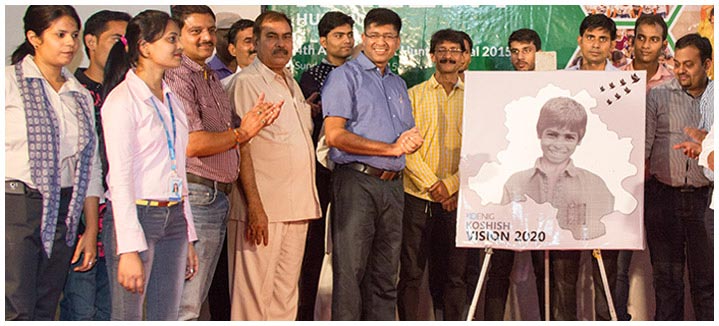 Other Initiatives
Apart from education, Koenig regularly hosts various other annual CSR programs such as blood donation camps in its premises. The most recent blood donation camp received a stupendous response from Koenig-ites. Over 125 units of blood was collected in one day!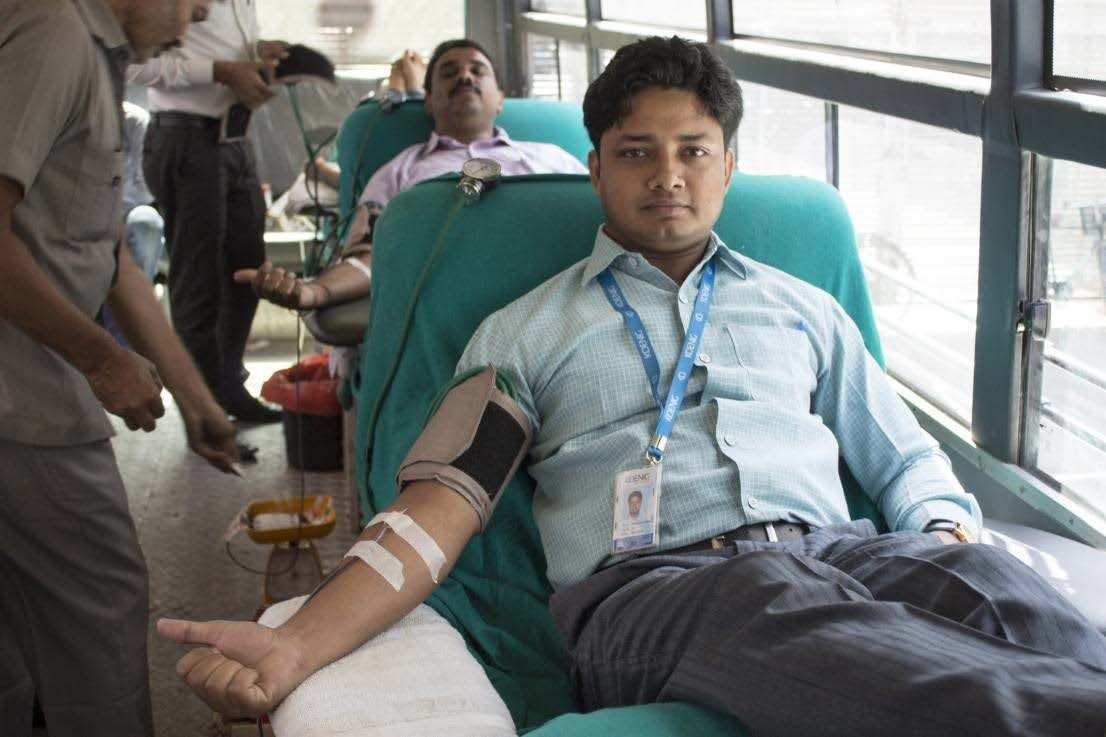 Additionally, Koenig also actively engages in arranging activities such as Eye donation and an initiative called Vastra Daan in association with Goonj (a leading NGO). All Koenig-ites gather their old clothes and shoes in huge numbers to be given away to the needy.
Vastra Daan (Clothes Donation)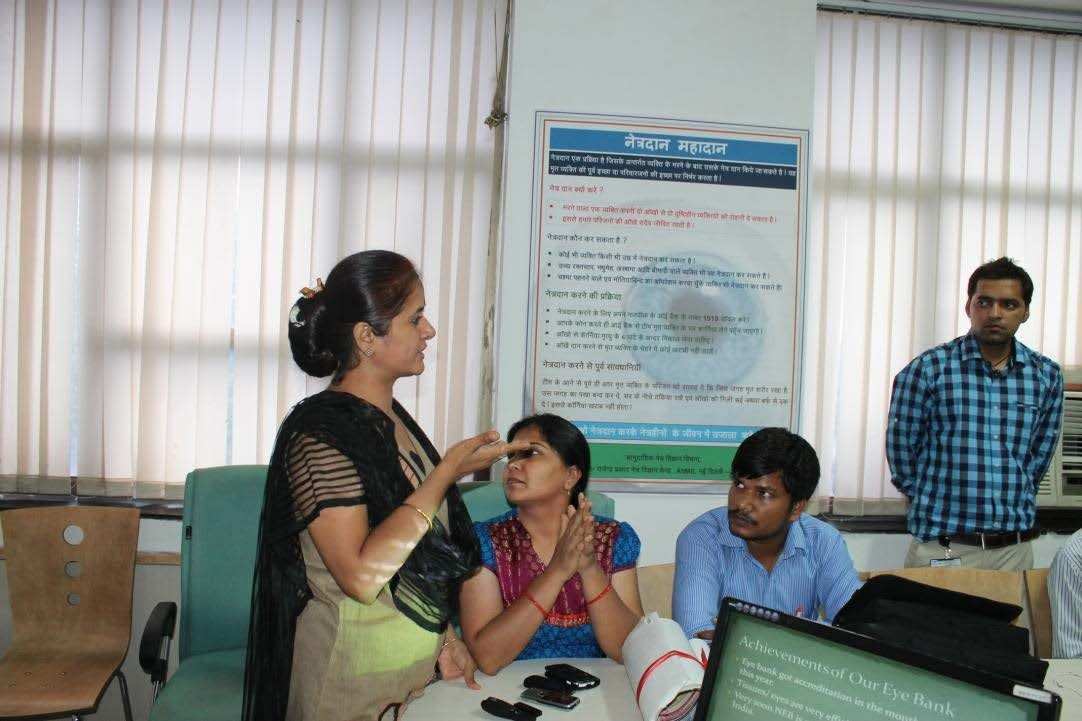 Eye Pledge Day in association with AIIMS, New Delhi
Koenig employees came together and organized a flash mob dance at Moments Mall, Kirti Nagar, on Republic Day 2013 to salute the spirit of a woman. Spectators were touched by this simple gesture and the dance performance became a huge success. View Video

Remark Feedback from visit to Koenig Koshish
| Date | Name | Remark |
| --- | --- | --- |
| 2018-12-12 | Sunny Jeswani | Just WOW !! It is an awesome projected by Koenig.. |
| 2018-12-12 | Rahul Kumar Chauhan | Good initiative should continue doing it |
| 2018-12-12 | Megha Jain | Great initiative made me proud of being a part of the organisation |
| 2018-12-12 | Reena Kumari | It's great work |
| 2018-11-21 | Gaurav Chakraborty | It is an amazing Koshish from Koenig to support the unprivileged children to dream big and having a support from Koenig to achieve that too. |
| 2018-11-21 | Rahul Vohra | it was nice |
| 2018-11-21 | Kuldeep Sajwan | It was really great. I feel really proud to become a part of Koenig. |