ISACA Certification and Training Courses Overview:
Organizations across the globe have understood the importance of running processes and streamlining the workforce with respect to IT Security frameworks and methodologies. ISACA is one such governing body that introduced COBIT, CISM, CRISC, CISA, and other popular IT Security and Governance courses. Previously COBIT 5 was and is a very popular framework even today. But, recently, ISACA updated their COBIT framework to the latest version in COBIT 2019.
ISACA certification and training courses are not just ideal for IT or tech-related industries; the COBIT framework is universal in its application and can be applied to any industry irrespective of the sector it belongs. With enterprises focusing more on governance, risk management, control, security, and audit, it is critical for them to have professionals who are experts in the same. In this regard, ISACA introduced various courses that address the transformative need of the enterprises to be competitive and relevant for the future.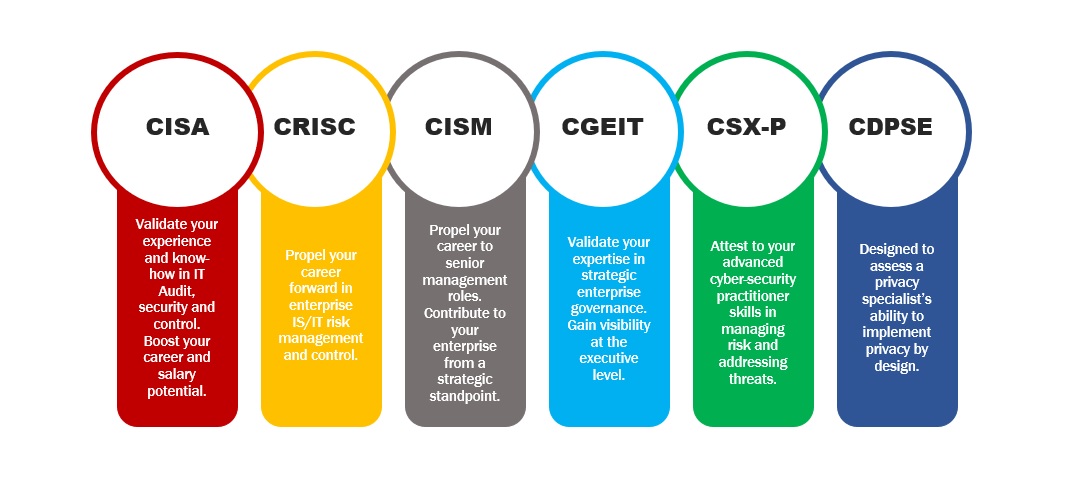 Popular ISACA Certification and Training Courses
Some of the popular ISACA certification and training courses are listed below:
1- COBIT® 2019 Foundation Certification Training:
Professionals who are interested in the IT Security aspect of an organization know that COBIT is one of the popular frameworks used globally. And the latest iteration of COBIT in COBIT 2019 has brought much-needed change to the previously used COBIT 5 framework. COBIT 2019, as a framework provides individuals and enterprises the guidance to create a governance system that aligns with other international standards, regulations, and frameworks. With
COBIT 2019 Foundation certification training
, participants will learn the fundamental aspects of creating an Agile governance system and the latest practice in Enterprise Governance of Information and Technology (EGIT).
2- CRISC® Certification Training:
CRISC certification training is one of the popular courses from the house of ISACA. CRISC, known as Certified in Risk and Information Systems Control, is a certification training that helps professionals to identify and manage enterprise IT risk along with implementing and maintaining information systems control. Participants who take up the
CRISC certification
training will help to gain credibility and showcase their commitment towards a career in the IT security domain. This CRISC training is highly beneficial for Risk Management and cybersecurity professionals.
3- CGEIT Certification Training:
The
CGEIT certification training
is quite a popular certification course among IT security professionals across industry sectors. Certified in the Governance of Enterprise IT (CGEIT®) certification training helps professionals to gain a mindset that helps them to design, implement, and manage IT governance systems which is aligned to enterprise business requirements. As CGEIT is a neutral framework with regards to IT Security and Governance, any organization can implement and adopt CGEIT to achieve excellence in IT operations and other activities.
4- CISA Certification Training:
The Certified Information Systems Auditor (CISA®) is a popular IT auditing certification training opted by professionals worldwide. Participants taking part in the CISA certification training will gain a thorough understanding of auditing, monitoring, controlling, and assessing an enterprises' IT and business systems. Today, CISA certified professionals are some of the most sought-after and highly-paid individuals. The
CISA Certification course
is ideal for anybody who is looking to grow in IT careers.
5- CISM Certification Training:
The Certified Information Security Manager (CISM®) widely-recognized IT security certification course for professionals and enterprise teams globally. Participants taking up the CISM certification will learn skills in IT governance, risk management, incident management, and program management in an enterprise. Moreover, the
CISM Certification course
is ideal for mid to senior IT professionals who are looking to forge their careers in
IT Security
and Control.
Who can take up ISACA Certifications?
Job roles that can benefit from ISACA certifications are:
IT Managers
Project Managers
Business Managers
Risk Management Professionals
Regulators
Security Consultants
Program Managers
Security and Compliance Professionals
GRC Professionals
Security Auditors
System Security Architects
Information Security Managers
ISO Professionals
Network Architects
Anybody who wants to gain a proper understanding of ISACA's popular certification courses
Professionals looking to clear their relevant ISACA certification exams
Reasons to choose ISACA Certification Courses from Koenig Solutions
All ISACA Certification courses provided for professionals and enterprises across various categories such as Information Security, Governance, Compliance, Cybersecurity, and more
Expert IT Security and Governance trainers who deliver instructor-led training worldwide
Key resources provided with case studies developed by practitioners with real-world experiences in implementing IT security frameworks globally
Get ISACA Certification training across the globe from an Accredited ISACA Training Partner
Professionals have to option to take up their ISACA training as 8 hours/day or 4 hours/day time slots
Get customized training and pick and choose modules for your ISACA training that meet your actual business and learning requirements for your teams
Get dedicated attention for your ISACA certification training with 1-to-1 training and Fly-me-a-trainer options
Be part of 'Guaranteed to Run' ISACA Certification training sessions with 'Exam Pass Guarantee'
Benefits of ISACA Certification Training
Demonstrate and validate your skills in the latest IT security and governance best practices
Help enterprises to adopt and implement IT security and governance frameworks that align with business goals
Understand how to use IT security-related tools and processes to help enterprises and professionals to undergo a significant cultural change with regards to how they deliver their products and services to customers
Enhance the scope of your career with some of the most popular IT Security / Cybersecurity certification courses that include COBIT 5, COBIT 2019, CISA, CISM, CRISC, CGEIT, and many more
Achieve a minimum of 22% hike on your salary with ISACA certification credentials and a 70% improvement in your on the job performance
Embark on a successful career path with ISACA certification courses that help to address your credibility in interactions with stakeholders, regulators, and peers
ISACA certified professionals do have a high probability of being retained than non-certified counterparts
Showcase your expertise to assess enterprise vulnerabilities, security, and control mechanisms
ISACA Certification Process
Professional can gain ISACA certification by taking up any one of their highly popular training programs in the IT Security and Governance category. Below are the steps to become an ISACA certified professional:
Pick a relevant ISACA certification course that you feel will deliver the most value
Choose a schedule that meets your requirements and time slots accordingly
Prepare for your actual ISACA certification training by going through the pre-reading materials provided by Koenig Solutions and ISACA governing body
Attend your ISACA Certification training and clear your doubts and start preparing for the certification exam
Prepare for your ISACA certification exam by taking up as many as sample practice tests
Become an ISACA Certified Professional to take your IT Security and Governance or Cybersecurity career to the next level
Salary prospects for ISACA Certified Professionals
There is an excellent demand for ISACA certification courses by professionals and enterprises to navigate in this challenging digital business environment. Let's take a look at the salary prospects of ISACA Certified Professionals.
Job Prospects for ISACA Certified Professionals
ISACA certifications are prevalent among IT professionals and enterprises worldwide. There are nearly more than 200,000+ ISACA certified professionals who are spread across 188 countries. Some of the companies that are actively hiring ISACA certified professionals include
Google
, Robert Half, The Griffin Groupe, Sabre, IBM, ITA International, Infinera, John Deere, VMware, Reliance, Nokia, and many more. Check out your local job listings to find ISACA-related certification credential job prospects in your region.