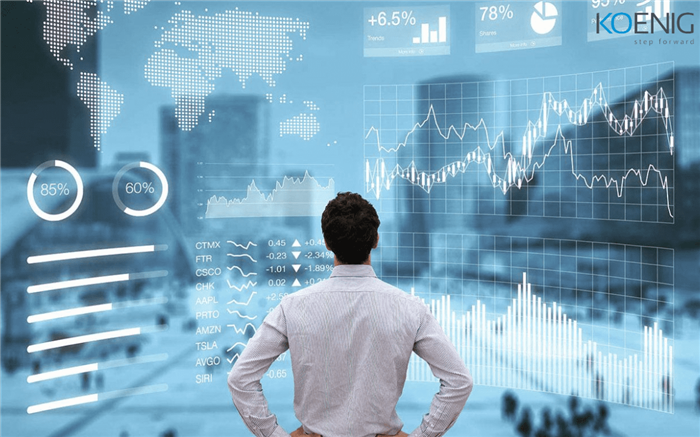 The business world has never been more reliant on business intelligence capability. The demand for BI professionals is massive. The U.S. Bureau of Labor Statistics projects a 14 per cent growth in demand for BI analysts through 2024. The recent expansion in this profession has grown with the amount of data collected by businesses.
Organizations want to push the envelope by applying data to improve outcomes in their various enterprises. In highly competitive industries, there is always a need to stay one step ahead of the competition. Business intelligence is emerging as the key to solving the "smarter, faster, cheaper" equation.
What Is Business Intelligence?
Business Intelligence (BI) includes the operation and management of data-processing tools and systems. These include data visualisation tools, data modelling tools, decision-support systems, database management systems and data warehousing systems. There has been widespread adoption of business intelligence in diverse sectors, thanks to its capabilities to facilitate intelligent decision-making. This ensures acceleration in process enhancements, improves productivity and boosts the end-user experience.
Who Is A Business Intelligence Analyst?
A business intelligence analyst is proficient in computer programming languages, BI tools and technologies and systems. They determine business-critical priorities and requirements, define KPIs (Key Performance Indicators), implement Data Warehouse (DW) strategies and identify BI by mining big data using advanced software and tools. Their primary goal is to empower decision-makers with accurate, real-time actionable insights which will help enhance workforce efficiency, increase productivity, strengthen market positioning, improve competitive edges and augment customer service.
What Does A Business Intelligence Analyst Do?
The job of a Business Intelligence analyst is to use data modelling, data analysis and data visualisation techniques to unearth trends and patterns in data, and enable managers, executives and departments to make intelligent business decisions. Other day-to-day activities of a Business Intelligence analyst involves interacting and collaborating with all stakeholders, giving presentations on key performance metrics and writing reports to share knowledge from data.
You May Also Like: What Is Certified Scrum Master Certification?
What Skills Are Required To Be A Business Intelligence Analyst
A successful BI analyst has a mix of technical, soft and analytical skills. The job includes mining data by using complex tools and software and then analysing that data to find trends. Once the data trends are spotted, they need to be communicated to others in the organisation and find solutions to fix any issues found.
Popular BI analyst skills include:
1. Data Analysis.
One of the main duties of a BI analyst is to use data to make better decisions for the company. This skill includes being good at examining many different sources of data and then making accurate conclusions.
2. Problem-solving.
BI is not limited to just analysing data, it's also about creating business strategies and solving real-world business problems with that data. A BI analyst is the one to extract actionable insights from specific retail KPIs that need to be visualised and then present it during a meeting.
3. Specific Industry Knowledge.
While most skills can be learned on the job, a BI analyst needs to have a solid grasp of the industry's dynamics, particularly the areas of the field that they are looking to work in. Over time, this expertise will increase your ability to connect data with business problem-solving.
4. Communication Skills.
In addition to analytical skills, a BI expert also needs to be able to communicate their findings effectively to the team. Though, in a back-end team, the need for communication isn't much. Front-end BI analysts are responsible for communicating technical concepts to non-technical people. This depends on the industry.
5. Advanced Vision And Attention To Detail.
A career in Business Intelligence is incredibly detail-oriented. A BI expert will work with the smallest fragment of information to turn it into actionable insight. This requires a great deal of forward-thinking vision and the ability to pay very close attention to detail to succeed in the world of BI.
6. Business Acumen.
To thrive in a Business Intelligence career, an analyst needs to possess a swift ability to understand the company's business model and how to tailor efforts to not only gain maximum value from KPIs and make strategic decisions that will help the organisation succeed continually.
Additional Read: Interview Questions And Answers For The CCNA Certified Professionals
Training and Certification Requirements
Companies around the world prefer hiring candidates with experience in the IT or business industry. There is often on-the-job training involved, mostly through entry-level positions or internships with the organisation. Training on specific software and computer programs are also made available. Analysts can also attend many conferences and seminars as part of off-the-job training. Through these, analysts can learn more about industry trends and the most updated practices. The technical aspects are one of the most important parts of a Business Intelligence analyst's job so getting certification for skills like SQL, Oracle or Python can all be helpful. They help demonstrate a candidate's foundational and advanced knowledge in a specific program or language. Certifications also help analysts meet job requirements and increase their earning potential.
How to Become a Business Intelligence Analyst
If you have a highly analytical mindset and the right mix of technical and soft skills, you are eligible to be a Business Intelligence analyst. To get closer to your career goal of becoming a Business Intelligence analyst, follow these steps:
Get an undergraduate degree: In the world that looks for a relevant skillset, an undergraduate degree might seem unnecessary. However, a bachelor's degree gives you the background, case studies, and all relevant information you need to become a BI analyst. Some useful degrees are computer or data science, economics, engineering or business administration. Coursework in statistics and analysis is helpful.
Complete an internship: Though there are some degrees and certifications can provide background for a career in Business Intelligence, it won't garner real benefits without being used in the real world. An internship in a financial or technical field can give entry-level data analysts the necessary experience and knowledge to become a successful BI analyst.
Get a Business Intelligence analyst certification: Obtaining a professional certification in business intelligence can help analysts prove that they can successfully use and design SQL and deliver data-based solutions. Learning a computer programming language like Python can further help a candidate's earning potential.
Apply for open positions: Once all the required skills are obtained, the experience is gained and professional certification is earned, analysts can start looking for open BI expert roles. An internal promotion can also be pursued, if the position is available.
Get a Master's degree: Job options can be expanded by getting a master degree in business administration or any other related fields like IT. A master's degree can also serve as a substitute for necessary experience.
The Business Intelligence Analytics job market is constantly growing and will expand into many different fields like healthcare, education, finance and even law enforcement. Organisations in all these fields will look for ways to compete and stand out in the industry and BI analysts can provide them with the necessary insights using data to be used to their advantage. This makes BI analysts highly sought-after individuals. When you have the right skills, experience and interest in problem-solving, you can set yourself apart in this competitive yet thriving job market.