Microsoft Azure Role-based Certifications
Not everybody does the same job; similarly, not every certification is relevant to a multitude of job roles. In the same vein, Microsoft Azure has different role-based pathways of professionals with varied experience. To make learning more structured and relevant, Microsoft has introduced certification paths that are more suited to your job role and expertise.
Microsoft is changing the way certifications are offered in the industry; they are no more looking at a specific technology; they are taking a much more job-centric approach towards designing and developing their Microsoft Azure certification programs. With his role-based certification pathways, individuals can choose certification paths that are closely aligned to their job roles and demonstrate their commitment, and learn new skills to perform their duties in an efficient manner.
Especially for Microsoft Azure technology, Microsoft has divided the certification paths into three levels depending upon job roles and expertise; these are Microsoft Azure Fundamental Level Certifications, Microsoft Azure Associate Level Certifications, and Microsoft Azure Expert Level Certifications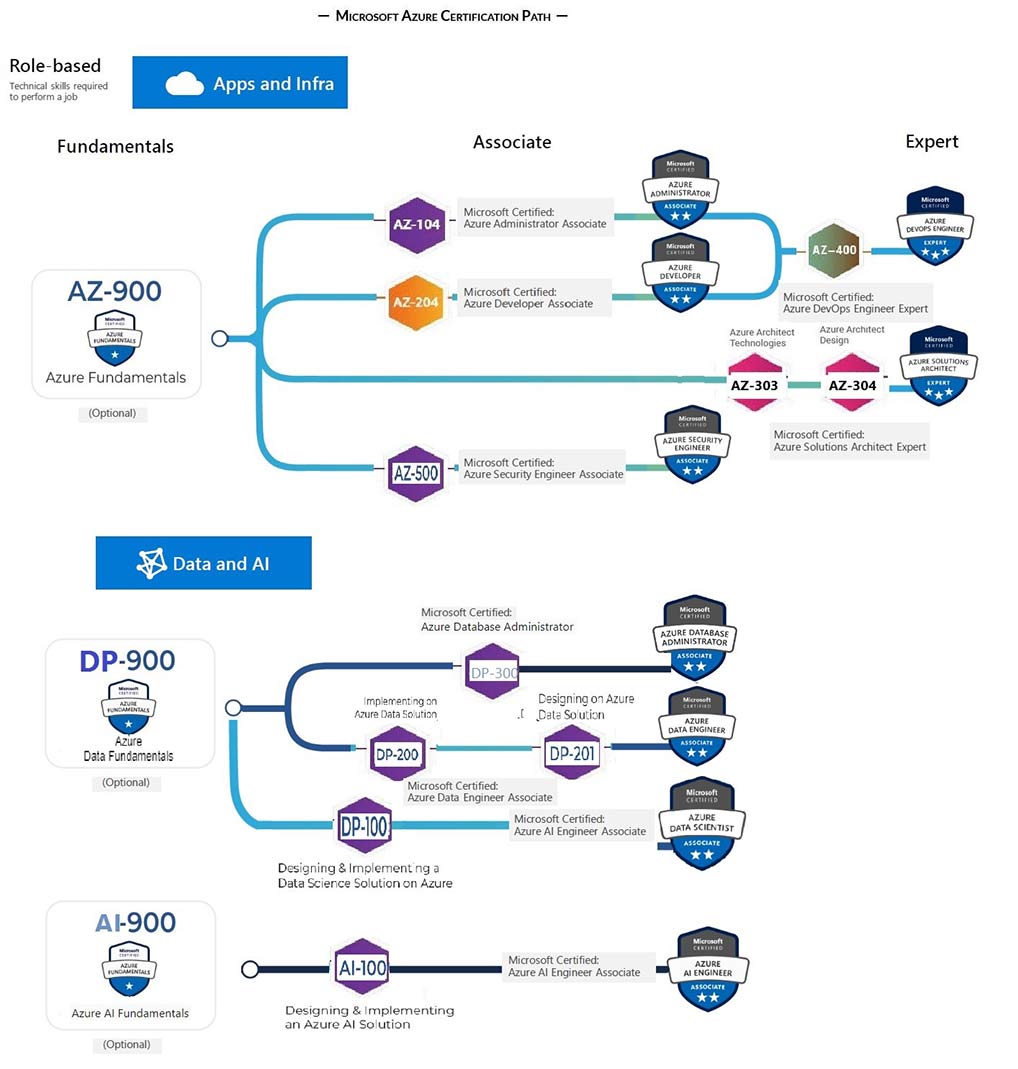 Microsoft Azure Fundamentals Certification Training
The Microsoft Azure Fundamentals level certification is aimed at individuals who are just starting their career working on the Microsoft Azure technology or with 1-2 years of experience in the cloud domain. Moreover, these fundamental level certifications are also ideal for professionals who are looking to make a career change towards the Microsoft Azure platform.
Microsoft Azure Associate Level Certification
The best part about Associate level certification is that it is aimed at professionals who are already experienced in the range of 2-3 years in relevant technologies. Here the Microsoft Azure Associate Level certification training validates an individual's expertise and interest in learning Azure technologies.
For professionals who are looking to change their career path would be better off by starting with fundamental certification and then going for associate-level training. Becoming a Microsoft Azure Associate will require you to clear one or a couple of exams related to that particular technology.
Microsoft Azure Expert Level Certification
The Microsoft Azure Expert certifications are ideal for professionals with greater experience in the range of 3-5 years working with technologies covered for those particular Azure courses. For most of the Microsoft Azure Expert certifications, Microsoft Azure Associate certifications will be a prerequisite.
It would be wise to choose Associate Level certifications first before going for an Expert Level certification. This helps you to earn the required prerequisites with a proper foundation towards the knowledge and skills gained and then go for the Microsoft Azure Expert certification. These Microsoft certifications are the ones that help you to grow in your career and demonstrate your overall capability to drive cloud transformations in your enterprise.
Who can take up Microsoft Azure Certification Training?
Job roles that can benefit from Microsoft Azure Certification training include, but are not limited to:
System Administrators
Network Administrators
Developers
Cloud Administrators
Cloud Architects
Database Administrators
Security Engineers
Data Architects
Data Administrators
Business Intelligence Professionals
Experienced Azure Administrators
Azure Developers
DevOps Professionals (professionals who know the DevOps style of work)
Anybody who is looking to gain knowledge of MS Azure Certification training across various technologies
Anybody who is looking to clear their respective Microsoft Azure certification exams
Reasons to choose Microsoft Azure Certification Courses from Koenig
A comprehensive portfolio of Microsoft Azure certification courses spread across Fundamental, Associate, and Expert Levels
Kick start your Microsoft Azure Certifications pathway across Microsoft Azure technologies
Expert Microsoft Azure instructors and hands-on labs to clear your relevant examinations
Microsoft Azure Certification course material prepared by SMEs with regular content updates
Get Microsoft Azure training from a Microsoft Gold Partner
Get Flexible dates for both public workshops and corporate training programs
Take part in industry-leading with 4 hours/ day training time slots on both weekends and weekdays
Multiple learning modes that also include 1-on-1 training for dedicated attention
Take part in 'Guaranteed to Run' Microsoft Azure Certification sessions with 'Exam Pass Guarantee'
Become a global professional with widely-recognized Microsoft Azure certification training courses
Benefits of Microsoft Azure Certification Training
Showcase your commitment towards your profession by earning Microsoft Azure certification training across various technologies.
Earn higher salaries worldwide across industry sectors. According to various job portals, the average pay for an Azure Developer is around USD 130,000 and for an Azure Architect is around USD 144,000 per year. The salary range differs depending on the location, job role, and experience. Usually, Microsoft Azure Certified professionals earn in the range of USD 40,000 – USD 172,000 per year.
Achieve career flexibility with Microsoft Azure training with role-based certification paths in Fundamental, Associate, and Expert level certifications.
Stay relevant in a competitive job market where most of the processes are migrating to cloud and other hybrid environments. MS Azure certification training helps you to stand out from your non-certified counterparts.
Get the hang of structure learning through Microsoft Azure certification training that overarches many other tools and techniques in GitHub, DevOps, Hadoop, Eclipse, and more.
Gain a holistic understanding of Microsoft Azure training that includes different professional tracks such as Administrator, AI Engineer, Security Engineer, Architect, Developer, Data Scientist, and Data Engineer.
Get trained in a cloud platform that has the lion's share in the market. As of today, Microsoft Azure is one of the leading cloud solutions providers. 80% of Fortune companies have migrated their business processes to the Microsoft Azure platform.
Get unrivaled hybrid capabilities with Microsoft Azure. It is very easy for businesses to move from physical and hybrid to complete cloud with proper knowledge of Microsoft Azure certification training.
Microsoft Azure Certifications Training Cost