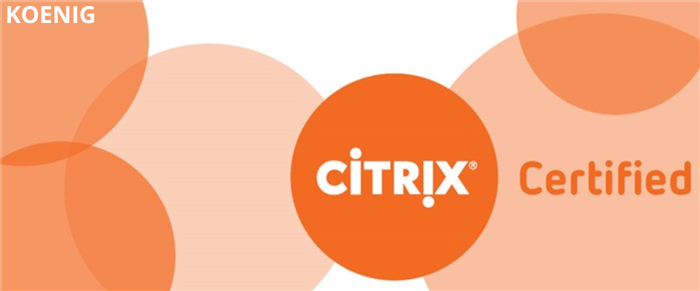 Citrix is popular for its Xen products for server, desktop and application virtualisation. The Citrix suite is a well-known substitute for enterprise cloud and virtualisation offerings like VMware and Microsoft Hyper-V.
Like Amazon, Microsoft and other enterprise software design companies, Citrix understands the value of certifications and offers a range of training and certification courses for IT professionals who wish to specialise in Citrix digital or networking solutions.
Here's what you need to know about the Citrix Certification Career Path.
What are Citrix Certifications?
A
Citrix certification
is proof of a professional's skills for installing, configuring and managing Citrix Networking or Digital Workplace products within a complex enterprise networking and cloud environment. The fundamental Citrix certification career path includes three experience levels.
Citrix Certified Associate (CCA)
Citrix Certified Professional (CCP)
Citrix Certified Expert (CCE) for Virtualisation/ Networking
Citrix certifications also award credentials to professionals skilled in Citrix Virtual Apps and Desktops, within either Citrix Cloud or the cloud platform provided by
Microsoft Azure
, and for ShareFile, Endpoint Management, XenServer and SD-WAN by Citrix. You also have the option of the Certified Service Delivery Professional from Citrix, for candidates working for Citrix solution providers.
Besides these credentials which applicants must clear an exam to earn, Citrix also awards skill and proficiency badges. Digital IT professionals display these badges on their resumes as proof of their knowledge and skills in using different Citrix solutions and tools. You don't need to pass an exam for these badges, simply complete the respective Citrix e-learning course and assessments.
Citrix Certifications and Courses:
1. Citrix Virtual Apps and Desktop Service on Microsoft Azure Training:
This certification course was formerly called the Moving XenApp and XenDesktop Service on Microsoft Azure. It is a certification course that empowers candidates to manage and deploy Citrix virtual apps and desktop apps within the Microsoft Azure environment. This training course is based on version 7.13 which is the latest version of the product.
Candidates enrolling for this course need to have basic Microsoft Azure knowledge and experience in the management and deployment of Citrix desktop and virtual apps.
2. Citrix Virtual Apps and Desktops 7 Administration On-Premises and in Citrix Cloud Certification Training:
This certification course extends for five days. It is an instructor-led program, ideal to train enterprises and individuals who wish to migrate to Citrix Cloud and want to learn about installation, configuration and management of Citrix virtual apps within an enterprise environment.
3. Manage Citrix Endpoint Management Certification Training:
This certification program extends for three days. It is a Citrix training course designed for IT professionals who wish to sharpen their skills and gain a strong understanding of Citrix Endpoint Management, which includes responsibilities like managing users, applications and devices. Participants who join this training program also learn about the architecture and overall communication flow within Citrix Endpoint Management and how they can be tailored to suit the needs of different enterprises. The Manage Citrix Endpoint Management training is the right choice for professionals who want a deeper understanding of Citrix Endpoint Management, Implementers and IT Administrators.
4. Citrix ADC 12.X Essentials Certification Training:
This training and certification course was formerly known as the Citrix NetScaler Essential training course. It is a three-day training program by Citrix that has been designed to enable candidates to get a deeper understanding of load balancing, high availability and Citrix ADC management. It has been designed on the foundation of the latest version of Citrix ADC - 12.X. This training course is best suited for System Administrators, System Architects and System Engineers.
The ADC 12.X Essentials training course has no essential prerequisites. However, it is recommended by Citrix that participants should study the ADC Introduction resource bundle that is available on the Citrix e-learning portal.
5. Citrix Gateway 12.X Certification Training:
This training course was formerly called the Citrix Netscaler United Gateway Training course. It is the best option for individuals and businesses who wish to learn more about configuring and managing Citrix Gateway features. Candidates who attend this certification course will learn about configuring Citrix gateway environments and managing their remote access needs for apps and desktops.
Who Should Choose the Citrix Certification Path?
If you are primarily from any of the following roles, a Citrix certification has many benefits to offer you.
IT professional
Implementer
IT administrator
System engineer
System architect
Cloud computing professional
Deployment specialist
Citrix tool management professional
Benefits of a Citrix Certification
With a Citrix certification and training, you can demonstrate your proficiency in the use of Citrix products and solutions in organisations that have adopted their platforms and applications.
A Citrix certification is widely renowned throughout the global market, and gives you instant recognition as a Citrix expert.
Citrix credentials pay one of the highest salaries within the IT domain. In the US, a professional with a Citrix credential earns an average of $95,000 every year.
You learn the skills needed for using Citrix tools within Virtual and Desktops App, Endpoint, Workspace, Gateway, ADC and Hypervisor, among others.
new career paths and opportunities open up with citrix training , as citrix encompasses a wide net of job domains such as cloud computing, virtualisation, administration and networking.
Citrix professionals can apply for jobs across industries and in international markets as well.
With an entry-level Citrix training certification, you are eligible for higher certifications and as a result, better opportunities in jobs and careers.
About 98% of all Fortune 500 organisations implement Citrix solutions. You are eligible to apply in any of them with a Citrix credential.
Why Choose Koenig?
Koenig offers over 20 of the most widely used Citrix certification courses and training for professionals.
You get to learn with expert Citrix trainers with experience implementing solutions for virtualisation, desktops and remote access within the industry.
You have access to official Citrix course material that is used in the training besides discussions on case studies. This gives you in-depth knowledge of deployment, configuration and management of Citrix solutions within an enterprise.
Flexible time slots allow you to choose either 8-hour or 4-hour slots for learning at your own pace.
Give your career the boost it deserves and enrol in a Citrix training course today.