Cyber Security Certification Courses
When it comes to cybersecurity/IT governance, there is a broad spectrum of certification courses that are available across vendors and technologies. According to reports, it is stated that there will be 3.5 million IT security jobs unfilled by 2021. A huge demand and supply issue plagues the IT sector with very less qualified Cybersecurity trained and certified professionals globally.
With security taking more prominence as a key strategic objective for enterprises across industry sectors, today, any IT job is a cybersecurity job. It is expected for any job role today to protect their systems, data, infrastructure, and applications hosted. Having a holistic overview of enterprise risk management is critical for employees to stand out in a dynamic yet challenging job market.
Cybersecurity Certification training Course can be divided into multiple tiers depending upon an individual's experience and skills. A simple hierarchy of Foundation, Intermediate, and Advanced level can be prescribed for the Cybersecurity courses.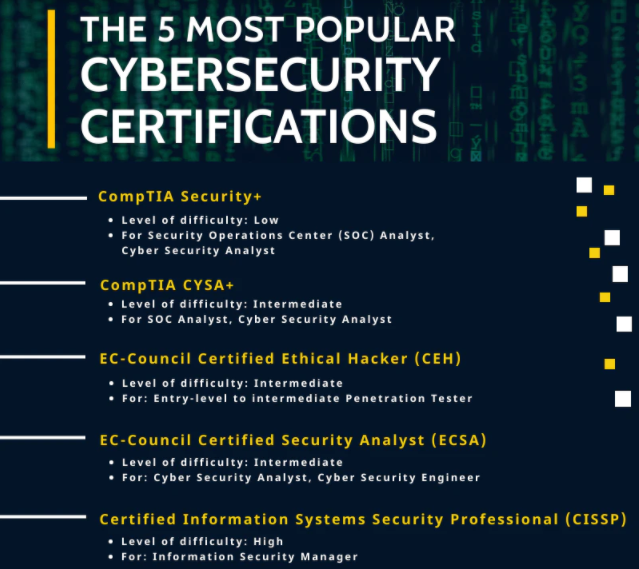 Below are some of the most sought-after cybersecurity certification training courses opted for by individuals and enterprise teams:
1- Certified Ethical Hacker (CEH) v11:
2- Certified Information Systems Security Professional (CISSP):
3- Cisco Certified Network Professional Security (CCNP):
4- Certified Information Security Manager (CISM):
5- Certified Information Systems Auditor (CISA):
6- CompTIA Security +:
Who can take up Cybersecurity Certification Training?
Job roles that can benefit from Cybersecurity Certification training include, but are not limited to:
Network Architects
Penetration Testers
Security Architects
Security Auditors
Security Managers
Security Analysts
Security Auditors
Auditing Professionals
IT Security Administrators
Information Security Analysts
CIOs
Director of Security
IT Managers
Security Consultants
Aspiring Cybersecurity Professionals
Professionals who want to understand Cybersecurity concepts in an enterprise set up
Professionals who want to clear their respective IT Security Certification exams
Reasons to choose Cybersecurity Certification Courses from Koenig
A wide range of widely-acknowledged Cybersecurity certification and training courses across multiple vendors such as EC-Council, ISC2, ISACA, CISCO, and more
Begin your RPA career journey with internationally acknowledge Blue Prism certification courses
Expert Cybersecurity instructors and hands-on labs to clear your relevant examinations
Cybersecurity certification course material prepared by Subject Matter Experts with regular content updates across various vendors
Get Cybersecurity online training from a Registered Education Provider
Options to take your Cybersecurity courses either in 8 hours / day or 4 hours / day
Get custom dates for the classroom, online, and corporate training programs
Multiple training delivery modes for your Cybersecurity training that also include 1-on-1 training for dedicated attention
Be part of 'Guaranteed to Run' Cybersecurity Certification sessions with 'Exam Pass Guarantee'
Get ahead in your career with widely-recognized Cybersecurity certification training courses
Benefits of Cybersecurity Certification Training
Stay up to date in today's highly unsafe business environment by undertaking relevant cybersecurity certification courses
Demonstrate your passion and commitment towards your professional upskilling by earning industry-recognized cybersecurity credentials
Secure enterprise business by getting your workforce trained in the latest cybersecurity concepts
According to reports, cybersecurity breaches worldwide have caused damages to more than USD 400 billion every year. By getting your workforce trained, you are ensuring there are no more cybersecurity attacks on business entities.
Cybersecurity training in an organization empowers the workforce to be aware of security breaches, how to minimize the after effects, and how to be prepared better if it happens again.
For individuals with a cybersecurity certification credential, they can earn a higher salary in the range of USD 85,000 to USD 140,000 per annum in the US. The salary of a Cybersecurity professional depends on their job role, experience, and location.
Minimize human errors, which are one of the major reasons for a security breach in the first place. According to an IBM report, 95% of security breaches are due to human errors.
Anybody and everybody can be part of the Cybersecurity training program, which is becoming the norm across the globe during employee induction to the organization.
Reskill and upskill for an uncertain future where security breaches will be on the rise
Reinvigorate your career with Cybersecurity training programs that will help you to gain a global recognition
Cybersecurity Certification Process
There are different ways and multiple courses through which an individual can become Cybersecurity Certified Professional; some of the key steps are:
Select relevant Cybersecurity Certification training from an accredited training provider like Koenig Solutions
Make the payment for the Cyber Security Certification course
Start your preparation for the training by thoroughly reading Cyber Security training collaterals provided by both Koenig and other vendors
Prepare for the Cybersecurity exam by taking up mock sample tests from various vendors
Prepare well for your cyber security exam by working on your areas of weakness
Post-training, you can apply for Cybersecurity certification exam online from various exam centers such as Pearson Vue, PSI, or PeopleCert
Take part in the official Certification exam and clear on your first attempt
Become a Cybersecurity Certified Professional and enhance your career prospects with opportunities across the globe.