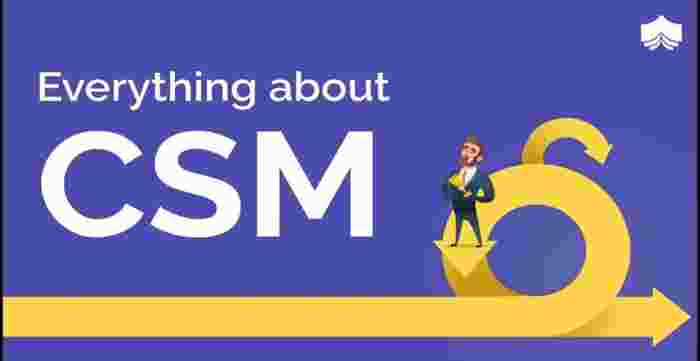 A scrum master in a role-playing game might sound like a character, but it's a serious job that's rooted in leadership. During a project, the scrum master is responsible for ensuring the right scrum process. They hold the scrum framework together, facilitating the organization process, the product owner, and the scrum team. Are you planning to give the scrum exam? Koenig offers one of the best Scrum Master Certifications. IT aspirants from all over the world can register for the CSM exam with Koenig and evaluate their potential by obtaining the
Scrum Master Certification
. With Koenig's Online Training solutions, you can study at times that suit you from the comfort of your home.
Who is a Scrum Master?
Scrum Master is someone who makes sure that project teams use an agile software development framework called Scrum to get the desired results efficiently.
Scrum Master Certification Overview
Scrum Master Certified professionals have Scrum working skills, practical skills, and knowledge to prepare them to perform and work in a Scrum environment. This professional Scrum Master certification is intended to teach professionals how to execute Scrum in the projects and modify Scrum in a specific scenario. Professionals with scrum certification are catalysts that ensure that the Scrum panel is given with a favorable environment for productive implementation of the project. The Scrum expert facilitates, guides, and teaches everybody involved in the project Scrum practices. It also clears the team's obstacles and ensures that Scrum procedures are followed.
Scrum Master Certification Course Objectives
Help the product owner get backlog in shape
Identify and remove barriers
Facilitate the planning of releases
Make sprint meetings easier: Sprint Planning, Daily Scrum, Sprint Review, Retrospective Sprint
Use Scrum artifacts and visibility tools to track and make decision making easier
Who Should do the Scrum Master Training course?
This Scrum Master Certification training course is suitable for any professional who wishes to learn Scrum Master methodologies.
Roles and Responsibility of a Scrum Master
Manages the scrum process using the Agile methodology according to the scrum team
Helps the team reach a consensus during the daily Scrum
Stresses on creativity
Focuses on the development team efficiency
Removes development team limitations
Secures the team against distractions
Conducts retrospective meetings
Makes sprint-planning meetings easier
Allows product owners to maintain product backlogs ready for the next sprint
Cost of Scrum Master Certification
The cost is USD 250.
The
Scrum Master Certification
will validate your skills in front of any organization looking to hire experts with the knowledge and skills to complete a software development project. Start your journey today!
Koenig's unique 1-on-1 methodology allows you to start training from Any Date, including 4-8 hour slots and weekends for training. All courses are assured to run and come with a Passing Assistance Guaranteed Exam.