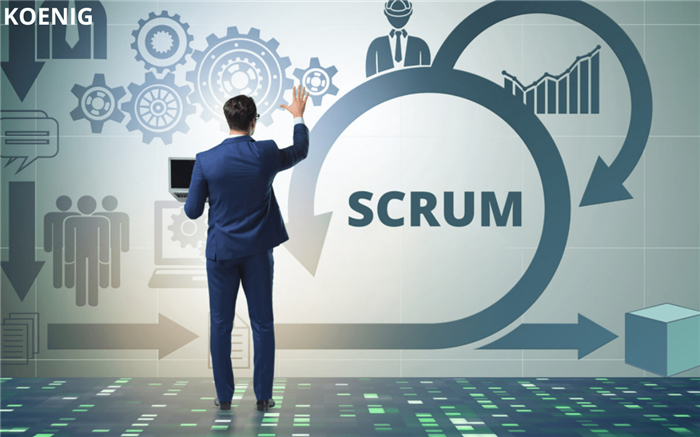 With the growing sizes of teams and complexity of projects, new systems are being evolved every day. These systems improve efficiency and workflow. Those professionals who have a good command over these latest systems are highly regarded and sought after in the job market today.
One such system designed for incremental results and teamwork is the SCRUM system which has been adopted by many of the top organizations in Information Technology and other industries.
Koenig offers a unique course to pave your way towards obtaining a SCRUM Master certification which comes along with an exam pass guarantee and complimentary technical consultation.
Read on further to find out the expertise and skills you need for this certification, how the course will offer you a structured training with a step by step methodology where you can make your own schedule for training. Also, find out the cost of a
SCRUM master certification
.
What is the SCRUM master certification?
The SCRUM Master Certification has been designed to validate the skills and knowledge of professionals who are well versed in the SCRUM system and can facilitate, guide and teach SCRUM practices to everybody involved in the project.
This SCRUM certification gives the professional an edge to lead teams and act as a catalyst in adopting the latest SCRUM practices, workflow and therefore improve efficiency.
What do SCRUM masters do?
When you become a certified SCRUM master, you will be equipped with the skills to help your product owners get their product backlogs into shape by identifying and removing obstacles. You will make all the planning and release events of your company possible. Other than that, you will use SCRUM artifacts and visibility tools for tracking and facilitating decision-making.
SCRUM masters are also responsible for facilitating Sprint meetings, Sprint Planning, performing the daily SCRUM, Sprint Reviews and Sprint Retrospectives.

Are you qualified to be a SCRUM master?
What is unique about this SCRUM master certification is that there is no formal prerequisite for it. You don't need any special qualifications to be a SCRUM master. You can achieve this certification if you have the zeal for managing complex teams and systems and have the creativity to improve efficiency in innovative ways. However, It is recommended to attend a 2-day SMC™ classroom training provided by
Koenig Solutions Ltd.
The cost of the Scrum Master Certificate Exam in India is ₹ 15,000 and it is a global certification that is valid in the United States and even Europe.

Benefits of getting SCRUM Master Certification
The Information Technology market is filled with brilliant professionals with admirable skillsets and to stand out in this crowd, you have to keep yourself relevant with the latest practices and systems adopted by organisations.
A SCRUM master certification will not only boost your resume and increase your demand for job recruiters, it will also help you leverage your skills for better opportunities and exposure at your current company. A professional who can increase the efficiency of their organisation is a high-value asset for an employer and they will identify and appreciate your skills.
A SCRUM master certification is highly valuable especially for professionals who are applying in competitive roles such as software development, testing, analysing and product management as it gives you an edge over the other candidates. It gets you noticed on LinkedIn and makes your resume impressive.
Job opportunities
This Scrum Master Certified training course is suitable for any professional who wants to learn Scrum Master methodologies.
The following professionals can highly benefit from a SCRUM master certification. They will experience avenues of greater exposure, promotions and more senior positions in their organisations and elsewhere:
Product Owners
Product Managers
Project Managers
Analysts
Developers
Testers
Members of Scrum Team
ALSO READ: What Is Certified Scrum Master Certification?
What kind of responsibilities will you have as a SCRUM Master?
As a SCRUM Master, you will have to take a holistic approach towards your team's work and act as a true leader who promotes the sense of community and teamwork. You will use the Agile technology to manage scrum processes making sure your team delivers incremental results. The emphasis of the projects will be on continuous planning and learning.
You will also be expected to conduct retrospective and sprint planning meetings while safeguarding your team of any distractions.
Along with all the aforementioned, your most important responsibility as a SCRUM master will be to enable product backlogs for the next sprint.
A new approach to solving problems
As a SCRUM master, you will have to foster creativity in your development team to improve efficiency and remove limitations. They will learn how to find out-of-the-box solutions for obstacles they face in the development cycle.
Going the extra mile
Sometimes, going the extra mile to upskill yourself proves to be very valuable and becomes the differentiating factor between good and great. This certification can, therefore, be the defining factor in you getting hired over the competition.
Become a certified SCRUM master today!
Today, the demand for skilled SCRUM professionals spans across multiple industries. This certification grants a promising, high potential career and it facilitates IT professionals in staying relevant in this rapidly changing environment.
Koenig has a huge arsenal of intensive training resources, offering classroom training, instructor-led online training, and e-learning with an up to date curriculum.
We, at Koenig pride ourselves for being in the business of empowering and upskilling professionals. So, what are you waiting for? Signup for
SCRUM Master Certification
right now!