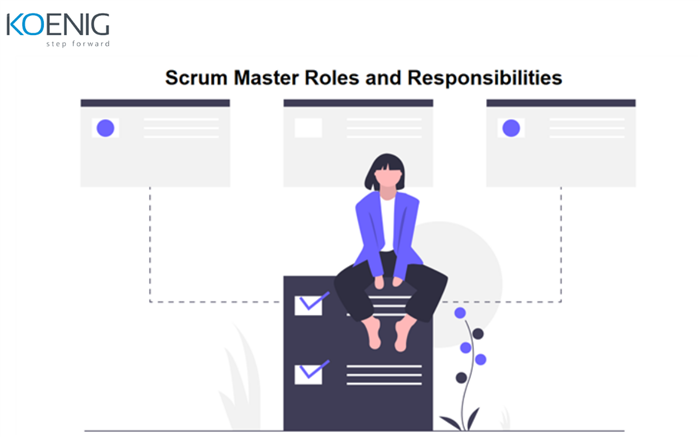 56% of business enterprises choose Scrum as an Agile method for business growth. This is as per data in the 12th Annual State of Agile Report. This figure is consistently growing and Agile is getting more popular, meaning more businesses will look at hiring Scrum masters.
The Scrum methodology can be defined as an Agile development subset in which development teams create goals aimed at delivering new software functionalities and features in iterative and defined cycles. Every iteration is responsible for delivering significant, albeit small, parts of the project once in 2-4 weeks. Let's take a look at a Scrum master's role in an organization.
Defining a Scrum Master:
A Scrum master facilitates Scrum, which is a lightweight Agile framework that focuses on iterations known as sprints. A Scrum Master can be seen as the coach for the rest of the software development team, defined by the Scrum Guide as a 'servant leader'. A credible Scrum master is dedicated to scrum values, and the foundation while remaining flexible. They also look for opportunities that can improve their team's workflow.
Roles and Responsibilities of a Scrum Master:
In a perfect Agile world, software development teams can manage tools and processes themselves. However, it is seen that most teams that are switching to Agile cannot do so without a scrum master to help them through the process. Authority and responsibility can take time to penetrate, and get distributed within a team. In the context of transformation, a Scrum master can be involved either at the surface level or very intricately, ranging from merely scheduling a Scrum ceremony to bearing all the responsibilities of a Scrum team member.
The Scrum Guide defines the roles and responsibilities of a Scrum Master, but that list is in no way exhaustive. In an enterprise environment, a Scrum master performs most or all of the following roles:
1. Iteration or Sprint Planning: They protect their team against over-committing and undefined scope of work. They also help in sub-task creation and estimation.
2. Standups: They are instrumental in facilitating the daily scrum, known as standups, whenever needed.
3. Retrospectives: A Scrum master notes areas that need improvement, and action for sprints in the future.
4. Board administration: The Scrum master works as the lead administrator of the enterprise's scrum board. They ensure cards are updated, and Scrum tools are functioning optimally.
5. Sprint reviews: A Scrum master participates in review meetings, and records the feedback.
6. One-to-one sessions: They meet with stakeholders and team members in face-to-face individual sessions whenever required. They sort out any existing disagreements within the team, regarding working styles and processes.
7. Internal consulting: They need to always be ready to consult internal stakeholders and other team members on the best strategies while working with the team.
8. Blocking: A Scrum master helps his team to eliminate external roadblocks, and efficiently manage internal ones by improving processes and workflow.
9. Reporting: He also regularly analyses charts and planning tools for the company portfolio to understand the output and costs incurred.
10. Get busy at work: A Scrum Master is responsible if the Scrum team does not work. This could entail moving workstations around, fixing a broken computer, or something as simple as internal temperature control. He needs to be comfortable with taking on a wide range of operations, doing anything necessary to boost the team's morale and performance. They might also need to go as far as getting coffee or the occasional snacks for team building.
You May Also Like: Best Career Paths of Successful Scrum Masters in 2022
How will you know if your Business needs a Scrum Master?
A Scrum trainer will always iterate that Scrum teams cannot function without a Scrum master. When a business starts with Scrum, having someone who has worked with Scrum before in a leading role can give you a stronger start. There are also many used cases and case studies proving the success of this action.
That being said, all Scrum teams are different. Most experienced teams take charge of the responsibilities given above by working together. They remain self-motivated and work together in the shared management of processes. A Scrum master's role circulates among the team, where members of the team facilitate retros and standups in return.
For certain Scrum teams, having the same person playing this role regularly works best. However, some teams misunderstand the role of a Scrum master, which can lead to managers assuming it to be their role. To ensure this does not happen in your enterprise, you need to understand the difference between a Scrum master's role and existing non-Scrum responsibilities in your company, and why they should be separated.



Scrum Masters and Product Managers:
The more product managers are involved with their development teams, the better. This involvement needs to be similar to the owner of the product, someone who understands customer needs and why it is needed. When this involvement starts transforming into taking on tasks, the problem arises. No matter how good their intentions are, this mindset of utilization masks existing problems. This includes hand-offs, defects, unknown factors, etc. Mixing process and scope can close schedules, scope, and output quality, which is ultimately disastrous.
Thus, a product manager and Scrum master are both needed for very different roles and responsibilities within Scrum teams that work in combination with legacy software management. It is easy for small teams to overlook the clear need for a completely different job role. But when problems and roadblocks arise, it becomes clear that there is a mandatory divide between product direction and process management.



Qualities of a Leading Scrum Master:
1. Collaborative: A Scrum Master is an important link between the project team and the product owner. The product owner is responsible for driving the initiative in general, but the Scrum Master guides the team to growth and success. The most efficient way to ensure business and product success is by ensuring the product owner and Scrum Master collaborates effectively to meet business requirements. A reliable Scrum Master needs to come up with innovative methods of increasing collaboration, organization, and productivity while delivering the desired product as specified by the business owner.
2. Influential: A Scrum master functions as the leader of various teams that work on a project to achieve milestones and deliverables. He needs to motivate stakeholders and groups at the enterprise level, and maximize the output and potential of everything that is at stake. A Scrum master needs to bridge any gaps between project concepts and actions needed to complete the project.
3. Knowledgeable: Apart from resolving issues that come up internally or externally, a Scrum Master is also responsible for proactively mitigating new problems. For this, they need to have a deeper knowledge of the processes and products they are working on at every step. This knowledge is instrumental in avoiding and maneuvering roadblocks. Additionally, the Scrum master is also required to know and understand Agile methodologies like Lean, XP, and Kanban.
4. Observant: A Scrum Master is a facilitator and a team member, but not a manager. They need to be attentive and good listeners to understand the challenges faced by the project team along their journey. They also need to be observant and pay attention to the everyday operations and daily activities of the team. This will give a clear perspective on the contributions and roles of each member of the team.
If this role seems tailor-made for you, enroll in an ASM (Agile Scrum Master) training and certification course. This will teach you everything that you should know, and help you advance your career as a Scrum master.