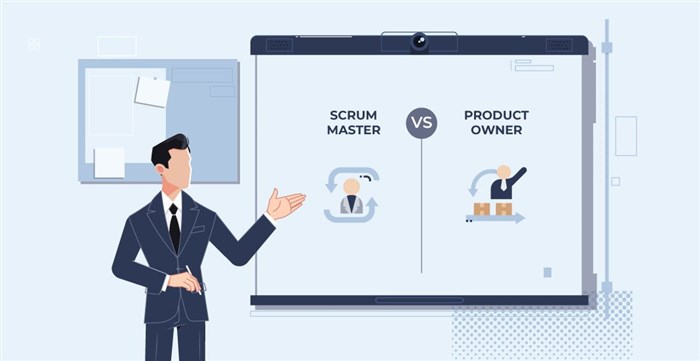 The global pandemic has expedited every organisation's agility and digitisation journey. While everyone is talking about digital transformation, not too many people understand the importance or the finer details encompassed within business agility. Enterprises across markets and industries are looking at various roles to hire for as they advance along their agility journey.
One debate that has prolonged for years now is the 'Scrum Master vs Product Owner' argument. Even though both these roles are indispensable in the methodology of Scrum development, the debate still stands.
So let's take a look at what the differences are between the two job roles and see if we can settle the debate once and for all.
What is a Scrum Master?
A Scrum Master in an organisation is responsible for establishing Scrum according to the guidelines that the Scrum Guide provides for organisations. This is done by educating and training everyone within the Scrum team and organisation on Scrum - both theoretically and practically. The Scrum Master is also responsible for the effectiveness of the Scrum development team. They help improve team performance regularly through consistent, practical applications that comply with the official Scrum framework.
What is a Product Owner?
A Product Owner is responsible for optimising and maximising a product's value as a result of the Scrum team's performance. A Product Owner is a single person, not a team or board. This person represents the requirements and demands of several stakeholders within the Product Backlog. Anyone interested in changing the Backlog will have to convince them first.
Skill Differences: Scrum Master vs Product Owner:
Key Skills:
Scrum Master Skills:
A Scrum Master should have a strong foundation and deep understanding of the enterprise-level Agile Methodology. They should be able to communicate the best industry practices to their fellow team members. For this, they should be expert communicators and talented mentors. If any team member cannot understand the objective of an assigned task, Scrum Masters need to justify such tasks and explain the product vision and the task's relevance.
Scrum Masters must be organised. They need to manage several people at the same time and must know how to set processes to oversee every Scrum team. They should also have exceptional leadership skills and create attainable objectives for employees. This helps employees and team members remain motivated, preventing shortcuts or slacking off during development.
Also Read: Best Career Paths of Successful Scrum Masters in 2022
Product Owner Skills:
A Product Owner is essentially a master of all tasks. They understand the role of a marketer, support representative and engineer as all of their tasks are covered under the role of a Product Owner. What this means is Product Owners must have a variety of specific skills to be successful within their enterprise. They should be intuitive to understand every stakeholder's needs and requirements. Sometimes the requirements of one stakeholder might clash with another's. In such a situation, the Product Owner must take a call and use their best judgement as they create product backlogs to come up with a balanced way to satisfy everyone.
A product owner should have a strong understanding of the industry they work in. They should know how each market works and the key motivators and triggers for their audience. For this, they need to create strong and credible bonds with customers and other departments to understand the overall business. They can thus forge relationships that will help enhance the success of their product.
Responsibilities:
Scrum Master:
Here are the primary responsibilities of a Scrum Master in an organisation:
Planning and executing agile methodologies along with the Scrum team.
Monitoring the progress of the Sprint and removing any obstacles to development.
Collaborating with the product owner to ensure that the Product Backlog keeps getting updated.
Communicating any Product Backlog changes to the rest of the development team.
Motivating team members to carry out and complete jobs faster.
Reporting on the Sprint's success.
Product Owner:
Some of the key tasks a Product Owner is responsible for are listed below:
Creating and maintaining the Product Backlog.
Working with Product Managers and creating a product roadmap and vision.
Collaborating with Scrum Masters and ensuring product development is in line with the original plan.
Ensuring the product backlog gets updated regularly and is available for the team to access.
Working across teams and prioritising jobs for the Scrum Master depending on the requirements of the stakeholders.
Evaluating progress all through the process of development.
Which One Should You Choose?
A Product Owner plays an indispensable role while getting the details of the project. At the same time, they expect a reliable Scrum Master to work with them and guide their team towards yielding expected results.
For the most part, a Scrum Master and Product Owner have roles, skills and responsibilities that overlap. Each of them must have an alternate communication level and management mindset.
The Most Vital Services Provider By a Scrum Master to a Product Owner:
One of the most vital ways that a Scrum Master helps a Product Owner is through Product Backlog management. While the key responsibility of managing product backlog is the Product Owner's, the Scrum Master joins in to help whenever needed. This is when there's a lot to be done and the Product Owner can't carry out all the tasks together.
The Scrum Master also acts as the bridge between the development team and the Product Owner. They help the development team understand the Product Owner's vision and help them bring this vision to life.
Can a Scrum Master and Product Owner be the Same Person?
with all the infor mation available around the skills and roles of scrum masters and product owners, this is one of the most debated questions today. however, most experts agree that these roles have clear distinctions and differences. hence, they should be managed by two individuals instead of one person doing both tasks.
A Product Owner needs to have a larger overall view of what the client wants. For this reason, Scrum Masters need Product Owners. Meanwhile, Scrum development teams need a Scrum Master to help in delivering the product through a conducive environment for innovation and development.
Additional Read: Everything You Need to Know About Scrum Master Roles and Responsibilities
Scrum Master vs Product Owner: Training Course Objectives:
Product Owner:
On completing a training course to become a Product Owner, you will have a better understanding of:
Release management, its objectives and goals
Why software must be released frequently and early
The release burndown chart
How release plans help in predicting the future
How Product Owners and Development teams should collaborate in the Sprint
Scrum Master:
On completing a training course to become a Scrum Master, you gain the following skills and knowledge:
Strong understanding of the principles of Scrum methodology
Understanding of Scrum implementation within an enterprise
Demonstrating Scrum and Agile knowledge and your understanding of the best practices with fellow team members
Understanding how challenges and hurdles during the development journey can be overcome
Understanding what Scrum facilitators do and working with Scrum developers
Learning to customise Scrum best practices for specific situations
Explaining the contrast between traditional project management and Scrum methodologies
Understanding the Scrum maturity level in an organisation and implementing Scrum methodologies accordingly
Explaining the responsibilities and roles of core and non-core Scrum team members
To sum up, the Scrum Master helps in ensuring project success by helping Product Owners and Scrum teams to use appropriate processes for product creation. The Product Owner engages users, customers, stakeholders, the Scrum Master and the Scrum development team to ensure successful product delivery.