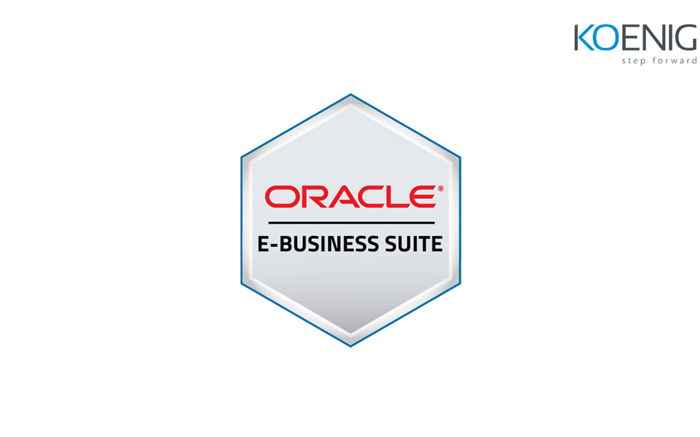 E-business suite provokes the curiosity of enterprises for valid reasons. Oracle is the pioneer of developing, advertising and marketing database software, cloud engineered systems and Enterprise Software Programs. The company keeps on refining their Oracle E-business Suite to make it future-ready. The Year 2015 witnessed Oracle turn into the second largest innovative software developer, after Microsoft. Are you too interested in knowing how it will look and work in a few years? Here's the whole story, dictated in brief:
What is the Future of Oracle E-Business Suite?
EBS or Oracle E-business Suite offers enterprises to operate a single data center with a single database. EBS encompasses
SCM – Supply Chain Management.

CRM – Customer Relationship Management.

Human Resource Management.

Logistics.

Transportation management.

Warehouse management.
The first version of EBS was launched in 2007 and since then it has come a long way. Currently, the latest version of Oracle is at 12.2.6 and is launched the next version in 2019 or 2020 with tremendous upgrades.
Facts about the upcoming upgrades:
1. Two-step upgrades:
We must be ready to witness two close upgrade releases 12.2.7 and 12.2.8 by 2019.
2. More secure Cloud:
Oracle is preparing on providing secure cloud services to Army or government fields that are yet indecisive to move to cloud services. The sensitive information held by these public organizations are prone to the threat of leakage and Oracle is working hard for 12.3 release of EBS that can be adopted for 100% secure channel of information transfer.
3. Future is Cloud:
The company is focusing on utilizing SaaS (software-as-a-service) to make the enterprise capable of handling tremendous data by 2030. Godwin from Oracle quoted the enterprises, which shift to EBS timely, will see the new SaaS services being injected into the organization.
Accounting, business management, cost saving, report-keeping, cloud-based storage are some modules, which could be soon deployed in EBS. The adaptive Intelligent SaaS applications of Oracle are, too, soon arriving to ensure better and efficient operations.
4. Predictive Analytics:
Data sciences Course are a hot-button thing nowadays. Oracle is engineering its SaaS services to power Predictive Analytics for asset management in the enterprises. The new services are claimed to be computationally very extensive and will enhance machine learning.
5. Mobile developments:
The mobile compatible software is the prime focus of Oracle and its competitors in near future. EBS is one such platform that Oracle is regressively trying to flow into the Mobile Apps and hence more into the cloud for on-premises support.
Also Read: A Complete Guide for Oracle Certification
How to build a career as an EBS expert?
With Oracle announcing huge scope of EBS in Enterprises, the EBS expertise requirement is also supposed to grow by leaps and bounds. The demand for Oracle certified professional rises for every new upgrade release. If you are planning to start your professional career as an Oracle EBS expert, you must go for an Oracle Certification.
What would an Oracle EBS certification cover?
More and more enterprises will move to Oracle E-business Suite. Hence, the value and course content of this futuristic certification will increase, fetching more job openings and higher salary packages in the year 2019, 2020 and 2021. It will be covering the :
Understanding of database basics

Practical concepts of RDBMS concepts & SQL.

Hands-on Oracle 9i or 10g.
Also Read: Job Opportunities & Benefits of Oracle Certification Courses
Role of an E-business Suite Administrator in enterprises:
As an E-business Suite Administrator you need to perform the following tasks:
Sort and restrict the Data that needs to be handled for the enterprise

Develop Conversion Functions and Conditional Expressions as per the domain requirements

Aggregate Data by using Group Functions of EBS for reporting and auditing

Exploring the Oracle Database Architecture for fully functional working

Installing the Oracle EBS Software

Customizing an Oracle Database

Managing the Oracle Database as per the data handling requirements

Be capable of recovering data

Configuring and reconfiguring Backup Settings
Oracle is continuously investing in E-Business Suite upgrades to strengthen three major functionalities
Functional advance

Mobility and UI modernization

Operational efficiency
Oracle has been running the extensive market survey with the targeted enterprises and is building the roadmap completely based on the customer requirements. To let the customer enjoy the benefits of Cloud Infrastructure and Applications to customers, and let them avail the advantages of investing in EBS, their engineers are continually working. The recent upgrades will not functionally be changing much in EBS, but they are directed to add innovation based on SaaS to EBS.