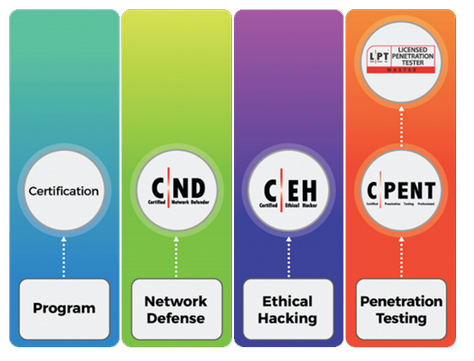 Popular EC-Council Certification Courses
EC-Council certification training courses hold immense value in the global tech community. A certified EC-Council practitioner has a lot of job opportunities available because they are nothing short of a standard of merit. Some of the most popular courses offered by EC-Council are:
Certified Ethical Hacker (CEH)
EC-Council Certified Security Analyst (ECSA)
Licensed Penetration Tester (LPT)
Computer Hacking Forensic Investigator (CHFI)
Certified Secure Programmer .NET
Certified Ethical Hacker (CEH)
The Certified Ethical Hacker (CEH) is the most popular course offered by EC-Council. The certification training course is best suited for those who want to start their career in penetration testing. The entry level certification course trains candidates on how to find vulnerabilities in an organization's servers, network systems and applications and exploit them, the same way a real hacker would. Then, the Certified Ethical Hacker will create detailed reports and present the organization with ways in which they can implement security measures to make sure these vulnerabilities cannot be exploited.
The Certified Ethical Hacker certification training course gives a hands-on approach to learning where they learn how to simulate real attacks in real-time, and pass without detection. The applicants for the CEH certification are those who already have a strong hold in more than one programming language and understand or have some experience working with information security.
This ECSA certification is a prerequisite for those who want to pursue the LPT (Licensed Penetration Tester) certification because it provides prospective candidates with the foundational level of knowledge and expertise they need for their LPT certification.
Certified Penetration Testing Professional - CPENT Certification Training Course Overview
This training program teaches participants on how to perform an effective penetration test in an enterprise network environment that must be attacked, exploited, evaded, and defended. For those who have only been working in flat networks, CPENT's live practice range will teach participants to take their skills to the next level by teaching the methods of how to pen test a IoT systems, OT systems, how to write your own exploits, build your own tools, conduct advanced binaries exploitation, double pivot to access hidden networks, and also customize scripts/exploits to get into the innermost segments of the network.
Licensed Penetration Tester (LPT)
The Licensed Penetration Tester (LPT) certification training course is considered to be one of the most rigorous training certification courses in the field of cybersecurity and information security. This certification will recognize all those who complete it as masters in penetration testing. The Licensed Penetration Tester (LPT) certification holders have the expertise to perform multiple types of pen tests and find all vulnerabilities. Certificate holders also have knowledge on all the regulations and compliance laws.
To be applicable for a Licensed Penetration Tester (LPT) certification, working professionals need to have an active certification as a EC-Council Certified Security Analyst. They also need a minimum of two years of experience as a professional pen tester.
Computer Hacking Forensic Investigator (CHFI)
The Computer Hacking Forensic Investigator (CHFI) training certification course is for those who want to become masters in computer forensics and analysis. The CHFI training course covers multiple parts of information security and analysis. The certificate holders are proficient in various techniques such as footprinting, scanning, recon, collection and preservation of evidence, and more.
The certification is for security analysts and system server administrators who want to gain more analytical knowledge of various processes. People who work with the law enforcement can also find forensic analysis for cyber threats beneficial to their career.
Certified Secure Programmer .NET
A Certified Secure Programmer .NET certification training course is created to help app and software developers who want to create secure applications that cannot be hacked into. The certification training course is to teach developers how to code securely, so the post-development process of risk management and information security becomes a lot simpler. It is a preventative and reactive approach to coding and development of applications. The certification showcases the best practices developers and IT managers need to follow in order to create secure applications at an expert level across multiple domains.
Who can take up EC-Council Training?
There are many job roles that can take up EC-Council courses. But, anybody who wants to kick start their career in the Cybersecurity domain can also take part in these courses to grow in their careers.
Penetration Tester
Vulnerability Analyst
Security Information Assurance Analyst
Technical Security Analyst
Information Security Manager
Risk and Remediation Manager
Systems Administrator
Cybersecurity Network Analyst
Cyber Security Vulnerability Analyst
Security Consultant
Insider Threat Analyst
Security Architect, Manager
Application Security Analyst
Cyber Security System Engineer
Software Security Analyst
Network Analyst
Information System Security Officer
SOC Security Analyst
Cyber Security Incident Response Engineer
Technical Operations Network Engineer
IT Security Administrator
Reasons to choose EC-Council Certification Courses from Koenig
A comprehensive portfolio of EC-Council certification courses spread across multiple levels
Begin your Cybersecurity career with Certified Ethical Hacker (CEH) from EC-Council and grow in your profession with other related IT security certifications
Expert Cybersecurity instructors and EC-Council iLabs access to clear your relevant examinations
EC-Council Certification course material prepared by SMEs with regular content updates
Koenig Solutions is an EC-Council Accredited Training Center to deliver their widely-recognized courses worldwide
Get dates spread across weekdays and weekends for the convenience of working professionals
Get access to EC-Council iClass sessions and iLearn for both classroom and self-paced training
Stay ahead of your non-certified counterparts and be part of the new norm by getting certified with EC-Council certification courses
Benefits of EC-Council Certification Training
Showcases your commitment to your profession by gaining a industry-recognized Cybersecurity certification training
Certificate holders become a part of a prestigious global community after they complete a certification training course offered by EC-Council
Working professionals gain a recognized certificate, thereby improving their chances of finding gainful employment
Working professionals who are EC-Council certificate holders will also receive a significant salary raise as compared to their non-certified peers. According to job portals worldwide, a professional with EC-Council certification earns in the range of USD 74,000 to 117,000 per annum.
It gives security measures a different perspective altogether because certified individuals learn how to think like a hacker. This way companies can take a proactive approach to their cybersecurity instead of a reactive one
Since the EC-Council is the world's largest certification community in the field of information, IT and cybersecurity, completing a EC-Council certification training course and gaining a certification can really help to advance one's career
Be part of a business landscape that is more security-oriented where the demand for job roles for cybersecurity domain will be at an all-time high
Salary Prospects of EC-Council Certified Professionals
In today's data-driven enterprise landscape, IT security/ cybersecurity is critical for any organization. There is a huge demand for cybersecurity professionals across industry sectors. Let's take a look at EC-Council Salaries across different regions.
| | |
| --- | --- |
| United States | USD 74,000 to USD 117,000 |
| United Kingdom | Pounds 31,000 to 61,000 |
| India | Rupees 3.50 lakhs to 15 lakhs |
| Australia | AUD 78,000 to 128,000 |
| UAE | AED 132,000 to 360,000 |
| Singapore | SGD 49,000 to 84,000 |
Job Prospects for Professionals who are certified from EC-Council
There are hundreds and thousands of cybersecurity positions that are not filled worldwide. There is a growing concern among enterprises that there will be a huge gap when it comes to skilled IT Security professionals. According to job portals in different parts of the world, some of the leading companies looking to hire professionals who are trained and certified by EC-Council are Bank of America, TEKSystems, Lenovo, Learnsmart, Spectrum, Siemens, AXA, IBM, Amazon, and more.
You can as well check your local job portals/ listings to know which major companies are hiring EC-Council certified professionals.