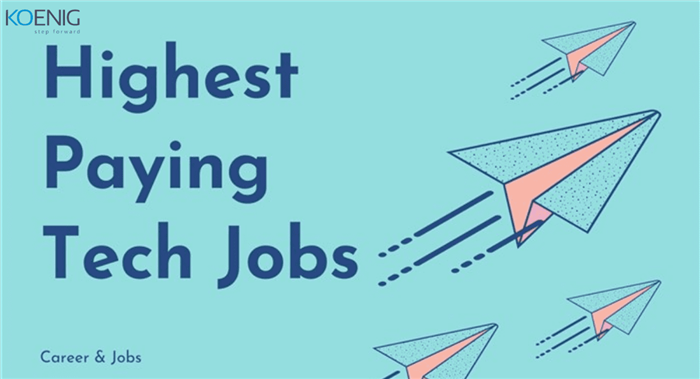 When it comes to choosing a professional field of work, money is a powerful motivator. After years of education and certifications, it is important to choose a career that not only matches your skill set and interest but also supports the lifestyle you wish to have.
Just about three or four decades back, career options were limited. There were only a handful of highest paying it jobs in india. Even there the choices were scarce and those who didn't start learning at a young age had no chance of ever reaching a high pay-grade. But with the evolution of digital transformation, many new jobs are available today, for which you can get certified even while you are still working.
Are you looking for a change and want to pursue your career with one of the top it certifications of 2023.
List of the Best Paying Jobs in Technology
1. Data Scientist
Data is undoubtedly the most valuable asset for any organisation today. The primary responsibility of a data scientist is to analyse all the data collected and interpret the complex variables and patterns. This helps businesses to make better decisions that take up less time and are cost-effective.
Becoming a data scientist is not easy. You need to have enough knowledge about computer science, machine learning, mathematics, data visualisation, communication and deep learning. Data scientists perform the following tasks:
Understanding machine learning algorithms

Creating data models

Coding in languages like Python and other analytical tools

Identifying business problems and providing solutions
The demand for data scientists has grown by 29%, with a 344% increase in demand since 2013. Data science is a very vast field and offers many specialities and streams for users to choose from. Data scientists can earn as much as ₹84,97,674 per annum.
2. Big Data Architect
Huge volumes of data are produced every single day. Interest users generate over 2.5 quintillion bytes of data daily. This data in its raw form is useless. Over 97% of organisations are investing in Big Data and AI to analyse this data and derive insights. This is where organisations need Big Data architects.
A Big Data architect plans, designs and manages large-scale deployments of Big Data applications from start to finish. An architect's role is closely linked to the role of a data scientist, with the exact definition of Big Data architect varying among organisations. The key skills needed for this role are
Understanding Hadoop, Spark and NoSQL and other data warehousing technologies

Programming skills

Data visualisation skills

Communication skills
Big Data architects need to have a working knowledge of data management, programming, Big Data developments, system analysis and technology architecture. The average salary for a Big Data architect is
₹
13,095,374
per annum.
3. IoT (Internet of Things) Solutions Architect
Internet of Things (IoT) is one of the fastest-growing technologies today. It uses Artificial Intelligence and Machine Learning to create a network of connected devices that can seamlessly share data. IoT solutions architect is a leadership role that entails overseeing the development and deployment of IoT solutions and the strategy behind them.
IoT solutions architects bridge the gap between technical and non-technical roles and collaborate with the project management teams. They have a broad understanding of technology but focus on the strategy aspect. The skills needed to become an IoT solutions architect are:
Strong programming skills

Knowledge of Machine Learning

Hardware design and architecture
An IoT solutions architect is responsible for leading and participating in all activities related to architecture and design. They also help organisations to develop an overall IoT ecosystem and turn business needs into solutions architecture requirements. They earn an average of
₹
13,542,473
per annum.
4. Software Architect
Software architects are the next on the list. The main task of a software architect is to optimise the development process by making design-related choices and setting technical standards of coding, tools and platforms. Organisations hire them to test and develop software for them.
The key skills required to become a software architect are:
Data modelling

Understanding of software architecture

Good programming skills

Strong analytical skills
Software architects are responsible for understanding customer demands and requirements and carrying out hands-on work to develop software prototypes. The demand for software architects and engineers in India is very high, with organisations paying well over
₹
92,46,112
per annum.
5. Blockchain Engineer
Blockchain technology consists of links or chains of information that keep getting added to the network. A blockchain engineer develops and implements architecture and solutions using blockchain technology. Different types of cryptocurrencies have come up in the past decade. Overall, a blockchain engineer should have the following skills:
Strong programming skills

Thorough understanding of Ripple, R3, Ethereum, Bitcoin and the technology behind them

Understanding of consensus methodologies and the security protocol stacks, crypto libraries and functions
As a blockchain engineer, you can earn an average of
₹
74,72,519
a year. It is a rapidly growing technology with worldwide spending on blockchain solutions projected to reach $15.9 billion by 2023. This information is important because it means that in the years to come, jobs that require blockchain experts will grow fast across industries around the world.
6. Artificial Intelligence (AI) Architect
An Artificial Intelligence Architect defines, designs and builds solutions that drive growth and productivity for businesses through automation. In other words, this role requires you to develop and manage AI solutions within organisations.
The skills required to become an AI architect are:
Deep knowledge of mathematics and statistics

Solid programming skills with knowledge of Python, R and Torch

Working knowledge of TensorFlow and similar technologies

Understanding of technologies related to AI like Machine Learning, neural networks and Deep Learning
The level of expertise, knowledge and soft skills required to become an AI architect is very high. This is why it is one of the highest-paying tech jobs today, with an average salary of
₹
11,361,370
per annum.
7. Cloud Architect
Cloud computing was one of the fastest-growing technologies of the past decade. It has now become a mainstream technology that organisations and individuals across the world use on a daily basis. This has created many new jobs in this area, with many job roles to choose from. Out of these, cloud architect is one of the most lucrative jobs.
To become a cloud architect, you need:
A deep understanding of cloud application architecture

Knowledge of Amazon Web Services (AWS), Microsoft Azure or Google cloud platform

Excellent communication skills
A cloud architect helps an organisation to develop cloud architecture, develop a cloud strategy, coordinating its implementation and deployment. They also must ensure proper application architecture and deployments within the cloud environment. You can earn
₹
10,909,771
per annum on an average in this field.
8. Full Stack Developer
According to the United States Bureau of Labor Statistics, web developer jobs are set to grow by 13% from 2018-2028. Currently, there are about 23 million developers around the world, with jobs quickly increasing.
A full stack developer is responsible for both front-end and back-end development. As a professional, you need to be well-versed in every stage of the development process from conception to deployment and maintenance. As a full stack developer, you must know:
Technologies like MongoDB and Node.js

How to design and develop an API

Coding and scripting

Web development fundamentals

Database technology basics
The main responsibilities of a full stack developer are designing and building APIs, making sure the applications meet responsiveness and quality standards and implement data security. The average income of a full stack developer is
₹
79,54,137
per annum.
9. DevOps Engineer
A DevOps engineer is responsible for processes, tools and methodologies that are required to balance needs through the life cycle of the software development process. This person designs and maintains a deployment structure, integrates cloud services to enable automation and shell scripting in PHP/ Python and Ruby.
DevOps engineer is a challenging job role which requires more than just technical skills. Some required skills are:
Coding and scripting

Knowledge of deployment and network operations

Working knowledge of DevOps

Understanding how to use tools like Git and Jenkins

Using Linux or Unix system administration
An IT operations team and development team can have different goals. A DevOps engineer could be a part of the development team working with network operations or an operations team member working on application development. Their average annual salary ranges from
₹
77,70,667
to
₹
11,451,510
per annum
.
10. Product Manager
This role is more universal than many other technical jobs because it has both technical and non-technical applications. A product manager is hired to help the organisation determine parameters for a product that will be built by the engineering team. This role requires you to lead a product's development process from the conception to launch.
Some of the key skills required for this job are:
Thorough understanding of the concept of Product Lifecycle Management (PLM)

Knowledge of product management tools like PivotalTracker, JIRA or Asana

Analytical skills

Strong time management skills to meet deadlines
Product managers define the product vision and work closely with other teams like sales, engineering, marketing and IT. This is to ensure every step of the process is smooth and customer satisfaction is high. The average salary of a product manager is over
₹
83,61,483
per annum.
11. Mobile Application Developer:
The latest innovations and advancements in mobile software and technology have revolutionised how we engage with each other, with our machines and with brands and customers. Advanced mobile applications also function as many people's primary sources of information and entertainment, which is further supported by technology integrations like AI, Machine Learning and augmented reality. Consequently, mobile application development has become one of the fastest-growing and most profitable professions as the adoption of mobile apps increases multifold every year. You are off to a good start if you already have a degree in information systems or computer science.
On average, an application developer earns over ₹83,87,331 per annum.
12. Software Engineering Manager:
As an administrative employee, a software engineering manager is responsible for supervising and guiding the work and tasks of all the software engineers that are relevant to their projects, such as the development and design of applications, programs and software. To become a software engineering manager, you need to have an undergraduate degree in programming or computer science. You also need several years of work experience within the industry in a specialised role and be equipped to contribute to the team and the organisation individually. According to one survey of 229 employee profiles, software engineering managers earn over ₹120,07,644 per annum
13. Information Systems Security Manager:
An information systems security manager is responsible for preventing security lapses, computer viruses and hacking attempts made on an enterprise's networks, data and computers. In the event of a data leak or security breach, sensitive data might be lost, damaged or misused by these malicious third parties. Besides financial losses, non-compliance with data laws or neglecting data security could result in fines, penalties and a poor brand image which could drive customers away to other providers or vendors. Information System Security Managers get paid about ₹81,42,677 per year to make sure this does not happen.
14. Database Manager:
A database manager is responsible for managing and creating any system that an organisation uses for data storage and arrangement. Database managers assure businesses that their data will be secure by setting up multiple security procedures. They are also in charge of overseeing the daily operations of the data team and identifying the data storage needs that their employers might have.
To get a strong start in this role, you need to have a bachelor's degree in information system management, computer science or any related subject. In this position, you can earn an average annual income of ₹75,72,556 per year.
15. Data Security Analyst:
A data security analyst is hired to make sure computer systems and networks are secure against hackers and viruses. As a professional in this role, you perform this task for specific organisations, ensuring that the antivirus programs and all other security protocols are functioning correctly and are updated to the latest version. You will then analyse the organisation's system security protocols to identify vulnerabilities and weaknesses and recommend changes that will improve efficiency and increase system security.
As a prerequisite, you must have a bachelor's degree in Information Security, Computer Science or any related domain. The most targeted degree for this domain, however, is the Bachelor of Science in Information Security degree. In this role, you can earn an average annual salary of ₹68,06,450 per year.
16. Computer Programmer:
A programmer is responsible for all coding needs that an organisation or individual clients might have. As a programmer, you can work both as a full-time employee on payroll or as an individual contributor or freelancer. Coding is a relatively easier skill to learn and highly rewarding. You can learn programming skills through coding camps, workshops, online courses and professional degree colleges. Python and Java are the easiest languages to learn as their syntax is simple and similar to English. You can earn an average salary of ₹47,27,428 annum in this role.
17. Computer Support Specialist:
Technical support is one of the most high-demand skills in the IT industry. A computer support specialist works closely with customers to support them with any technical queries or obstacles they might be facing. This could be online, over a phone call or in person. This role doesn't require too much technical expertise or a strong background. The skills required are quite similar to customer service skills in any non-technical domain. To become a successful Computer Support Specialist, you need to have customer support skills and strong communication skills. You can earn an average salary of ₹40,71,011 per annum in this role.
18. Digital Marketer:
Digital marketing was the top job profile in the IT industry for the previous decade. It continues to be one of the most promising job roles today. It has a wide range of specialisations and domains, such as
Data collection and analysis

Paid advertising campaign management

Social media brand promotion
To succeed in this domain, it helps if you have a professional degree in digital marketing or a related domain. However, you can also opt for a short-term training course that equips you with different disciplines covered within digital marketing. You can earn around ₹10,134,504 per annum in this role.
Make the Right Choice
There are many other fields like Business Intelligence and cyber security that pay very well. One major advantage you have for all these job roles is that whichever one you choose, you don't have to spend years to get the necessary qualifications. Koenig's online training programmes can help you get certifications for the highest paying IT jobs in India today. Find your interest and enroll in a course of your choice today.