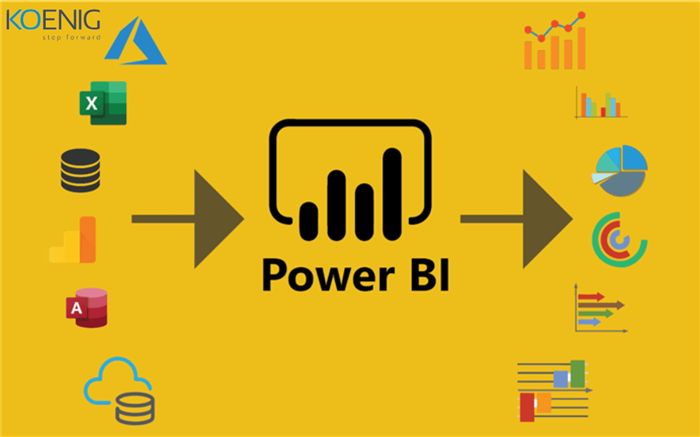 It is not easy to grow any business. The first step towards growth for any company is the analysis of past data and making changes in operation based on its results.
If you continue to implement your plans without analyzing your actions and their results, you run the risk of going in the wrong direction completely.
Therefore, businesses are now focusing more on data analytics and making use of AI tools. It is not an easy task to comprehend complex statistical data.
So, businesses need experts to use such tools and deliver results in a digestible format. One, such tool is Power Bi and, today, we explain this tool to you and also offer all the information you need to learn about Power Bi.
Overview About Power Bi:
Bi in Power Bi stands for Business Intelligence. It is a technology used by corporate and businesses to organize unrelated data and attribute some meaning to it. Such collected information is then capable of helping companies to make the right decision at the right time.
The technology represents data in the form of dashboards and reports making it more straightforward for understanding.
Additionally, the platform also offers cloud services for creating interactive visuals for users. It is available in different formats, such as the desktop and mobile versions, making it simpler and accessible to everyone.
Businesses are trying to figure out how to learn and use Power Bi to successfully incorporate this technology into their system. It helps them to make informed decisions which are very valuable for their growth. This is where Microsoft Power Bi training comes in.
Why Learn Power Bi?
It is easy to learn Power Bi with Microsoft Power Bi training.
Microsoft offers the technology in two versions. It can be used on mobile as well as desktop. Moreover, it supports multiple operating systems.
It has a broad capacity to connect to a variety of sources using cloud computing. Such a feature help data scientists in analyzing data collected from various sources.
The desktop version users can easily manipulate the data and represent in the form of bars, graph, chart, etc. The data generated can also be shared with other stakeholders.
The service is available in both free as well paid forms. The charges of the paid form begin at $10.
Understanding DAX In Power Bi:
DAX is the first term you encounter when you begin to learn Power Bi. Data Analysis Expression (DAX ) is a formula used to express data in Power Bi.
DAX is present in almost all Bi tools. The expressions are formed using a collection of operators and constants. These formulas are essential in Power Bi as they help data analysts to evaluate the data extensively. They can easily calculate data values and make appropriate decisions.
Therefore, a user is expected to have knowledge about DAX to create reports with the available data. If you are used to the features of Microsoft Excel, DAX becomes easy to understand. Just like excel, it will let you create formulas for each row.
So, to learn Power Bi, you will have first to get your basics clear about DAX.
Pre-Requisites to Learning Power Bi:
It is imperative to have some basic knowledge of certain software when you begin to learn Power Bi. In the age of big data, everyone is expected to have some exposure to Microsoft Excel. If you understand Excel functions, it is easy to use and manipulate data in Power Bi.
Similarly, most of the systems make use of relational database management systems. My SQL is one such system. It helps in establishing the relationship between different datasets. Therefore, if you are searching for how to learn Power Bi, start with Excel and SQL.
Guide To Learning Power Bi:
Microsoft Power Bi is very famous in the corporate industry. Due to its popularity, Koenig Solutions has released specialised courses that offer Power Bi guided learning.
It is essential to know every aspect when you are trying to learn Power Bi. Our courses are available online for your comfort.
Apart from our dedicated Power Bi course, Microsoft also has several courses through which you can understand the fundamentals of Power Bi.
Some of the courses of Power Bi are listed below-

Microsoft's Learning Platform
Webinars conducted by Microsoft
Microsoft Power Bi training videos
The blog of Power Bi's development team.
Also Read: Top Power BI Interview Questions You Must Prepare
If you would like to try a hand at Power Bi before choosing to take a course, here are some steps on how to use Power Bi:
Install the desktop version of Power Bi from the Microsoft official website.
Sign in or register.
The Home Page appears more or less similar to excel with tabs such as View, Help, etc.
The working area of Power Bi has three icons to the left: Report, Data, and Model.
The Data tab will consist of the data uploaded.
The Model tab will show you the relationship between two data sets.
The right side consists of visualizations to help the user to create reports and dashboards.
Now that you have an idea about the interface of Power Bi. The next step is to start using Power Bi. Keep reading to know how to use Power Bi.
1. Starting With Data-
Every Power Bi guided learning starts with preparing data. First, you will have to import data which is almost like importing data in Microsoft Excel. The tool used to import data is known as Power Query. It is capable of collecting data from multiple sources and transforms it the way you want.
2. Establishing a relationship with data-
This feature is not present in Excel. But if you are acquainted with SQL, you will know the importance of establishing a relationship between tables.
It is the key to analyzing data and interactions between different data sets. This is where DAX comes into the picture, which we have already dealt with in the previous section. It is DAX that helps in calculating and preparing reports.
3. Creating visuals-
It is important to visualize data for easy and effective understanding. Therefore, the data interpreted is represented in graphs and bars to help the user analyze it.
4. Sharing report-
The report generated is now ready to be shared with your peers. You can also publish it to increase its visibility.
The knowledge provided in this section will save you time when you start working with Power Bi. We have tried to introduce you to all the fundamentals. Now let's understand the advantages of using Power Bi.
Major Advantages Of Using Power Bi:
It is one of the most affordable Bi tools. The Power Bi desktop version is available free of cost. The free version itself includes multiple features. If the user wishes to move to the paid version, that is also possible.
The interface of Power Bi is easy to understand and use, especially if you have used Excel.
It offers multiple options for visualization. You can visualize the data in the form of graphs, bars, maps, KPIs, etc.
It is well integrated into Excel and can view your data created in Excel.
The data generated is easily accessed since it is stored at one location.
Koenig Solutions
has multiple courses that can help you if you want to learn Power Bi. Take a look at our training modules and enrol yourself instantly to gain expertise in Microsoft Power Bi.
To conclude, Power Bi is one of the best tools you can integrate into your system for analyzing data.