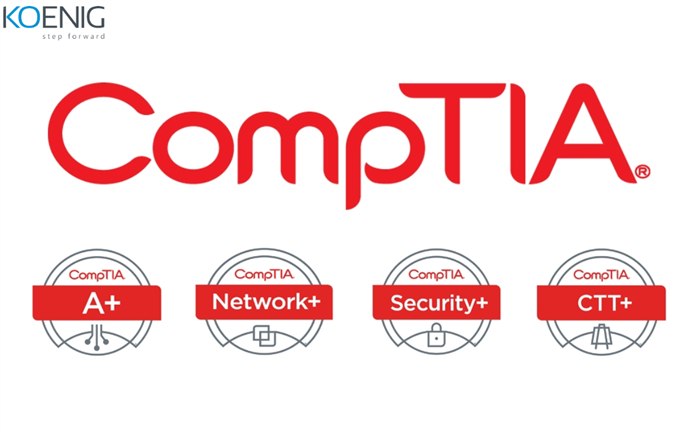 CompTIA is recognised as a non-profit trade association with its headquarters near Chicago. It has over 2,000 organisational members along with 3,000 business partners. CompTIA's primary focus is educational training and certifications for IT professionals in the form of role-based certification programs.
If you already know what CompTIA is and are looking for a certification program to pursue, you're in the right place. Before getting into the certifications, let's get an overview of the certification program.
CompTIA Certification Program:
CompTIA achieved its A+ credential by 1993. Since then, over 2 million certifications have been issued by the organisation. It offers a vendor-neutral program for certifications that are recognised among the best across the IT industry around the world. In 2018, CompTIA unveiled the 'Infrastructure Career Pathway'. This is made up of some certifications you might be familiar with that make up the foundation of the
CompTIA certifications
. However, the new certification path ensures the certifications align more closely to real-world skills and situations that professionals will be faced with when they manage or support IT infrastructure.
Every CompTIA certification belongs to one of four groups, divided by skill. These groups are
1. Core Certifications
: These certifications have been designed to develop the fundamental skills of professionals in the field. Under this group, CompTIA has 4 certifications you can aim for. These are IT Fundamentals+, CompTIA A+, CompTIA Network+ and
CompTIA Security+
.
2. Infrastructure Certifications: This group has been designed to align with the Network+ credential. There are 3 certifications within this group. These are CompTIA Server+, CompTIA Cloud+ and CompTIA Linux+.

3. Cybersecurity Certifications: Under this group of certifications, CompTIA offers three globally renowned credentials for cybersecurity professionals. These are CompTIA CySA+, CASP+ and CompTIA PenTest+. These certifications are specially targeted to professionals in the field of information and network security.

4. Additional Professional Certifications: This group of certifications is made up of various credentials that aren't particularly a part of the earlier mentioned career paths. Some of these are CompTIA Project+, CompTIA Cloud Essentials and CompTIA CTT+.
Let's explore in detail what each of these certifications entails.
Core Certifications
1. CompTIA IT Fundamentals+
This certification is the perfect first step if you're a beginner who has basic knowledge about PC functionalities and compatibility along with knowledge of hardware basics, installing software, risks and responses in security, networking basics and other technology-related topics. It is also beneficial for you if you're looking for a career development tool while you start a career in the IT sector. You need to clear an exam to earn this credential. The IT Fundamentals+ (FC0-U61) exam was launched around September 2018. It teaches you about the basics of computing, using databases, and developing software and IT infrastructure. This certification was preceded by the FC0-U510 exam which was retired in 2019.
2. CompTIA A+
This certification is commonly considered a must-have for all IT technical professionals, and rightly so. It is a certification designed for people aiming for a career in the following fields:
Help desk
Support
Networking technician
Service centre
The
CompTIA A+ certification
includes desktop and laptop hardware, installing software, and computer and mobile OS configurations. It also covers an applicant's networking, troubleshooting as well as security skill understanding which is a prerequisite for all CompTIA security and networking certifications at higher levels.
There are over a million A+ certified IT professionals today, according to data released by CompTIA. Dell, Intel and HP all require their service technicians to have this credential which has also been recognised by the Department of Defense in the United States.
CompTIA launched new exams for Core certification A+ in January 2019. These exams pay more attention to baseline security concepts and competence in understanding operational procedure. To get certified, you need to pass the 220-1001 (Core 1) and 220-1002 (Core 2) exams. While Core 1 focused on networking tech, virtualisation, mobile devices, cloud computing, hardware and troubleshooting, Core 2 targets installation and configuration of operating systems, software troubleshooting, security and operational procedures.
3. CompTIA Network+
IT professionals have marked the A+ credential as the starting point for IT professionals. However, if you have sufficient experience in the industry and feel you don't require the A+ credential, you can skip it and directly advance to the Network+ certification. This CompTIA certification is aimed towards candidates with a minimum experience of nine months in networking. They should also have basic knowledge about networking media, technologies, security, topologies and configuration. If you are applying for this credential, make sure you also understand how to install and troubleshoot wireless and wired devices.
This certification is recommended by tech giants Dell, HP and Intel. It is also a great certification to enter the Apple Consultants network. Network+ is recognised by the Department of Defense like A+ is, and can be achieved by clearing a single exam.
4. CompTIA Security+
This certification encompasses a whole range of concepts and topics such as network security vulnerabilities and risks, identity management, control over access and cryptography. While Security+ does not have any prerequisites, it is recommended that certified candidates have at least two years of experience focused on security within IT administration and also have a Network+ certification. You must clear the SY0-501 exam to get the Security+ certification.
Infrastructure Certifications
1. CompTIA Linux+
This certification is designed for network administrators working with Linux having experience with Linux administration for a minimum of one year. This experience should include, among other aspects,
Managing packages
Installing
Unix and GNU commands
Scripting
Security
The Network+ and A+ CompTIA certifications make for a solid base if you are interested in the Linux+ certification, but aren't mandatory. To get this certification, you need to pass the LX0-103 and LX0-104 exams, in this order. You must pass the LX0-103 and only after clearing that should you attempt the LX0-104. CompTIA was also ready with a beta exam called XK1-004, but that was discontinued in October 2018. It is a good idea to keep checking the Linux+ site for updates.
2. CompTIA Cloud+
Cloud computing
is the future of the IT sector. The Cloud+ certification is matching the advancing cloud market at every step. It has been designed for candidates with 2-3 years of work experience in storage, data centre administration or networking. You can attain this certification by passing the CV0-002 exam. The Cloud+ exam tests your understanding of
Hybrid and multi-cloud solutions
Cloud technologies
Deployment of cloud-based solutions within operations
Cloud markets
3. CompTIA Server+
This certification is aimed at server admins who have 18-24 months of server technologies experience (hardware and software). The Server+ credential is often required for server technician roles in organisations like HP, Intel and Lenovo, with A+ as a recommended foundation.
Cybersecurity Certifications
1. CompTIA Cybersecurity Analyst (CySA+)
With the increase in cyber attacks, there is a growing demand for information security analysts with a highly specific skill set. According to the US Bureau of Labor Statistics, opportunities for information security analysts are going to rise by 28% during 2016-2026. The CySA+ certification is among the latest additions to the certifications CompTIA offers and aims to catch up with the rapidly growing demand for qualified InfoSec analysts with adequate experience.
Professionals with the CySA+ credential develop a thorough understanding of system tools designed to detect threats. They are also well-versed in using data analytics and behavioural analytics to protect systems and applications against vulnerabilities and system risks.
According to CompTIA, the CySA+ certification is the step between the Security+ certification that demands two years of experience, and the advanced CASP certification (Advanced Security Practitioner Certification) that asks for ten years of relevant experience. You can earn the CySA+ credential by passing a single exam.
2. CompTIA Advanced Security Practitioner+ (CASP+)
CompTIA doesn't use the designation of 'master' level anymore. But should that level have existed, the CASP+ credential would be at the top of that list. This certification has been designed for practitioners and is the only hands-on certification that is performance-based across the entire CompTIA portfolio. It is targeted to experienced InfoSec professionals who understand how to plan and design security solutions as well as implement them within an enterprise environment. This certification requires ten years of experience in IT administration along with five years of experience in technical security. You can get this certification by passing the CAS-003 exam, which comprises a mix of 90 multiple-choice questions and performance-based questions.
3. CompTIA PenTest+
This is the latest addition to the portfolio of CompTIA certifications. This credential is designed for the intermediate-level professional and works best when partnered with the CySA+ credential. The CySA+ certification focuses on detecting threats and responding to them, while PenTest+ covers penetration testing for the purpose of identifying and managing network vulnerabilities.
This certification has no prerequisites, although it is recommended that you get Network+, Security+ or the same level of skills before attempting the certification exam. It will also help to have InfoSec experience of at least two years.
Additional Professional Certifications
1. CompTIA Project+
The Project+ certification is targeted towards project management almost exclusively. It is designed for the project manager who is familiar with the project lifecycle right from planning up to completion and can stick to deadlines and budgets. This course requires a minimum of one year's experience as a project manager with a focus on overseeing small and medium projects. You need to clear the PK0-004 exam to earn this credential.
2. CompTIA Cloud Essentials
This certification is designed for individuals with a basic understanding of the business side of cloud computing as well as the process for moving to cloud storage from in-house storage. Additionally, you also need to understand the impact, risks and the consequences of the implementation of cloud-based solutions. You can earn the Cloud Essentials credential by passing a single exam.
3. CompTIA CTT+
CTT+ is short for Certified Technical Trainer. This certification has been designed for professionals who are interested in training their technical skills. In a vendor-neutral style, it covers skills for instructors like presentation, preparation, facilitation, evaluation and communication. IT giants like Adobe, IBM, Cisco, Microsoft and Dell recommend CTT+ for their technical trainers and highly value this credential in their employees.
There are two exams you need to clear to get certified as a CTT+:
CompTIA CTT+ Essentials (TK0-201)
Either CTT+ Classroom Performance Trainer (TK0-202) or CTT+ Virtual Classroom Trainer (TK0-203)
Both the second exam options are performance-based. You are required to submit a recording or video of your classroom sessions, either online or offline and fill out a form to record your training, student evaluations and delivery.
Start Training With Koenig
Koenig offers a wide range of CompTIA certification training programs with expert instructors to give you real-world experience. You can also choose the duration of your classes and get flexible dates for live online classrooms and on-site CompTIA training. Take your career to a whole new level and start training for your CompTIA certification today.