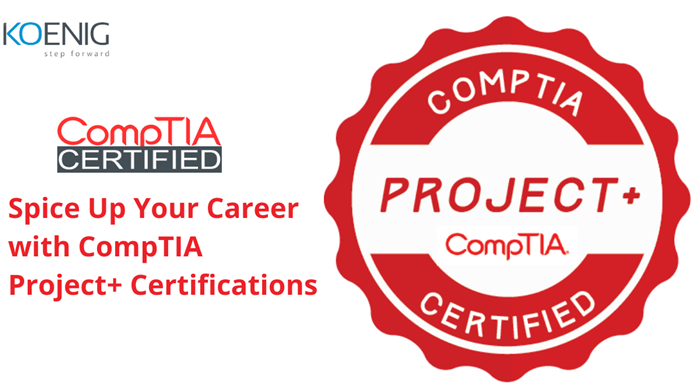 Read on to understand about CompTIA Project+ Certification, how the courses offered can help you get certified, career opportunities it will open up for you and what it means to be a CompTIA Project+ certified professional in today's competitive world. For people looking forward to reaching the next level in their careers, this is the right page.
What is CompTIA Project+ Certification?
CompTIA Project+ is a perfect option for budding project managers or those wish to pursue a career in project management. This certification makes use of multiple frameworks to provide an overall project management expertise.
The program covers the entire project management life cycle, project constraints, communication best practices, project documentation resource management and stakeholders management. The CompTIA Project+ exam focuses on three core skill sets required for successful IT project management: critical business knowledge, best practices in project management methods and processes, and essential interpersonal skills.
The feature that sets Project+ apart from other competitors is that there are no prerequisites for Project+ although having at least one year of experience in project management in any capacity is desirable.
What will you Get?
Achieving a project management certification is an excellent way to showcase your skills and bring valuable expertise to your organization, while also boosting your earnings. The skills you acquire through a CompTIA Project+ certification will help you in almost any business or management jobs.
Effective communication and more distinct planning among team members are listed as the number one benefit for earning CompTIA Project+ certification, according to a survey carried out by the Computing Technology Industry Association (CompTIA).
The most significant advantage of the Project+ certification is that it's vendor-neutral, fully accepted and might be earned quickly.
If you successfully pass the CompTIA Project+ exam then you will acquire the skills required to plan and manage IT related projects that can benefit your organization. Secondly, you can work with increased productivity and efficiency. You can also communicate effectively with different teams simultaneously to ensure better project management. Thirdly, you can deliver projects in an agile fashion.
CompTIA Project+ provides project managers the skills required to complete projects on time and within the financial envelope and conceives a standard project management language among project team members.CompTIA Project+ enhances:
Your ability to lead projects
Your skills to make any project a success
Your communication ability
Your budgeting capability
Your resource planning and resource allocation competencies
High-growth opportunity
Certified individuals have also noticed an increase in the responsibility assigned to them after completing the course. More Project+ certified individuals have noted that they have led between one or more projects since becoming CompTIA Project+ certified and have been engaged in multiple projects simultaneously. Some even stated that they got a promotion or a salary hike since becoming CompTIA Project+ certified.
Better and More Career Opportunities with Competitive Advantage
Around 90% of recruiters prefer the candidates possessing some certification along with basic educational requirements. You also get a higher search exposure on LinkedIn, and your resume will rank higher through matching algorithms on job sites.
Having CompTIA Project+ certification in your resume would be helpful in bagging top project management job offers.

Addtional Read: CompTIA Cloud+ Certification Benefits
Job Profiles for CompTIA Project+ Certified Professionals
Program managers
Product managers
Project coordinators
Project leaders
Project executives
Project administrators
Project directors
Project analysts
Development managers
Let's get the ball rolling!
In conclusion, project management is a broad field to break into right away, and CompTIA's Project+ certification is an excellent way to start. CompTIA's Project+ validates your competency in the field of project management. Whether you are an IT professional who wishes to enhance your technical skills by adding project management to your portfolio or a non-IT professional with a passion to learn project management and start a career, Project+ by CompTIA is certainly the best certification available.
There are numerous and intensive training choices, together with classroom training, instructor led online training and e-learning with an up to date curriculum. They also customize the course as per learner's requirements, skills and aptitude so that it is tailored to suit the person perfectly. Their exam pass guarantee provides free technical consultation until the learner passes the exam.
What are you waiting for? Signup for CompTIA Project+ course right now! Koenig Solutions offers the best certifications 2021 and trainings for career advancement for IT professionals.