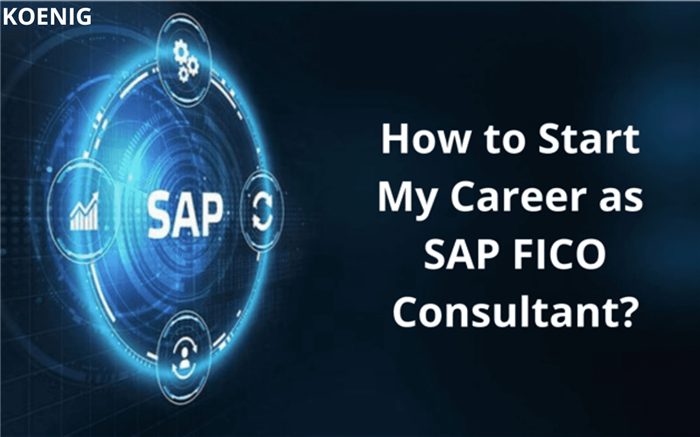 For the better implementation of Enterprise resource planning (ERP), SAP is the largest software application provider for enterprises. Since its inception, SAP has been providing excellent ways to improve management in IT and business field. If you are aspiring to become a SAP FICO Consultant, there is a lot to know and do.
SAP has 28 modules in total, out of which, few are considered mainstream. SAP Finance and Controlling (FICO) is one of them. It has been widely used in the market to meet financial needs.
Through this blog, you can understand this SAP Certification completely.
What are the Career Opportunities for SAP FICO Certified Professionals?
SAP FICO is a combination of two SAP modules that is SAP finance and SAP controlling, including user management and configuration. Getting certification in FICO module will open many doors to work as SAP FICO consultant, account & finance executive, senior analyst programmer and more. To understand what a FICO consultant does, comprehend the two main modules as explained here:
1. Need of SAP FI Module
SAP Financial Accounting is related to the enhancement of finance management ideas in enterprises. To affect any business, finance acts as a crucial part of it, which requires perfect management skills. Management of financial accounting manually is taxing and complicated. For this reason, SAP FI is executed in the organisation to simplify the process of management in handling accounts and financial requirements. It helps the company to evaluate its financial position in the market.
FI module comprises components like General Ledgers, Account Consolidation, Asset Accounting, Accounts Payable, and Accounts Receivable.
2. Need of SAP Controlling (CO)
SAP Controlling (CO) module helps in planning, maintaining, justifying and supervising business processes in any company. It is directly linked to financial accounting, as it views and organizes the associated costs. It also manages and configures master data which covers the information related to internal orders profit centers, cost centers, cost elements, and much more.
The process is managed step-by-step including organizing, chasing, execution, and reporting. It helps in tracing cost heads to plan accordingly. It benefits the costing across processes, based on activities. It supervises product variances, production costs, and its costing. It includes components related to Profitability Analysis, Internal Order Accounting, Cost Centre Accounting, Overhead Management etc.
Overall Both the modules, if correlated, help the professionals in business management through data management and financial accounting. To enter into the world of financial accounting, you first need:
Testing, Researching, and Configuration skills

Business Support – providing them solutions passionately

Familiarity with the business processes

Management & Financial Accounting knowledge
Also Read:- Learn About SAP Financials & Accounting Modules
SAP FICO consultant – Job Description
Consultants are responsible for the system configuration and implementation based on requirements of the business, refining methods, GAAP analysis and looking for new projects. Consultants could be either external or internal. External consultants are the part of the implementation team. Their function ends when a project goes live. Whereas internal consultants work for the company during implementation and even after the project goes live.
Responsibilities of a Consultant:
Executing SAP Business Warehouse (BW) in projects.

To corporate and guide other consultants from PS, PP, PM, and MM modules

Training the newcomers and the end users.

Providing support in the testing process to discern issues and errors in documentation or applied business processes.

To make use of all opportunities for the improvement of business systems.

Its configuration is based on business requirements.
Minimum Requirement
At least 2 – 5 years of experience in SAP FICO modules – Internal Orders, Cost and Profit Centre Accounting, Accounts Receivable, Accounts Payable, and General Ledger.
Educational background
An appropriate university education is needed prior to thinking that you can become a FICO consultant. Educational requirements for taking this SAP Course are:
Bachelor's or a Master's degree in any domain from a reputed institute.

Choose the appropriate subjects, like financial and management accounting and management.
Additional Tips
Start writing blogs and publishing articles. So, that you can become active on SCN, an SAP Community Network while pursuing your degree.

To implement SAP is a complex task and requires advanced skills, which can be attained either by self-study or by adequate training. You can go with self-studies.

With SCN, you will get to know about sufficient educational material which will complement certified training.

You can go for the online resources, available on YouTube or Google accordingly.

Joining an institution would be a better option. Taking the training of both these SAP courses, individual would become a hefty task.
Read More: Top 30 SAP Interview Questions and Answers 2022
Instead of SAP FI consultant training and SAP CO consultant training, one can go for SAP FICO training. It not only develops expertise but also enhances understanding for better management of reporting and finance accounting in an enterprise. Moreover, you can join Koenig Solutions for the development of your management skills in a better way. Assuming you to be total naïve in the field, they commence with the basic concepts to introduce you to all the level of SAP implementation. So, no prior learning is needed to start this SAP Certification courses.