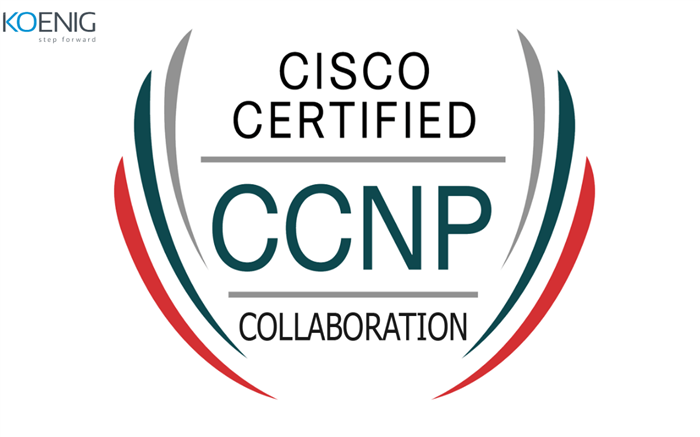 Cisco CCNP Collaboration certification is a job-related training program for collaboration and network engineers who aspire to improve skills in designing, configuring deploying, and troubleshooting collaboration and communications devices, networks, and applications and develop their capability to expand business value.Multiple job trends are converging today. We are breathing in a world where active collaboration sessions involving video, voice, and data sharing are becoming common. Video and voice job functions have merged to become the collaboration function. The CCNP Collaboration program offered by Koenig focuses on this convergence and prepares engineers for installation and protection of converged video and voice infrastructures.
Who should consider getting a CCNP Collaboration Certification?
Professionals who want to establish a career in collaborative communications in an organization need CCNP Collaboration certification. The basic requisite for obtaining a collaboration certification is to have a valid CCNA collaboration or any CCIE certification. 5–7 years of working experience in a collaboration network environment is also recommended. Network Video engineers, Voice / Collaboration / Communications Engineer, Collaboration Tools Engineer, IP Network Engineers, and IP Telephony "VoIP" Engineers can utilise this certification to succeed in the collaboration and unified communications field. The certification trains you for a career as a collaboration/communications engineer employed in big or small-medium enterprises.
You May Also Like : Tips to Prepare the CCNA Certification Exam
Career Opportunities of CCNP Collaboration
A key factor that motivates CCNP candidates is the scope of the certification and the career opportunities offered once they complete the program. It is imperative to obtain CCNA certification before you move to other advanced level certifications like CCNP. There are abundant opportunities for CCNP collaborator, even for those who have just completed the program and do not have any working experience. Because of their deep knowledge of Cisco enabled networks, companies need not provide any training to the newly employed CCNP engineers. However, the experienced CCNP certified professionals will get a higher salaried job. CCNP aspirants have great job prospects in budding IT enabled countries like India, USA, Dubai, UK, Australia etc.
Network Engineers holding collaboration certification are in huge demand as they are trained to assess, test, suggest and implement exclusive network solutions. They can handle network-related tasks and carry out engineering, planning and technical assistance for external and internal networks. CCNP certified collaboration experts can develop video and voice abilities to facilitate network engineers to fill an on-going skill gap in these fields. The collaboration certification portfolio offers a comprehensive career dimension for collaboration, video, and voice network engineers who are looking forward to embracing this new technique of working.
CCNP certified professionals get numerous job offers from across the world. With excellent salaries and respectable designations, MNCs are notably offering top jobs to deserving candidates, which implies that true knowledge acquired through the certification program from Koenig is valued by various companies worldwide.