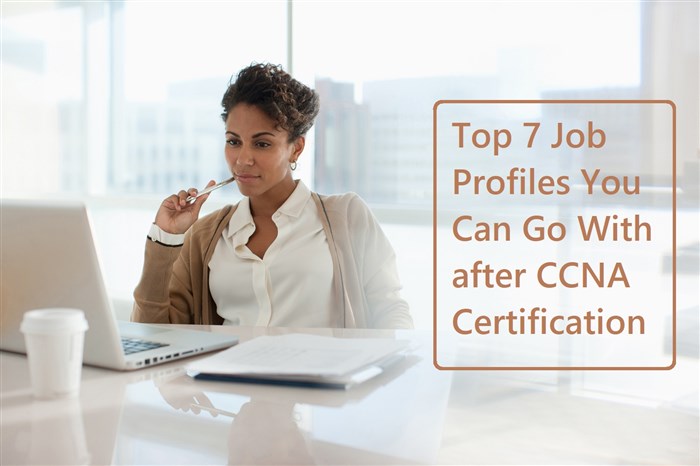 CISCO, the leader of IT and networking, across the globe, in its own words states that "it works to translate how the people connect, communicate and collaborate". The company offers a range of products and networking solutions that are readily adopted by companies. According to Wikipedia.
The focus of CCNA is on security, cloud, wireless, collaborations, routing and switching, industrial plants, data centers, design and more.
The various technological solutions that the company constantly improvises or introduces need CCNA job experts for optimal utilization. Hence, it offers training and has divided its IT certifications at entry, associate, professional, expert and architect levels.
The
Cisco Certified Network Associate
or CCNA Certification is offered by CISCO Group at the associate level. The point of doing any course is to become a professional and work for an organization which will allow you to meet your goals.
Top 7 Job Profiles Pursued after CCNA Courses are discussed below:
Technical Support Engineers
Systems Engineers (Fresher)
Systems Engineer
Network Administrator
Information Technology (IT) Manager
Senior Network Engineer
Network Security Specialist
1. Technical Support Engineers
With the current technological developments, customers and clients of any organization require constant support and advice. This is one of the CCNA jobs which will require you to help troubleshoot and offer support. The configuration and support issues with a client's computer systems or networks can be resolved telephonically or with remote access. Technical support engineers provide IT tech support by maintaining regular functioning of customers' system. As per pay scale – The minimum salary you can expect for technical support engineers is about Rs. 1,00,000.
2. Systems Engineers (Fresher)
Every career has a starting point, and this can be considered the starting point for CCNA engineers. Though direct access to routing and switching is not given, this job will ask you to provide support in the form of WAN and LAN connectivity and offer basic technical support to your organization for security which will include firewalls and routers. Documentation maintenance and timely response to tickets, alerts and notifications are among the other features. As per Pay Scale – The minimum salary you can expect for fresher systems engineer is about Rs. 1,03,000.
3. Systems Engineer
Every organization in the world today requires the management of different systems, infrastructure and devices. CCNA certified networking engineers will have in-depth knowledge of installed infrastructures. You will have to maintain the backup and security of the systems, and offer support at the second and third level within the organization. As per Pay Scale – The minimum salary you can expect for systems engineer is about Rs. 1,47,000.
4. Network Administrator
Not to be confused with systems administration, even in some smaller organizations they expect to take over responsibilities of both systems administration and network administration. But to be clear, as a network support engineer you will be expected to manage all the hardware and software and ensure smooth operation for the company's network infrastructure. It is one of the most popular jobs.As per Pay Scale – The minimum salary you can expect for network administrator is about Rs. 1,62,000.
5. Information Technology (IT) Manager
The IT Manager is expected to plan as well as direct all activities of the IT department of an organization. Your role as a manager will not only require skills with regard to data processing, operations and systems, but will also test your acumen of systems administration and handling of virtualized server environment. As per Pay Scale – The minimum salary you can expect for an IT Manager is about Rs. 329,000.
6. Senior Network Engineer
The IT support team of every organization is dependent on their senior network engineer for the seamless functioning of their IT infrastructure. The role will require you to take design, implement, deploy, maintain and support the infrastructure within established configuration. You will also be required to work within the guidelines and practices of change management policies. As per Pay Scale – The minimum salary you can expect is about Rs. 362,000.
7. Network Security Specialist
The primary job of a network security specialist is quite evident, it is to protect the IT infrastructure from malicious intent. You will be expected to detect, prevent and resolve any issues related to the security of the IT network of your organization. Apart from the skills that can be acquired a high-level of ingenuity to uncover drawbacks and quickness to resolve those will be required as part of successful job completion. As per Pay Scale – The minimum salary you can expect for network security specialist is about Rs. 367,000.
These are many more jobs opportunities that you can acquire after completing a CCNA certification. Titles may range from routing and switching engineers, video and voice engineers to support technicians and data associates. Networks in an enterprise environment are vast, and can be dependent on both LANs and WANs, requiring multiple-level as well as highly-specialized skill sets. With CCNA you could work with Cloud, Cyber Ops, Collaboration, Data Center, etc. These skill sets have to be acquired, even if you have a high-level of aptitude to meet the varied demands of this profession.
However, like every other profession, there are prerequisites, and you will most probably start at fresher level. As you learn and grow, you will get better paying jobs, but remember, you will need to recertify your CCNA as per the requirement of the course and field of work. As mentioned above, CCNA certifications begin from Entry Certifications, followed by Associate Certifications, Professional Certifications to Expert-level Certifications.
CISCO is known to provide certifications for a specific technology or specialist certification and retired certification, which is basically for technologies that are redundant and no longer used.
The question now would be which level of CCNA certification course you should be doing to get into this field. There are many institutes offering the course, but you should check the ones offering you an in-depth knowledge of the required field. The one thing you should look out for is an institute that provides practical training along with theoretical knowledge. At the end of the course, you should be able to manage all major aspects of your CCNA job with minimal or no help from others.