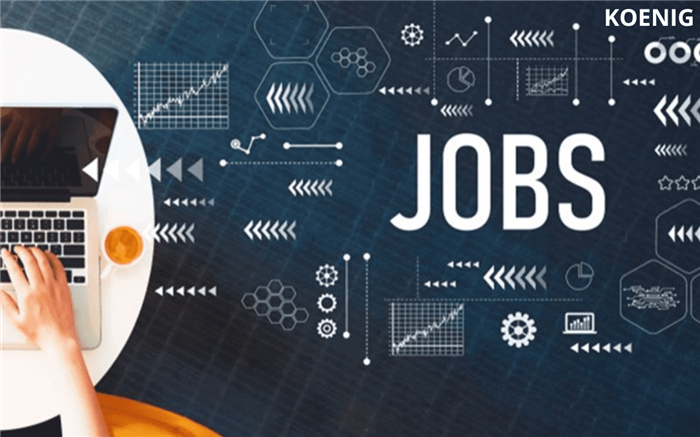 The IT and technology sectors have been used interchangeably in conversations regularly.
According to an article by
CompTIA
, a leading trade association in the IT industry, the IDC (International Data Corporation) predicted that the global technology industry is heading towards the $5 trillion mark in 2022.
The USA is the biggest tech market across the globe, accounting for 33% of the total, coming up to $1.6 trillion in 2022.
After the global pandemic dawned, the IT industry across the world is transforming rapidly. Jobs that require data analysis, cybersecurity, artificial intelligence and machine learning have become the most lucrative and high-paying jobs in the market today. If you want to switch careers and future-proof your professional life, you should consider switching to either of these fields.
The Highest Paying IT Jobs in America:

The IT industry is witnessing a tremendous disruption. With a third of the industry based in the US, the demand for IT professionals in America is only set to grow in 2022.
For roles that require the use of data, LinkedIn shows that there are currently 5,420 vacancies and 11,100 employees hired in the US already.
For roles related to specialised engineering such as full-stack engineer, back-end developer, cloud architect and cloud engineer, there are about 13,396 job openings currently and 30,168 employees already hired in the US.
Meanwhile, roles that require AI-based skills have about 889 current openings with 3,239 people already hired in the US.
So which of these roles should you choose? Which one is best suited to your career goals and which skills do you need to develop? Let's take a look.
Highest-Paying IT Jobs:

Product Manager:
Whenever there's a conversation about high-paying jobs, you cannot have a list without including Product Manager on that list.
A professional in this role helps organisations with determining parameters around products that the engineering team builds and also leads the development lifecycle of that product right from the ideation stage to the launch.
The key skills that a product manager requires are:

Comprehensive knowledge of PLM as a concept (Product Lifecycle Management).
Exceptional analytical skills.
Understanding of tools for product management, like PivotalTracker, Asana and JIRA.
Strong time management and communication skills.
A product manager is responsible for the delivery of operation plans that help in achieving tactical and strategic goals, building product portfolios and implementing and managing marketing activities.
This person also contributes to the end product strategy and the overall vision for the product. The average salary a product manager earns goes above $100,000 per year.
AI (Artificial Intelligence) Engineer:
An AI architect is responsible for developing, managing and overseeing Artificial Intelligence initiatives at an enterprise level.
AI architects need a solid background in statistics and mathematics. Additional key skills that are required are:

Strong programming skills, with working knowledge of Torch, Python and R.
Understanding of how TensorFlow and similar technologies function.
Strong understanding of AI-related technologies like Deep Learning, Machine Learning and Neural Networks.
Full-Stack Developer:
There are more than 23 million developers today around the world. By 2023, this will grow to an estimated 27.7 million, which makes it one of the industry's highest-paid tech roles. It is not easy to define everything that makes up a full-stack developer.
However, the best way to explain this role is as a professional who is proficient in developing both front-end and back-end solutions and who has the relevant skills needed from the conception stage till the final output is delivered.
Some key skills required for becoming an expert developer are:
Understanding of skills like MongoDB, AngularJS, Node.JS and Express.JS.
Knowledge of designing and developing an API.
Scripting and coding.
Understanding of the core concepts of web development.
Understanding the basics of database technology.
Full-stack developers are generally in charge of the design and development of APIs with the help of MEAN stack technologies.
They also ensure applications that are created meet the required standards and respond well.
They also need to ensure that the code created has its integrity intact and implement data security. A full-stack developer earns an average of $106,000 per annum.
Cloud Architect:
One of the most aspirational roles in the cloud domain is that of a
cloud architect
. An architect is responsible for deploying and overseeing the cloud computing strategy for organisations. The key skills and foundational requirements for a cloud architect are:
A deep understanding of a cloud application's architecture.
Working knowledge of AWS (Amazon Web Services), Google Cloud Platform or Microsoft Azure.
Strong communication skills.
The responsibilities of a cloud architect include cloud architecture development and cloud strategy development, as well as implementing and deploying them.
They also need to ensure that all application deployments and architecture within a cloud ecosystem are carried out properly. A cloud architect earns an average of $120,000 per annum.
IoT (Internet of Things) Solutions Architect:
IoT Solutions Architects are among the best paying and most highly demanded job roles in the IT domain today. This is a leadership role that entails overseeing the strategy that goes into deploying and developing IoT solutions. Some of the key skills needed for this role are:

Expert-level programming skills
Working understanding of ML (Machine Learning)
Working knowledge of hardware architecture and design
As an IoT solutions architect, you are in charge of leading and participating in all actions and tasks relating to design and architecture, aiding the development of IoT ecosystems overall and ensuring they align with the IoT framework that is in place.
They overall need to translate business objectives into IoT architecture needs.
This is a challenging role, which is why IoT solutions architects are paid over $130,000 on average in a year.
Data Scientist:
Data scientists are undoubtedly the highest paid professionals across domains and industries. Since 2013, the demand for data scientists has grown by 29% year on year, with a significant increase of 344% by 2022. The key skills required to become a data scientist are:

Capability to create data models.
Understanding of Machine Learning algorithms.
Skills to code using languages like R, SAS and Python.
Understanding and identifying business problems and getting solutions for them.
As a data scientist, you can earn as much as $150,000 per annum.
Choose a Future-proof Career
These are some of the most lucrative career options today, but they are definitely not the only ones.
There are several other paths like cybersecurity, digital marketing and others that you can choose from. However, if any of these domains sound like something you would be interested in or if they match your skillset, you can start working towards these careers.
You don't need to leave your job or start going to a university. You can simply enroll in a certification training program for any of these highest paying jobs in IT and change your career.