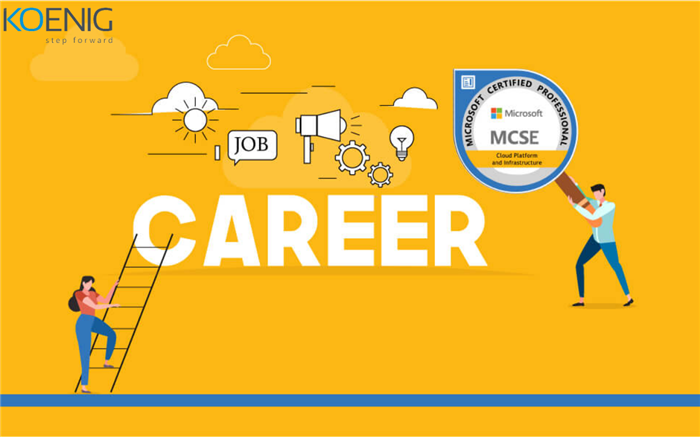 Read on to understand about Microsoft's MCSE certification, how the courses offered can help you get certified, career opportunities it will open up for you and what it means to be an MCSE certified professional in today's competitive world. For people looking forward to reaching the next level in their careers, this is the right page.
What exactly is MCSE?
Microsoft Certified Solutions Expert is an expert level certification from Microsoft. It is a part of MCP (Microsoft Certified Professional) certification programs taken by professionals to validate their expertise on some of the most popular Microsoft products and services.
"MCSE Certification validates that professionals are proficient in configuring, installing and troubleshooting Microsoft Windows Server based network systems".
Talking about the prerequisites, you must first pass the MCSA certification exams related to your chosen MCSE track. Microsoft Certified Solutions Associate (MCSA) is an entry-level Microsoft certification. Then you need to pass additional exams to earn the MCSE in your chosen field.
ALSO READ: What is the Certification Replacement for the Microsoft MCSE, MCSA & MCSD?
What will you get?
Getting an MCSE Certification will open up a whole lot of opportunities for you. By taking up Koeinig's MCSE programs, you can gain advanced skills that can help you deliver lasting business impact at your organization.
Microsoft Certification in itself is a badge of honor and such a certification will add value to your resume against your peers and colleagues, giving you a competitive advantage. MCSE certification holds a recognition in the IT industry and is used by professionals to apply for jobs worldwide.
Advanced Skills and Proficiency
Let's understand what all you would be able to do after completing the MCSE certification course. You will also be able to :
Design and build server infrastructure solutions
Create a private Cloud solution
Manage enterprise devices and apps
Deploy and maintain enterprise-level Cloud infrastructures
Design business intelligence solutions for an enterprise
Having developed the above skills, you would be able to handle critical jobs and create significant business impact in an organization. Moreover, MCSE Certification validates that a professional is skilled to perform and manage a variety of critical IT operations using Microsoft technologies like SharePoint and Windows Server successfully.
You May Also Like: A Complete Guide for Windows Server Certification: MCSA, MCSE & MTA
High-growth opportunity
Upon earning a certification, 23% of Microsoft certified technologists reported receiving up to a 20% raise. What's more, certified employees are often entrusted with supervising their peers, putting them on the fast track for an appraisal and promotion.
Also, around 90% of hiring managers prefer the candidates possessing a certification along with basic educational requirements. You also get a higher search exposure on LinkedIn, and your resume will rank higher through matching algorithms on job sites.
Better and More Career Opportunities with Competitive Advantage
When applying for a job, employers mainly look for expertise in the role in question. A professional holding a certification surely has a competitive advantage over other applicants and thus, would increase his or her chances of getting selected for the job. This certificate would also be helpful for professionals looking to switch to a different function or role, with which they have had some past experience.
Job Profiles for MCSE Certified Professionals:
Systems Engineer
IT Manager
IT Director
Database Administrator
Technical Support Engineer
Technical Consultant
Software Engineer
Technical Support Engineer
Network and computer systems administrator
Computer systems analyst
Information security analyst
Also Read: mcse-certification-types-and-benefits
Let's get the ball rolling!
The courses are kept up to date with the changing exam requirements as Microsoft updates its exam syllabi and passing criteria regularly. They also customize the course as per learner's requirements, skills and aptitude so that it is tailored to suit the person perfectly. Their exam pass guarantee provides free technical consultation until the learner passes the exam.
MCSE certified professionals are always on the hotlist of various employers and recruiters worldwide for a variety of roles which involve administering, deploying, optimizing and operating Microsoft based technology solutions in enterprise environments. Flaunt your experience and gain a recognized credential today.
What are you waiting for? Signup for MCSE Course right now!
Koenig Solutions offers the best courses and training for career advancement for IT professionals.