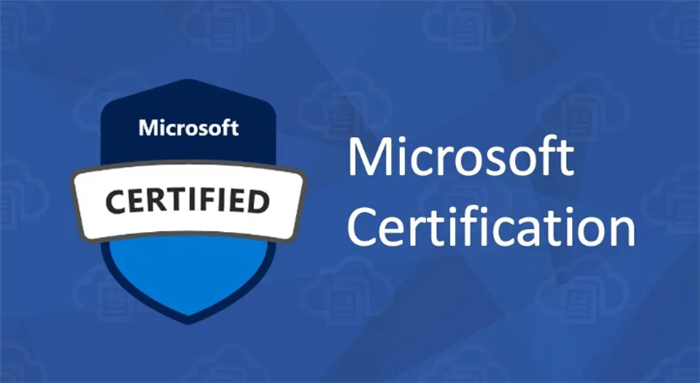 Microsoft Windows operating system is the most widely used software around the globe and with millions of computers running the OS, it led to MS developing a lot of supporting tools for servers, app development and cloud platform to cope up with growing needs.
From an aspiring student or job seeker's perspective, successfully completing any one of the top and most in-demand Microsoft certifications will provide them with a formidable career path to progress because all these courses are related to the OS the company has developed. You can know more about these certifications and pursue the most suitable ones for better career prospects.
Which Microsoft Certification is Best for Beginners?
Microsoft offers certifications based on their level of knowledge. The best certification for beginners and one of the top Microsoft certifications is AZ 900: Microsoft Azure Fundamental. There are no prerequisites, and the course covers the fundamentals of cloud and Azure. The certification validates your knowledge in three primary areas: cloud concepts, Azure architecture and service, and Azure management and governance.
Which Microsoft Certification Should I Get First in 2023?
The answer to this question depends on a lot of factors. What is your level of knowledge? What are your career plans? If you are a beginner, getting the AZ-900 certification will be the best. If you want to make a career as an Azure administrator, AZ-104 will be suitable for you. If you are looking for a certification that can bring you higher pay, getting AZ-305 or AZ-400 will be beneficial.
Which Microsoft Certifications are most in Demand in 2023?
Most Microsoft certifications are well in demand. However, some of the most popular Microsoft certifications are as follows.
Let us discuss each of them one by one moving ahead.
1.

AZ-104: Microsoft Azure Administrator
Microsoft Azure Administrator Certification training a beginner course from Microsoft for professionals who want to become Microsoft Azure Administrators. Take part in this Microsoft Azure Administrator course which is aligned with AZ-104 certification exam to learn all aspects of cloud computing, managing, and monitoring an organization's Microsoft Azure Environment.
With business solutions and services moving to the cloud, it is critical for professionals to have knowledge of managing these services on platforms such as Microsoft Azure. In this regard, the Microsoft Azure Administrator AZ-104 training delivered by Koenig Solutions will help participants to gain a fundamental understanding of implementing and managing identities, governance, cloud storage, creating virtual networks, and managing resources as and when needed.
2.

AZ-900: Microsoft Azure Fundamentals
Microsoft Azure Fundamentals Certification training 1-day course, is an entry-level Microsoft certification for professionals who want to start their journey in cloud services and how to provide these services using Microsoft Azure. Take part in this AZ-900 Microsoft Azure Fundamental course to learn all aspects of cloud computing, networking, storage, databases, privacy, security, compliance, and more. This course does not include any hands-on exercises, if you want to practice hands-on exercises too then consider our "AZ-900: Microsoft Azure Fundamentals Training Course with Labs" and become more skilled and confident like never before with Koenig.
3.

DP-203: Data Engineering on Microsoft Azure
Today, everything depends on thorough data analysis to understand the customer pain points and also to identify new opportunities to gain market share. In such a challenging business landscape, it is critical for individuals and enterprises to know how to integrate, transform, and consolidate data across platforms. This Data Engineering on Microsoft to Azure certification (DP-203) is one such certification that helps professionals to build some of the best analytics solutions using Microsoft Azure as a platform.
4.

AZ-305: Designing Microsoft Azure Infrastructure Solutions
Through a blend of hands-on labs and interactive lectures, you will learn about basic architect design principles and also about governance, compute, application architecture, storage, data integration, authentication, networks, business continuity, and migrations.
The Microsoft Certified: Azure Solutions Architect Expert certification will be earned by completing the following requirements:
Earn the Microsoft Certified: Azure Administrator Associate certification and pass Exam AZ-305 or

Pass Exam AZ-303 (before it retires on March 31, 2022) and Exam AZ-305
5.

AZ-500: Microsoft Azure Security Technologies
Microsoft Azure Security Technologies (AZ-500) Certification training is a popular course offered by Microsoft for professionals who belong to the IT Security domain. Attend this 4-day instructor-led Microsoft Azure Security Technologies certification training, which ideal for professionals who implement security controls, manage identities, protect data and applications in a cloud environment for an organization. If you are looking to clear your Microsoft Azure AZ-500 examination, then this is the best course you can opt for.
Irrespective of your organization, whether it belongs to an SMB, Large MNC, or a Government agency, everybody is moving to the cloud. With the increase in data breaches and cybersecurity attacks worldwide, it is paramount to secure assets for an organization to achieve data integrity. In this regard, Microsoft Azure Security Technologies AZ-500 is the best course for both individuals and enterprise teams to achieve a secure cloud infrastructure.
6.

AZ-204: Developing Solutions for Microsoft Azure
Developing Solutions for Microsoft Azure (AZ-204T00-A) Certification training is a widely-recognized azure certification from Microsoft for today's professionals who want to gain a proper understanding of Microsoft Azure solutions in a technologically evolving business landscape. This is a 5-day instructor-led AZ-204 certification training that is ideal for professionals who design, test, build, and manage cloud apps on Microsoft Azure. Looking to get certified in Developing Solutions for Microsoft Azure training, then look no further.
7.

AZ-400: Microsoft Azure DevOps Engineer
Designing and Implementing Microsoft DevOps Solutions (AZ-400) Certification training is an intermediate-level course from Microsoft for professionals who want to gain knowledge of designing and implementing DevOps processes and practices for an enterprise. This 5-day AZ-400 training course is ideal for professionals who combine people, process, and technologies to deliver value to the organization.
Today, nearly 80% of business solutions and services have moved to the cloud. Most of the projects are happening by utilizing cloud platforms, which include Software as a service (SaaS), Infrastructure as a Service (IaaS), and Platform as a Service (PaaS). With projects being hosted on the cloud architecture, it makes sense to utilize Microsoft DevOps solutions to continuously deliver value for enterprises.
8.

PL-300: Microsoft Power BI Data Analyst
This PL-300 Microsoft Power BI Data Analyst course was formerly known as DA-100 Analyze Data with Microsoft Power BI Training. Through this Power BI Data Analyst training, participants will learn about creating actionable insights by leveraging various data sets and then building data models using the Power BI tool. Participants who wish to take up the PL-300 exam should have knowledge of Power Query and writing expressions using DAX.
9.

DP-900: Microsoft Azure Data Fundamentals
The Microsoft Azure Data Fundamentals (DP-900) Certification Training Course is a single-day instructor-led certification program offered by Microsoft. It is ideal for those IT professionals who want to learn the fundamental concepts of cloud computing using Microsoft Azure. The certification training course comprises all the core elements of Microsoft Azure and clears multiple database concepts such as big data and data analysis. The candidates of the Microsoft Azure Data Fundamentals (DP-900) Certification Training Course will also learn about business intelligence, different processing options, and data offerings available using Microsoft Azure.
10.

DP-201: Designing an Azure Data Solution
Designing an Azure Data Solution training course is designed for the Azure data engineers who are responsible for data related tasks that include ingesting, egressing, and transforming data from multiple sources using various services and tools. In this course, for DP-201 Designing an Azure Data Solution, you will learn how to identify and meet data requirements while designing and implementing the management, monitoring, security, and privacy of data using the full stack of Azure services to satisfy business needs.
Here we have given details of top Microsoft certifications that could be a game-changer experience for serious learners. So, take your first step now and get succeeded right away with Koenig Solution expert team. All the Best!