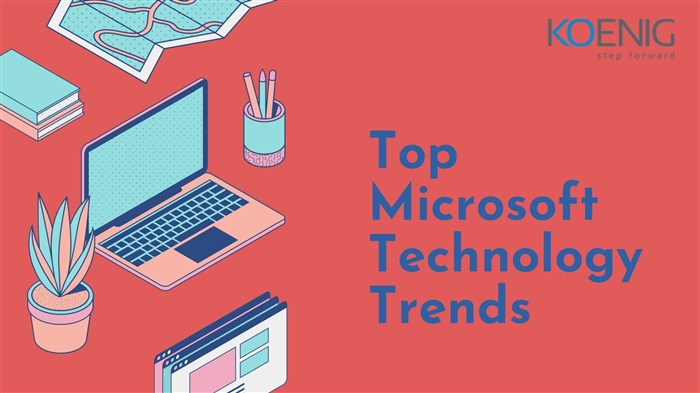 In today's challenging business landscape, the only constant is evolving technology. 2023 marks the beginning of a new decade and a new wave of technologies and trends. Cloud computing, IoT, cyber security, big data and analytics are becoming more and more common as the digital transformation wave grows bigger around the world.
According to Forbes, after 2018, more than 50% of global IT spending towards cloud-based. To lead the evolving trends, tech giants like Microsoft keep updating their proprietary technologies and offerings. Microsoft also offers various certification courses to train professionals in these new technologies. Getting certified in these new technologies can give you the skills needed to create a highly scalable career in the IT industry.
As an IT professional, what are some of the technologies you should be looking at? Here are Top 5 Microsoft Technology trends and platforms that you should explore more in detail this year.
1. .Net 5
One of the biggest challenges for developers who develop .NET code is the transition from the old .NET framework to the .NET Core. By the end of this year, you will have the opportunity to see how code will be explored in the future. The current .NET Core 3.1 is a long-term support version with cross-platform accessibility. Porting or transitioning to .NET 3.1 shows you what changes your existing code needs, and also gives you the opportunity to develop a new toolchain. It allows you to combine the best of Core, Xamarin, Framework, and Mono, and publish on Microsoft Azure app services.
2. Machine Learning(ML) and Artificial Intelligence (AI)
In the last 2 years, Aartificial Intelligence (AI) and Machine Learning (ML) have become the frontrunners when it comes to implementing cloud computing. They are only projected to grow even more rapidly in the years to come, thanks to their ability to
Increase productivity

Deliver on timelines

Reduce resource restraints
Microsoft Azure is one of the world's leading cloud computing-based platforms. Along with Google Cloud and AWS, it owns 76% of the market share. Present trends suggest Microsoft is set to introduce an end-to-end platform for machine learning services.
If you are looking to grow your skill set and expertise in this field, you should get a certification in Microsoft Azure, a trending technology that is quickly expanding its offerings beyond cloud storage.
3. The Internet of Things (IoT)
As the world moves towards greater levels of connectivity, the Internet of Things continues to gain prominence. IoT is one of the main reasons for the revolutionary growth in cloud computing. With users increasingly switching to mobile devices, the growth in cloud computing and security remains directly proportionate.
Azure Sphere, Microsoft's secure IoT platform, works to ensure that your data and cloud is fully secure and cannot be accessed by third parties. Azure Sphere is ready to use for your products today. The production-ready modules and SOCs available to you allow you to build your own hardware around it; you don't need any new application development tools, as all Azure Sphere development takes place in Visual Studio.
Additionally, you will be able to collect and respond to the need-specific data of your customers. Azure's IoT Hub Device Positioning services can be used by customers to configure zero-touch device provisioning. This cloud-based service helps to register and configure devices on the cloud.
Also Read: What is AZ-220 Microsoft Azure IoT Developer Certification?
4. Focusing on Security
Among cloud service providers, security is a key focus area. With the huge amounts of data collected, stored, and used every day, security is an important part of both customers' and businesses' consideration. Even when it comes to security, Microsoft Azure is a popular choice among customers, owing to its encryption and compliance features.
The evolution of cloud technology has seen an evolution and an increase in security threats as well. All major Azure deployments take extra precautionary measures to address the needs of the customers and improve effectiveness.
If you are looking to grow your expertise in the field of cloud and system security, enroll in an online Microsoft course to sharpen your skills on Microsoft Azure.
Also Read: Microsoft Azure Security Technologies Training - Everything you need to know
5. Simplification of Technology
It is amazing to watch how, as technology gets more advanced, it becomes simpler to use. Cloud computing and IoT started as extremely complex technologies with only a handful of experts available. But thanks to global adoption and revolutionary breakthroughs in these technologies, they are now more easily accessible and can be learned easily. Easily accessible certification courses online for Microsoft Azure and other trending technologies allow more people to sharpen their skills in these technologies and boost their careers as IT professionals.
Conclusion
Every year over 3,65,000 new businesses adopt Microsoft Azure. This means the demand for Certified Microsoft Professionals is also constantly rising. To keep up with changing trends in Microsoft technology and to open up your career growth to new opportunities, enroll in a Microsoft certification courses today.