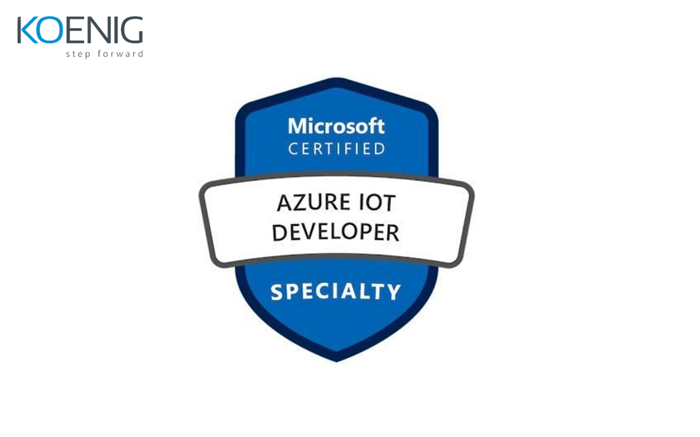 Today the world is more or less inadvertently dependent on the IoT ecosystem. With enterprises going ahead with their complete digital transformation, IoT has helped businesses connect various systems to create a central repository of information to deliver consumer services and products.
According to a Gartner report, "Leading the IoT," it is said that there will be 20 billion internet-connected things by 2020. These 20 billion internet-connected things exclude PCs and smartphones, which are general type devices but include ATMs, Vending Machines, Jet Engines, Smart Cars, and more which are collecting data and performing various tasks on their own. Considering the worldwide population to be 7.8 billion people, the number of internet-connected things is already close to three times.
With services and product offerings being moved to the cloud, it becomes even more critical to safeguard the IoT ecosystem's data to ensure scalability. Microsoft Azure in this regard, has helped enterprises to confidently move their service offerings to the cloud and deliver across systems and geographical locations through the IoT ecosystem. It is because of this Microsoft Azure IoT developer course has seen a steady growth over the years to address the growing demand for.
What is Microsoft Azure IoT Developer Certification AZ-220?
Microsoft Azure IoT Developer Certification is a course provided by Microsoft for professionals under their many role-based certification pathways in the Microsoft Azure category. This Microsoft Azure AZ-220 certification course is ideal for IoT Developers, Data Architects, and more. The Microsoft Azure certifications get updated on a regular basis, and the last update for the Microsoft Azure IoT developer Certification was on September 24th, 2020.
Azure IoT Developer Roles and Responsibilities
As an Azure IoT Developer, one will perform job roles such as:
Implementing designs for Azure IoT solutions that include device topology, connectivity, security, and debugging
Managing the entire device lifecycle set up
Configuration and maintenance of cloud tools and services
Also manage, monitory, and transform IoT data pipelines
Deploying Azure IoT Edge components and configure device networking on the edge
Achieve successful business integration by working with Data Engineers and Stakeholders
Eligibility Criteria to take up the Microsoft Azure IoT Developer AZ-220 Exam
Participants who wish to take up the Microsoft Azure IoT Developer AZ-220 Exam should have experience in:
Implementing Azure services as an IoT solution which includes data storage options, data processing, data analysis, and PaaS optionsRecognizing Azure IoT service configuration setting with respect to the code portion of IoT solution to perform coding tasks in languages such as Python, C++, Node, and C
Learning Objectives of the Microsoft Azure IoT Developer AZ-220 Certification Training
Participants who take up the Microsoft Azure AZ-220 course will gain a comprehensive understanding of:
Implementing the IoT solution infrastructure that include creating and configuring an IoT Hub, building device messaging and communication, and configuring physical IoT devices
Provisioning and managing IT devices that include implementing the device provisioning service, managing the device lifecycle, managing devices using IoT Hub, and building a solution by using IoT Central
Implementing Edge solutions that include setting up and deploying and IoT Edge device, developing Edge modules, and configuring an IoT Edge device
Processing and managing data which include configuring routing in Azure IoT Hub, configuring stream processing, configuring an IoT solution for Time Series Insights (TSI)
Monitoring, troubleshooting, and optimizing IoT solutions that include configuring health monitoring, troubleshooting device communication, and performing end-to-end solution testing and diagnostics
Implementing security that include device authentication in the IoT Hub, device security by using DPS, and implementing Azure security center (ASC) for IoT
READ MORE: Microsoft Azure Security Technologies : Everything you need to know
Key aspects of the Microsoft Azure IoT Developer AZ-220 Exam
Exam Name: Microsoft Azure IoT Developer
Exam Code: AZ-220
Certification Name: Microsoft Certified – Azure IoT Developer Specialty
Exam Format: Multiple Choice Questions
Exam Duration: 120 Minutes
No. of Questions: 40-60
Passing Score: 700
Exam Fee: USD 165
Exam Languages: English, Japanese, Korean, Simplified Chinese
How to become a Microsoft Azure IoT Developer?
Professionals who wish to become a Microsoft Azure IoT Developer can do by taking up instructor-led Microsoft Azure AZ-220 certification training by accredited Microsoft Training Partners. The other way is to be part of self-paced learning through Microsoft's Learn program online and participate in various lab sessions through the Microsoft GitHub repository.
The added advantage of a 4-day Microsft Azure IoT Developer certification training is that you will be taught by an expert Microsoft Azure instructor who has both experience and expertise in implementing edge-to-cloud IoT solutions in real-world scenarios.
ALSO READ: Top Microsoft Technology Trends 2022
Below are few steps through which you can become a Microsoft Azure IoT Developer:
Enroll for 4-day training from an accredited Microsoft Training Partner
Get AZ-220 course materials from an accredited Microsoft Gold Partner and start your preparation
Attend the 4-day training delivered by an Expert Microsoft Azure trainer
Co-participate with other IoT developers and data architects across industry sectors to understand how Microsoft Azure IoT is being implemented
Gain an in-depth understanding of developing Microsoft Azure IoT-based solutions businesses globally
Clear your doubts from an expert instructor to prepare for the Microsoft Azure IoT Developer AZ-220 exam
Clear your AZ-220 certification exam on your first attempt to become a Microsoft Certified Azure IoT Developer Specialty to grow in your career exponentially
Salary prospects of a Microsoft Azure IoT Developer
According to the job portal Glassdoor, the average salary of an Azure IoT developer in the US is in the range of USD 68,600 to USD 111,000 per annum. With Microsoft Azure IoT Developer AZ-220 credential, stand a chance to get a good foothold in this job profile, which is in great demand worldwide.
Final Thoughts / Conclusion
With the automation-driven business landscape becoming the norm, it is time for SMBs and large corporations to catch up with others by smartly integrating with the IoT ecosystem. Integrating to the IoT ecosystem is complex, with businesses depending a lot on cloud service providers to reach the last touchpoint through Edge technologies. These Edge-to-Cloud solutions require professionals to have comprehensive knowledge of Microsoft Azure and other cloud-based service providers.
ALSO Read: Most In-Demand Certification : Microsoft Azure Certification Path 2022
This Microsoft Azure AZ-200 course will help professionals to create and deliver IoT solutions across industry sectors such as healthcare, banking, retail, and travel hospitality, and more.
Individuals and enterprise teams need to get trained in Microsoft Azure Certification courses to address the knowledge gap and ensure a smooth transition in their digital transformation activities that are spread across physical and cloud infrastructure.
Some of the popular Microsoft Azure Certification Courses that professionals can take up to grow in their careers are:
Microsoft Azure IoT Developer AZ-220
Implementing Microsoft Azure Solution DP-200
Designing an Azure Data Solution DP-201
Microsoft Azure Developer AZ-203
Microsoft Azure Security Engineer AZ-500
Microsoft Azure AI Engineer AI-100
Microsoft Azure Data Scientist DP-100