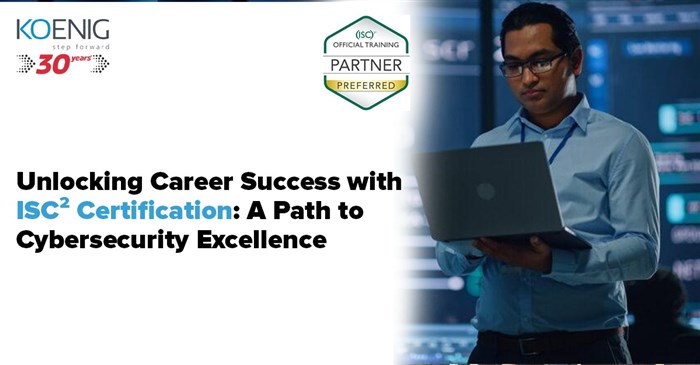 Introduction
In today's digitally-driven world, where cyber threats continue to evolve and increase in sophistication, the demand for skilled cybersecurity professionals has never been higher. The International Information System Security Certification Consortium (ISC²) offers a gateway to career success in this thriving industry. ISC² certifications have become a gold standard, representing excellence in the field of cybersecurity. This article delves into the benefits and significance of ISC² certifications, backed by compelling statistics, to highlight how they open doors to unparalleled opportunities in the cybersecurity landscape.
ISC² Certification - An Overview
ISC², established in 1989, is a globally renowned nonprofit organization dedicated to fostering the growth and expertise of cybersecurity professionals. Their certifications validate an individual's knowledge and skills in different cybersecurity domains. From entry-level to advanced certifications, ISC² offers a diverse range of credentials, including:
Certified in Cybersecurity (CC)
Certified Information Systems Security Professional (CISSP)
Certified Cloud Security Professional (CCSP)
Certified Secure Software Lifecycle Professional (CSSLP)
Systems Security Certified Practitioner (SSCP)
HealthCare Information Security and Privacy Practitioner (HCISPP)
Certified in Governance, Risk and Compliance (CGRC)
Why ISC² Certification Matters
Industry Recognition and Prestige
ISC² certifications are recognized worldwide as a mark of excellence in cybersecurity. Tech professionals who achieve these credentials demonstrate their commitment to the highest standards of information security, which boosts their credibility and reputation within the industry.
Career Advancement
Statistics reveal that professionals with ISC² certifications typically earn higher salaries and are more likely to advance in their careers compared to their non-certified peers. On average, certified professionals earn up to 25% more than non-certified individuals in similar roles.
A Growing Job Market
The cybersecurity job market is projected to grow exponentially, with an estimated 3.5 million unfilled positions by 2021. ISC² certifications equip individuals with specialized skills and knowledge, making them highly sought-after by employers facing an ever-increasing talent shortage.
Evolving Job Roles
With new technologies, such as cloud computing, IoT, and artificial intelligence, reshaping the cybersecurity landscape, ISC² certifications adapt and introduce new credentials to ensure professionals remain at the forefront of industry trends.
Impactful Cybersecurity Statistics
According to Cybersecurity Ventures, global cybercrime costs are expected to reach $6 trillion annually by 2021, making the demand for skilled professionals even more critical.
A 2020 study by (ISC)² revealed that the global cybersecurity workforce would need to grow by 145% to meet the industry's demands adequately.
The Certified Information Systems Security Professional (CISSP) certification, one of ISC²'s most popular credentials, has over 150,000 certified professionals globally, highlighting its widespread recognition.
A survey by PwC revealed that 77% of organizations consider cybersecurity a significant priority in their strategic plans.
The average cost of a data breach is $3.86 million, as reported by the Ponemon Institute's Cost of a Data Breach Report 2020. ISC²-certified professionals play a crucial role in preventing and mitigating such breaches.
Benefits of ISC² Membership
ISC² membership provides access to a vast network of cybersecurity professionals, enabling valuable knowledge sharing, collaboration, and career networking opportunities.
Members gain access to industry research, publications, and webinars, keeping them up-to-date with the latest cybersecurity developments.
Continuing Professional Education (CPE) opportunities ensure that certified professionals stay current in their knowledge and expertise, reinforcing their marketability and worth.
Conclusion
ISC² certifications are not merely pieces of paper but a testament to a professional's dedication and skills in the field of cybersecurity. As the digital landscape grows more complex, the need for skilled and certified professionals becomes increasingly apparent. The value of ISC² certifications extends beyond career advancement, offering a sense of fulfillment and a commitment to the greater cause of safeguarding digital assets. Embracing ISC² certification is a stepping stone to unlocking unparalleled career success and contributing to the ever-evolving world of cybersecurity excellence.