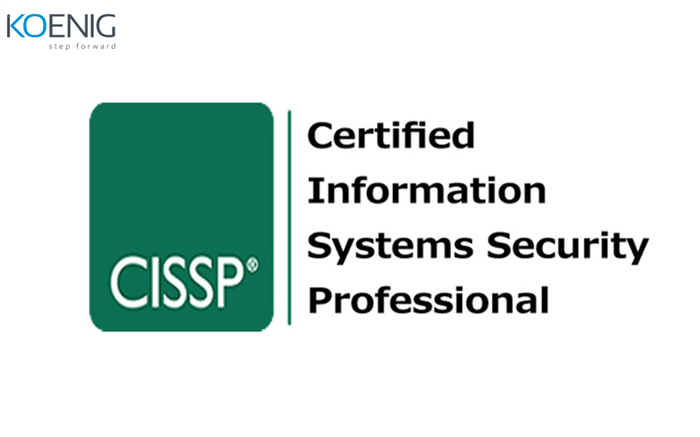 Overview
If you visualize yourself as an information security leader, then CISSP is the training you would need to pursue. With CISSP training , you get the proper understanding of design, architecture, and management of a security environment. Professionals with a CISSP certification are high in demand, all across the globe, to ensure safety of organizations Information against the increasing instances of cyber attack. The certification course and exam is quite intensive, comprising advanced, innovative and intricate questions for the better assessment of candidates on a broader scale. Thus, this cyber security certification is the ultimate way to demonstrate your knowledge, advance your career and join the community of cyber security leaders.
Let's explore more:
What is CISSP?
Certified Information Systems Security Professional or in short CISSP certification is awarded in the field of information security. Controlled by International Information Systems Security Certification Consortium, (ISC) 2, a globally-acclaimed non-profit organization, CISSP is one-of-a-kind and first to meet the rigorous standards of the ISO/IEC Standard 17024.
Accredited by the American National Standards Institute (ANSI) to International Standards Organization (ISO) Standard 17024:2003, CISSP is approved by the U.S. Department of Defense (DoD) in Managerial (IAM) and Information Assurance Technical (IAT) categories. A CISSP certified professional tackles key security issues like application development security, mobile security, risk management, cloud computing, to name a few.
CISSP Training is crucial to develop the skill set required to deploy a robust security infrastructure for protecting an organization from potential cyber security hazards.
Also Read: 2022 CISSP Exam Changes- Everything You Need To Know
Why CISSP Certification?
Here are a Few Reasons to Earn your CISSP Certification:
To strengthen your skills: CISSP focuses on Management experience of a cyber security professionals. It involves practical application of cyber security knowledge, exposing candidates to on-the-job issues and risks. Overall, it reinforces your knowledge and skills required to control cyber threats.
To evolve as a cyber security professional: CISSP exam is a stern test of your knowledge. The certification is a validation of your better, deeper and broader understanding of cyber threats and its robust security.
To catapult your career: The harsh world of cyber security requires professionals with relevant certification. CISSP certification will provide you credibility as an information security professional, thus creating excellent job opportunities with better payscale.
To get global exposure: You earn membership in (ISC)2 with the CISSP certification. You meet experts who share the same passion as yours. You will get a global exposure.
Career Scope with CISSP
Although CISSP certification is not necessary everywhere in the IT security field, but crucial for those who want to earn a respectable and specific position in any organization. It is must for high-end cyber security professionals. If you want any of the following top paying positions, CISSP should be your goal:
IT Director
Chief Information Security Officer
Security Systems Engineer
Network Architect
Director of Security

Security Analyst
CISSP Exam – Master its Eight Domains
In order to successfully clear CISSP exam tests, you have to prove your competence in its eight domains. Consider each of its domains as a specific knowledge area. These domains draw from a wide range of information security topics within Common Body of Knowledge (CBK) of (ISC)2.
Listed here are the CISSP Domains that you need to Master:
Security and Risk Management
Asset Security
Security Engineering
Communication and Network Security
Identity and Access Management
Security Assessment and Testing
Security Operations
Software Development Security
CISSP Training
The gold standard of any cyber security certification is CISSP. Means, you have to pass the exam with determination. Preparations for the exam should go in the right direction. You can start with a combination of CISSP training courses and self-study. Of course, learning resources from ISC)2 can offer a treasure trove of information required to succeed.
Training institutes like Koenig that have certified professionals can be of great help in enhancing your skills. Learning with the experts or a certified trainer is always the best idea.
With the training, you will:
Revive and expand your information security knowledge, as well as information security concepts and industry best practices.

Recognize important areas you need to study to earn the certification.

Expect an in-depth analysis of the eight domains of CISSP. And, also get to discuss industry best practices and appropriate security concepts.
Training led by certified instructors can usher you the success and help you earn the certification. They make the learning content highly relatable so that you get hands-on experience while still learning. Also, they follow adult learning techniques in a highly interactive environment to ensure retention of knowledge. More like real world learning, you get the most out of your training sessions.
ALSO READ: Why You Should Get CISSP Certification
Self-Study Tools:
Aside from a course from a certified institution, take on self study for better outcomes. There is an abundance of self-study tools, available online. There are downloadable guides and books to help you pass the certification exam. The official (ISC)2 website provides the valuable resource like the exam outline, interactive flashcards, and training seminars. Take enough time to study in advance, pace yourself, take each domain and master it, before moving to the next.
The CISSP Exam
The training institution can help you take the exam. The exam is conducted in a variety of languages – English, German, Korean, Spanish, Japanese, Chinese, French, Portuguese, and Visually Impaired.
You need to sign an examination agreement before beginning. Also, you need to review the (ISC)2 code of ethics as you will be required to follow the guidelines laid out by the stated code. A few questions related to your background are also asked in the beginning. Questions may be related to past convictions – criminal hacking or others. Answer each of the questions carefully. Then, begin with your exam to earn your CISSP certification.
CISSP certification is the next step in your IT career as an information security professional. Not does the certification prepare you for the challenges faced by IT security, but also let you through avenues of job opportunities.