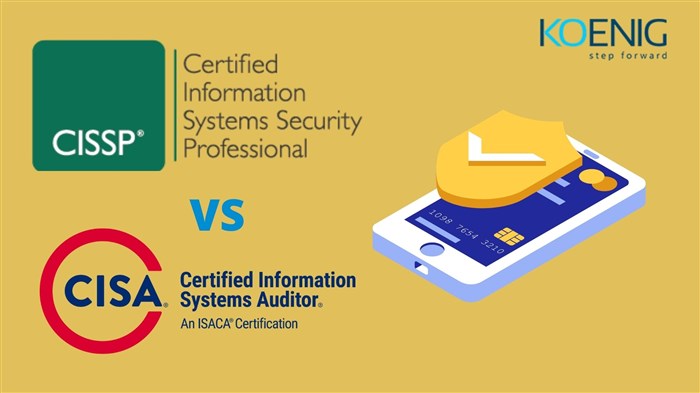 There are professionals in the IT industry who wish to accomplish both the CISSP as well as the CISA certifications. This is important to understand that the differences between the two certifications surpass the similarities. Though both the certifications cater to Information Systems, a CISSP focusses on security issues while a CISA takes care of the auditing responsibilities.
Let us elaborate on the differences further to get a clear understanding of which one of the two must be chosen.
Introduction:
CISSP (Certified Information Systems Security Professional) is a certification offered by (ISC)2 (International Information Systems Security Certification Consortium). It is specifically designed for ICT (Information and Communication Technology) workers working in the Information Security sector. Thus, it basically belongs to the IT industry and regarded as one of the top certifications in data security.
CISA (Certified Information Systems Auditor) is an auditing certification offered by the Information Systems Audit and Control Association (ISACA). It enables professionals to audit IS/IT function. This certification is considered as the gold standard certification in the world of auditing IT systems.
Technicality:
CISSP is usually thought of as a challenging technical certification for even the most experienced of IT professionals, whereas CISA is regarded as less technical than CISSP.
Targeted Audience:
CISSP course certification caters to a variety of security professionals such as Security Consultant, Security Manager, Security Architect, Security Analyst, Security Systems Engineer, Chief Information Security Officer and Network Architect, among others.
CISA is designed for professionals such as IT Consultants, Auditors, Privacy Officers, Information Security Officers, Chief Compliance Officers, Network Administrators and Security Engineers, among others.
Also Read: Why Get CISSP Certification?
Prerequisites:
CISSP requires a minimum of five years of cumulative paid work experience in two or more of the total eight domains of the CISSP Common Body of Language.
One year of the total experience can be waived off if a candidate holds a four-year college degree in the same field, its regional equivalent or educational eligibility as stated by ISC2.
Individuals without the required experience can also take up the exam and may become an Associate of ISC2 on passing the exam successfully. The candidate can then gain the required experience within the next six years instead of the predefined five years.
CISA can be obtained only if a candidate possesses a minimum of 5 years of experience in professional Information Systems' auditing, control or security.
Waivers may be granted if:
A maximum of 1 year of Information Systems (IS) experience for 1 year of required experience.
OR
1 year of non-IS auditing experience for 1 year of required experience.
A 2 year or 4-year degree can be substituted for 1 or 2 years of experience respectively.
A bachelor's or master's degree from a university that adheres to the ISACA sponsored model curricula can be leveraged against 1 year of experience.
A master's degree in IS or IT from an acclaimed university can be submitted against 1 year of total experience.
2 years of work experience as a full-time university in a related field can be leveraged against 1 year of required experience. This is usually considered as an exception.
The CISA exam can also be taken up without the required experience and the candidate can then acquire the required experience within either 10 years from the date of application for the exam or 5 years from the date of passing the exam. The CISA designation will only be granted upon possessing the required experience.
Also Read: The Ultimate Guide to become a CISSP Certified
Salaries of CISA and CISSP Certification
The average salaries for both the certifications are quite high. However, CISSP often takes away a higher pay package than CISA.
As per PayScale, the average salary for a CISSP certification is $107,000 per annum whereas the average salary for a certification in CISA is $99,000 per annum.
Altogether, when it comes to CISSP and CISA, nobody can compare the two in terms of the benefits that they hold. Picking up one mainly depends upon the objective that an individual wants to accomplish. Professionals working in the core IT Security Management or Administration domains must opt for CISSP while those interested or working in the auditing field must aim to get certified in CISA.