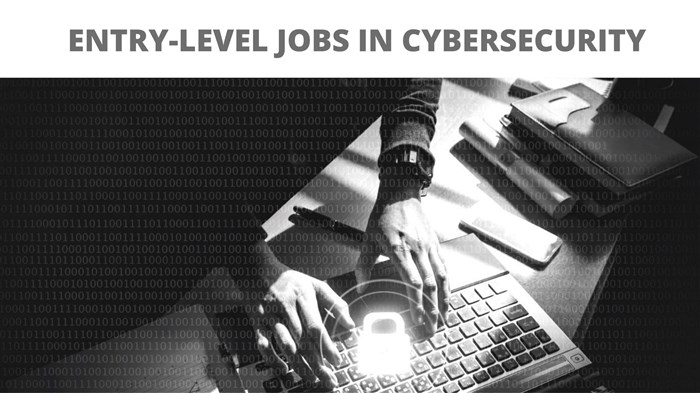 Almost everyone today roughly understands what cybersecurity entails. The term is self-explanatory and includes professionals and protocols that help keep data and systems secure against online threats. If you are considering a career in cybersecurity and wish to understand the possibilities that this career could lead to, looking at a few common entry-level cyber security jobs can help you get a better picture.
According to (ISC)2, cybersecurity job roles take about 20% longer to get filled due to a lack of skilled professionals. According to Burning Glass Technologies data, these roles pay about 16% more than other IT job roles.
What is Cybersecurity:
Cybersecurity is an umbrella term that includes all technologies, processes, and people who come together to create plans to protect business networks and systems against digital attacks. A cybersecurity professional has several responsibilities, which include:
- Installing and managing advanced security software.
- Searching for vulnerabilities in enterprise systems.
- Creating protocols to protect the data of consumers, companies, and vendors from malicious third parties.
A successful cybersecurity team in an enterprise is continuously working towards improving security around networks, proprietary apps, and computer systems against digital threats. It creates several protective layers for sensitive data, networks, and systems. As cyberattacks become more sophisticated, they are prevented by these security measures from accessing, damaging, or changing any system data.
As the world becomes increasingly digitised, the role of cybersecurity professionals becomes more and more crucial. With more digitization, the number of cyberattacks also increases. A single data break can incur huge financial losses for a business should a hacker disclose or steal corporate data, customer information, critical intellectual property, or financial data. According to the Year-End Data Breach QuickView report by Risk-Based Security, there have been about 15.1 billion breaches exposed since 2019. Unsurprisingly, the accelerated growth in cyberattacks has resulted in a parallel increase in cybersecurity attempts. In 2019, the global cybersecurity market stood at a valuation of $161.07 billion. Its expected valuation by 2025 is $363.05 billion.
Today, the demand for trained cybersecurity professionals has seen a drastic surge. The required number of professionals is currently far higher than the number of professionals in the market.
Top Cyber Security Jobs at the Entry Level:
1. Security Manager or Security Analyst:
A security analyst plays a fundamental role in protecting business intelligence from cybercriminals looking to view, access, edit or erase business data. This professional helps businesses in identifying and correcting vulnerabilities within present security systems. They often work closely with various departments to create new processes. Security analysts use all the collected raw data to identify suspicious behaviour in servers, databases, and networks. In the event of a breach, they aim to mitigate any losses and prevent such incidents in the future.
The role of a security analyst is an entry-level role and generally requires an undergraduate degree in either computer science or related fields. Companies generally look for analysts having 1-5 years of work experience handling system administration.
A security analyst typically gets promoted to a managerial role, where they take on more complex tasks such as directing teams of subordinate security analysts along with daily security tasks. Generally, managerial roles require a minimum of 5 years of experience focused on security analysis.
2. Security Specialist:
A security specialist is responsible for maintaining a company's automated security infrastructure and employee authentication databases. This professional helps protect enterprise data, ensures end users are safe in all digital interactions, assists senior management teams with secure employee onboarding, and interfaces with leaders to create guidelines regarding network usage and company policy.
This role is at the intermediate level, which means security specialists need between 5 and 7 years of experience relevant to the position. Some industries that most commonly use security specialists are defence contracting, aerospace, utilities, energy, higher education, technology, and financial services.
Security specialists typically get promoted to senior roles like cross-department communicators and team leaders.
3. Incident Responder:
An incident responder uses digital forensics and investigates security incidents like network breaches. The daily responsibilities of this role include assessment of systems to identify risks, automation testing, system analyses, and reacting to network breaches. This role comes with a high level of pressure and requires an eye for detail. Candidates must also be able to communicate effectively across departments. An incident responder must create detailed reports for management teams and other stakeholders who don't have a technical background.
Generally, incident responders must have 2 or 3 years of work experience in data security or digital forensics. Incident responders are required in various sectors like non-profit, finance, aerospace, and technology.
4. Cryptographer:
Of all the job roles mentioned here, a cryptographer has perhaps the most exciting job role. Cryptographers use specialised ciphers and algorithms to encrypt data and develop secure infrastructure. They help protect data from modification, copying, destruction, and interception by malicious parties.
A cryptographer typically should have a statistical background since the role requires developing mathematical models which can analyse emerging or isolated security threats. Roles that require cryptography also demand a deep understanding of cryptographic theories and how they apply to real-world IT systems.
5. Security Architect:
A security architect helps companies build enterprise-level data systems that adhere to robust security standards. Their key responsibilities are security testing, planning, designing, and implementing security protocols.
Security architects must have broad mastery over systems and software that enterprises use to ensure sensitive data remains secure. They must have a deep understanding of the hardware configuration, specific workflows, network protocols, and network security processes within the organisation.
6. Forensic Expert:
A forensic expert is responsible for data retrieval, network tracing and analysis, and evidence collection from diverse data systems. When a device is damaged either digitally or physically, a forensic expert helps in conducting investigations involving responsible parties in case of an incident.
A forensic specialist must also sometimes reconstruct damaged data storage hardware, recover data and ensure this is done in compliance with industrial and legal standards. Forensic experts generally work in crime and investigative domains. However, several also work in the private sector, such as defence contracting, healthcare, and technology. At the entry-level, this position requires a minimum of 1 to 3 years of work experience focused on forensics. Mid-senior level roles generally ask for five years or more.
A forensic expert gets promoted to a supervisory role charged with overseeing regional laboratories and managing QA guidelines. Some of them advance to teaching roles in colleges after they receive advanced degrees.
7. Penetration Testers:
A pen tester or penetration tester identifies security problems in enterprise data systems and infrastructure. A pen tester is also called a security consultant or ethical hacker. This is one of the most in-demand roles and the most widely recognized IT security role today.
A pen tester is responsible for performing wireless assessments of systems, physical assessments of hardware, phishing analyses for users, and social engineering tests within the organisation where they work. At the entry-level, pen testing requires at least one to four years of work experience in cybersecurity-related fields, such as network administration, network engineering, or system administration. When you earn more specialised credentials, you could become an IT manager, system architect, or any other role.
8. Security Engineer:
A security engineer is responsible for all the steps that go into protecting enterprise-level networks and apps. This includes the design, implementation, and monitoring of required security protocols and infrastructure. An engineer should also know about troubleshooting infrastructure devices, developing new situations for risk mitigation, and communicating development problems with management teams.
As a security engineer, you will typically get promoted to a managerial role where you will develop a stronger understanding of the security systems that your enterprise relies on.
Now that you have a deeper understanding of the roles you can land, think through your career plans before arriving at a decision. You know the top entry-level cyber security jobs and the next steps you will take. Are these the roles you see yourself growing through? If the answer is yes, think about taking the first step towards achieving your goals.
Enrol in a training course that will equip you with the skills and knowledge needed to thrive in these roles. Koenig gives you self-paced online training, expert guidance, and globally relevant study materials and practice tests. Give your career the boost it deserves and enrol in a cyber security course today.