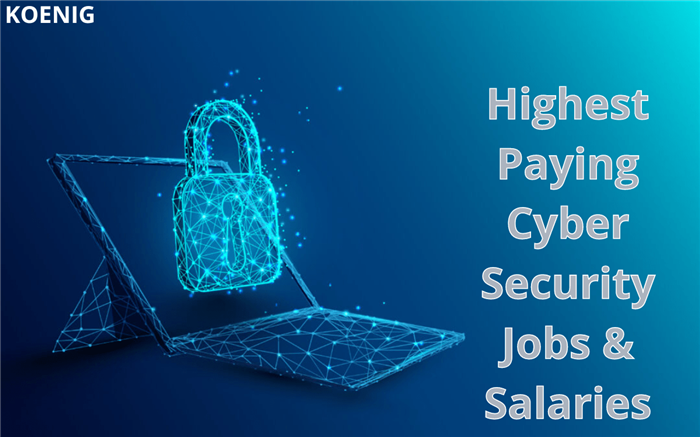 Today, a professional with advanced cybersecurity knowledge and skills are in high demand. Cybersecurity today has 0% unemployment, with government agencies and private companies competing to hire the best candidates and paying over $400,000 per annum to qualified professionals.
On reaching the expert level or having more than 10 to 15 years of cybersecurity experience, professionals can easily get packages worth more than USD 400,000 per annum according to PEAK Technical Staffing vice president Paul Smith. With the rapid growth of digital transformation around the world, the threats to and demand for cybersecurity have skyrocketed.
The only problem for companies today is that the vacant positions for cybersecurity professionals are higher than the number of qualified cybersecurity professionals available. According to reports and projections, there were over 3.5 million vacant cybersecurity roles available across the world in 2021.
Whether you are looking to take your career in a new direction or accentuate your current entry-level cybersecurity role, it can help to know what you are heading towards. Before looking at the highest-paying cybersecurity jobs, it helps to understand the importance of cybersecurity training today.
Importance and Benefits of Cybersecurity Training:
Business organisations today are prioritising network and data security over everything else and thus are on the lookout for experts in cybersecurity. There are several reasons for this.
The growth of digital payments in India can be attributed to new government programs and the rise of remote payments during the global pandemic. As a result, there is a growing need for protection against cyber-attacks and malicious third parties.
Enterprises today need to comply with the GDPR (General Data Protection Rules) and ensure sufficient security protocols to safeguard their data.
After the global attack of 2017 where over two lakh devices fell victim to a ransomware attack, government bodies and private companies are more aware of cyber crimes and the dangers of not having security protocols in place.
Cybersecurity specialists and professionals across industries have a wide range of job opportunities and industries available such as retail, BFSI, finance and media. With more professionals training to become cybersecurity professionals, companies can close the gap that exists between the number of roles and professionals available. Several organisations also help existing employees to upskill by paying for their training courses.
Best CyberSecurity Jobs in the World Today:
1. Cybersecurity Analyst:
A cybersecurity analyst collaborates with various IT professionals to monitor the company's security controls and measures. In this role, you will be responsible for planning, implementing and upgrading solutions. You will help:
Identify vulnerabilities in enterprise security infrastructure before an attack occurs
Monitor and audit systems internally and externally
Conduct risk analyses, security assessments and tests
Organisations hire cybersecurity analysts to help mitigate network breaches and cyber-attacks and prevent any negative impact on the brand name. As a trained cybersecurity professional, you help implement security best practices and standard procedures. This ensures safety from security lapses and intrusions.
2. Information Security Manager:
An InfoSec manager plays a critical role in loophole detection within data systems that can make them prone to cyber-attacks. An information security manager looks for potential cybersecurity threats in an organisation's computers, networks and data. The primary role of an information security manager is to guarantee that data or networks don't get hacked, stolen or modified by unauthorised parties.
Enterprises that fall prey to cyberattacks are liable to pay large sums of money in fines and damages if there is any damage or destruction of customer data or any form of data protection law violations. Thus, enterprises rely on information security managers to avoid these situations and the sullying of their brand name as a result. On average, an information security manager can earn between 15 to 16 lakh rupees per year.
You May Also Like: Supply Chain Manager Salary
3. Cybersecurity Engineer:
A cybersecurity professional is responsible for ideating, creating and implementing solutions for network security. A cybersecurity engineer's roles and functions are fundamental for an organisation looking to strengthen and elevate its tech initiatives. With the huge gap in demand and supply, organisations recognise and value professionals with real-world experience and in-depth knowledge of cybersecurity protocols and processes. If you bring a new level of expertise to the table, you can expect a high package.
In India, the average cybersecurity analyst earns between Rs 10 lakhs to Rs 11 lakhs per year. Additionally, leading technology companies in the US regularly hire qualified and certified candidates for cybersecurity engineering roles and provide competitive remuneration for the same. Therefore, this role is one of the best cybersecurity jobs in terms of salary paid.
4. Security Architect:
A security architect plays a pivotal role in the planning and research needed for all security elements within an organisation. Security architects are also critical for need-based designing as they work with programming teams to build the final structure.
As a security architect in India, you can earn a relatively high average salary of Rs. 17 lakhs per annum.
5. Application Security Engineer:
An application security engineer is responsible for monitoring the stability of all external and internal applications within an organisation. An organisation aiming at software integration with their daily operations and processes or with application building or development would look at hiring cybersecurity professionals. In general, as an application security engineer, you can prevent an attacker from disrupting the app infrastructure and its integrity.
You can earn an average salary of Rs. 9 lakh per year in this role.
6. Network Security Engineer:
The network security engineer role has many similarities to the cybersecurity engineer role. The key difference is that network security engineers secure the multifaceted computer network components. In this role, you are responsible for:
Maintaining LAN, WAN, security systems and server architecture
Monitoring email security, web protocols, firewalls, virtual networks and programs
Finding system vulnerabilities and improving automation
A modern business knows that achieving the highest level of computer network safety can be tricky. Therefore, they value the experience and knowledge of network security engineers.
Based on factors like your location, seniority, qualifications and the hiring organisation, you can earn between Rs. 4 lakh and 8 lakh as a network security engineer.
7. Ethical Hacker:
Penetration tester and pen tester are both alternative titles for ethical hackers. An ethical hacker has the skills to understand the mind of a hacker and can thwart their hacking attempts before they have a chance to cause any damage. Ethical hackers analyse, identify and fix all vulnerabilities within networks, systems and applications in an organisation. These penetration testing efforts are conducted once every day, week or month, depending on the hiring organisation.
A new entrant in the cybersecurity world can earn about Rs. 3 lakh to 5 lakh as an ethical hacker. Meanwhile, a certified professional with a CEH certification earns about Rs. 15 lakh per annum.
8. CISO (Chief Information Security Officer):
One of the most important and highest-ranking roles in the cybersecurity domain is the role of a CISO. This is a senior executive role where you will head strategies for increasing internet, data and network security in the organisation. As a Chief Information Security Officer, you also review the work of team members and project managers to ensure security protocols are maintained to the greatest standards.
The annual compensation that most organisations in India would pay for an average CISO role in India reaches around Rs 30 lakh.
9. Incident Manager:
The incident manager is a role where you determine the relevant proficiencies and resources needed to solve unique security incidents within IT organisations. An incident manager must create teams whenever something wrong happens and take full ownership of their efforts' results.
In leading IT companies like HCL, IBM and Accenture, the annual compensation for an incident manager can range between Rs. 5 lakh to Rs. 8 lakh.
Additional Read: Difference Between Augmented Reality(AR) Vs Virtual Reality(VR)
10. CyberSecurity Consultant:
A trained and certified cybersecurity professional can also work independently as a cybersecurity consultant to help various businesses manage their cybersecurity requirements. But for clients to trust your skills and expertise, you will have to prove your credibility and show them that you are reliable. The surest way to establish credibility is through a valid professional certification. The course or domain you choose to get certified in must test your in-depth understanding of the most advanced cybersecurity procedures, facilities and features.
Cybersecurity consultants generally have a contract or are hired on a retainer agreement. The average remuneration for a cybersecurity consultant comes up to Rs. 6.5 lakhs per annum.
Background Knowledge and Experience for CyberSecurity Jobs Today:
When it comes to technical skills cybersecurity practitioners need, they should master the following focus areas:
OS administration and architecture like Windows and Linux
Virtualisation and networking software usage
Software development, analytics and programming
What's more, professionals have an additional edge with a strong grasp of assembly, scripting and programming languages like Python, Java, C/C++, Perl and PHP. Experience or practice with network load balancers and firewalls is another huge plus.
Give your career the boost it deserves and enrol in a cybersecurity training course today.