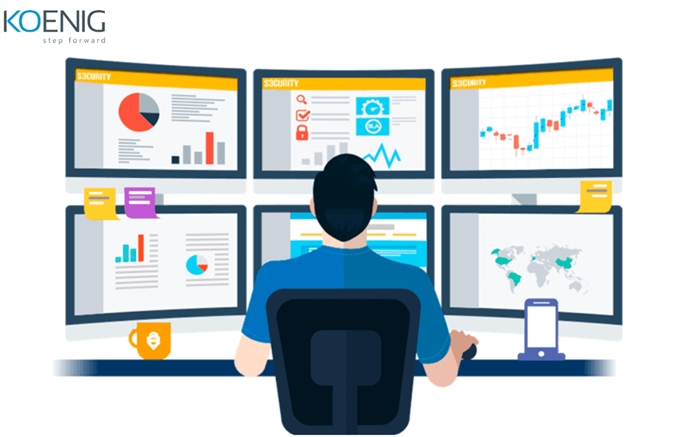 A SOC analyst is an IT security/cyber security expert who works as part of a group to fight threats to an establishment's IT infrastructure and gauge security structures and processes for faults and possible improvements. The SOC team comprises several analysts and other security professionals, and they usually work in a single office location.
The SOC analyst profession can be a stage of advancement into a cyber security career. Let us look at what the job brings about and the skills you require to be successful.
SOC Analyst Job Description
A SOC analyst has a dual role to play. You need to keep a vigilant eye on the possible attack and find ways to build up defenses to avert or mitigate such malicious attacks. An analyst needs to install security tools, inspect suspicious activities and take part in building security strategies.
The SOC Analyst job description and account abilities in an enterprise are listed below:
Keep a vigil on the security access and inform possible cyberattacks to a senior employee in the organization.
Carry out risk analysis and security measures to find any susceptibility that can affect the organization.
Locate security gaps, along with their origin.
Prepare reports which allow authorities to make necessary changes in the security strategies as per the organizational requirements.
Come up with advanced strategies for enhanced company security.
Upgrade the security systems of the organization periodically to avert any cyberattack.
Carry out security audits.
SOC Analyst Career Pathway:
Even though every company will assign a different set of responsibilities, to some extent, to the given job title, however, there are three tiers in a SOC analyst job:
Tier 1 SOC analysts are specialists who watch, manage, and align security tools, analyze instances to gauge their urgency, and escalate incidents to higher-ups if necessary.
Tier 2 SOC analysts are responders, fixing attacks that are escalated from Tier 1, measuring the scope of the occurrence and affected systems, and gathering data for detailed analysis.
Tier 3 SOC analysts are threat hunters. They take charge to identify faults and the attackers behind them, conducting penetration tests, and reviewing systems. They also focus on the datasets to comprehend what is happening in the course of attacks and after attacks.
These levels/tiers are not the only titles within a SOC. There are SOC engineers as well, who are in charge of constructing and keeping the systems functioning that the analysts use, and at the top of the layer are SOC managers, who supervise the complete operation.
SOC Analyst Requirements:
Skills to Be a SOC Analyst:
The skills that you need to acquire to become a certified SOC Analyst are here listed below:
Network defense: You must be able to secure the network as it is one of the prime duties of SOC analysts in any organization. It allows you to observe, identify, and study any possible dangers through the internet that can disrupt the network. It is easy for hackers to attack the system as they are actively connected to the internet and discover exposures. You should be able to keep a check on the network traffic and react to any suspicious activities
Ethical Hacking: SOC specialists with proficient skills in Ethical Hacking have the essential knowledge to discover possible threats and inform the vulnerabilities so that the organization remains secured from attacks.
Response to incidents: You must know how to manage breaches to lessen their impact and recommend modifications in the security controls to safeguard the company from any security breaches in the future.
Computer forensics: You need to be conversant with computer forensics to prevent cybercrime in your company. Besides, you must also identify and examine evidence to avoid any possible security breaches.
Reverse engineering: With expertise in reverse engineering, you will be able to comprehend and read the performance of a software program and capable of fixing a bug.
Also Read: 6 Top Security Certifications you Should Have in 2021-22
SOC Analyst Certification:
To get a SOC analyst job, one thing that you need the most is on-the-job experience within the IT industry. There are numerous certification courses that a prospective employer uses to gauge your knowledge on the subject. Likewise, there are several online training and education resources you can use to learn for them.
One such certification is Cisco Certified CyberOps Associate, a certificate designed for individuals who work as SOC analysts in large organizations. It provides relevant, practical, and job-ready certification syllabi associated closely with real-world tasks required as an associate-level SOC professional. (The certification was earlier known as Cisco CCNA Cyber Ops). To get this certification, you can get training from the Cisco Learning Network.
The International Council of Electronic Commerce Consultants, also referred to as EC-Council, has its own certification in this domain— Certified SOC Analyst. They also provide an iClass to aspirants to prepare for it. There are several other boot camps, and training courses from third parties are available as well.
CompTIA Security+ certification is also the most frequently cited by the aspirants, alongside the Ethical Hacker certificate from EC-Council.
SOC-specific certifications are not the only way to demonstrate your worth. A SOC analyst primarily needs to validate the standard set of security skills, and there are many certifications to help you do so.
What is SOC Analyst Salary?
SOC Analysts are among the highest remunerative Cyber Security professionals on the earth.
As per Glassdoor 2020, in the US the average salary of a Certified SOC Analyst (CSA) is US$71,000 per annum, and depending on their work experience and skills, it may go up to US$100,000.
In India, an entry-level SOC analyst salary with less than 1-year experience can expect to draw an average total compensation of ₹3.5 lakhs. Depending on several factors such as location, job role, skills, work experience, company, etc., they can earn up to ₹1,000,000 per year.
Additional Read: Cyber Security Analyst: Everything You Need to Know About
Conclusion: Become a Security Operations Center Analyst
This write-up must have given you a basic understanding of what SOC is and who SOC Analysts are. Further, their responsibilities in an organization are also covered. You have also read in detail about the skills you need to start as a Certified SOC Analyst and then progress in your career in this field.
To attain all the necessary skills and begin with the first step toward becoming a Certified SOC Analyst, you must register with a well-known institute/forum. Further, you must also get some real-world experience through industry-grade projects, which will improve your learning and escalate your probability of getting your dream job. We hope that we covered and answered your doubts on What is SOC Analyst is. Get started today!