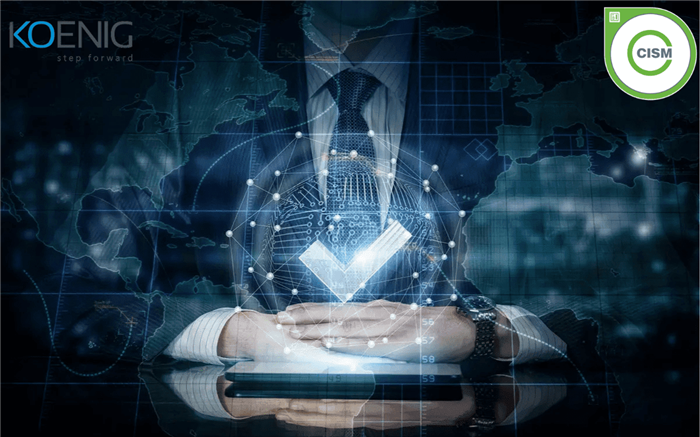 In the rapidly advancing digital world today, information security professionals are in high demand. They exhibit commitment, knowledge, and skilled training. A Certified Information Security Manager (CISM) certification validates your status as an information security professional.
The CISM program was developed by ISACA, the Information Systems Audit and Control Association. It was designed for information security management professionals, experienced in developing and managing information security programs, and capable of understanding the program's relationship to the overall business goals. The course is designed to teach you international security practices and equip you with the expertise to manage, deploy and assess IT security for large and small organisations.
Why Choose A CISM Certification
Technology across industries is advancing rapidly every day, with increasing amounts of data being transferred to cloud-based systems. This also means an increase in security threats and cyber attacks, with not enough people or resources to stop the hackers. According to an estimate by the (ISC)2 Foundation, organisations will fall short of 1.5 million workers by 2020. This means that those who do choose to get a CISM certification stand to gain a lot.
It shows your understanding of the importance of information security, and how it should align itself to the broader goals of the business.
It sets you apart from your colleagues and other job aspirants who apply for the same job as you. This is because you not only have expertise in information security but also the development of an information security program.
It changes your mindset to one that is constantly learning, evolving and upskilling.
Benefits of CISM
The CISM exam prep course on Koenig is designed to give knowledge about information security governance to professionals both from and beyond the IT industry. Employers and businesses across the world are looking for experts with CISM certification to help them manage their information security programs. Here's why:
A CISM certification teaches you how to identify critical issues and apply yourself to customise security best practices to the needs of your employer.
It helps you add credibility to your organisation through your expert skills when it comes to supporting and governing information security.
It tells customers that the company is dedicated towards the safety, security and integrity of their data.
It contributes to compliance issues and helps businesses to get new customers while retaining existing ones.
Also Read > Tips to Pass the PMP Exam Effortlessly
Prerequisites for a CISM certification
Although it boosts your career higher than most IT course certifications, a CISM certification does not start your information security career journey from scratch. Before you apply for a certification, there are certain prerequisites you need to meet.
5 years of information security work experience
Minimum 3 years of information security management work experience in three or more of the job practice analysis areas
Of all the professionals who apply to become a CISM, those who are best suited for the certification are
Information security managers
Aspiring information security managers
IS/ IT consultants
Chief Information Officers
CISM Exam Outline
The CISM exam is divided into 4 parts, covering the 4 major domains that are a part of the responsibilities of an information security professional. The 4 domains are:
Information Security Governance - This domain makes up 24% of your exam. It states your expertise to maintain and establish an information security governance framework. It also validates your skills to develop and oversee the framework.
Managing Information Risk - This domain makes up 30% of your exam. It equips you with the advanced ability to manage information risk to an acceptable level, which helps your organisation reach its goals. It also proves that you have expertise in classifying information assets.
Developing and Managing An Information Security Program - This domain makes up 27% of your exam and tests your ability to develop and maintain an information security program that identifies, manages and protects the enterprise assets. It also trains you to ensure the information security program adds some value as it supports operational objectives of a business.
Information Security Incident Management - The last 19% of your exam, this domain tests your ability to plan, establish and recover information from information security incidents to minimise impact on business. It builds your skills in classifying and categorising information security incidents and development plans.
Preparing For The CISM Exam
There is no one way to prepare for the exam. However, these steps can help to a great extent:
Create a study plan. Enroll in an online preparation course that trains you to decode the 4 domains.
Read ISACA's information guide for exam candidates. This guide is updated every year.
Take plenty of practice exams. While the paper is not identical, the structure and difficulty level becomes clear.
Have an exam day preparation plan. Be rested, calm and don't overthink.
Getting a CISM certification is not easy but is worth the effort. If you can commit to learn and advance your career in information security, enroll for a preparation course today.