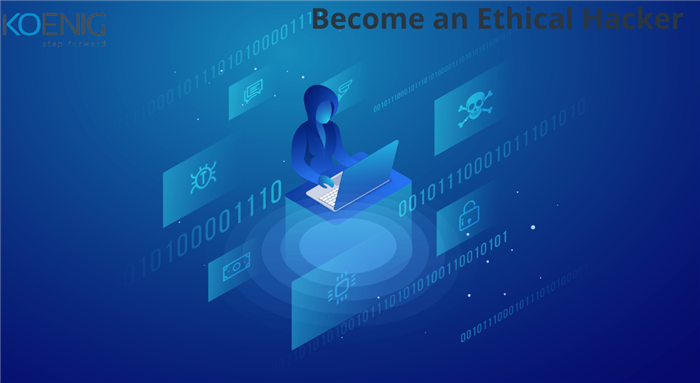 Information technology is set to disrupt every other industry and is changing the way we operate our businesses. But as companies and organizations depend on technology and servers with their critical data, there emerge various points of vulnerability.
Ethical Hacking is a course which prepares professionals to be on the front lines of safeguarding organizations against such security breaches. They do this by thinking in the way a potential "illegal hacker" does, to identify areas in the system which are exposed to attacks.
Read on further to find out what you need to become an
EC-Council
Certified Ethical Hacker, how this course will offer you a structured training at your own pace to do so.
What is the Ethical Hacking Course?
The
Certified Ethical Hacker
(CEH) training & certification empowers professionals to validate their skills as an Ethical Hacker and Penetration Tester. A certified professional with the aforementioned training starts a successful and high growth information security career.
This Ethical Hacking course is one of the most renowned and popular hacker courses in the market and the certification is the industry standard to prove your skills in guarding the network infrastructure of IT companies against illegal hacking by identifying weaknesses and vulnerabilities in the system.
The most special thing about this ethical hacking course is that it is continuously evolving with the growing sophistication of the industry and now includes current technologies like artificial intelligence (AI), Internet of Things (IoT) and the advanced tools and techniques used by hackers and information security professionals.
This course is tailored to meet the requirements of anyone interested in starting out a career in Ethical Hacking. However, they must have a basic understanding of servers and networking concepts for their ease of learning.
What are the benefits of becoming a Certified Ethical Hacker?
Now more than ever before, all industries and businesses depend on technology to carry out their day to day operations. In this digitally connected world, we need information security professionals to safeguard our precious data.
So, CEH professionals are in high demand as companies and organisations want to prevent losses arising out of data breaches.
Even government agencies, educational institutions and global organisations are in constant search of ethical hackers to determine the weaknesses in their systems and ensure security.
Ethical Hackers are seen as the heroes of the IT Industry today and are offered lucrative, high paying jobs along with a respectable career.
This Ethical Hacking course will, therefore, helps you get noticed by employers looking to recruit skilled security professionals to guard their company's network and web infrastructure by revving up your resume and Linkedin Profile. And as a Certified Ethical Hacker, you can earn anywhere between $247,60 to $132,322.
Job opportunities after the Ethical Hacking course
Completing this renowned ethical hacking course opens many doors for professionals. They can get hired in positions of Vulnerability Assessment, Penetration testing, System Security Engineering, and many other relevant system security areas such as:
•
Network Administrators and Engineers,
•
Auditors & Security Professionals
•
Network Security Professionals
Achieve your dream career!
The Ethical Hacking certification comes with a high growth and earning potential and all companies are on the lookout for skilled security professionals to protect their valuable data.
The Ethical Hacking course at Koenig has a huge arsenal of intensive training resources, offering classroom training, instructor-led online training, and e-learning with an up to date curriculum. We also offer you an exam pass guarantee and free technical consultation until you pass. What are you waiting for? Signup for our most popular and in-demand Ethical Hacking course right now!