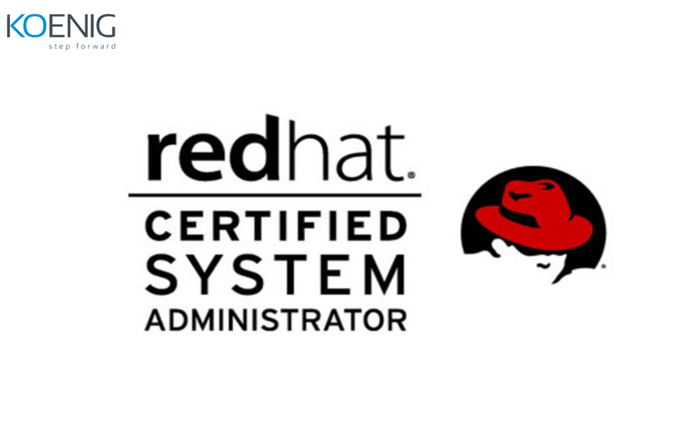 As an IT professional, your skills and knowledge are your most valuable assets. Online certifications and training give you the power to upgrade your skills and boost your career and credibility.
Red Hat Enterprise Linux subscriptions account for 33% of the global enterprise operating systems environments, second only to Microsoft, according to the "Worldwide Server Operating Environments Market Shares, 2018: Overall Market Growth Accelerates" report.
Getting a Red Hat certification gives you a strong foundation across hybrid cloud deployments, along with built-in manageability and integration with the broader Red Hat management and automation portfolio.
Scope of Red Hat Certification
Red Hat Enterprise Linux (RHEL) is among the most widely used operating systems in the world today. This and other Red Hat offerings are used by over 90% of Fortune 500 companies globally, across industries like aviation, healthcare, telecom service providers, and financial institutions.
This has resulted in an increased demand for professionals and experts who can carry out the core system administration skills required in Red Hat Linux environments. Those who do have these skills or have acquired them recently have an advantage over those who don't. If you want to develop these core administration skills and advance your career, a RHCSA certification is what you need.
Why Choose an RHCSA Certification?
A professional with a Red Hat Certified System Administrator certification is skilled to perform multiple tasks and functions within the organisation. This includes:
Understanding and using essential tools for handling files, directories, command-line environments and documentation
Creating simple shell scripts
Operating running systems, booting into different run levels, identifying processes, starting and stopping virtual machines and controlling services
Configuring local storage using logical volumes and partitions
Creating and configuring file systems and their attributes like permissions, encryption, access control lists and network file systems
Deploying, configuring and maintaining systems, installing and updating software and core services
Managing users and groups
Managing security including basic firewall and SELinux configuration
Performing basic container management
You May Also Like: How to Pass Red Hat Certified System Administrator (RHCSA) Exam?
Who Should Get This Certification?
RHCSA is a certification targeted to
Experienced RHEL system administrators without an official certification
Students who have completed their RH124 and RH134 training and want to move further
Experienced Linux administrators who require a certification
T professionals who have completed the Red Hat Certified Engineer (RHCE) certification
DevOps professionals looking to demonstrate their expertise with the fundamentals of container technology.
Prerequisites for the RHCSA Training
Like most other certification courses, the RHCSA certification has a few requisites. The applicant must
Be RHCE certified or have other Red Hat certifications
Meet the minimum hardware requirements of a Dual Core system with 80GB storage and 4GB RAM with a minimum of 1 Ethernet card and an internet connection
Have experience in Linux server administration
ALSO READ: Latest Tips for RHCSA Exam
How to Prepare For the RHCSA Exam?
Enroll in a training program: Training with the right mindset and exposure has a great impact on how you approach the exam. Make sure the training program is well-rounded and helps you internalise the fundamentals and the basic concepts. Practice tests give you a great idea of the difficulty level of the exam and the patience needed to write it, as well as the types of questions you should know the answers to. Take as many practice tests as you can.
Get practical experience: The RHCSA exam will require you to train using practical hands-on assignments. The practical questions that are asked in the exam are not multiple choice and need to be addressed using previous experience in a real-time environment. Those who have prior work experience have an advantage here.
Understand instead of trying to memorise: The large amount of reading and study materials that you are required to go through for the Red Hat Certified System Administrator can seem daunting. Additionally, you also have to learn about the different commands involved in system administration.
If you study to understand the logic and objective behind every step and command, this task becomes a lot easier. This is something you can master through 1-on-1 sessions and practice labs that Koenig provides.
Join a community: It becomes easier to study and stay motivated if you know you are not alone. Being a part of a community, whether online or offline, gives you the space to compare notes, measure progress, share knowledge and learn from others' experiences. You could either join the official Red Hat Learning Community online or form a group consisting of your coworkers and colleagues who also aspire to become RHCSAs.
The formats, requirements, trends and objectives of Red Hat Certified System Administrator exams keep changing from time to time. It is important to keep yourself updated with the latest format and objectives and ensure you have access to all the required study material.
ALSO Read: Top Red Hat Linux System Administrator Interview Questions
An RHCSA certification gives you access to multiple new opportunities within your field and validates your credentials as an expert. Enroll now on Koenig and start your certification journey today.