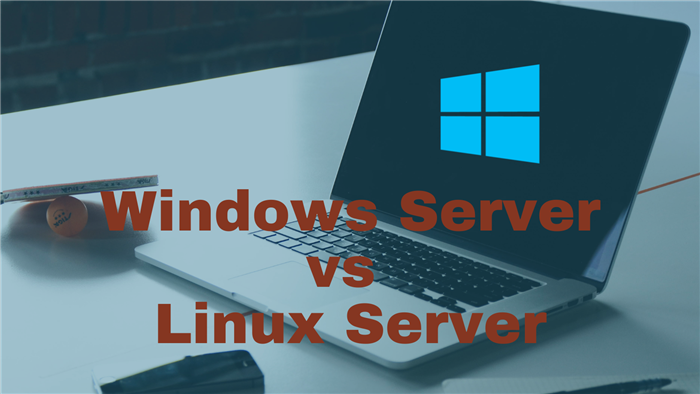 Linux and Windows servers are two of the most popular web hosting platforms. Their functionality, support, and other features vary, and developers frequently face a difficult situation where they need to consider a Windows server vs a Linux server.
Selecting the right platform is crucial for the long-term success of your business. Linux server is based on the Linux kernel and is a free and open-source OS. Microsoft's Windows Server is primarily a server operating system collection. Choosing between these well-known brands can be challenging. In this post, we will compare the two options, so you can pick whichever suits you the best.
Important Consideration
Keep these considerations in mind while choosing between a Linux and a Windows server:
Cost

Use case

Administration expertise
Understanding Windows Server
Windows server is the commercial server solution developed by Microsoft, which runs on the Windows operating system. Microsoft offers a user-friendly and low-maintenance option that is strong and dependable. Because of its interface, Microsoft servers get preferred by most novices. Microsoft provides extended support for over five years with five years of maintenance. Each offers a sleek, fully functional GUI experience. This feature is helpful for administrators who lack knowledge or time for upkeep.
To use the services of the Windows server, each user must purchase a license. Windows apps can get integrated without any issues. It should be your first option if you are looking to utilize Microsoft Access, Microsoft SQL, or any other program.
Features of Windows server:
Windows Servers employ the graphic user interface (GUI) to carry out the activities.

Compared to others, Windows Servers are easier to set up and more user-friendly. They also provide a variety of commercial and community assistance.

Windows servers are an appealing option when it comes to entertainment and gaming.

Windows Servers provide comprehensive and ongoing customer support.
Key benefits
Requires less upkeep

Enhanced stability

Easy management

Less attack surface
Drawbacks
It is the least cost-effective option due to its high licensing costs.

Windows requires more resources because of its GUI.

Windows' security is not as robust as Linux's. Consequently, the OS must be protected from malware, viruses, and other cyberattacks using a powerful third-party antivirus.
Understanding Linux Server
Due to its low cost, open-source code, and robust community backing, Linux servers are a popular option. It is a server powered by the free and open-source Linux OS. It mostly gets controlled using a command line. The Linux kernel is the foundation of several distributions, each providing a dependable, secure, and adaptable operating system. These characteristics make Linux servers famous for hosting online services, networks, systems, and database management. You don't need to research extensively to do an analysis of Windows server vs Linux server.
There is no licensing cost for this server choice. MySQL, PHP, Python, and Perl get supported by Linux servers. So, Linux is the recommended choice if you intend to use it.
Features of a Linux server:
The Linux server can support many users.

It provides authorization, encryption, and authentication - three levels of security architecture.

It can manage several tasks and instances simultaneously. The option to multitask on these servers increases their significance from the end-user's point of view.

It provides improved support for its freshly implemented maintenance-level versions from the end-user community.

One of the main characteristics of Linux servers is portability.
Key benefits
Cost efficiency

Versatility

Increased security

Enhanced privacy

Enhanced speed

Customizable features

Usability
Drawbacks
Compared to Windows Server, it is difficult to use.

Technical assistance for Linux is inferior to that of Windows.

Linux does not get suggested for any entertainment or gaming applications. Compared to Windows, it is less compatible.
Windows Server vs Linux Server – Main Differences
Here is the difference between Windows and Linux servers:
Choosing the One for Your Business
Now that you know the difference between Windows and Linux servers, let's see which would be best for your business. Both Linux and Windows hosting servers offer unique features and functions. How clearly you define your objectives will influence your choice of server. Windows is the best alternative if you are not tech savvy, while Linux is advised for developers since they can customize it according to their requirements.
Final Note
You will gain a clear understanding while choosing a server after a thorough grasp of your needs. The most cost-effective and developer-friendly option is Linux Server. The OS for the Windows server is user-friendly. If the server admin is unfamiliar with using a command line to manage and maintain a server, Windows is the best course of action. You must think carefully about the applications you wish to execute while comparing a Windows server vs a Linux server. This post covers every aspect of both operating systems, including their features. Make the best decisions for your business with the information provided.