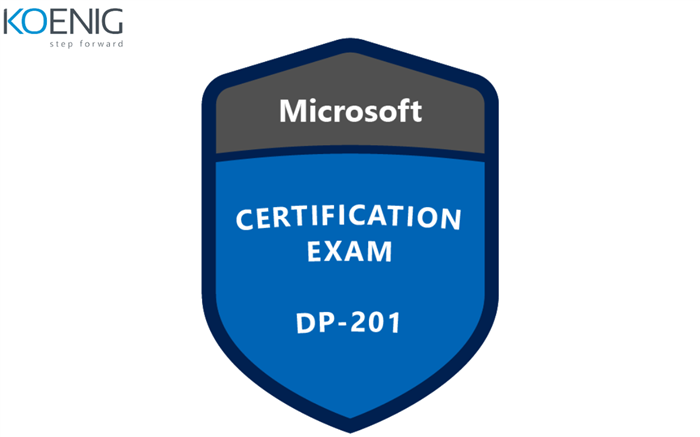 sasOn 31st January 2019, Microsoft launched 2 new data examinations for Azure. On passing both these exams, you receive an Azure Data Engineer Associate certification. These exams are
DP-200: Implementing an Azure Data Solution
DP-201: Designing an Azure Data Solution
Prerequisites for the DP-201 Exam:
Anyone can appear for the DP-201 exam, as there are no official prerequisites set by Microsoft. However, to increase your chances of clearing the exam, there are a few things you can do. If you are new to the world of Microsoft Azure, you should read the course material for the
AZ-900 Microsoft Azure Fundamentals exam
. It will be even better if you give the exam. If you are just getting started on the Microsoft Azure data platform, it helps to give the Microsoft Azure Fundamentals (DP-900) certification exam.
Functions of a Certified DP-201 Candidate:
Once you are certified, you are ready to take on many different tasks and responsibilities. Your key responsibilities will be designing different parts of various data-related solutions, both cloud and hybrid. These solutions are generally in line with the business requirements of your client or organisation. This covers identifying as well as designing data storage services, choosing the right batch or stream data ingestion tools, designing data transformation workflows, designing data access, data security and data retention policies at multiple levels to meet business needs. You will also have to design the data high availability and disaster recovery protocols for Big Data, batch processing and streaming data solutions.
If you plan to work, or are currently working, as a Microsoft Azure data professional, architect, engineer or BI professional, the DP-201 exam is the next big step for your career.
Preparing for the Microsoft DP-201 Exam:
If you have already completed the Implementing an Azure Data Solution (DP-200) certification exam, preparing for the DP-201 exam will be relatively easier. While the
DP-200
exam focuses on the practical aspect of the data solutions within the Microsoft Azure platform, the DP-201 exam focuses specifically on the design aspect of the Azure Data platform solutions. Either way, clearing either one of these exams prepares you for the other one.
Microsoft provides a 7-module Designing an Azure Data Solution certification training course. This is a self-study course and a good source of learning to prepare you for the DP-201 exam and help you gain your certification. You can study at your own pace, with a 1-on-1 session with industry experts to help you prepare for this certification on Koenig.
This type of exam encompasses several subjects and requires working design knowledge and skills in several others. Make sure that while you prepare, you do not waste too much time deep-diving into irrelevant subjects. To get the full benefit of such a certification, make sure you learn as much as you can to cover all necessary subjects that are relevant to your day-to-day workings.
To prepare for the
DP-201 certification
exam, you should do some background work. It helps if you complete the Microsoft Learning Paths for Azure Data Engineers first and then give the certification exam for Implementing an Azure Data Solution (DP-200).
As mentioned earlier, clearing the DP-200 exam makes it easier to prepare for the DP-201. For this, you should understand the different skills that are measured by this exam. In January 2020, Microsoft released the official practice test for this exam. Official practice tests give you a great idea of what to expect and which subjects and topics can fetch you a higher score.
Skills Measured in the DP-201 Exam:
According to the
Microsoft Certification
and Training Guide, the key skills measured in the certification exam for Designing an Azure Data Solution are
Azure data storage solutions
Data processing solutions
Data security and compliance
Understanding the key skills can help you see which skills and topics are more relevant and how to approach them. You must be able to design data solutions that use the following services
Azure Cosmos Database
Azure Synapse Analytics
Azure Data Lake Storage
Azure Data Factory
Azure Stream Analytics
Azure Databricks
Azure Blob Storage
The DP-201 certification exam assesses an applicant's knowledge at an intermediate level in three key areas. These are:
- Designing Azure data storage solutions, holding a total weightage of up to 45% in the certification exam
- Designing data processing solutions, which amounts to a maximum weightage of 30% in the exam
- Designing data security and compliance for all data-related solutions, holding a weightage of up to 30% in the certification exam.
Compared to the DP-200 exam, DP-201 has fewer practical applications. The former focuses on implementation while the latter focuses on understanding technologies.
Taking the Exam for Designing an Azure Data Solution:
There are a few more things you should know about the DP-201 exam. The first thing is that you are asked to sign a non-disclosure agreement or an NDA before you appear for the exam. This states that you cannot talk about the exams, the exact questions or anything that might give away information regarding the examination.
However, the NDA does not prevent you from disclosing the nature of questions or the duration of the exam.
Duration of the exam:
Most long-form examinations have a fixed duration. For the Designing an Azure Data Solution exam, you get 180 minutes or 3 hours to write the exam. You also get an additional 30 minutes to read the exam instructions, sign the non-disclosure agreement and provide feedback after the exam.
When you are taking the exam, there is a large timer on the screen that will show you the time left and the total number of questions that you need to answer. There are between 40 to 60 questions in an exam, which means you will have about 3-5 minutes to answer each question. It is important to prepare for the exam in a way that you know which questions can be done faster and which ones will require more than 5 minutes. That way, you can attempt the most questions possible and not waste time or miss out on easily achievable points. If you get stuck on any question, it makes more sense to come back to it later instead of getting stuck and missing out on more questions too.
Types of questions:
The questions change with every exam, however, the questions are usually one or more of the following types:
Case studies
Drop-down listicles
List building
Drag-and-drop
Multiple choice
Repeated answer choice
Single choice
Case studies tend to get confusing as they offer a lot of background information along with data that is meant to confuse you. Therefore, you should always start reading the question starting from the end. This will tell you the problem statement or exactly what it is you have to solve. Once you have identified the question, read through the whole question or case study to find hints, keywords and relevant statistics or data that can help you find the right answer. Since you already know the question, you will also be able to sift through data that is irrelevant to the answer.
Don't skip answers:
It is not always possible to know or remember everything you have studied. During the Microsoft exam DP-201, if you come across a question you can't answer, use the elimination method. Instead of trying to figure out the right answer, guess which ones are clearly wrong answers. That way you can eliminate a few answers and narrow down your options, making it easier to choose the right one. There is no negative marking for wrong answers and you don't need to score a perfect 100 to clear the test. Don't get disheartened over one question, it will only make you lose focus from the ones that you do know.
A few helpful tips:
Don't overthink any answers. In this certification exam, there are no circumstantial situations. An answer is either right or it isn't.
If you can't seem to find the right answer, find the option closest to the right answer and go with that. Take help from the hints and keywords within the question itself.
When you read a question, don't deep dive and don't add personal experience to it. Stay objective and focus on the question at hand. Stick to the information provided in the question and don't create additional or optional scenarios in your mind.
Also Read: What are Microsoft Azure Cloud Services?
Start Training for the DP-201 Exam Today!
Once you have studied all the background information and cleared the DP-200 certification exam, it will take you about 10-15 hours to prepare for the DP-201 exam. Additionally, you must also get hands-on experience and 1-on-1 mentorship training with Koenig's team of experts. This will clear all your doubts and help you understand the logic behind the many different principles and how the measured skills affect your daily operations. It will also show you why you should focus on the list of measured skills and boost your confidence since you know you have the skills needed.
Give your career the boost it needs, enroll now and start preparing for Microsoft Exam DP-201 today.