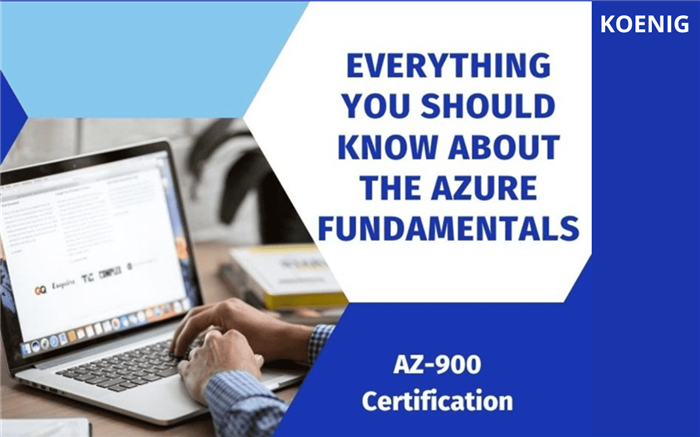 If you ever ask 'which Microsoft certification is best for beginners?', the Microsoft Azure Fundamentals certification is the answer. This course requires candidates to clear the AZ-900 certification exam. The Azure Fundamentals certification covers various topics and fundamental concepts relating to Microsoft Azure. It's the first step that every Azure professional should take for a strong career foundation before plunging into more complex operations or higher courses.
Today we present to you some valuable guides and tips for az-900.
Why Choose the Azure Fundamentals Certification?
Candidates are determined to keep learning and demonstrate their understanding of networking concepts, app development, computing, application support and other topics. If you are looking for a reason to take up a Microsoft AZ-900 certification course, here are more than just one:
You gain knowledge and expertise on various Azure cloud use cases and solutions at the enterprise level.
You get a deeper understanding of the differences between PaaS (Platform as a Service), SaaS (Software as a Service) and IaaS (Infrastructure as a Service).
You learn about the core Azure service fundamentals, including architectural details, management resources and the different Azure solutions and products.
You get insight into the security, compliance and privacy policies embedded in every Azure solution.
Azure Fundamentals also opens new avenues for earning potential. When you work in the Microsoft Azure domain, your earnings lie anywhere between US$70,000 and US$200,00 annually (per source). Every certification takes your earning potential higher and requires you to blend your Azure Fundamentals skills with a different core specialisation.
When looking for a job, a Microsoft Azure certification makes you stand out among your non-certified peers. This is perhaps one of the leading reasons to choose Azure Fundamentals as a starting certification to venture into the Microsoft Azure world.
Microsoft Azure AZ-900 Certification Exam Details
Here's everything you need to know about the AZ-900 exam before you attempt it. There are no formal prerequisites for the exam, so candidates with technical and non-technical backgrounds can both attempt it. The fee for applying to the exam is US$99.
Once you are in the exam hall, you have 85 minutes to complete the exam. The AZ-900 exam comprises 40-60 questions, and you need a minimum score of 700 to pass the exam. You don't need to wait too long for your result, as it is declared a few minutes after you complete the test. However, the scorecard with your status as PASS/ FAIL will take a few days to reach you.
Exam Background Recommendations
Azure AZ-900 is seen as an entry-level exam compared to the more specialised role-based certifications. Thus, you don't need work experience or programming expertise to clear this exam. These guides and tips for az-900 will help you get through your exams. This certification is ideal if you:
Have any involvement in the selling or buying of cloud solutions
Wish to validate your cloud knowledge and basic understanding of cloud solutions and services
Have general experience and knowledge of the IT domain
Are proficient in Azure basics and wish to earn a more specialised Azure certification in future or AZ-900 training.
AZ-900 Exam Preparation Outline:
When preparing and giving the AZ-900 exam, you should expect questions from a few specific and predefined modules. Therefore, you need to understand these modules more closely before the exam date arrives. This will familiarise you with the different questions and the framework of the exam. In addition, there are six broad domains that the exam preparation course includes. Here you will find a break up of each of these domains, the marks they hold in the exam, and the subtopics within each of them. Make sure you tailor your study schedule according to these topics to avoid missing out on important topics.
Describe Cloud Concepts - 20-25%
This domain includes topics that help in identifying the considerations and benefits of different cloud services. This includes Scalability, High Availability, Agility, Elasticity, Disaster Recovery etc. You should also understand the difference between CapEx (capital expenditure) and OpEx (operational expenditure). Additionally, you should be able to describe the shared responsibility model, consumption-based model, PaaS (platform as a Service), IaaS (Infrastructure as a Service) and SaaS (Software as a Service). Finally, you should know the differences between various cloud computing types and categories.
Describe Core Azure Services - 15-20%
This domain will teach you about the core architectural components of Microsoft Azure. This includes benefit and usage descriptions of Region Pairs and Regions, Resource Groups, Availability Zones, Management Groups, Resource Manager and Subscriptions. Besides this, you should know the uses and benefits of VMs (virtual machines), App Services, ACI (Azure Container Instances), AKS (Azure Kubernetes Service as well as Virtual Desktop. In addition, this domain covers other topics: VPN Gateways, Virtual Networks, Virtual Network peering, ExpressRoute, Disk Storage, Container Storage, and File Storage. It also includes storage tiers and Azure SQL Database, Cosmos DB, Azure Database for PostgreSQL, SQL Managed Instance and Azure Database for MySQL.
Describe Core Management Tools and Solutions in Azure - 10-15%
This domain encompasses essential questions related to core Azure solutions. You should know about the usage and benefits of IoT (Internet of Things) Hub, Azure Sphere, IoT Central, Azure Databricks, Azure Synapse Analytics and HDInsight. Additionally, you should also expect questions and problems based on Azure management tools such as Azure PowerShell, Azure Portal, Azure Mobile App, Azure CLI and Cloud Shell. Once you have prepared, you should describe the usage and functionalities of ARM (Azure Resource Manager templates, Azure Advisor, Azure Service Health and Azure Monitor.
Describe Features of Network Security and General Security - 10-15%
This domain pays attention to the security features available in Microsoft Azure, such as Azure Security Centre. This includes security alerts, policy compliance, resource hygiene and secure score. It also encompasses Azure Sentinel, Dedicated Hosts and Key Vault. In addition, you will also learn about network security domains like concepts of functionality, NSG (Network Security Groups) usage and defence, Azure DDoS and Firewall protection.
Describe Governance, Identity, Compliance and Privacy Features - 20-25%
Under this domain, you will cover topics such as Azure Identity Services. It focuses significantly on Azure Active Directory, MFA (multi-factor authentication), Conditional Access and SSO (Single Sign-On). You will also find questions on Azure Governance features. For this, you should describe the usage and functionalities of RBAC (Role-Based Access Control), tags, Azure Blueprints, Cloud Adoption Framework and resource locks. You will know you are prepared if you can describe compliance and privacy resources, as well as the use of Microsoft's Privacy Statement, DPA (Data Protection Amendment, OST (Online Service Terms), Azure Sovereign Regions, Trust Centre and Azure compliance documentation.
Describe Azure Cost Management and Service Level Agreements - 10-15%
The final domain on this list focuses on different methodologies for managing and planning costs. You need to be able to identify the different factors affecting costs and identify factors that can reduce costs. You should also be able to describe the usage and functionality of a Pricing Calculator and the Total Cost of Ownership. You should also be able to describe the usage and functionality of ACM (Azure Cost Management). This domain pays special attention to Azure SLAs (Service Level Agreements) along with service life cycles.
You don't need to prepare too intensely for the exam or for any Microsoft beginner certifications exam as long as you have a background in cloud services and solutions. However, industry experts and Microsoft recommend a planned strategy as you prepare for the exam. So, give your career the boost it deserves and start training for the Azure fundamentals AZ-900 certification today.