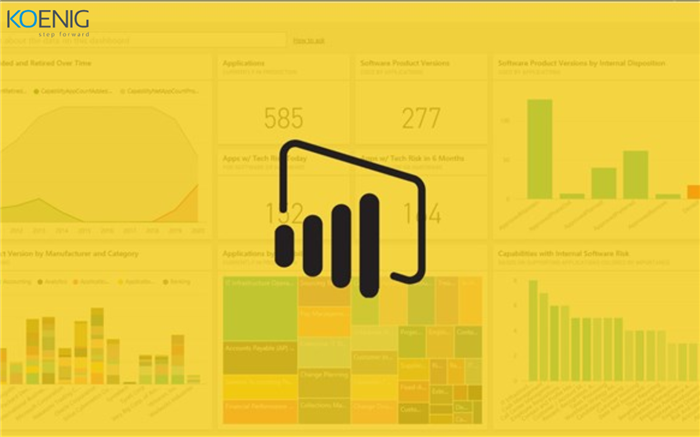 Analytics is one of the hottest buzzwords today, and it comes as no surprise as we live in an age dominated by data, numbers, and statistics. An analytics professional has to deal with discovering, interpreting, and processing business and customer data.
What is Power BI?
One key challenge that businesses and data analysts face is which analytics tool they should use. That is where Power BI comes in, combining several of Microsoft's business intelligence and analytics offerings. It gives you interactive data visualization and superior analytics capabilities, allowing you to make better real-time and strategic business decisions. Professionals with a Power BI certification are well versed in using the tool.
What is a Power BI Developer?
A Power BI developer has an in-depth understanding of Power BI as a tool. This person is accountable for administering and developing BI tools while understanding Power BI inside out. Power BI developers are valuable assets for any organization as they have several executives, managerial and strategic responsibilities.
Roles and Responsibilities of a Microsoft Certified Power BI Developer:
Power BI developers handle an enterprise's entire BI system and focus on leveraging BI tools to make informed strategic business decisions. In any organization, a Power BI developer is responsible for the following and more:
Understanding business needs in the context of BI and designing data models to derive actionable insights from raw data
Creating dashboards and engaging reports through Power BI
Identifying KPIs (key performance indicators), establishing rigid objectives, and monitoring them both consistently
Analyzing data and presenting data via visual reports that can guide decision-making
Converting business needs into technical specs and setting timelines to accomplish them
Creating relationships between various data points and developing multidimensional data models
Creating charts and documenting data to explain parameters, algorithms, relations, and models
Designing, developing, deploying, and testing Power BI scripts
Carrying out detailed analytics using proven methodologies
Performing DAX functions and queries using Power BI
Analysing present ETLs, processing, defining, and designing new systems
Developing data warehouses and working with SSIS, SSAS, and SSRS
Redefining and making strategic and technical changes that can enhance enterprise BI systems
Creating customized charts and customizing calculations as required
Designing, developing, and deploying BI solutions for enterprise needs
Querying SQL to get the best results, using graphs and filters to make better sense of data.
Working with team members and users at multiple levels to improve performance and take suggestions.
Is There an Official Power BI Certification?
Until quite recently, Microsoft's MCSA: BI Reporting certification validated a candidate's expertise with Excel and Power BI. But Microsoft has retired that certification and all the exams that went with it.
Today, Microsoft offers the Microsoft Certified: Data Analyst Associate certification. A certified professional has the expertise to scale and build data models, implement analytics methodologies, and clean datasets to derive valuable insights from the processed data. To earn this certification, you need to clear the DA-100: Analysing Data with the MS Power BI exam.
Microsoft offers certifications in multiple domains and fields, including Power BI. These certifications and their requirements, prerequisites, etc., keep changing. Keep going through Microsoft's website to understand the latest needs. Some certificates and their exams can sometimes get discontinued, or Microsoft could retire certifications before introducing new technologies. You wouldn't want to spend your time and money on a certification or preparation only to realize the course in question is no longer relevant.
What Skills Do You Need to Become a Power BI Developer?
- Technical Skills: Work experience with business intelligence tools: Power BI developers need to have experience with BI systems and BI tools such as Tableau, Power BI, and SAP, among others. Given the role of Power BI in an enterprise, they should be able to create data-rich dashboards, write DAX expressions and implement security at the row level in Power BI. Also, developers should have skills to develop custom business intelligence products that need scripting and programming language knowledge with Python, R, and the like.
- Experience in Data-Specific Roles: Before becoming a Power BI developer, you need at least 2-3 years of prior experience working with and using BI tools. Alternatively, any role that is data-specific will work. As a Power BI developer, you will need to be sound in understanding SQL querying, database management, data warehousing, data modeling, Online Analytical Processing (OLAP), and business intelligence.
- Knowledge of MS BI Stack: There are several Microsoft services and products that large-scale businesses use for their data management, warehousing, analytics, business intelligence, and reporting needs. Experience with and deep knowledge of MS BI stacks will prove to be a great advantage. This includes SSAS, SSIS, Power Pivot, and SSRS.
You May Also Like: A Comprehensive Guide to Get Start With Power BI Right Way
- Data Analytics: The ability to analyze raw data is among the top skills a BI developer needs to have. As a Power BI developer, you should be able to view the bigger picture and relay data insights in non-technical words to allow every stakeholder to understand it. The result should be that everyone in your organization must be able to visualize data and understand the breakdown even without technical expertise through your dashboards and charts.
- Software Development: You don't need to be a development expert. However, to tackle the diversified requirements of customers, you should know how to develop custom BI solutions. You should understand the technical part and the development architecture that will help transform business needs into technical specifications.
Non-technical Skills:
Interacting with technical teams and business teams easily
Deep understanding of data modeling, data design, data visualization, and data management
Communicating with stakeholders and client management skills
Learning and responding fast to rapidly-changing business needs
Staying updated on changes and industry best practices in the development and design domains
Multitasking as well as superior interpersonal skills
Documenting models, processes, solutions, and designs; explaining, representing, and discussing with various teams
Applying lessons learned in the past to future solutions developed
Having an analytical mind and problem-solving mindset
Being able to work in agile environments, focusing on regular improvement
Being self-motivated and a quick learner
Being a responsible team player with the skills to initiate and lead whenever needed
Want a Power BI certification to take your career to the next level? Enroll in a training course with Koenig today.