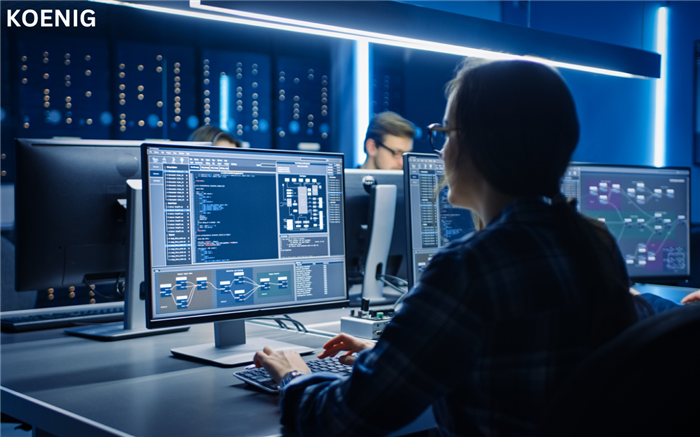 Big Data as a domain has seen significant growth over the past decade. The onset of the global pandemic has only served to accelerate this growth. Organisations across sectors and industries, from retail to healthcare to automobiles, are enhancing their analytics and big data operations. According to the Bureau of Labor Statistics, data-related roles are going to increase by 12% by 2028. This will create over 546,200 new Big Data-related roles. By the end of 2022, Azure data engineer jobs will be the highest in demand as a professor.
Reasons to Hire an Azure Data Engineer:
Data engineering is still an evolving discipline but is quickly gaining ground. Organisations generally hire qualified Microsoft Azure Data Engineers to work on unstructured data and transform it into structured data with actionable insights for data scientists and analysts to use. Any organisation's data science program is made up of various components like data warehousing, data infrastructure, data modelling and data mining. A data engineer takes care of almost all these tasks single-handedly.
Microsoft Azure is a leading cloud computing platform that provides a diverse bouquet of services for businesses around the world. Microsoft also provides training and certification programs to help IT and cloud professionals master Azure-specific skills. Over 365,000 new businesses register with Azure in a year, indicating a rising demand for Microsoft Azure and a corresponding growth in the need for Azure data engineers.
Across industries, Azure is a recognised and trusted cloud computing platform for Fortune 500 companies. More and more companies are migrating their data to the Azure Cloud from their on-premise data storage infrastructure.
Related: Tips to Clear DP-203 Certification Exam in First Attempt
Demand for Azure Data Engineer Roles Today:
According to data shared by Gartner, by the time 2022 ends, about 75% of every database is going to be deployed on or transferred to a cloud computing platform. Only a mere 5% of these companies have chosen to return to their on-premises infrastructure. As long as businesses have large volumes of data to process, the demand for data engineers is not going down any time soon.
Security concerns persist within organisations using offline data infrastructure. Any company using data mining methods to derive actionable insights requires secure data infrastructure. Closely following all the trends in data management can give data engineers an advantage across the global industry as it develops and grows. But despite the high demand for data engineering roles, there is a huge gap between how many jobs are available and how many people are really qualified to take on these roles. As a result of this deficiency of available professionals, organisations are increasing the salary and remuneration packages they offer professionals in these roles.
Related: A Comprehensive Guide To Microsoft Azure Data Scientist Associate Certification
Azure Data Engineer Salary:
In the US, an average data engineer working with Azure earns about USD 130,982 per annum. Most of the freshers and entry-level data engineers earn about USD 117,000 per annum. Meanwhile, experienced and advanced-level data engineers can earn more than $160,000 per annum.
In India, an Azure Data Engineer can earn up to INR 18,30,662 per annum.
Azure Data Engineer Skill Requirements:
As more companies create new Azure Data Engineer jobs and opportunities, these roles come with the condition that you must have an in-depth understanding of the necessary skill set. Some of the fundamental skills you must have are as follows:
Data engineers need to be aware of the changing technology landscape today. They must also understand the evolution of data systems and the benefits they provide to data professionals.
You should explore all the differences between cloud and on-premise data solutions. Additionally, you need to have a thorough understanding of cloud applications, both present and potential.
A data engineer should also understand every industry in the context of the impact cloud computing has made on its offering and operations. Understanding Azure services is also a big plus.
There are also several role-specific data engineering skills you need to consider if you want to be a data engineer. These are as follows.
Data processing and storage systems use various programming languages. You should understand languages like Java, Python and Scala deeply.
You need to learn SQL to understand databases and their structures. Relational and non-relational databases are today's most common methods of data storage.
ETL techniques (extract, transform and load) focus on moving data from a database into a data warehouse or other data hubs. Learn about tools like Stitch, Xplenty and Alooma.
Learn about when you should use a data warehouse instead of a data lake while creating data solutions at the enterprise level. Every organisation uses different methods for data storage.
Organisations collect huge volumes of data, which makes it critical to automate the collection and analysis processes. Data engineers should understand automation and how to implement it using scripts.
Data scientists generally work with machine learning. However, data engineers can also benefit from having a basic understanding of how data works and gets processed.
Data engineers generally go beyond just using conventional data and work with large volumes of data too. In this role, you should understand Big Data tools and technologies like MongoDB, Kafka and Hadoop to succeed in this domain.
Organisations have increasingly started moving from physical servers to cloud solutions, therefore you should understand cloud computing and storage.
Several businesses work with specialised teams for data security, but many still rely on their data engineers to securely access and store their data.
You May Like - Top 31 Azure Data Factory Interview Questions with Answers 2022 - 2023
What Does an Azure Data Engineer Do?
Data flow management and security: An Azure data engineer secures and manages the flow of data from several unstructured and structured data systems. Some data systems include non-relational databases, relational databases, file stores and data streams. A data engineer is supposed to ensure data services operate smoothly and safely while working with other platforms and technologies like Azure Search or Azure Cognitive Services.
Interaction with stakeholders: A data engineer must communicate with various stakeholders in a business to address and identify data needs and then create and implement ideas to solve these problems. They also need to manage, monitor and ensure data privacy and security while meeting business needs.
Overcoming business challenges: An Azure data engineer needs to have the skills to combine multiple services like Synapse Analytics and Azure Data with data streams and data pipelines to meet business needs and overcome hurdles.
Technology usage: A data engineer must leverage new technologies such as Azure API Apps, Power BI and other tools for data visualisation to create data presentations for stakeholders and end users.
Analysing workflows and processes: Another responsibility that Azure Data Engineers have is analysing existing procedures, processes and practices and modifying them to work best with Microsoft Azure analytics and PaaS services.
ALSO Read: Top 10 Most In-Demand Highest Paying Microsoft Certifications in 2022
For at least the next decade, Azure and data are going to lead the IT industry buzzword cloud. Becoming an Azure Data Engineer Associate with a Microsoft certification is a rewarding career that can bridge the gap between the supply and demand of data engineers. When you earn an Azure Data engineer certification, it validates your expertise, knowledge and skills as a professional. Enrolling in a training course can help you get hands-on experience through projects, interactive labs and expert mentorship regarding internships and future job opportunities. Enrol in a training course today and take your career to the next level with Koenig.