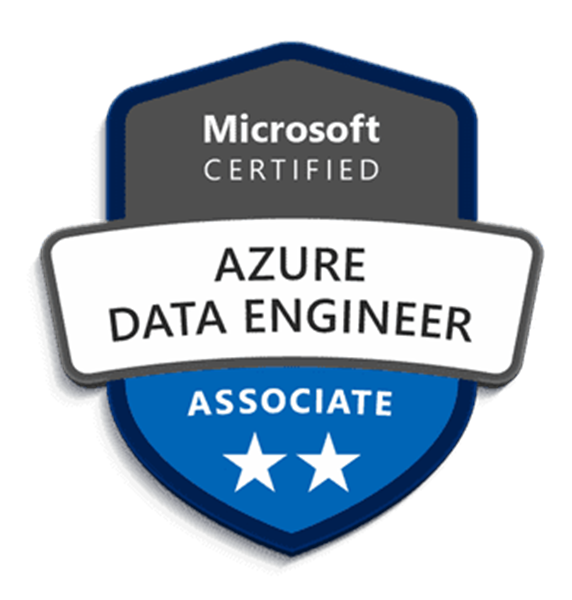 Microsoft Azure is one of the most popular cloud computing services and Azure experts are also in high demand, especially Azure data engineers. Microsoft's DP-203 is a sure-shot way of validating your data engineering skills and knowledge with Azure.
In this blog, we have discussed everything you need to know about DP-203 certification, including DP-203 preparation tips that can help you clear the exam on the first attempt.
What is DP-203 Certification?
This advanced-level certification by Microsoft, specifically for Azure data engineers, validates your expertise in integrating, transforming, and consolidating structured and unstructured data from different sources into one for developing analytics solutions.
Data engineers are typically responsible for the following in an organization.
Make data ready for developing analytics solutions, including cleansing, transforming, and optimizing data.

Develop Azure solutions and maintain them.

Build secure data pipelines.

Troubleshooting and maintaining the data warehouse.

Automate tasks.

Optimize data platforms.
DP-203 ensures you have all the necessary skills to be an Azure data engineer.
Skills Covered By DP-203 Certification
Let us look at some skills you can learn from DP-203 certification.
Developing Azure compute solutions.

Building storage accounts.

Handle data pipelines using Azure Synapse Pipeline and Azure Data Factory.

Integrate Azure solutions with third-party services.

Design and deploy data storage solutions.

Use data platforms for business goals.

Implement Azure security.

Monitor and optimize data processing.

Learn the differences between on-premises and cloud solutions.

Common data engineering practices.

Data processing languages such as Python and SQL.

Assisting stakeholders in understanding and analyzing data.

Data architectural patterns.

Provide cost-effective solutions.
Who is it Ideal For?
The following people will benefit from the DP-203 exam.
AI developers developing cognitive apps.

Azure experts with the curiosity to learn data engineering.

Data engineers who want to gain specific expertise in Azure solutions.

Data architects and administrators.

People interested in data engineering with knowledge of programming languages, parallel processing, and data architecture patterns.

Business intelligence professionals and stakeholders who want to use data exploration.
Related: How to become certified Microsoft Azure Data Engineer
Benefits of DP-203 Certification
Getting DP-203 has many benefits apart from validating your knowledge of Azure data engineering,. Let us take a look at some of them.
Microsoft certifications are recognized around the globe and are highly popular in the industry.

Getting DP-203 will give you an edge over other candidates while applying for a job.

Microsoft Azure is used by 95% of Fortune 500 companies. A certification in it will open many new doors for you.

It can help you negotiate a better salary package and even increase your chances of a promotion.

You will also learn new skills and have expertise in Azure solutions for data engineering.
Prerequisites of DP-203 Certification
There are no prerequisites or experience you need to be eligible for DP-203. However, it is recommended to know the following before you go for the certification.
Thorough knowledge of data processing languages, including Python, Scala, or SQL.

In-depth understanding of parallel processing.

Knowledge of data architectural patterns.

Knowledge of Azure fundamentals.
Course Overview
Dp-203 certification is available in multiple languages, including English, Chinese, Russian, Japanese, Italian, and Korean. The exam duration is 130 minutes, and the total number of questions is 40-60. The passing score is 700 out of 1000.
You will be tested in the following domains.
Design and implement data storage - 40-45%

Designing data storage structures, including data archiving solutions, data querying, and pruning.

Developing a partitioning strategy for files, analytical workloads, efficiency, and Azure Synapse Analytics.

Developing and implementing serving layers, including designing star schemas, dimensional hierarchy, and analytics stores.

Implementing physical data storage structures, including partitioning, distributions, data archiving, and sharding.

Implementing logical data structures, including building external tables and temporal data solutions.

Design and develop data processing - 25-30%

Ingesting and transforming data using Apache Spark, Data Factory, and Stream Analytics.

Developing a batch-processing solution.

Developing stream processing solutions using Azure Databricks and Stream Analytics.

Managing pipelines and batches.

Design and develop data security - 10-15%

Designing data policies and standards security, including data masking and data auditing strategy, and data privacy.

Implementing data security.

Monitor and optimize data storage and data processing - 10-15%

Monitoring data storage and processing.

Optimizing and troubleshooting data storage and processing.
Tips To Clear The DP-203 Certification Exam On The First Attempt
If you are wondering how to clear the DP-203 exam, you are in the right place. Here are some tips to help you clear the DP-203 certification exam on the first attempt.
Study Plan For DP-203 preparation
Create a timetable and study plan before beginning. Go through the Microsoft study guide and syllabus to create the timetable.

Microsoft has official content for its certifications, a mix of videos and written material that can be useful.

Consider taking one of the online courses for exam preparation. Most courses are video-based and will give you a thorough understanding of the exam material and concepts. Check the reviews while choosing the course.

Microsoft provides an option for instruction-led training to get practical experience. The practical experience will help you remember concepts better and be more confident.

Start taking practice tests when you feel confident in your preparation. This will give you an idea of the type of questions appearing in the exam and an overall experience of the exam.

Don't worry about time in practice tests. The aim, in the beginning, should be to evaluate your preparation. As you do more practice tests, start doing time management.

Based on the scores of your practice tests, evaluate your preparation and focus on the topics you must go through again.

You can also use test books to practice for the exam.

Learn to analyze the questions. This will help you eliminate options quickly during the exam.

Look at your practice test score and time to know whether you are ready for the exam
Related: Top Data Engineer Interview Questions and Answers
During The Exam
Duration: The exam duration and number of questions are set in a way that you get a minute or two for each question. So, take a deep breath and calm yourselves before starting the exam.

Marking: There is no negative marking in the exam. Try to attempt as many questions as you can.

Passing score: All questions do not carry the same marks. You have to get 700 points out of 1000.

Elimination: Approach the questions to eliminate the wrong answers. This is beneficial when you are trying to figure out the right answer. If you don't know which option is the correct one but know which ones are incorrect, you can easily figure out the answer.

Review: You can also review questions in an exam. This isn't available for each question. So if you don't know an answer, you can skip it and leave it for later. The idea is to build confidence by doing questions you know first.

Case study questions: If you are attempting a case study, instead of first reading it and then moving to the questions, do the opposite. First, read the questions and then read the relevant parts. This will help you attempt the questions quickly.
DP-203 certification is a good way of learning new skills and validating your expertise; that will enhance your resume and help you stand out from your competition. The demand for Azure professionals will continue increasing as more and more companies switch towards Azure for their cloud solutions.
Koenig Solutions provides training courses for the DP-203 certification to help you excel in your exam. You can choose a course as per your requirements. Remember, keeping a calm mind and preparing for your exam without stress is always important. Prepare properly and get some rest before going for the exam.