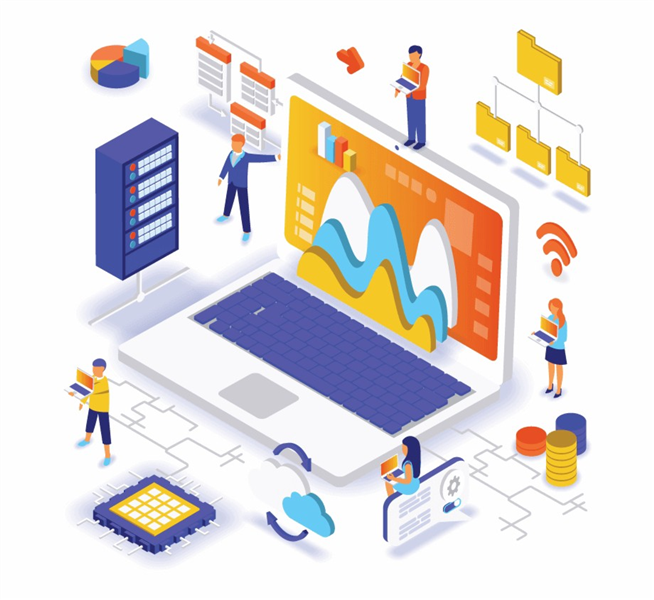 Data analysis is a challenging role. A data analyst extracts and analyses insightful data from huge volumes of raw data for various organisations across industries. If you are considering a career in data analysis, it might seem daunting as a career option. Many people think twice or thrice before diving into this field.
However, one factor that will determine whether you choose this field or not will be the reward. Is a data analyst salary equal to or more than your expectations from your career? While money is not everything, it is a huge factor that will affect your decision. Take a look at whether this domain and role are meant for you or not.
What is Data Analytics?
Analytics is a widely-used technical term that you must have heard in multiple contexts. Data analytics is the science of processing, assessing and analysing raw data to derive actionable insights. Data analytics is a fundamental part of business today as it gives businesses a basis for their planning and strategy for the future.
When this analysis and its insights are applied to any enterprise's business model, it helps them reduce expenses and increase efficiency. Any business using data analytics will make better decisions and have higher customer satisfaction than those that don't.
What does a Data Analyst Do?
A data analyst is a professional appointed by an enterprise to transform statistics, figures and numbers to basic English for even non-technical professionals to understand. Looking at the market trends in the past and today, it's safe to say that the scope and applications for data analytics in the workplace will never stop evolving.
If you have a keen interest in subjects like computer science, mathematics and statistics and you wish to work in a field that combines all these domains, data analytics is the right field for you. Other domains that play a key role in the data analyst job role are SQL, data mining and Python. This role requires professionals to extract insights from data sets and represent them through visualisations and reports.
Skills Required to Become a Data Analyst:
Take a look at the leading skills and areas of expertise that will earn you the salary of a data analyst.
SQL:
structured query language or sql is used to handle large data volumes and process infor mation through it. sql is a computing and spreadsheet tool that is faster and more efficient than traditional spreadsheet programs used today. this makes it a valuable tool for the field of data analytics, which is why you should know how it works.
Spreadsheets:
While understanding SQL and its functionalities is crucial, you should also have adequate knowledge regarding traditional spreadsheet software. While most enterprises use SQL in some form or other, several companies still work with traditional spreadsheet solutions and you'll have to represent their insights and data through these solutions.
Critical thinking:
almost every enterprise that works with data requires data analysts to gather and interpret raw data in the context of their industry or domain. when you know which data to collect and how to process and present it, it makes you a strong critical thinker and a powerful asset.
Data visualisation:
After you gather, analyse and compile valuable data, the final and most vital step is presenting the result to all the stakeholders. For this, you should know how to create data visualisations that are easy to understand. Data analysts generally present this data through a series of charts and graphs.
Problem-solving skills:
In day-to-day operations, several technical difficulties often remain under the radar. With in-depth knowledge, proper training and a little experience, you can easily identify these problems and come up with innovative solutions. This will help simplify daily operations extensively.
Domain knowledge:
Knowledge of any particular domain will mean understanding the technical nitty-gritties of the domain where the data analyst operates. When you understand the domain well, you can identify useful insights that can help deconstruct raw data more easily.
Also Read: Which is a Better Career Option – Networking or Data Science?
Data Analyst Salary in the US:
The salary for any job or industry keeps changing. Take a look at the average salaries of data analysts in each state in the US.
Alabama: USD 57,766 per annum
Alaska: USD 39,473 per annum
Arizona: USD 73,731 per annum
Arkansas: USD 60,280 per annum
California: USD 77,428 per annum
Colorado: USD 73,761 per annum
Connecticut: USD 69,179 per annum
Delaware: USD 66,861 per annum
Florida: USD 58,821 per annum
Georgia: USD 64,663 per annum
Hawaii: USD 60,021 per annum
Idaho: USD 55,474 per annum
Illinois: USD 67,884 per annum
Indiana: USD 57,587 per annum
Iowa: USD 69,730 per annum
Kansas: USD 48,486 per annum
Kentucky: USD 60,406 per annum
Louisiana: USD 53,774 per annum
Maine: USD 44,022 per annum
Maryland: USD 82,692 per annum
Massachusetts: USD 70,812 per annum
Michigan: USD 59,095 per annum
Minnesota: USD 58,410 per annum
Mississippi: USD 55,292 per annum
Missouri: USD 64,357 per annum
Montana: USD 58,287 per annum
Nebraska: USD 59,379 per annum
Nevada: USD 62,457 per annum
New Hampshire: USD 83,324 per annum
New Jersey: USD 65,645 per annum
New Mexico: USD 58,760 per annum
New York: USD 72,138 per annum
North Carolina: USD 85,266 per annum
North Dakota: USD 59,710 per annum
Ohio: USD 62,414 per annum
Oklahoma: USD 73,912 per annum
Oregon: USD 66,079 per annum
Pennsylvania: USD 63,443 per annum
Rhode Island: USD 62,382 per annum
South Carolina: USD 55,819 per annum
South Dakota: USD 57,101 per annum
Tennessee: USD 60,696 per annum
Texas: USD 72,147 per annum
Utah: USD 57,746 per annum
Vermont: USD 53,649 per annum
Virginia: USD 71,309 per annum
Washington: USD 72,281 per annum
West Virginia: USD 56,162 per annum
Wisconsin: USD 70,168 per annum
Wyoming: USD 55,602 per annum
What are the Key Responsibilities of a Data Analyst?
As a data analyst, your key responsibilities will look like this:
Collect data from various sources and enter it into specialised databases.
Apply software tools for data collection and modification automation.
Commission new data sets.
Collaborate with data architects and database developers.
Work with marketers and business executives.
Use statistical methodologies to analyse, organise and interpret data.
Look for predetermined patterns and trends in the raw data pile.
Check for and resolve data issues.
Prepare informative reports building on the data and insights.
Present the final report to internal audiences, clients and other stakeholders.
Educational Credentials Needed for Data Analysis:
An undergraduate degree was considered the lowest requirement for a data analyst role. But not anymore. You can also prepare for a career in data analytics through specialised certification courses and development training that equips you with the skills needed to succeed in this domain. If you have an IT background or have worked with Big Data in the past, you will find it easier to make it as a data analyst.
Additional Read: Data Scientist Salary Reports From Around the World
Applications of Data Analysis:
Some purposes served by data analysts include:
Monitoring market trends
Studying buying patterns and consumer behaviour
Conducting predictive analysis and determining whether consumers will buy a product or not
Segmenting consumers according to their buying habits for targeted campaigns
Determining how products should be priced
Evaluating the effectiveness of ad campaigns
Predicting the most profitable products
Finding ways to bring down production costs
Planning work schedules for production improvement
If this sounds appealing, there's no reason to wait. Enrol in a Data Analytics certification training course with Koenig today.