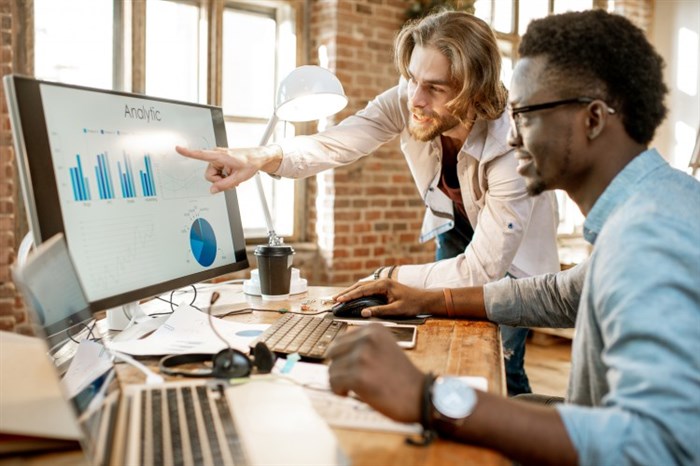 Data is the greatest asset an organization can possess. Not all data an organization collects is beneficial for it. This is where data analysts play a key role. Analysts gather, analyze, and interpret data to identify patterns and use it to get insights that help the organization reach its goals.
The amount of data generated every second is growing every day. So is the demand for data analysts. As per reports, the data analytics industry will create more than 11 million jobs by 2026.
This blog discusses the roles and responsibilities, salary, and skills of data analysts, along with tips to guide you on your journey to becoming one.
Who is a Data Analyst?
Every organization needs data to thrive. The primary role of a data analyst is to ensure that the data collected by the organization helps them achieve their goals. They collect, process, and analyze the data to make it meaningful. This data improves operational efficiency, increases customer satisfaction, and reduces business costs.
Role and Responsibilities of Data Analysts
Some of the key responsibilities of Data Analysts include the following.
Asessing data with the help of statistical and analytics tools.

Identifying and interpreting patterns from data sets.

Collecting data and develop databases.

Data cleansing and data visualization.

Designing and maintaining databases.

Preparing reports for stakeholders.

Collaborating with engineers and leaders to identify areas for improvement.
Let us discuss some of the data analyst roles and responsibilities in detail.
Understanding Business Goals
Data analysts must have a clear and thorough understanding of business goals and objectives to fulfill their responsibilities. Only by this can they collect data and use it to look for innovative solutions.
Data Mining and Cleansing
Data analysts have to mine the data from multiple sources to increase the efficiency of the processes. Then they have to cleanse and filter it to make it ready for analysis.
Analyzing and Interpreting Data
Using statistical and analytical tools, data analysts analyze data and interpret trends from complicated datasets. These help them get unique business insights to make crucial decisions.
Data Visualization
Data analysts are also responsible for data visualization. They prepare data for presentation to stakeholders using visual elements such as graphs and maps. These reports concisely present comprehensive information and allow stakeholders and leaders to make data-driven decisions.
Collaboration
Data analysts do not work in isolation. They frequently collaborate with other stakeholders, such as the management team and data scientists, to ensure their requirements are fulfilled through data analysis. They also have to figure out different areas of improvement in different processes and develop unique solutions.
Data Analyst Requirements
A data analyst must have the required skills and qualifications to do their job successfully. They should have exceptional mathematical and statistical skills. Their communication and interpersonal skills must be spot on. It is a common misconception that data analysts must have a degree in mathematics or statistics. However, most data analysts have bachelors in business, computer science, finance, economics, accounting, and information technology.
The key here is to have strong mathematical skills, even if it is not your major. Some courses you can do include data analytics, computer science, and information technology.
Related: What is Data Analytics?
Skills Required to Become a Data Analyst
Data analysts need many skills to do their job successfully. They must have strong technical skills, like SQL, Excel, Oracle, and domain knowledge, enabling them to analyze data and find insights. They should also have soft skills that help them to communicate effectively with stakeholders and collaborate with other departments.
Let us discuss some of these skills in detail.
Power BI
Power BI is an integral part of a data analyst's job. It helps them streamline their work and transform and visualize data. It also helps them to perform advanced analytical functions, develop reports, and transform and merge data.
Data Analysis
Since the primary responsibility of a data analyst is to perform data analysis, they must also have relevant data analysis skills. They must know how to gather data, interpret it, and do portfolio stratification. They must have the skills to identify a challenge and use data to create solutions. Another skill is data exploration. They must explore trends and relationships in complex data sets to identify growth opportunities.
Python and R
Python is also necessary for data analysts as it helps them perform predictive analysis on large data sets and conduct advanced analytical functions. Another language essential for data analysts is R tohandle large and complicated data sets.
Data Visualization
Data visualization is integral in providing a better and clear understanding of data to different users. Data analysts must have the skills to use different data visualization tools to help stakeholders identify patterns and opportunities. They must know how to create eye-catching graphs that concisely explain different trends.
Data Cleaning
Data is useless without proper cleaning. Irrelevant data can lead to inaccurate insights and flawed decision-making. Data analysts must be skilled in data cleaning and ensure only the highest-quality and most relevant data is used to draw accurate and relevant conclusions.
Statistical Programming
Knowledge of statistics and probability is crucial for data analysts. This helps them decipher the data patterns quickly and avoid making common errors.
Machine Learning
Machine learning skills enable data analysts to have an edge over their competitors. It also allows them to perform different and more advanced analytics.
Some of the soft skills that data analysts must have are as follows.
Critical Thinking
Critical thinking helps data analysts to look beyond the surface and gain an in-depth understanding of the data. It allows them to identify patterns and trends which may not be visible at first. As a critical thinker, a data analyst will look for challenges and their solutions. They will continuously work on improving the processes.
Communication
Data analysts collaborate with other teams and frequently interact with stakeholders. They must have excellent communication skills that allow them to communicate their findings to people in the organization effectively.
Data Analyst Job Description
Data analytics is a dynamic field with various job opportunities for individuals with data skills. The following roles, which can be entry-level or senior positions, rely heavily on data analytics. There are other variations that exist as new applications for data analytics are continuously being developed. McKinsey & Co. predicts that demand for data professionals may outpace supply by 50-60%, making data analyst jobs increasingly difficult to fill.
Thus, individuals with data analyst skills are in a great position to pursue a data analyst career. Some data analyst job titles include data analyst, data scientist, business analyst, and data engineer, among others.
Education and Skills Requirements for various Data Analyst Job Roles
Data analysis is a highly technical and specialized field, and many job descriptions require a Bachelor's degree. However, hiring managers are increasingly valuing mastery of data skills over formal education. This is good news for those who are looking to switch careers or pick up new skills. According to a recent Digital Skills Survey by BrainStation, 76% of those working in data did not start their careers in the field.
Furthermore, because Data Analysts can work in many different industries and roles, job titles and responsibilities can vary widely. For professionals in marketing, communications, journalism, social media, or content management, an understanding of data is becoming increasingly important for digital strategies. Finally, highly specialized data analytics skills can greatly increase earning potential for professionals in this field. Therefore, lifelong learning is an essential part of the Data Analyst's job.
Data Analyst Salary and Career Path Overview
Data analysis is a lucrative career option with many growth opportunities. The average annual income of a data analyst is $74, 342. It can go up to $103,000 a year, depending on the skills, organization, and experience.
Data analysts can become consultants, project managers, and senior managers. They can eventually become Senior Information Technology Managers, Information Technology Operations Managers, or Systems Managers as their skills and experience increase. The scope for data analysts will only grow wider with the current reliance on data.
Here is a salary guide for data analysts that can be helpful for individuals who are considering a career in data analytics or are currently working in the field.
How to Become a Data Analyst?
You must have the necessary qualifications, skills, expertise, and experience to become a data analyst. You can take the following steps to become a data analyst.
Get Relevant Education
The first step is to get your degree. As mentioned earlier, you can get a degree in any field. However, it is recommended to get a degree in computer science, mathematics or IT. You can get certifications when you don't want to get a degree.
Develop Skills
Data analysts must be skilled in Python, SQL, Excel, R, Power BI, data management, and data visualization. Before going for an internship, you can work on developing these skills.
Do Trainings and Internships
Data analysts must take training to understand the requirements and goals of the organization they are working for. This training helps them get familiar with the specific tools that the organization uses, their data, and their objectives.
Learn Data Analyst Roles and Responsibilities
It is integral to know their roles and responsibilities before deciding to become a data analyst. This will help you judge whether you have the capacity and ability to perform those roles. It will also help you gauge your interest in the field.
Apply for a Job
Once you are done with the training and education, prepare a resume highlighting your skills. You can start applying for jobs. Remember to continue learning. Data analytics is a growing field, and you must keep upgrading your knowledge.
Certifications for Data Analyst
There are many certifications that data analysts do to improve their job prospects and knowledge.
Let us look at some of them.
Amazon AWS Certified Big Data
Amazon AWS Big Data certification proves the holder's ability to use AWS to design, develop, and maintain analytic solutions. The course covers topics such as fundamentals of web analytics, mining data lakes, and understanding machine learning.
The people who want this certification need to pass Amazon's DAS-01 certification exam. Candidates must have five years of experience in standard data analytics technology, two years of AWS experience, and know how to define AWS data analytic services.
Springboard Data Analytics Career Track
This flexible online course is perfect for candidates with critical thinking and problem-solving abilities. The good thing about Springboard Data Analytics certification is that it comes with a job guarantee. The curriculum includes topics such as analyzing business problems, visualizing data with Python, and connecting data using SQL. Having two years of experience with programming tools and design is recommended before doing this course.
CompTIA Data+
CompTIA Data+ covers all the skills a data analyst must have to be successful. This certification is highly popular because it is vendor-neutral. It also assesses the hands-on abilities of candidates. The course teaches skills like mining and manipulating data, analyzing complex datasets, and applying basic statistical methods. It is recommended to have 1.5-2 years of experience in data analytics to get this certification.
Cloudera Certified Associate Data Analyst
The Cloudera Certified Associate Data Analyst certification teaches professionals how to access, manipulate, and analyze complex data sets with the help of SQL. It is a four-day course and ideal for database administrators, developers, system architects, and business intelligence specialists. Candidates must have some knowledge of SQL and Linux command lines.
CareerFoundry Data Analytics Program
If you are a beginner in data analytics, this certification is perfect for you. The curriculum covers the relevant skills, processes, and tools a data analyst must know to succeed. Some of the things you will learn include excel, analytical methods, and descriptive analysis. This certification also comes with a job guarantee.
SAS Certified Big Data Professional
SAS Certified Big Data Professional covers skills such as preparing big data for statistical analysis, working with Hadoop and SAS, and applying fundamental statistical analysis. The course includes improving data quality, visualizing and manipulating data, and overcoming challenges that come with large data. Holders can work as senior analysts, business analysts, and AVP strategic information solutions.
Microsoft Certified: Power BI Data Analyst Associate
Power BI Data Analyst Associate validates the holder's ability to use Power BI. It teaches skills such as building scalable data models, transforming data, and enabling advanced data analytics capabilities. To get this certification, you should have basic knowledge of data repositories and processes.
IBM Data Science Professional Certificate
This certification is perfect for beginners in data science. It covers subjects such as fundamentals of data science, its methodology, tools, databases and SQL with Python, etc. This certification will help you get an entry-level role. The holders are skilled in SQL, IBM Cognos Analytics, Python, Excel, and Numpy. You can get this certification without a college degree. But you must have basic computer skills and know high school math.
Google Data Analytics Professional Certificate
This certification is six months long and trains candidates in the fundamentals of data analytics. This is a good option for beginners as it requires no prior knowledge or experience. It covers processing and visualizing data and teaches how to use R programming and SQL. Holders can apply for jobs such as junior data analyst, business performance analyst, and data technician.
Data analytics is a growing field, and the demand for data analysts is expected to continue rising. The above certifications can help you get better job opportunities and gain knowledge and skills.