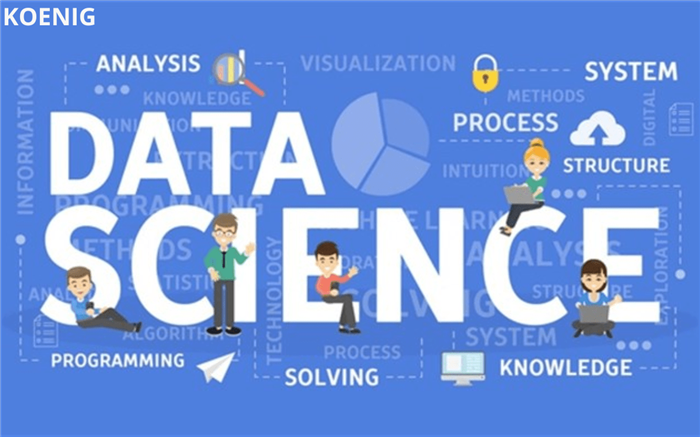 At the turn of the century, 'data scientist' meant nothing to anyone. There were a handful of professionals who organised and analysed the slivers of data that was created.
But Data Science, as the profession we know today, is millions of miles ahead and set to be one of today's hottest career paths.
Certification in Data Science
provides combine technical knowledge and analytics with problem-solving capabilities into a single important career.
Introduction to Data Science
What exactly does a data scientist do? Today, every industry and business collects loads of data. A data scientist collects, cleans, analyses and visualises large volumes of data and information. This data is used to find patterns and derive valuable insights useful for business strategy and decision-making.
Data scientists are experts who build machine learning structures that enable business enterprises to understand their customers and business operations and consequently make more effective business decisions. The job of a data scientist is not easy, a data scientist's responsibilities are critical for today's business world that depends almost entirely on data.
A research report created by Accenture revealed that 79% of executives within business enterprises agree that any organisation that doesn't use big data will lose its lead in the market and eventually shut down.
Other research has shown that 83% of business corporations have incorporated big data into their projects and strategies to hold their competitive edge. With the rapidly growing adoption of big data, it is clear that the industry is set to advance rapidly.
A Wikibon study from 2018 predicted that the big data market worldwide would increase from $42 billion in 2018 to $103 billion in 2027. In today's big data-oriented business environment, data scientists are imperative to the success of a business. It is a very promising career that will be rewarding in the years to come. If you wish to develop and hone your data scientist skills, you must meet both the technical and non-technical requirements.
Data Scientist Skills You Should Have
There are two types of skills a data scientist must have - technical skills and non-technical skills. If you are new to the industry, you can start learning these skills one by one. If you are already working in the industry in a role like data analyst or data analytics director, chances are you already have all or most of these skills. Use them to sharpen your skills and train those working under you.
Preparing for a Career in Data Science
There are several responsibilities that a data scientist takes care of in their day to day operations. This includes:
Computing and statistical analysis
Data mining
Data processing involving large volumes of data, including the extraction of valuable data
Mathematics
Statistics
Computer programming
Some data scientists also hold Master's degrees or even PhDs in engineering, statistics or computer science. This background makes for a solid foundation for aspiring data scientists and ensures they already have the essential skills needed to work with big data.
You can study big data and data science in more ways than one. Traditional learning models include university or college-level degrees that offer tailored courses and programs to train students for data science careers.
The more contemporary options include boot camps or MOOCs (Massive Open Online Courses), like the data science and
big data courses
available on Koenig.
These courses are self-paced and don't require you to leave your job or attend full-time classes. You also get access to practical learning methods, expert mentorship, 1-on-1 sessions and exclusive study materials.
Technical Skills Data Scientists Should Have:
1. Programming
Data scientists must have strong knowledge of programming languages like Perl, Python, C/ C++, Java and SQL. Of all these, Python is the most popular programming language used in data science job roles. Programming languages assist data scientists in organising unstructured data sets.
2. SAS and Analytics Tools Knowledge
For a career in data science, you need to have knowledge of analytics tools. This helps to extract invaluable data from organised data sets. R, Hadoop, SAS and Spark are among the most widely used data analytics tools used by data scientists. A certification in any of these tools can help you learn how to use one of these analytics tools.
3. Working with Unstructured Data
Data scientists need experience or knowledge working with raw data obtained from various sources and channels. A data scientist engaged in a social media project to derive insightful research should understand how to use social media as well. This will help your marketing team arrive at more effective real-world solutions from the insights that you provide.
4. Machine Learning/ Natural Language Processing
Computers have a language that they use to communicate with each other. This might have sounded odd a decade ago, but today it's common knowledge.
Naturally, when computers communicate with each other, they need a translator to understand what they are saying. NLP (natural language processing) is a subcategory of AI that aims to bridge machine languages and human understanding.
NLP allows computers to communicate with people in a language they understand and ensures language-related tasks are all scaled up or down. Natural language processing ensures computers can hear and interpret speech, read text, measure emotions and prioritise tasks.
Non-technical Skills Data Scientists Should Have:
Non-technical skills are an important part of a data scientist's skill set. This includes personal skills and communication skills, along with insight derivations and deductive thinking skills. The downside to this is that these skills are highly subjective and cannot be pinpointed or measured except by using the person in the particular scenario. It is difficult to assess these skills by looking at one's educational qualifications.
1. Strong Business Acumen
Having a strong aptitude for business is the best way to channel your technical skills productively. Without business acumen, data scientists won't be able to identify problems or future challenges that could hamper the business' growth plan. This is an important skill to help your organisation grow and explore new opportunities.
2. Communication Skills
Communication skills are particularly important for most industries, more so for data scientists. A data scientist has exceptional skills when it comes to extracting, understanding and analysing data. However, it is a loss for the business if they are unable to convey or communicate their analysis and findings to the rest of their teams.
Others like the marketing team or research team might not have the required skills to understand the data and derive insights themselves. Data scientists need to not only find this information but also relay it effectively to everyone else.
3. Data Intuition
This is a significant skill for data scientists to possess. Data insights are not obvious in large data sets, particularly unstructured data. A successful data scientist has a keen sense or intuition about these patterns and understands when he needs to dig deeper to find insights.
Great data intuition increases the efficiency of data scientists and helps them move higher up the ladder. Rarely do people start with great intuition. Rather, this skill is built through experience and continuous learning.
Data scientists need to train and get certified the right way to acquire the right mix of skills. Give your data science career a strong foundation and enrol in a course on Koenig today.