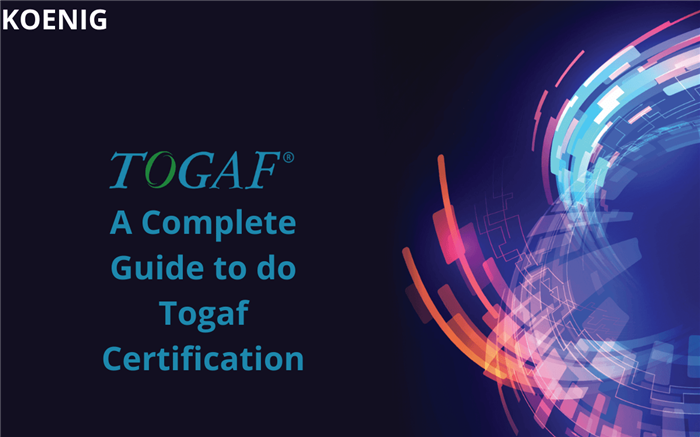 TOGAF stands for The Open Group Architecture Framework. It is an enterprise-level architecture framework that provides an approach for designing, planning, implementing and governing an enterprise's information technology architecture.
Who gives the TOGAF Certification?
It is based on United States America's Department of Defence's Technical Architecture Framework for Information Management (TAFIM) and was developed by The Open Group. The Open Group is a vendor and technology neutral industry consortium with over five hundred member organizations and is the main body for clearing the examination.
What is the Aim of TOGAF?
The main aim of a TOGAF certified personnel is to enhance the overall efficiency of a business by adopting a high-level approach to design. In a nutshell, the course is designed for a candidate seeking to be a professional Enterprise Architect.
A TOGAF certification is a visible trust mark ensuring colleagues that basic principles of architectural framework are comprehended analytical skills have been developed and can be successfully applied to an enterprises' architectural structure.
Also Read - Beginners Guide To Do TOGAF Certification
Where in an Organization Can TOGAF be Implemented?
Since TOGAF adopts a high-level approach to design, it is typically modeled at 4 levels of an enterprise's architectural domains, namely Business, Application, Data and Technology.
Business Architecture – This is what defines the business strategy, governance, organization and key business processes of the organization
Application Architecture – That which provides the individual blueprint for the individual systems to be deployed, the interactions between the application systems and their relationship to the core business processes
Data Architecture – That which describes the structure of an organization's logical and physical data assets and their management resources.
Technical Architecture – The hardware, software and network infrastructure required for main applications
Who is Eligible to Appear for the TOGAF Certification
There is no eligibility criteria for getting a TOGAF 9.1 certification. However, a candidate has to clear the exams of the accredited organization to become an Enterprise Architect.
How Many Levels of Examinations Are to be Cleared?
Candidate desirous of a TOGAF 9.1 are required to clear two examinations, Level 1 for the TOGAF Foundation course and Level 2 for the TOGAF 9.1 certification. Candidates planning on studying by them would be well advised to clear one Level at a time. However, training institutes have designed their courses in such a way that a candidate can study for, and clear both these Levels in one go. The training period with an institute is usually for 4 days and for self-study is 2 weeks
What are the Marks Required for Clearing the TOGAF Examination?
The exact break-up of marks is –
Level One or Foundation level – The pass percentage required is 55% which is 22 out of a maximum of 40 points. These are all multiple choice questions with each question carrying a single mark.
Level Two or Certified level – The pass percentage required is 60% which is 24 out of a maximum of 40 points. These are all multiple choice questions with each question carrying a single mark.
Level One and Two Combined TOGAF 9.1 – The exam consists of two parts. Part one is same as Level One paper mentioned above and part two is same as Level Two paper mentioned above, however in case the examinee fails any one section he is to re-take only that section of the exam again. Only an Accredited Training Course provider can help candidates clear both Levels in one go.
Point of Note:
Both Levels have to be cleared for a candidate to be awarded the Togaf 9.1 certificaiton.
Gap between two attempts – There has to be a gap of one month between failed attempts. For example, if a candidate fails an exam on 25th June, 2017, the wait period until 27th June, 2017 has to be adhered to. Any exam attempted before that will not be considered.
Where do the TOGAF Examinations take Place?
The examinations takes place either at Pearson VUE centers in the country and is an open book examination, wherein the examinee is free to select "reference" tab during the exam on the computer screen to browse through the book and refer to the material. The second option is to give an online examination. Most teaching centers will facilitate the online exams, and will in fact even train you for the final exam with a mock-up version as part of their course structure.
You May Also Like: Top Reasons To Become TOGAF Certified Professional in 2022
What are the Major Touch Points of an TOGAF Certification Course
Since the TOGAF Certification Course is aimed at enhancing the skill sets of an enterprise architectures, the course structure broadly covers:
Architecture Development Method in various phase
Architecture Content Framework
Enterprise Continuum and Tools
Architecture Partitioning, Governance, Principles etc.
During the course, a candidate will:
Get familiar with the Preliminary Phase as well as Migration Planning Techniques
Understand Architecture Content Framework, Metamodel along with Governance.
Implementation of Architectural support techniques and understanding of business scenarios,
Understand ADM, its requirement management and the various adaptations of ADM
Comprehend the Maturity Models and Skills Framework for Business Architecture
What is the Current Cost of Training for a TOGAF 9.1 Certification?
An in-class study for both the courses – Foundation and Certified together will cost approximately about INR 75,000. Apart from the cost, it is very important to verify the training institute and its infrastructure before finalizing.
What are the Future Prospects after the Completion of TOGAF 9.1 Certification Course
Since the candidate will develop a deep understanding of enterprise level architecture, the future prospects include:
Hired as a business architect for MNCs, and brands across the world. Today, no company, public or private can function without a robust business architecture in place
Work as a consultant drawing a considerable remuneration for helping identify, plan and implement architectural frameworks within an enterprise
TOGAF 9.1 certification is a global benchmark for the ability to successfully deliver on the roles and responsibilities for identifying, assessing and implementing the correct frameworks for an enterprise. Today, every organization, aiming for growth and optimization, needs business architects with the ability to understand, analyse and then create the correct solutions for the success of projects.