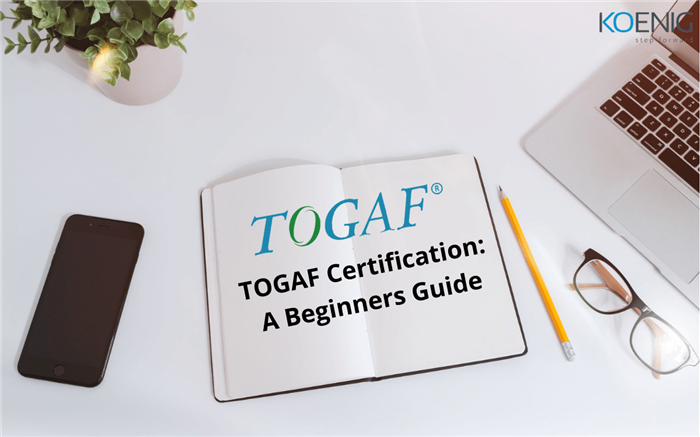 In simple terms, TOGAF is an open enterprise architecture standard, used by the world's leading organizations in order to improvise their business efficiency. TOGAF lets you take a high-level approach to the framework which is useful for an enterprise to plan, design, implement and manage its Enterprise Architecture.
Enterprise architecture is further broken down into four domains- data, technology, application and business that rely on existing products and technologies. Organizations that design and implement architectures utilizing TOGAF principles enjoy design and procurement specifications which facilitate open system implementation while reducing risk.
Benefits of TOGAF Certification for Individuals
TOGAF ensures that the individuals gain the required in-depth knowledge and acts as a 'simplifier' that can clarify the complex technical processes. Usually, the developers and technical leads pursue TOGAF certification to follow their career path to architecture and senior architect positions.
Enterprise Architects work on developing an organization's long-term strategy, based on TOGAF standards for technology infrastructure that would support the overall business strategy. They also make sure that the IT-enabled processes run smoothly from start to finish.
To be concise, TOGAF certified professionals work to bring alignment between an organization's goals and aspects of information technology. Furthermore, TOGAF training and certification would also benefit those who are interested in working on IoT projects.
Benefits of TOGAF Certification for Organizations
With the TOGAF certification, an organization can expect to get a respected benchmark in order to identify, assess and hire the qualified individuals for the ever demanding roles and responsibilities.
Confidence is a key purchasing factor and suppliers tend to put their commitment to the proven best practices. By showing that an organization has TOGAF certified specialists for a particular project, it becomes easier to win over, as the TOGAF certification is a powerful competitive differentiator that assures the customer about the skills and capabilities of the IT professional.
TOGAF certified individuals would also prove to be the best in reducing recruitment time and cost while proposing projects, which would eventually lead to higher project success rates.
Why Get TOGAF Certification?
Following are five essential reasons, why you must get a TOGAF certification:
Ever increasing demand for enterprise architects: As IT technology and architects have started integrating for the organization's success; many more savvy companies are using TOGAF to plan out their business' enterprise architecture.
Comprehending a common language: As the TOGAF certified individuals share the same level of knowledge and expertise, they tend to identify the business needs in a better manner.
The approach in Stages: Two levels of TOGAF certification- Foundation and Certified, allow a professional to first learn the basics and increase that knowledge as they become experts.
Budget-Friendly Certification: TOGAF certification is clearly an investment for your future but that doesn't make it any more expensive or costlier. It remains in your budget within a very reasonable fee.
Career: TOGAF is a stepping stone for you to boost your salary and career with an average salary of around $80000 for the TOGAF certified professionals.
Also Read:- A Complete Guide to do TOGAF Certification
TOGAF Certification Examination
Usually, an individual has a choice of two-step approach and combined approach, which goes like this:
TOGAF Part 1: Required 55% passing marks, 22 or more points out of a maximum of 40.
40 questions would be there in simple multiple choice formats, where each correct answer scores a single point.
TOGAF Part 2: Required 60% passing marks, 24 or more points out of a maximum of 40.
This section would include 8 complex scenario questions with gradient scoring. Each correct answer scores 5 points, second best scores 3 points, third best scores 1 point and the incorrect one, scores zero.
TOGAF combined part 1 & 2: With the same two sections and passing marks, as discussed above, this combined examination is for the candidates who want to achieve certification in a single examination.
Getting the TOGAF Certification
Mentioned-below are the certain steps to follow in order to achieve the TOGAF certification:
Two-step vs. Combined approach: To get the TOGAF certification, you would have to pass both foundation and certified exams. Take the two-step approach to save your time and you can pass the two exams individually in one sitting.
Study the framework: Once you decide the approach, move on to reading the framework which you can easily access and download from the website.
Join a study center: It's always better to gain premium knowledge and the study-centers are nearly essential tools for those wanting to be successful. If you plan to self study, there are several effective TOGAF study guides available in both physical and electronic formats.
Utilize Free TOGAF revision resources: Revision becomes an easy job when you have a plethora of resources including multiple choice practice exams, free presentations, FAQs and instructional videos. So while going through the study guides, it's advisable to also check the free revision resources in between.
Book your exam date: After investing your precious time and hard-earned money, it's time for you to book your exam. For this, all you have to do is to simply visit Prometric's website, register and find a local test center as per your suitability.
TOGAF Certification Program Objectives
TOGAF covers all the necessary topic areas, in order to give in-depth knowledge to an individual. The Certification may include comprehending the following objectives:
Architecture Content Framework
Architecture Content Metamodel
Preliminary Phase
Architecture Governance
Business Scenarios
Architecture Implementation Support Techniques
Migration Planning Techniques
ADM Requirements Management
Guidelines for Adapting the ADM
Guidelines for Adapting the ADM: Security
Guidelines for Adapting the ADM: SOA
Architecture Maturity Models
Architecture Skills Framework