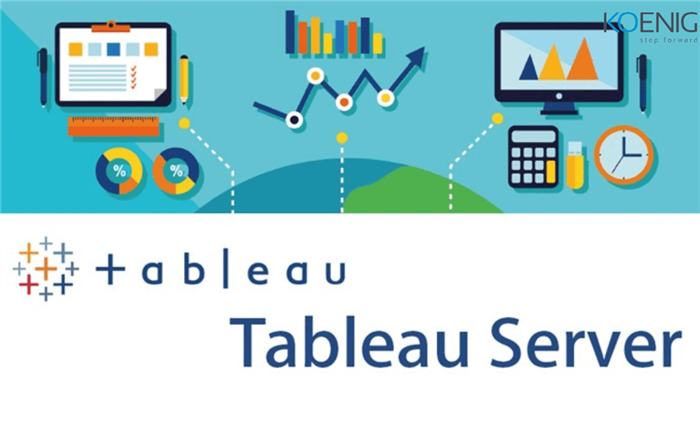 In day-to-day business, professionals from different departments deal with various kind of data. Sometimes this data can be complex, with numbers, statistics, and figures. In short, it's not always easily understandable by everyone, especially people from non-technical backgrounds.
Fact: It's a scientifically approved fact that the human brain responds to pictures more than it does to numeric stats and data. People are more likely to understand and remember visually appealing and simpler data, like in the form of a pie chart or colour-coded bar graphs. And that's where Tableau comes in.
Tableau is a data visualization tool most commonly used in the Business Intelligence and Data Science industry. It aims to help people view and understand complex data.
In today's world, data is one of the greatest assets of businesses. Nearly all industries and businesses rely on big data analytics to make informed decisions about their business. After big data from disparate sources is analyzed, it's often in the forms of statistics and numbers. This data needs to be presented to stakeholders and CEOs in a simple, visually appealing, and easily understandable format.
Tableau helps in simplifying raw data in a format that's interactive and easily understandable. Users who don't have any technical expertise and knowledge of coding can also create customized dashboards and easily learn how to use Tableau. Tableau can use data of all types, forms, ranges, and size and translate it in the form of dashboards and worksheets with appealing visuals.
Features of Tableau
Here are some of the features of Tableau:
How does Tableau work?
Tableau connects and extracts data stored in various locations, platforms, or databases like Excel, PDF, Oracle, etc.

Then it is launched to start the process. Now you can connect to any database through Tableau's data connectors.

After connecting to the databases, data is extracted and then connected live to Tableau Desktop, the Tableau data engine. Here, a data analyst or data engineer works on the data and develop the visualization. The final product includes dashboards, which the users can view using Tableau Reader.
What is Tableau used for?
Tableau is used for:
Translating queries and data into visualization
Managing metadata

Creating 'no-code' data queries for non-technical users

Importing data of all sizes and ranges
Tableau is used by organizations like Amazon, Lenovo, Accenture, and Walmart.
Tableau Reporting
The purpose of reporting in BI tools is to collect, prepare, visualize, and analyze data. Through all these processes, we can make sense of raw data and convert it into meaningful format of charts, tables, graphs, and maps.
Through Tableau reporting, users can:
See data trends

Analyze forecasts

Slice and dice their data at finer levels
Reports can be of various types such as PDFs, tables, spreadsheets, workbooks, and custom dashboards.
Tableau Products Suite –
The Tableau Product Suite comprises Tableau Desktop, Tableau Online, Tableau Public, Tableau Reader, and Tableau Server. The division is as follow:
Developer tools - Tableau Desktop and Tableau Public
Sharing tools - Tableau Online, Tableau Reader, and Tableau Server
Now let's take an in-depth look at the Tableau products.
1. Tableau Desktop – Tableau Desktop helps in the coding and modification of reports. This includes the creation of charts and reports, as well as the task of combining them together. You can either save the workbooks and dashboards created here locally or publicly.
Tableau Desktop can be further categorized into two types. They are:
Tableau Desktop Personal: In this version, the data has limited accessibility, and the workbook is kept private.
Tableau Desktop Professional: In this version, you can either save the work created in the Tableau Server or publish it online. There is full access to the data type. If you want to publish your work on the Tableau Server, this version is better for you.
2. Tableau Public – This Tableau version is specially built for users who'd like to save their money. The workbooks that are created in Tableau Public are saved to the public cloud. Anyone can access, view, and download these workbooks. If you want to share your workbooks, dashboards, and data with the public, then Tableau Public is better suited for you.
3. Tableau Server – The visualizations and workbooks made in the Tableau Desktop application are shared across the organization using Tableau Server. To share your work in Tableau Server, it has to be first published on Tableau Desktop.
Only the authorized users who have login credentials can access the workbook. The Tableau Server doesn't need to be installed on the user's machine; only the login credentials can verify the reports. Tableau Server has high security, and it aids in effective and convenient data-sharing in the organization.
4. Tableau Online – The usage and functions of Tableau Online and Tableau Server are alike. However, unlike Tableau Server, the Tableau group maintains the cloud that hosts the servers which have the data in Tableau Online. The data that comes out of Tableau Online or Tableau Server supports web applications like Google Analytics and Salesforce.com.
You can publish data in Tableau Online without having to worry about any storage limitation. It can link up to 40 different data sources hosted in the cloud-like Hive, MySQL, Amazon, and Spark SQL. Through Tableau Online, a direct link is created to over 35 such data sources. To broadcast the data, both Tableau Online and Tableau Server need the workbooks from Tableau Desktop.
5. Tableau Reader – It is a free tool that allows users to view or filter the existing workbooks. Though the data can be filtered, there are restrictions on editing and any modifications. Any person using Tableau Reader can view the workbook, and therefore, the security level is zero. To view or read the documents, the reader must have Tableau Reader.
Tableau vs Excel
Advantages of Tableau
1. Range of amazing visualizations- Tableau has various in-built features that can help you create fantastic and unique visualizations. It will help you create a range of visualizations for a massive amount of data that doesn't have any order to it. Tableau can also switch between different visualizations to bring a more significant and deeper context of data while exploring the data at an in-depth level.
2. In-depth insights- One of the biggest advantages of Tableau is that it allows you to explore visualizations and look at the same data from different angles. It helps enterprises analyze hypothetical future situations by framing 'what if' questions. The data is visualized differently according to these queries.
3. User-friendly approach- One of the reasons behind Tableau's popularity is its user-friendliness. People who don't have any knowledge or experience of coding or technical skills can easily use Tableau. Most of the features are in a simple, easy-to-use drag-and-drop format.
4. Can work with disparate data sources- Today's world is highly data-driven. Organizations use big data to draw meaningful insights into factors that can help their business grow. This data can come from any point and many unrelated sources. Tableau is different and more advantageous over other BI tools as it connects to all the different types of data like various Tableau data sources, data warehouses, and files in the cloud, big data in spreadsheets, non-relational data, etc. Tableau combines all the data from these different sources and connects them to create captivating visualizations.
5. Easily addable datasets- You can easily add new datasets, be it a database or an Excel workbook, with Tableau.
How can Tableau benefit your business?
With the increase in the number of people using the internet, there is a meteoric surge in data. Imagine, for example, every time a potential customer goes online, they add to big data. This data has information that could be highly beneficial for your business. To stay ahead in the game, you need business intelligence, meaningful insights into your potential customers' behaviour and choices. This will help you streamline your approach to target them. This intelligence is derived from big data.
However, this bulk of data is in unstructured and raw form and thus goes unused. It can be challenging to make sense of this data and analyze it well enough so that every stakeholder in the organization understands it. And since not everyone has the technical know-how of data analytics, you need to present your data in a manner that even a layperson with no technical knowledge can understand it. This is what Tableau helps you in achieving.