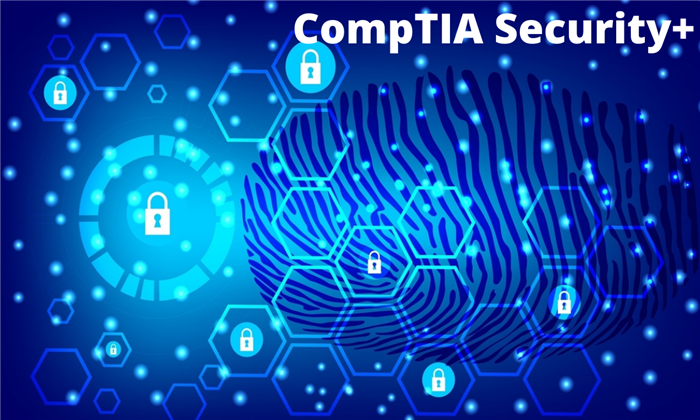 Professional certifications are highly valued, especially in the IT industry. Every professional association issues certifications that validate a candidate's proficiency when it comes to technical expertise and relevant skills required for working in a particular field. There are many IT certifications out there that you can earn by training for and clearing a qualifying examination.
An IT certification is important for both job applicants as well as employers. A job applicant presents their certification as proof of the skills and knowledge they have acquired over months of training and preparation. Employers use certifications as a standard against which all job applicants are measured, in terms of the required technical expertise in the organisation.
In the domain of cybersecurity, professionals must start with one fundamental-level credential and move up to the others. The CompTIA Security+ certification is the first step along your cybersecurity certification path.
What is CompTIA Security+?
The Security+ certification is an entry-level vendor-neutral IT certification that validates a candidate's global information security knowledge and expertise at a global level. Earning this certification validates your fundamental security skills and knowledge and complies with DoD 8570 regulations. A Security+credential equips professionals for core information security functions and helps advance their IT security careers.
Earning this credential is a good idea for professionals who are new to the information security world. CompTIA Security+ includes hands-on practical experience. All the topics that this certification covers depend on the most advanced techniques and newest trends in risk management and assessment, forensics, incident response, security controls, hybrid operations and enterprise networks. This ensures that certified candidates are better equipped to solve a wide range of problems.
In the newest version of the Security+ exam, new topics and job roles covered are the Junior IT Auditor or Penetration Tester role, along with previous roles covered which include network administrators, security administrator and system administrator.
How Can You Earn the CompTIA Security+ Certification?
The latest version of the CompTIA Security+ credential has been code-named SY0–0601 and was rolled out on 12th November 2020. As an aspiring candidate, there are several skills and knowledge bases where you need to prove yourself. These include:
Evaluating an enterprise environment's security position; recommending and implementing relevant and appropriate protocols.
Monitoring and securing hybrid environments, which includes IoT, mobile and cloud environments.
Operating keeping in mind applicable policies and laws such as governance, compliance and risk principles.
Identifying, analysing and responding to security incidents and events.
There are several domains that this exam covers with differing weightages and objectives. These are:
Threats, attacks and vulnerabilities - 24%
Design and architecture - 21%
Implementation - 25%
Incident response and operations - 16%
Governance, compliance and risk - 14%
Also Read: Top Advice How to Clear the CompTIA Security+ Exam
Let's take a look at these topics in more detail:
Threats, attacks and vulnerabilities: This domain covers sophisticated DDoS (denial of service) attacks, social engineering attacks, IoT network vulnerabilities and threats to embedded devices.
Design and architecture: This domain focuses on the three key environments - cloud, enterprise and hybrid.
Implementation: This domain focuses on access management, identity management, end-to-end network security, PKI (public key infrastructure) and cryptography.
Incident response and operations: This domain assesses your understanding of procedures for incident response, such as security controls, digital forensics, threat detection and risk mitigation.
Governance, compliance and risk: This domain tests your understanding of the biggest compliance and risk regulations. Some of the most widely-known ones are GDPR, HIPAA, PCI-DSS, SOC, CCPA, NIST and FISMA.
Why Do You Need a Security+ Certification?
In entry-level roles, InfoSec professionals need to be experienced and qualified. They must also be able to demonstrate their skills and expertise whenever needed. Defending an organisation against malicious cyberattacks is not a small responsibility. Even the slightest slip-up by any member of the enterprise security team can result in huge losses for the brand both financially and in terms of credibility.
Evaluating and picking the right security certification for your first credential is an important step while advancing your career. Becoming an expert in cybersecurity is not a role to be taken lightly. You must carefully plan this journey based on your immediate as well as long-term objectives.
The Security+ SY0-601 certification is the right blend of interpersonal and professional characteristics, making it a leading contender for an entry-level security credential. It will help you stand out in a crowd of un-certified job applicants and validate your proficiency level. You are also equipped to take on other high-level roles such as security administrator, systems administrator, IT project manager, IT auditor, DevOps developer, network or cloud engineer, help desk analyst, security analyst and many more.
Another reason to consider the Security+ certification is that it currently ranks on top among the in-demand IT certifications. It has the maximum number of mentions in job descriptions on LinkedIn, Simply Hired and other job websites.
Understanding the information that your exam covers can help you be well-prepared for the big day. You can get a better idea of the exam format and what it covers by looking at sample practice exams that CompTIA provides for aspiring candidates. This will help you determine which areas are your strong points and the domains that need more work. CompTIA also provides several options for candidates looking to get trained. This could be through exams, free resources or an expert-led training course on Koenig. Koenig provides online and offline training for the CompTIA Security+ certification with expert mentorship, 1-to-1 sessions with industry experts and flexible learning hours.
CompTIA Security+ Certification Requirements and Prerequisites:
Most of the globally-recognised IT certifications have a long list of prerequisites, including entry-level ones. This is made up of a certain number of years of work experience and prior certifications and training. Unlike them, the CompTIA Security+ certification doesn't have a formal list of prerequisites. However, CompTIA recommends having a minimum of two years of experience in IT administration with a focus on security. Experts also recommend that candidates should have a CompTIA Network+ certification or any equivalent practical experience with networks. The Security+ and Network+ certifications are quite similar in their objectives. Earning either one first makes it easy to clear the qualifying exam for the other one.
CompTIA Security+ Target Audience:
Several IT roles provide the practical experience in networking that is needed for information security roles. These roles include:
Data Centre support technician
System administrator
Network administrator (junior)
Network engineer
NOC technician
Cable technician
Telecommunications technician
Everything You Need to Know About the Security+ Certification Exam:
Multiple exams are rotated among testing centres on the same days. The Security+ qualifying exam differs in the slightest from the other certification exams that you might be familiar with. The SY0-601 exam is made up of 90 questions at most. As a candidate, you have up to 90 minutes or 1.5 hours to answer them all. Besides the MCQs (multiple choice questions), certain Security+ exams have featured performance-based questions, or PBQs, as well. A PBQ is designed to assess your problem-solving abilities within simulated environments. You should know how you can secure and monitor hybrid/cloud environments. The qualifying exam could also feature IoT and mobile infrastructure questions as well as best practice questions.
In the exam, you will be marked on a scale from 100 to 900 points. You must score 750 points or 84% to clear the exam and earn a certification. You can either take the exam at Pearson VUE exam centres or choose online exam testing. There is no waiting period between your first two attempts. If you don't clear your exam on the first attempt, you can immediately try a second time. However, you need to wait at least fourteen days for your third attempt and any other attempt you make in future.
You May Also Like: A Detailed CompTIA A+ Certification Guide to Fast Track Your IT Career
What a Koenig Security+ Training Course Will Teach You:
By the end of your training course with Koenig, you should be ready for the following responsibilities:
Detecting several types of network compromises and having a deep understanding of vulnerability scanning and penetration testing concepts.
Installing, configuring and deploying components of networks as you assess and troubleshoot problems to support enterprise security.
Implementing concepts of secure network architecture and system design.
Configuring and installing access, identity services and management controls.
Implementing and summarising best practices for risk management and their impact.
Installing and configuring wireless security settings while implementing PKI.
Take the Next Step in Your Career With a Security+ Certification:
IT professionals equipped to manage secure systems and protect systems are seeing a rapid rise in demand for their skills. Anyone looking to earn a credential that validates their competencies in cybersecurity and network operations will rarely find a certification as good as the CompTIA Security+ credential. It is one of the most in-demand information security credentials today without a close equal in industry recognition and value. In competitive IT ecosystems, Security+ certifications help candidates to stand out in the sea of applicants.
According to data shared by CompTIA, 32% of certified professionals working in organisations receive increments, promotions and other incentives from employers solely because they have a Security+ certification. Fresh graduates with a CompTIA certification earn 22% higher than their peers without a certification. Give your career the boost it deserves and enrol in a CompTIA Security+ certification training course today.