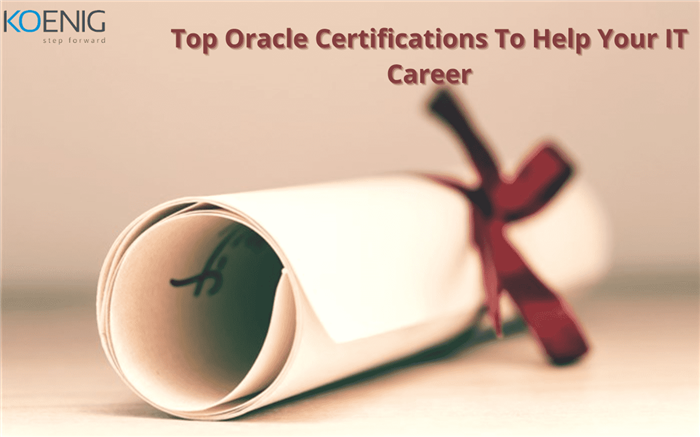 Enterprises looking for higher performance computing used the services or software of Oracle. Its range of products and software solutions can provide a 360-degree insight into the performances and capacity of infra and investments. Therefore, companies value trained professionals across the world for the technical know-how they bring to the table.
Oracle Certification Courses
Depending upon the area of interest, job requirements, or skill set, learners can choose from several oracle certificates.
Here is our Top Oracle Certifications List for Beginners
Oracle Cloud Certification

Oracle HCM Cloud

Oracle Cloud Infrastructure Introduction

Oracle Database Certification

Oracle 11g Data guard Administration

Oracle SQL Developer

Oracle Linux System Administration

Oracle Data Integrator

Oracle WebLogic Server 12c: Administration

Exadata Database Machine: 12c Administration
Now lets discuss them in detail.
Oracle Cloud Certification
This newest Oracle Cloud certification aims to meet the growing demand for Cloud infra. The certificate includes cloud data management skills, platform, and software as a service through cloud, products, supply chain or logistics cloud services, etc.
Oracle HCM Cloud
The course is on an advanced level and covers Basic Human Resource and Fusion Applications. The course aims to help students understand and implement payrolls effectively. Ideal for entrepreneurs who wish to implement the cloud-based payroll facility for their employees.
Oracle Cloud Infrastructure Introduction
This course discusses and explains the features of Oracle cloud infrastructure and cloud computing. Since the certification covers crucial in-demand skills, it is also among the best oracle certifications that can boost your career.
Oracle Database Certification
Oracle Database Administration certification is considered one of the best oracle certifications for beginners. The course stresses the fundamentals of databases before proceeding to an advanced database curriculum.

Oracle Database 12c SQL certification aims to assist learners in understanding the databases and particularly the 12c environment. One can take this course to become an Oracle Database 11g Administrator Certified Associate, Oracle PL/SQL Developer Certified Associate, or Oracle Database 12c Administrator Certified Associate. For now, it is available only in Japan.

Oracle Database 12c R2 will make you apply data extraction and tuning skills effectively on the data sets. The course is ideal for developers and support engineers.

Oracle Database 19c: Developers and database administrators can opt for this Oracle certification course to learn everything about Oracle Database 12c - from introduction to SQL Ed 2.
Also Read: A Complete Guide for Oracle Certification
Based on the candidates' experience and current skillet, the Oracle database certification adheres to the following categories:
Junior Associate

Associate

Professional

Master

Expert

Specialist
Accordingly, one can pick up the level as per one's expertise in the oracle database field. Furthermore, the Advanced level oracle database also covers the databases from oracle cloud certification.
Oracle database upgrade workshops are also offered to professionals to update their skills and refresh their knowledge.
Oracle Database: Backup and Recovery Workshop

Oracle Database 19c: RAC Administration Workshop

Oracle Database 19c: SQL Workshop
Oracle 11g Data guard Administration
The course makes you design highly available databases to achieve more productivity. It is Ideal for IT architects and entrepreneurs as the course teaches oracle safeguards for better performance and data protection. This course is one of the best oracle certifications to learn oracle data guard technologies.
Oracle SQL Developer
The course amalgams basic techniques and the latest updates on using the Oracle SQL developer tools. Beginners and experienced individuals can learn how to use the Oracle developer tools in SQL efficiently.
Oracle Linux System Administration
The course can benefit experienced oracle administrators planning to learn advanced skills and work on Oracle Linux. Automation of operating system installation, advanced network service configuration, storage solutions, multiple directories, and file-sharing services, etc., are some of the skills one will acquire through the oracle certification course.
Oracle Data Integrator
Data scientists and data analysts can go for this course to handle extensive data integration platforms. One does not need to hold extensive experience or expertise to pursue the course. This course caters to beginners as well as experienced professionals.
Oracle WebLogic Server 12c: Administration
The course will guide candidates about web logic, servers, and nodes, domains, services, and the basics of the web. Beginners can also benefit maximum from this course as learning the fundamentals will open better career opportunities.
Exadata Database Machine: 12c Administration
Candidates can learn the skills to handle Exadata Database from this course. Students who have some initial knowledge about Oracle software or applications can take up this course. This course is best suited for students wanting to pursue the field of Exadata Database.
Oracle certifications will lead to career growth, knowledge enrichment, and skill enhancement. One can decide the best oracle certification depending on their interest, job requirement, pre-requisites, knowledge, and future scope. One can also decide whether a beginner's course is required or an advanced course to get updates on the latest trends and technology.
Finally, Oracle certification cost depends upon the level of the course one is taking and the time duration, and other factors. Again, the course's duration is decided based on the course design and the topics to be covered. It is advisable to choose one or more of the oracle certifications wisely and as per their need. If you want to learn which certification is the best for you, get in touch with our experts at Koenig Solutions.
Oracle: The Required IT Skill
Some of the reasons to learn oracle are listed below:
Desirable skill in the market

Gives competitive advantage to candidates

Increase in chances of promotion and career growth

Bonus and pay hike

Knowledge enhancement and improvement in work

Broaden horizon to think and implement better solutions
We have established the need to get trained in Oracle. But, the real question is - which training or course should you undertake? What are the best Oracle certification courses that are available to enhance your skills?