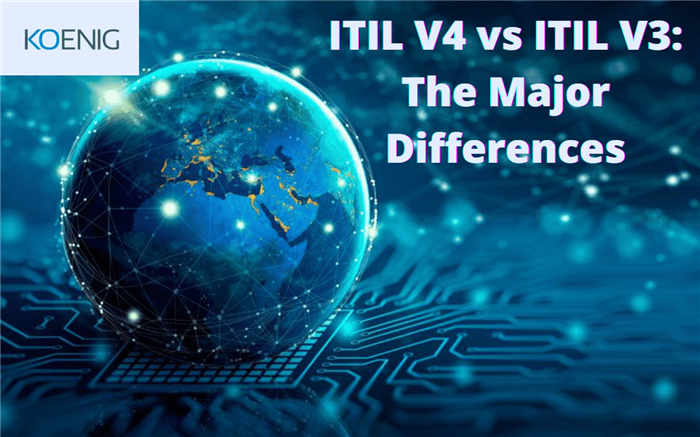 ITIL is short for Information Technology Infrastructure Library. The ITIL framework is a leading IT service management framework. Information technology is a constantly evolving domain, where every technology is continuously learning, evolving, and advancing. Thus, ITIL creators must upgrade this framework regularly to stay abreast of other modern technologies. To this end, Axelos Limited recently introduced an upgraded version of the ITIL v3. Keep reading to understand the features of the new ITIL v4, its predecessor ITIL v3 and the key difference between ITIL v3 and v4 overall.
ITIL V3 Framework:

ITIL v3 is ITIL's third version of its trademarked framework. This framework encompasses multiple best practices for information technology management which is globally recognized. The ITIL framework enforces the idea of information technology as a service that can help businesses achieve their goals. ITIL v3 was rolled out in 2007 and received global recognition as a leading ITSM framework. One of the top features that ITIL has is constant evolution to match advancing business environments. To align with the newest industry practices and trends like Agile, DevOps, and Lean, the makers of ITIL upgraded the v3 and created a new version called the ITIL v4. This version has been designed to meet the needs of both customers and IT organizations.
ITIL V4 Framework:
The 4th version of the ITIL framework contains enhanced strategic elements that help improve and simplify the alignment of IT service management with overall business objectives. ITIL v4 was rolled out in early 2019 and is instrumental in creating an effective process for IT service management. This is done by offering an end-to-end model of operations to create, deliver and continually improve tech-driven services and products.
ITIL v4 is also essential for guiding organizations in the right direction to address rising challenges to service management. It enables the utilization of modern technology and all its potential, which is highly effective in a world that runs on Agile, Cloud, digital transformation, and DevOps.
The ITIL Service Value System and the four-dimensions model make up the core elements of the ITIL framework. The following are the key elements of the ITIL SVS:
ITIL practices

SVC (Service Value Chain)

ITIL guiding principles

Continual improvement

Governance
Difference Between ITIL V3 and V4:
The 4th version of ITIL pushes for lesser siloed systems, higher collaboration, communication facilitation across enterprises and DevOps and Agile integration with ITSM strategies. The framework has been designed for higher customization and flexibility. Essentially, it means a more holistic IT infrastructure perspective.
ITIL v4 is more focused on things like value, costs, risks, and outcomes. The foundational principles of this fourth edition rest on a strong combination of ideas given by ITIL Practitioner. These principles are:
Focusing on value

Starting from where you are

Progressing with feedback on iterations

Collaborating and promoting visibility

Thinking and working holistically

Keeping it real and simple

Optimising and automating.
Ultimately, ITIL 4 is merely a more refined version of ITIL 3. It reflects the changes visible in a corporate culture where communication and teamwork lead the way, thus integrating IT into the business structure overall.
In general, ITIL 4 modernizes and updates any existing ITSM understanding. However, it still retains several relevant concepts and principles of its predecessors. Here's a summary of all the ITIL v3 and v4 differences, based on various framework areas:

How Can You Upgrade from ITIL V3 to ITIL V4 Certifications?

The topmost question that most professionals with an ITIL v3 certification are asking today is whether the new version of the ITIL frameworks discredits or invalidates their v3 certifications. The answer is simply no. Every ITIL v3 certification retains its value and validity since the foundational principles of both versions are the same. However, industry experts recommend that all ITIL certification holders upgrade to an ITIL v4 credential.
If you have closely looked at the difference in foundations of the v3 and v4, it might prompt the question of whether this time and effort to upgrade to a new certification is even worth it. The answer, in this case, is yes. Upgrading to an ITIL v4 credential will significantly benefit experienced IT professionals as it helps them stay in touch with the newest updates within the framework.
ITSM-certified candidates stand to gain significant benefits with a certification upgrade too. A seasoned practitioner understands that career growth is not just about adaptation to changing technologies but also a shift in the philosophical approach to the role of IT management in business enterprises today. The longer you are in a certain industry, the more rigid your ideologies or approaches to technologies or problems will become. Getting a certification upgrade to v4 can help experienced professionals keep an open mind and overcome this hurdle.
Understanding the ITIL Certification Path:
The certification path provided for aspirants looking to earn an ITIL credential is generally administered by examination institutes that work closely with ATOs. There are five certification levels that users can choose from, namely:
Foundation level

Practitioner level

Intermediate level

Expert level

Master level
It is worth noting that the ITIL certification path is governed by a credit system from the Foundation to Expert levels. Each level that you attain will give you a defined set of credits that will collect over time. A candidate needs a total of 22 credits before applying for the Expert level ITIL certification.
Take an ITIL Certification Training Course on Koenig:
When you enroll in an ITIL certification course on Koenig, you get a range of benefits that you won't get with regular ITIL ATOs. These benefit both individuals and enterprises and encompass:
A wide range of courses including ITIL v3 and ITIL v4 certifications across various expertise levels.

Reliable resources and study material, including updated ITIL resources, case studies, mock exams, frameworks, and templates.

Expert ITIL trainers having real-world ITIL environment and consulting experience

Training with an AXELOS-certified training partner offering a variety of experience in delivering courses in ITIL to students across the world

Flexible study hours for consistent learning, from 4 to 8-hour training slots for daily ITIL v4 and v3 training

Options to personalize certification training courses to align with your needs in the organization

Industry-wide recognized certification upon course completion and all necessary ITIL training CEUs and PDUs

'Exam Pass Assurance' and a promise of 'Guaranteed to Run' for ITIL training sessions
And that's everything you need to know about the difference between ITIL v4 and v3. Take your career to the next level and enroll in a training course today.