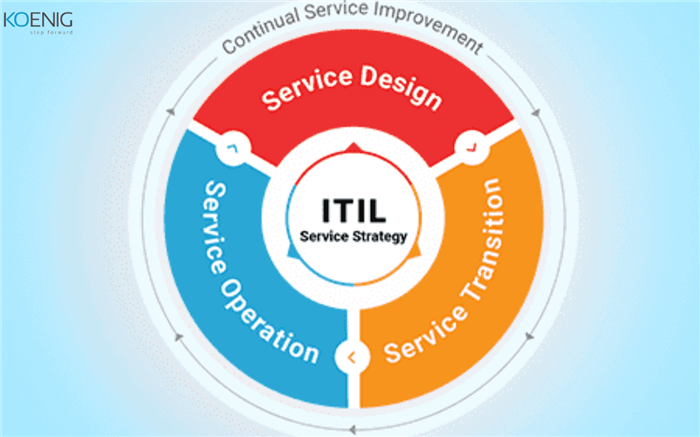 The ITIL Certification is considered a must-have in the IT Service Management because it is recognized by all major brands and professionals. Those with this certification on their resume are considered more credible during a job interview. With ITIL, organizations are now able to deliver efficient, high-quality jobs to their client.
The framework helps streamline their services and set ground rules for every professional to follow. Before you start your preparation to take the ITIL Certification exams , it is good to know the key concepts, how it works and what is expected of every candidate to get certified.
What is ITIL Certification
ITIL stands for Information Technology Infrastructure Library and the framework provides proven practices that are widely used in IT Service Management, the ITSM and other services that plan to offer quality services to their clients and customers. The main purpose of acquiring the certification is to provide organizations an effective way to increase ROI and streamline business processes. A certified professional is viewed as a successful candidate to lead the organization towards the right path.
The ITIL Service Lifecycle
For the convenience of professionals and IT organizations, the ITIL is divided into five major categories, namely
ITIL Service Strategy
ITIL Service Design
ITIL Service Transition
ITIL Service Operation
ITIL Continual Service Improvement
When all the five components are merged together, they form the service lifecycle and are divided into further categories to successfully split big tasks into smaller processes. The splitting up allows employees to carry the job and get them done in a specific timeline.
ALSO READ: ITIL Interview Questions and Answers
ITIL Key Concepts: Processes, Functions
The five major components of ITIL is further divided into multiple processes and function areas according to the demands of an organization. They are divided into multiple management sectors such as managing demand, capacity management, release and incident management and event management among plenty of other categories.
Each of the subcategories of the main component level is divided into various processes or functions as part of the ITIL framework.
ITIL Core Component: Service Strategy
The term Service Strategy refers to the strategies a professional can deploy to effectively carry out the service lifecycle. Every tactic created should sync with what the client wants and their long-term objectives.
Service Strategy Process
The core subject is further divided into multiple areas.
Service Portfolio Management Process –A service portfolio refers to all the services provided by a company and is divided into three major components – service pipeline, service catalog and retired services.
Demand Management Process –The step deals with understanding what a customer wants and influencing a demand so as to promote products or services. Understanding a customer and encouraging them to buy stuff is acquired through,
User profiles – Categorizes users into different segments and understand their requirements.
Patterns of Business Activity – Once users are fully categorized, it's time to analyze their behavior and how they avail services to trigger demand.
Financial Management Process –Financial terms play a critical role and this aspect analyzes where a company gets their income from, creating a budget based on payments made by the client and charging the customers or clients based on operation costs necessary to provide the promised service.
ALSO READ: Preparation Tips for ITIL MALC Certification Exam
ITIL Core Component: Service Design
Service device has its own dedicated lifecycle and the major components are widely known as the Four Ps of Service design. They are,
People –The required human resources to carry out the process
Processes –Service management processes that are important for operations
Products –The minimum technology and accessories required to complete it
Partners –Supportive partners, third parties are always required to support in services that the organization couldn't handle.
ITIL Core Component: Service Transition
The core objective of using service transition is to ensure when new processes are built and deployed in the IT industry, they are carried out without conflicting with the guidelines set by the company.
All the products and services built are transitioned in the way the customer can get the desired results out of them. Including having total control over the assets, be it hardware or software, validating services and implementation.
Many components come under this category including,
Change management
Change evaluation
Project Management (Transitioning Planning and Support)
Application Development
Release and Deployment Management
Service validation and testing
Service Asset and Configuration Management
Knowledge Management
ITIL Core Component: Service Operation
Service Operations is another component of ITIL certification and it includes a long list of processes that should be carried out effectively to successfully deliver what the client expects from a project.
Ranging from event management, incident management to handling risks and technical aspects of a project is covered under the service operation segment.
The main objective of the component is to make sure user requests are properly met, service failures are resolved in time and routine operation is carried out without any delay or technical issues. The service provider is responsible for ensuring the efficient and proper delivery of services. The various aspects of ITIL Core component service include are,
Event management
Incident management
Request fulfilment
Access management
Problem management
IT operations control
Facilities management
Application management
Technical management
ITIL Core Component: Continual Service Improvement (CSI)
The concept behind CSI is very simple. Every organization needs to learn from their mistakes and develop on their strengths. Data and statistics from the past will be used to develop future strategies for the company to follow.
The Continual Service Improvement helps create new strategies, implement better ways to reduce investment and focus on retaining as well as acquiring new customers. The various steps and concepts involved in CSI are,
Process Evaluation
CSI Initiatives
Monitoring of CSI Initiatives
The ITIL certification is a rather complex study for newcomers but for an experienced professional who has worked in IT organizations for years may find the concepts easier to comprehend. These are the core components and the various subcategories involved in ITIL. A quick summary to give you what the certification is all about before you appear for an exam to become a certified professional. A successful completion will always attract better employers and brands to hire you for their companies.