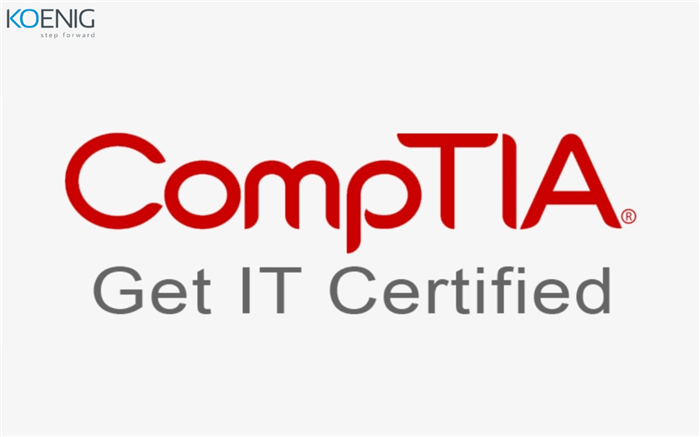 In the worst of pandemics or global situations, IT professionals remain almost entirely unaffected. According to Tech Salary Reports, IT professionals have seen their salaries increase by 4% between 2020 and 2021, reaching an average of $97,859 annually. This was a time when most organizations in the US and the world were cutting down their budgets due to the global pandemic. Most professionals with the top CompTIA certifications have the necessary technical experience that makes them indispensable and invaluable.
There are several reasons why IT professionals prefer a CompTIA certification above all others. These certifications combine certifications, hands-on experience, and technical skills that professionals need to get high-paying roles in leading organizations.
Thus, it is not difficult to see why CompTIA certifications are valued. However, it can be challenging to choose a single CompTIA certification to pursue.
Who Should Choose CompTIA Courses?
Several job roles can derive greater benefit from CompTIA certifications. If you are in any of the following job roles, you should aim to get certified.
System administrator
Networking professional
IT security administrator
Security engineers
Security analysts
Information security analyst
CIO
IT manager
Security consultant
Aspiring information security or IT professional
Professional looking to learn the key concepts related to networking, IT infrastructure, and security within an enterprise environment.
List of CompTIA Certifications:
1. CompTIA Security+
This is the leading certification choice for anyone who wants a successful professional life in the field of network security. The Security+ certification by CompTIA is the right place to start, as network security is one of the fastest-rising domains in the IT industry. It proves that you have the skills and experience needed in sectors like network security, infrastructure structure, access control, and organizational security.
The Security+ certification is important for your career as it helps to build on networking by focusing on fundamental concepts of security. The IT market today has a rising demand for security professionals. With the advancements in technology, security threats have also increased. Getting certified in network security and networking makes you an invaluable asset to your organization.
2. CompTIA A+
This certification was rolled out in 1993. It is widely acclaimed as the best starting point for an IT career. The A+ certification by CompTIA validates your skills and competency as a computer technician. This credential encompasses multiple technologies and operating systems such as Apple, Microsoft, IBM, Novell, and more.
The CompTIA A+ certification is considered by most global recruiters as the industry's computer support technician standard. The credential proves your competency and expertise in the technical use of computers. When you earn this certification, you are equipped and competent to work in domains like installation, predictive and preventive maintenance, and networking and troubleshooting. It encompasses a wide range of technologies and operating systems.
3. CASP (CompTIA Advanced Security Practitioner)
The CASP certification is one of the leading and most aspirational certifications that is aspired by most IT professionals. It is an advanced level certification that entails the following:
Enterprise and organizational security
Risk analysis
Risk management and prediction
Enterprise security as a concept is critical to this credential as it gives the certification holder real-world skills for managing companies like SMEs. A CompTIA Advanced Security Practitioner certification validates that you have advanced skills and knowledge when it comes to computer security and related domains. This vendor-neutral certification is internationally acclaimed and proves that you are competent when it comes to integrating business disciplines, computing, and communication, as well as enterprise security.
Additional Read: Top Advice How to Clear the CompTIA Security+ Exam
4. CompTIA Network+
The Network+ certification by CompTIA is a great CompTIA certification for most IT professionals who are starting in the industry. What makes this certification important for you is that it equips you to become a competent IT support professional. The Network+ certification works best when paired with the CompTIA A+ credential. It covers more than just the basic skills of networking that the A+ certification encompasses. When you earn this certification, you achieve competency in maintaining, installing and managing, configuring, and troubleshooting network infrastructures.
The Network+ credential is also an entry-level credential like A+, which means you don't need any advanced degree to be eligible for this certification exam. CompTIA recommends that professionals should earn the A+ certification first, and only then apply for the Network+ certification. It also recommends that you have a minimum of 9 months of work experience in domains like academic training, network administration, and network support.
To sum up, the Network+ credential is one of the leading certifications for new professionals in the IT industry. It advances a professional's skills that they acquired in their A+ certification training by deep diving into the computer networking domain. These skills are fundamental for any IT industry role, and so you don't need any additional skill development.
5. CompTIA Server+
Server support is quickly becoming an important domain within the IT industry. If you are considering this domain as your main professional focus, the Server+ credential is a good place to start. Earning a Server+ credential is beneficial for system administrators specifically, as it equips them with the knowledge and technical know-how required for building, maintaining, supporting, and troubleshooting server software.
The Server+ certification is a mid-level credential that covers advanced concepts of computing. It is targeted at IT professionals who have about 2 years of work experience in a server environment. CompTIA recommends getting an A+ certification before opting for the Server+ certification. That will provide you with a strong foundation for various CompTIA credentials such as Server+ or even the Network+ credential.
When you combine the A+, Server+, and Network+ credentials, you have the strongest resume, showcasing your expertise in computing and networking technology to your employers. These certifications provide a strong foundation in the domain of information technology. The next certification you choose could be as advanced as the MCSA certification by Microsoft.
To clear the certification exam for Server+, you need to pass a traditional test covering issues and questions related to several topics like installation, up-gradation, configuration, maintenance, and recovery. You must prove your competency in these related domains before you appear for the Server+ certification exam. That will increase your chances of clearing the exam on your first attempt. You will need to study large volumes of books as well as the sample tests you get with them. There are also several free sample tests you can download off the internet.
To sum up, getting a CompTIA certification is the perfect way to take your career to the next level. These certifications are all vendor-neutral and globally recognized, making them perfect for your big career move. Give your professional life a boost, and get a CompTIA certification from Koenig today.